As new technologies have emerged, the user experience (UX) has undergone a significant transformation. You may achieve immersive UX by using 360-degree movies in various sectors. Immersive videos, often known as spherical videos, are 360-degree videos. Also, they are responsible for delivering a 3D & multi-directional depiction of the item from all angles at once. Capturing, stitching (in-camera or via software), and post-editing are all part of generating a 360-degree video.
Without any doubt, editing 360-degree films is very different from editing regular 2-dimensional footage. To edit 360-degree videos and virtual reality content, a specialized 360 video editor is required at least. In the post, it comes 14 best 360-degree video editing software to edit 360 degree videos for your review.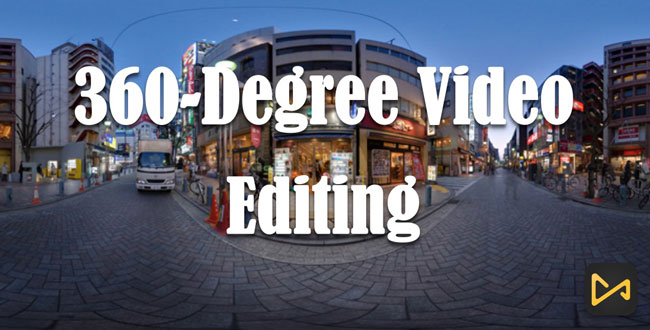 Insta360 STUDIO 2022
As one of the best 360-degree video editing software in this listing, Insta 360 video editor shows its great power in both 3D video capture and enhancement. Perfect for awesome VR pros, YouTubers, and athletes.
Insta360 Studio 2022 empowers you to have access to shot and edit images, audios, and videos on ONE X2/X, ONE RS/R, GO 2, GO, ONE, and more. Users are allowed to download the Insta360 plugins for Adobe Premiere Pro and Final Cut Pro so you can choose some of the in-built features from other video editors for more creatives like 3D charts and 3D texts.
You find that Insta Studio is easy to export 3D video in monoscopic, stereoscopic, and equirectangular formats. This tool is unsuitable for editing and prompting MP4 videos. For files store and basic 360-degree video edits like trimming and cropping, you won't be disappointed.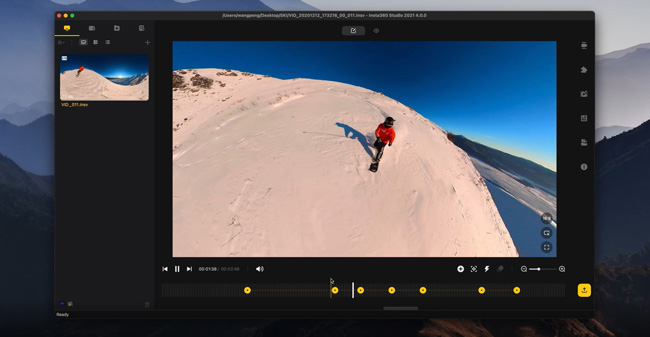 Operating System: Windows 7 sp1 and later; macOS 10.13 and later
Processor: AMD or Intel mainstream processor within the last 2 years; AMD or Intel mainstream processor within the last 2 years
RAM: 16G and later for both versions
Main HardDisk: SSD 128GB for both versions
Pros:
Easy to join and split 3D videos
360 video editor Mac, Windows, and LUT
Apply fast-motion and slow-motion to your footage
Leading color grading and adjustment
Apply plugins for other 360-degree video editing software
Cons:
Lacks video resources in stock like music and stickers
Requires higher compatibility
Gear 360 ActionDirector 360-Degree Video Editing Software
If you are one of the Gear 360 owners or you want to be after reviewing their products. Gear 360 ActionDirector is the one you cannot miss out. For one thing, you find it is a free 360-degree video editing software. For another, the tools of trimming, titling, adding transitions, applying filters, and stitching are at your disposal. Featuring a beautiful 3-panel 360-degree video editing interface where you can do rendering in real-time.
Basic editing functionality includes file uploading, audio volume equalizer, volume balancer, motion-tracking, color adjustment, split-screen, keyframing, as well as speed changer. Screen resolution requires 1024×768 with 16-bit color and above.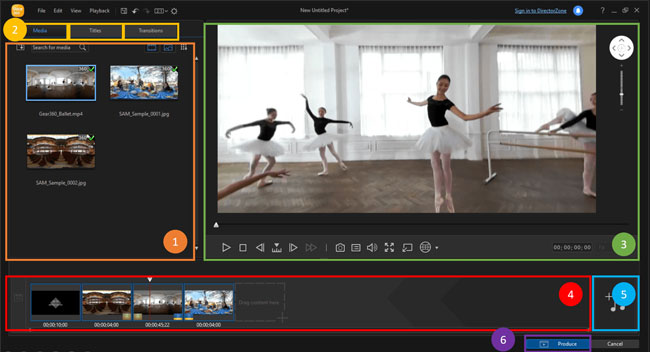 Operating System: Microsoft Windows Vista, 7, 8/8.1, 10 (32 and 64-bit); macOS X 10.11 and later
Processor: Intel Core i3 later or AMD A6 later
RAM: 3 GB DDR2 or above recommended for 32-bit OS; 6 GB DDR2 or above recommended for 64-bit OS
Pros:
Easy-to-learn UI
Render 3D VFX in real-time
Change background music flexibly
Share on social media anytime
Free for all Gear 360 owners
Movavi 360 Video Editor
Not all 360 video editing software supports major formats for the wanted video, audio, and image formats like 3GPP, 3GP3, ASF, AVI, DIVX, SWF, AAC, AIFF, etc., so here is going to share with you the Movavi 360 Video Editor. But you can only download this tool on Windows computers. When it comes to the uploading channel, you need to click to open the Import icon, and go to the My Files section, then tap on the Add Media File. You can also choose to upload a folder.
The toolbar provides tabs to adjust colors, cut clips, and reset video properties. You can switch from 2D animation mode to 3D animation mode with pleasure. To apply effects like filters and transitions, go to the left sidebar to use the free modes. For example, you can drag-n-drop the Lens flare 6 between the two imported clips.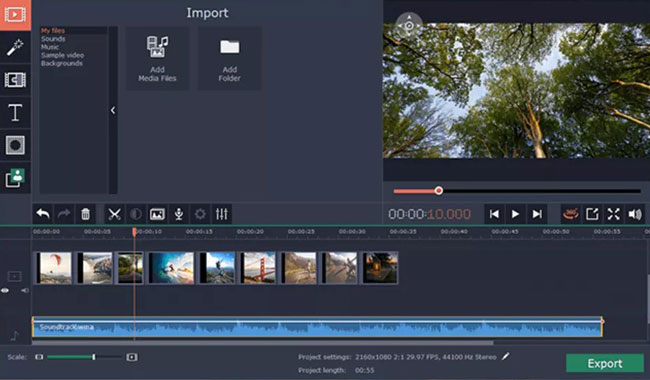 Operating System: Windows 7, 8, and 10 with the latest patches and packs
Processor: Intel, AMD or compatible processor, 2.8 GHz or above
RAM: 8 GB
Pros:
Windows and Mac 360 video editor
Pan in 360° and equirectangular view
Awesome built-in filters and transitions
Save as video, audio, or upload online directly
4K resolution export max
Cons:
Watermarkings
7-day free trial only
You can save the audio files up to halfway maximum
Xbox 360 Video Editor
A lot of users want to know how to record gameplay videos on the Xbox 360 Video Editor. To do this, if you already got a capture card, just prepare a new project that at least you need a USB cable and two HDMI cables, along with a network connection. Then connect your digital equipment, to be detailed, connect one HDMI cable to the In tab of the capture card, then click the Port tab to make it functional. Now you can connect to the USB and computer to record Gameplay in your videos.
Apart from that, you can choose Xbox 360 VR video editor to grade color and change video pitch. It is easy and allowable to trim out unwanted clips and crop out unwanted windows. You can play the video to render fast and download the result as you want.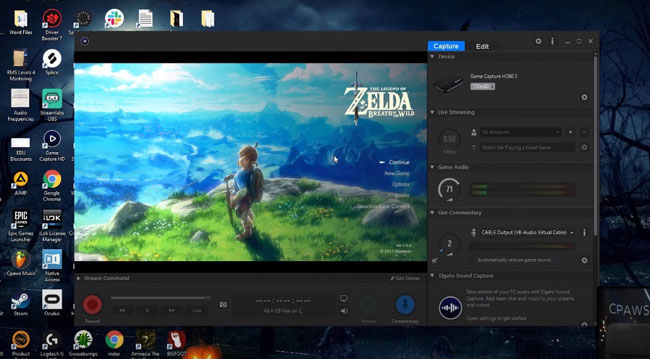 Pros:
Record gameplay videos with HD resolution
Edit clips with built-in 3D video trimmer and cutter
Upload files to YouTube Studio
Smart and advanced color grading tools
Cons:
Lacks elements like transitions and overlays
You need to prepare extra cables to connect to Xbox and computer
Garmin VIRB Edit 360-Degree Video Editing Software
Comes with a display resolution of 1920×1080 and 3840×2460, Garmin VIRB is an easy-to-use 360-degree video editor and compatible with both Windows and Mac. Perfect for editing and playing 360 videos, adding 4K resolution spherical stabilization, stitching RAW clips, as well as applying augmented reality overlays.
After the whole workflow is finished, you are allowed to straight share the newly-made 360 videos to YouTube, Facebook, and other social platforms. Your brag-worthy files are shareable among your friends in the Garmin Connect online community.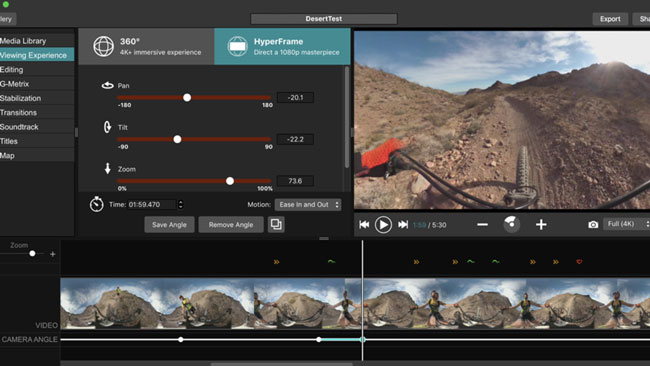 Operating System: Windows 7 SP1 and later; Mac OS 10.11 el Capitan and later
Processor: 2.5GHz Quad-Core Intel Core i7 or AMD FX; 1.5 GHz dual-core Intel i5/7
RAM: 2 GB; 4 GB
Pros:
Clutter-free 4-panel 3D video-making workflow
PIP maker: Overlay one clip over another clip
Track key motions in your videos
Upload/export video in 4K or HD
Edit background music and color
Cons:
You may encounter the condition that the saved data will go out of sync
GoPro Max 360 Video Editing Software
Download the GoPro Player for Windows and Mac to enjoy the 360 video conversion and editing is popular among 360-degree content creators. Smart tools like 2D image extraction from 360 photos and footage frames are good to edit with. Surprisingly, GoPro 360 video editor connects to all GoPro products flexibly and smoothly.
This is the best free 360 video editor to make edits frame by frame. Not only can you quickly edit multiple files, but also you find it likely to make all videos and images displayed from your GoPro Max camera. It supports a plethora of formats for YouTube and Vimeo.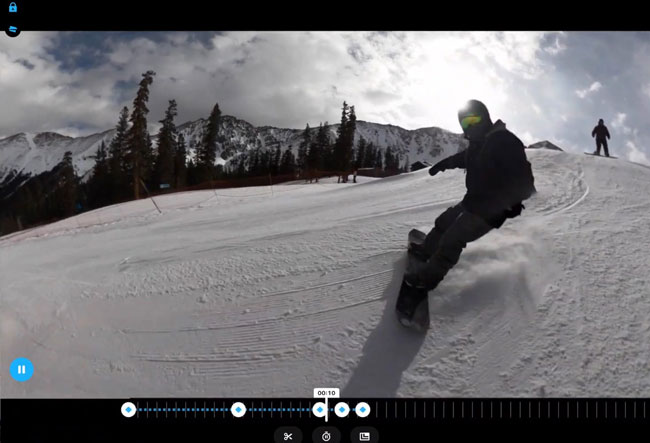 Pros:
Brilliant Gopro 360 video editor
Lens correction
Motion blurring and enhancement
Batch import and export
Trim videos with frame-by-frame accuracy
Cons:
You find less music resources with this tool
Pinnacle Studio 25 Ultimate
Mac and Windows users alike will appreciate the simplicity of the color grading toolset in Pinnacle Studio 25 Ultimate. It has a wide variety of 360 editing tools that are easy for beginners and professional users like 360 Video Converter and Recorder.
A USB connection is needed to import 360 videos into this lightweight video editor. After that, you'll be able to trim the video and remove extraneous elements like a monopod from your movies using the timeline. You can edit and compare other directionS in the second canvas, which makes your edits more precise and accurate.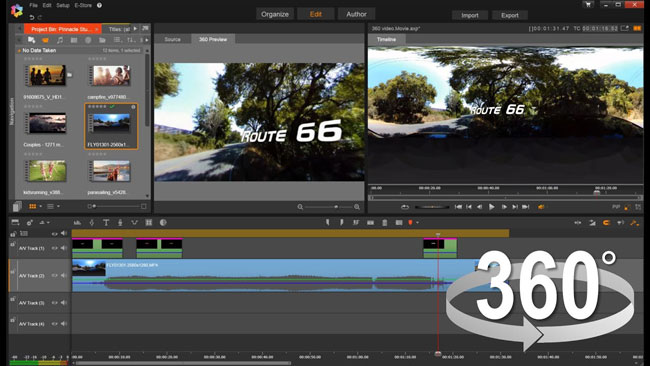 Operating System: Windows 7, 8, and 10;
Display Resolution: 1024 x 768
RAM: 4 GB
Pros:
Built-in library
Supports 2k and 4k format
Adding text, transition, and filters available
Unlimited tracks
Flip and rotate video in any manner you want
Cons:
A bit pricey
Hangs up and choppy sometimes
VLC Media Player
Manufacturers of VLC action cameras developed their 360-degree camera in the near past. In addition, they offered PC, Mac, and Linux users great UX and a free video-editing program. VLC is a completely free and open-source 360-degree video game editing software.
Stabilize, speed, flip, rotate, crop, and divide your 360-degree video options in the basic settings. You may also add captions that are automatically altered to accommodate your 360 movies while keeping the standard dimensions of the text intact. A transition library for 360 videos is included in this free 360 video editing software. The "G-Metrix" option is one of the unique aspects of this 360-degree software.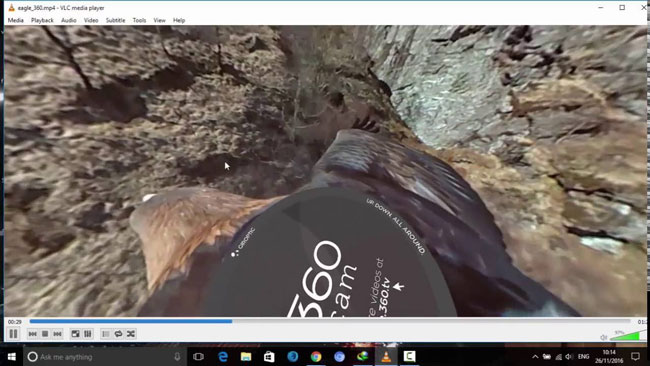 Operating System: All versions of Windows; macOS X 10.7 and later
Processor: 3 GHz AMD Athlon
RAM: 1 GB
Pros:
360 video editor and player
Convert videos into various options
Overlay texts and images easily
Play 360-degree videos without losing quality
Many plugins to apply
Cons:
You find it uneasy to use at first sight
Almost no music resources
VSDC 360 Video Editing Software for Windows Only
VSDC is so popular among us YouTubers, Vloggers, and filmmakers in the video-making field that you find it professional and powerful to use. Comes with a 3D video view mode and 3D charts on the interphase, you need to care more about parameters in every corner once you want to create a good 360 video with it.
The full version of VSDC now sells at 19.99$ every month. You will enjoy the VIP services like the Hard Disk storage and 8K video uploading/exporting. You can download your video in a lot of formats for free or share the file on social media bluntly. VSDC is a professional-grade tool to apply color grading and sound equalization.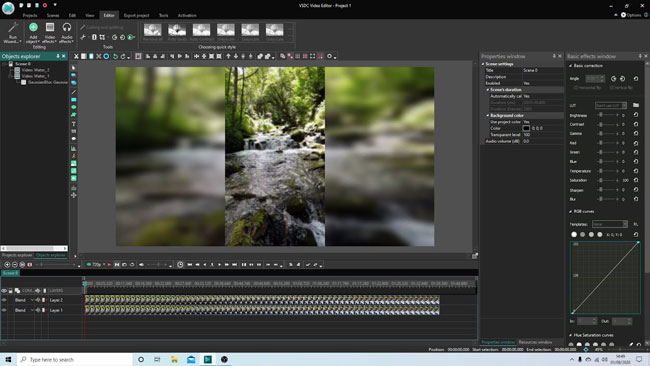 Operating System: Intel® or AMD Ryzen™ compatible processor with the work frequency at 1.5 GHz and higher
Processor: 3 GHz AMD Athlon
RAM: 2 GB
Resolution: 1024x768
Pros:
View video in 360 mode
Share 360-degree videos on social media
No watermark once exported out
Advanced settings and parameters
A vast option of built-in colors
Final Cut Pro
Final Cut Pro X is considered the most excellent 360-degree video editing software for Mac users, while Premiere Pro is the best for Windows users. Using this tool, you'll be able to deal with 360-degree clips in both monocular and stereoscopic modes. To detach audio from video, you need to double right-click the clip to choose to unlink the audio and video first.
You may import movies of various sizes and formats to edit them. Aside from that, the best noise reduction program may be replaced by Final Cut Pro X. You may produce 360-degree video using the VR headset. You may edit 360-degree and equirectangular footage simultaneously utilizing the program's preview window. You can also make sequential edits with the double-canvas design.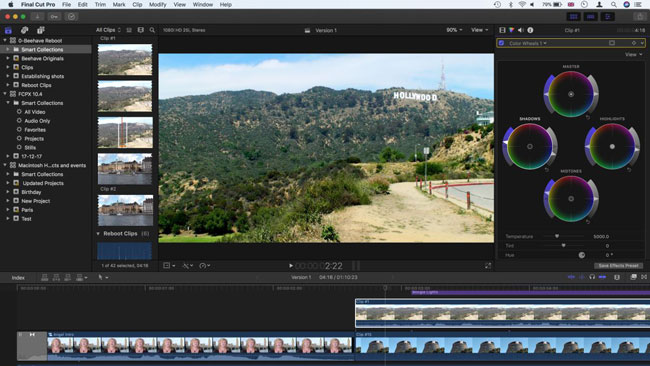 Operating System: macOS 11.5.1 and later
RAM: 4 GB (8GB is better for 4K editing, 3D titles, and 360-degree video editing)
Disk Space: 4.5 GB
Pros:
Beautiful user interface
Advanced color mixer and pitch changer
Sequantial 360-degree video editing
8k resolution is supported
A bunch of filters and transitions
Cons:
You need to prepare a computer with high compatibility
Windows users are declined by it
Adobe Premiere Pro
Adobe Premiere Pro is a modern and famous tool for editing 360 films in virtual reality and 8K frames. It can also export and import XML and be a vital photo and movie maker. Over 100,000 instructions are available on blogs, forums, and even 360 video editing books since Premiere Pro has been the most popular VR video editing program for over a decade.
Premiere Pro's fundamental capabilities include:
● Editing numerous cameras;
● Making multi-sequenced clips;
● Editing the level of tilt and rotation;
● Applying generators;
It also lets you use different effects, titles, and soundtracks.

Operating System: Windows 10 (64-bit), v1909 and later; macOS Catalina v10.15 and later
RAM: 2 GB
Disk Space: 8 GB
Monitor Resolution: 1280 × 800
Pros:
Collection of training lessons available
Supports spot editing
Animtaed titles
Essential sound creator (Auto-Match tech)
More captions and titles
Cons:
You find the Autosave feature may go to wrong
Strong computer specs and high RAM usage
VideoProc 360 Video Editing Software
VideoProc 360 Video Editor is a one-stop shop for video editing. An audio/video/multi-track converter is also included as a screen recorder and video downloader.
It quickly edits, converts, and resizes big 360-degree videos, audio, and DVDs thanks to its hardware acceleration. The best thing about it is that you won't have to worry about lowered quality.
VideoProc's color grading, stabilization, lens correction, and free video cropping tools make it an excellent choice for anybody who needs to edit video. An easy-to-use editing interface makes this 360-degree video editor a pleasure to use. Thousands of user-generated content (UGC) websites may be downloaded using the software's built-in media downloader, available for Windows and Mac.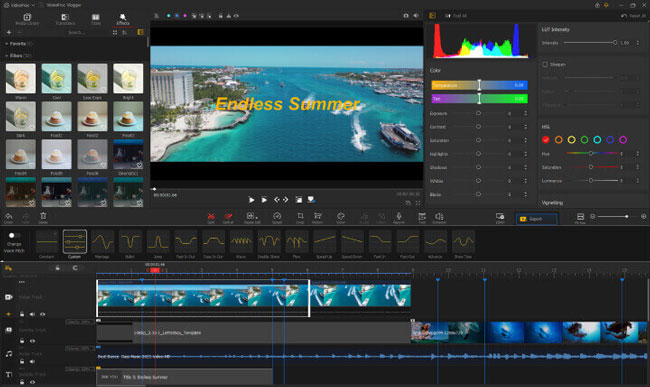 Operating System: Windows 7, 8.1, 10; macOS 10.6 and later
Processor: 1 GHz AMD or Intel CPU
RAM: 1 GB
Disk Space: 200MB
Pros:
Supports 370+ video formats
An easy-to-use UI
Good with low-end systems
Easy to customize
A vast selection of color overlays
Cons:
The readability OF text need to be improved
Users only have access to the basic features and a maximum media file of 5-minute on the trial version
VideoPad VR Video Editing Software
VideoPad is a free 360-degree video editing software. It is a 360 VR video editor for Windows and Mac OS. It's an excellent solution for those new to video editing and looking for something simple and easy to use. It differs from HitFilm because its user interface is simple and consistent in appearance.
With this video editor, editing 360° video is as simple as editing standard film. For example, you can begin with a new project of uploading files, trimming out unwanted 360-degree clips, and changing video resolution and framerate.
If you're looking for a 360 video editing tool that's easy to use and offers a wide variety of transition effects for moving between the footage, this one is for you. You may design your effect by combining many filters and choosing how lengthy the transitions should be.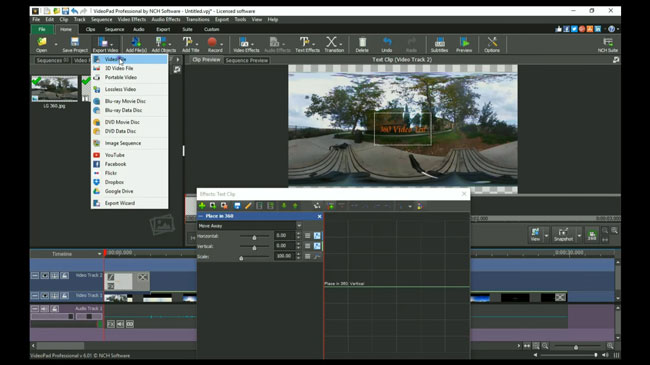 Operating System: Windows 10, XP, Vista, 7, 8 and 8.1 ; macOS X 10.6 and later
Processor: 1.5 GHz
RAM: 4 GB
Disk Space: 100MB
Pros:
Variety of transition effects
Create your slideshow in HD quality
Download in 4k up to 60 fps
Advanced parameters to set like bitrate and audio pitch
You can preview videos in different aspects
Cons:
Difficulty in adding text
Very basic for users who want advanced software
HitFilm Express Video Editing Software
HitFilm is the most excellent free 360-degree video editing software for traditional videos. Furthermore, it performs exceptionally well when working with 360-degree footage and removing lens distortion from action cameras. An upgrade to the video editor just included 4K 60 fps export functionality.
However, if you want to avoid dealing with system freezes, you'll wish for the most powerful video editing PC. It's compatible with Windows 10 and above and Mac OS X 10.14 and up. Add-on packs that allow users to edit 360-degree films are available for $24.99.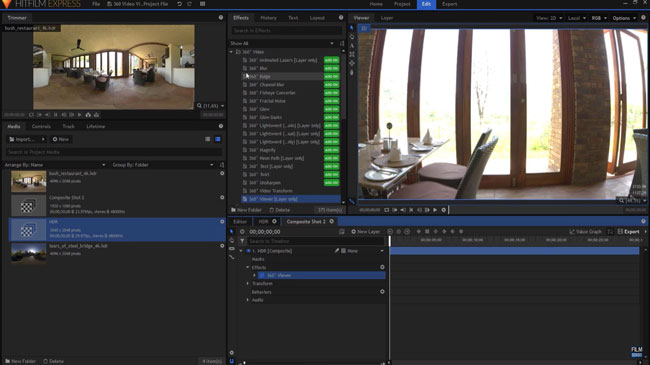 Operating System: Windows 10 (64-bit); macOS 11.0 and later
Processor: 6th Generation Intel® Core™ i5 (2015), AMD Ryzen 5 (2017)
RAM: 8 GB
Pros:
Download in 4K up to 60fps
Option of viewing through a fish-eye lens
Excellent sound effects
Support for color LUTs
A load of music in stock
Cons:
360-degree video add ons are not free
AceMovi MP4 Video Editor
TunesKit AceMovi, considered the best professional-grade yet easy MP4 clip editing software, you can make excellent content with it. The bare-bones UI includes filters, music, audio effects, text, animation, transitions, colors, etc. Additionally, it may be used to edit batch video clips, making it a versatile tool.
Since the program is meant for users without tons of 360-degree video editing software using skills, you should have no problem using the tool. You should be able to handle any video editing application even if you are inexperienced with the technical features of its design.
AceMovi provides both a Windows and a Mac video editor, so users of both operating systems will be able to use it. To begin editing your video, download the appropriate version and run the application on your desktop right now.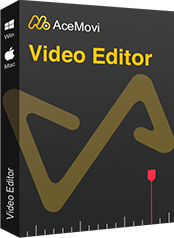 TunesKit AceMovi Video Editor
Security Verified. 12,005,103 people have downloaded it.
Pros:

Easily convert all types of videos
A free trial is available
Large built-in library of music and captions
Able to download video in 4 quality up to 60fps
Split-screen and PIP
Easy for beginners
Detach audio from video & you can download audio files only
Cons:

Includes watermark in downloads
To Conclude
Because of its uniqueness, 360 video creator software is becoming increasingly popular. And if people are making 360-degree videos, then 360-degree video editing software is required.
To edit 360-degree videos, you'll need new editing software. Compared to other cameras, the footage does not appear to be flat. Therefore, to edit and flatten the video, you'll need 360 editors. The above-mentioned list is intended to help you choose the finest 360 video editing software for your needs.