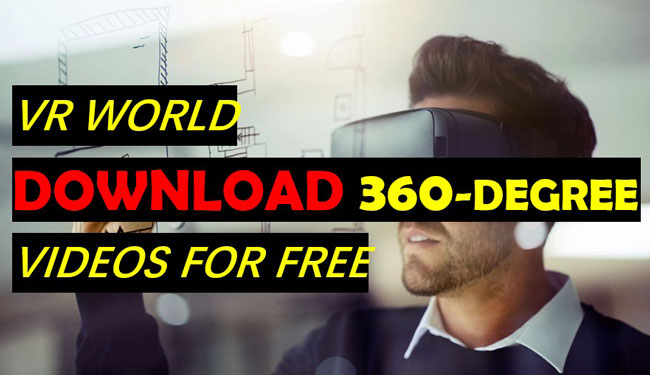 360-degree videos, named VR (visual reality), surround, immersive, or spherical videos as well, are video making in which all directions are captured onto one focal point simultaneously, shot by an omnidirectional camera or piles of camera lens. Currently, with 360-degree videos getting more engraved in the movie industry, people are much more likely to download the themes of VR videos like sci-fi, time-traversing, roller-coaster, and building-jumping, etc.
And, I believe you of being here must be attracted by VR videos deeply as well, however, you may wonder how to download VR videos from YouTube Studio or other websites for free on your PC or Android/iOS devices. All solved! We'll share with you two free 360-degree video downloaders in the first two sections, along with the best VR video editor with basic & pro features embedded to help you edit VR videos.
Ⅰ How to Download VR/360-Degree Videos by HD Video Converter Factory Pro for Free on PC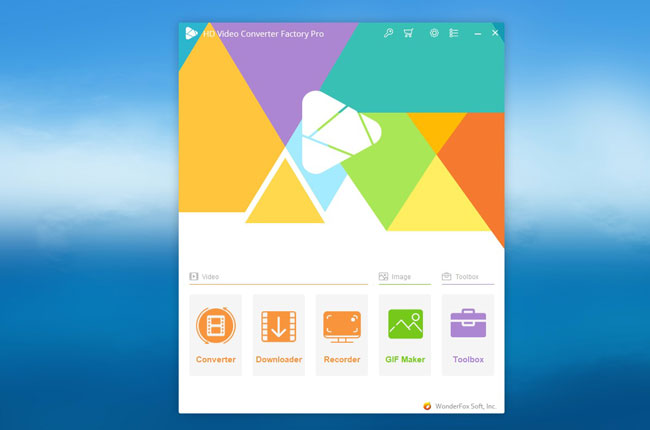 Free HD Video Converter Factory Pro is the best VR videos downloader in response to our software testing on PC: HD Video Converter Factory Pro consists of a simple interface yet very powerful 360-degree video conversion function. To be detailed, the Converter Factory Pro supports 500+ VR video formats/devices and can help you convert VR video from low resolution to high resolution or high-to-low among 8k, 4k, and 2k, etc. standards.
Most importantly, it's accessible to download/save online VR videos from 1000+ websites like YouTube, Dailymotion, Facebook, or Vimeo, etc. through the Converter Factory Pro. And now we're going to see the steps to download VR videos from the YouTube Studio website.
Download Free HD Video Converter Factory Pro
Browsing to the 360-degree video downloader by clicking here: HD Video Converter Factory Pro. By the way, there's only a 32-bit version of the current installer and it's compatible with 64-bit Window systems of 11, 10, 8, 7, Vista, or lower, however, you cannot install the software on Mac or Windows XP systems. (For Mac users, you can install the 5KPlayer for free.)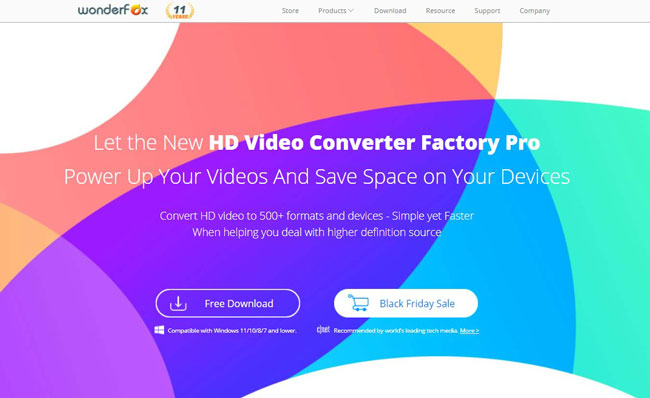 Copy the URL of VR Videos from YouTube Studio
You can copy the URL upon the above site bar directly or by tabbing the "Share" > "Copy" on your 360-degree page like the picture shows here.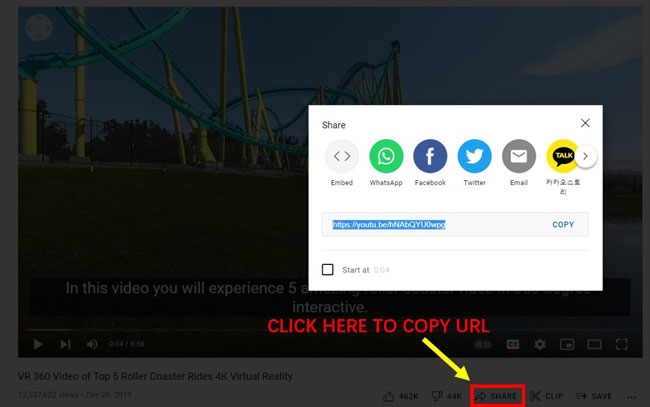 Paste URL on the VR Downloader and Set Relevant Parameters
Press the "Downloader" > ""+ New Download" of the Converter Factory Pro and input the URL. Afterward, you're allowed to change the download format as WEB, MP4, 3GP, and more based on the VR video format you've added. Looking further, you can choose the downloading resolutions as 8K UHD (7680 × 4320 pixels), 4k (3840 × 2048), 2160p (3840 x 2160), or more. When all are set, click the starting icon "OK".
By the way, the free version provides you with 100 times to download online VR videos, to unlock the limitation you're required to pay for it around $25 per month.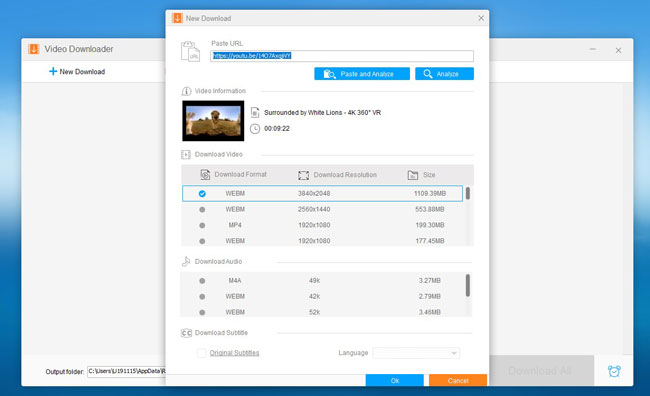 Ⅱ How to Download VR/360-Degree Videos by Within VR Application for Android/iOS Devices
Now, we're going to solve the question of how to download VR videos on Android or iOS equipment in a few steps: through the Within VR app, for one thing, you can download the documentaries, animation, music, or other elements of 360-degree videos with no charges & ads, for another, it's allowed to download the horror, sci-fi, cartoon, and more types of VR videos.
Download the Within VR App on Android/iPhone
Within VR application is available to get on Google Play and App Store of iPhone, below we'll take the Android version as an example to download various VR videos to the personal album for free of charge.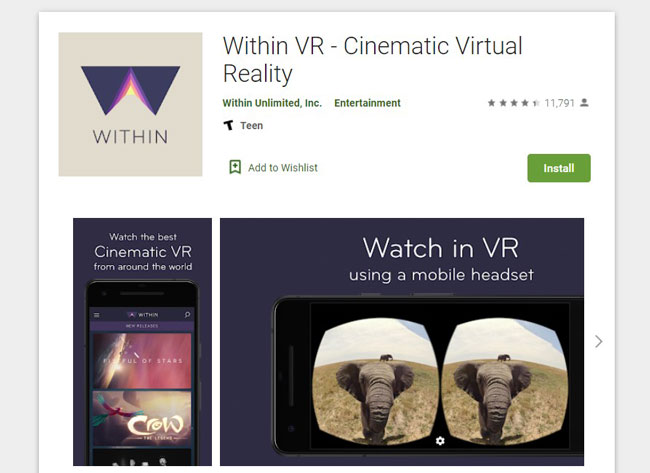 Launch Within VR App & Download Your Wanted 360-Degree Videos
Get into the Within VR app and click on the preferred VR videos as you like, in the next window, finger-click the "Download" tab. When it is over, remember to check it on the built-in album.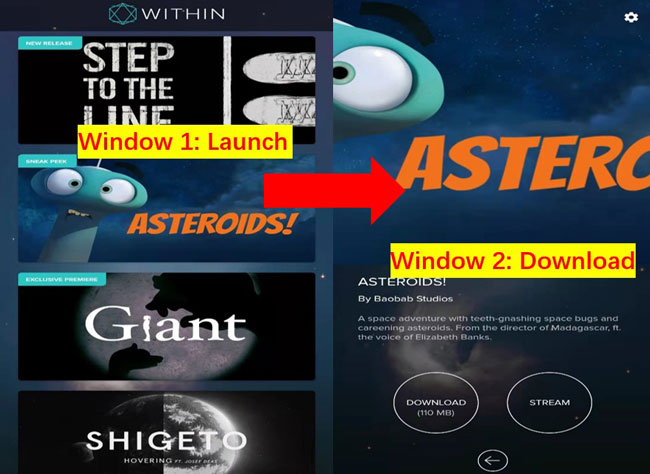 Ⅲ Best VR/360-Degree Videos Editors - AceMovi Video Editor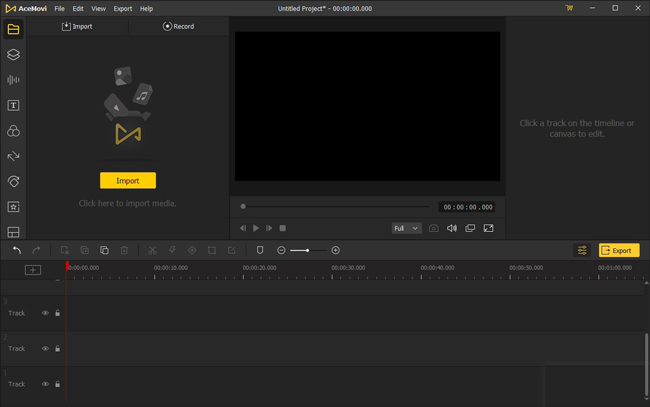 Have you felt bored after watching a 360-degree video again and again? Or have you met with some VR video problems like the video background seems so dull that it influences your visual experiences, some clips have lost the sound, or when you want to add texts to share with your friends but you find it's very hard to do only on the VR devices, etc?
Provided that you've encountered such VR video problems or are interested in editing VR clips, you can try the AceMovi Video Editor which was designed with an easy-to-learn tutorial and a plethora of basic & advanced features.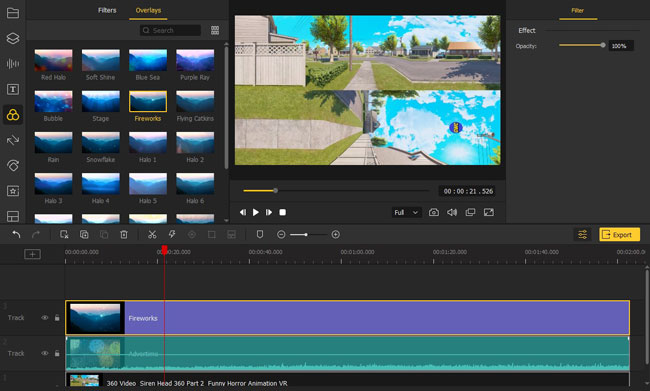 One of the biggest differences between AceMovi and others is AceMovi, by default, has separated the VR video windows into six parts based on visual angles, it implies that you can edit all angles within one canvas, for instance, we add the background music "Advertime" (you can adjust the volume, pitch, fade in/out, and style) and the overlay "Fireworks" (you can set the opacity).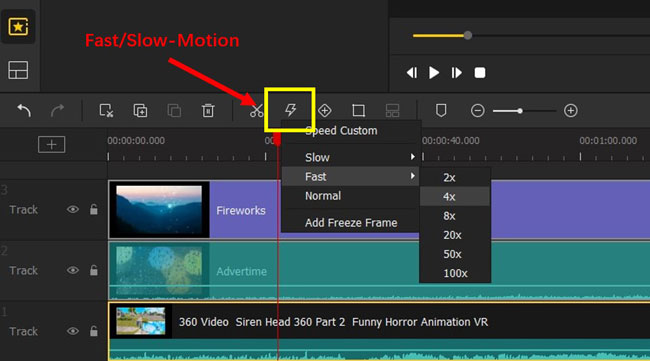 For enhancing and diversifying the VR visuality, AceMovi offers advanced functions like video Fast/Slow-motion (Speed Adjustment), Mosaic, Keyframing, Blur, Picture-in-Picture, and more. For instance, you can add the fast-motion feature if you think the roller coaster is slow, and if you're scared by a monster inside the VR video but you want to know what's going on next, try to use the Mosaic to cover the monster.
Ⅳ In Short
Hoping that the two ways to download VR videos will help you to enhance your video enjoyment. Also, there're still many features of HD Video Converter and Within VR that are waiting for deeper discovery. Meanwhile, you can try AceMovi to get more tutorials and services of VR video editing, here's the channel to get AceMovi.