"Hello! QuickTime was a great thing about Mac. However, after the discontinuation of QuickTime, I am facing some issues with the alternatives to QuickTime. I tried some other options, but they could have worked better. Can I have the best choice for this video player? If you know the perfect features of any good replacement of it, suggest a suitable QuickTime player alternative. Thank you!"
This article is about to discuss the best alternative to QuickTime player for Mac. You will also learn about the best features of all options, and there will be a discussion on a comparison of all choices to help you make the decision. Finally, you will know about the right QuickTime alternative download method.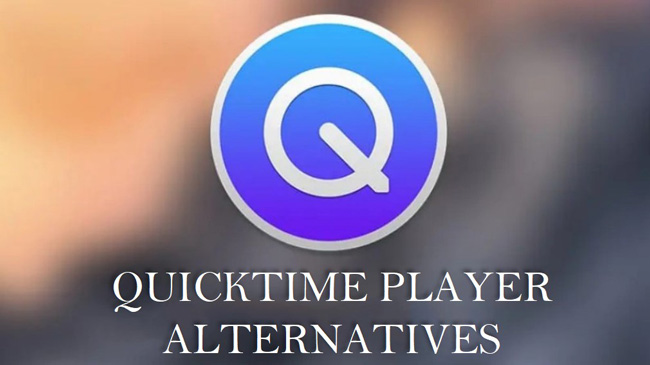 Why Was QuickTime Discontinued?
Apple had a great QuickTime player for Mac, and it had commonly used features, such as rotating, recording, and speeding. It supports videos, audio and pictures. After the appearance of QuickTime X in Mac OS X 10.6., some parts of QuickTime started to disappear. According to most IT experts, the reason for the disappearance of these features is MIDI support.
Another reason for the disappearance is the transition. After the change, it has a usage of 64-bit code. Eventually, due to these reasons, QuickTime disappeared utterly. For some users, QuickTime is available like a player app. However, the features are fewer in this version of QuickTime. Therefore, the QuickTime of the real version is disappeared. It is no longer available.
Top 6 Best Alternatives to QuickTime Player for Free in 2023
Top 1. JustPlay
JustPlay is also the best and most fantastic app. It is device-friendly and the best QuickTime Player alternative for Mac users. It supports so many formats. You can easily play the videos and files according to your choice and can play the files like MP4, MKV and FLV. You can get these features quickly without any additional installations. Furthermore, you can control the volume and speed settings of the audio.
There is a function of decoding functionality. Moreover, you can get an additional feature of customization. With this great feature, you can have different and perfect editing parts and customization of the subtitles. Therefore, it is an ideal HD playback that can work as an excellent alternative for a QuickTime player, and you can easily decode large files with this app.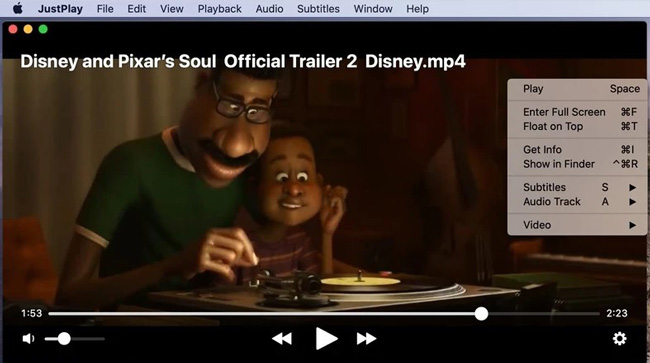 Pros:
Lightweight size
With a set of useful features
Adjust video playback speed
Real-time sound editor
Customized subtitle possibilities
Cons:
It is not free for iPhone
No trimming or exporting
This tool needs J-K-L controls
Top 2. GOM Player
GOM Player is also the best alternative to QuickTime player on Mac. It has an option for various files and formats. It provides a simple and clean layout design, which makes beginners happy to try it. In this free app, there is an option for customization. With the help of customization, you can edit and make the file according to your choice. You can easily control the software of the desktop.
This app is user-friendly because it works well for Mac users and is the best alternative to QuickTime player. This app is free of cost. However, there is an option for paid software. With the paid software, you can easily have additional features. This free app becomes the Premium Video Player by paying the money, making it comfortable for you.
Pros:
Allow users to search for file codecs
Good format support: MP4, FLV, MOV, AVI, MKV, etc.
Natural VR video playback
Sync subtitles for your video automatically
Enjoy playing 4K movies without buffering
Cons:
The Installer contains possible harmed apps
Still limited features on the free trial version
Top 3. VLC Media Player
VLC Media Player is the best music and video player software for Mac. It is free of cost, and you can easily play your favorite music in many formats. The features of this VLC player are unique, you can control your speed, and there is an option for trimming a video. You will also have the opportunity to rotate the video according to your choice.
This media player provides an option for adjusting subtitles speed. It is one of the best alternatives to QuickTime Player. You can enjoy the video at high-quality. The built-in features can help you overlay a host of video effects on your content. It can also convert your files to a format of your choice.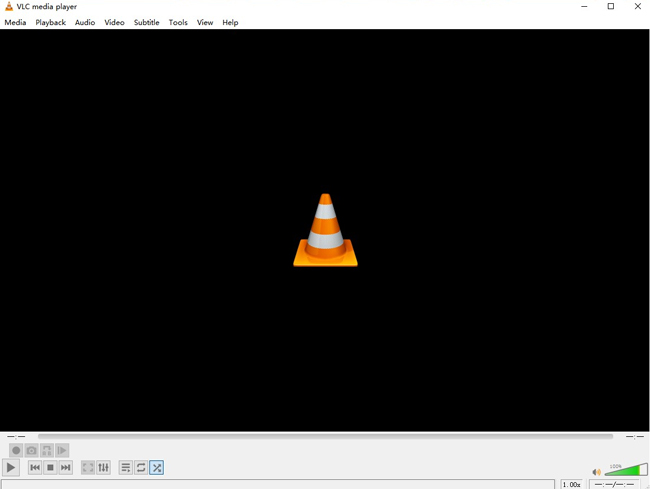 Pros:
Cross-platform for multiple devices
Basic rotate, convert, record, and speed
Turn your video into cinematic aspect ratio in one click
There is no cost at all
Convert the raw file to other formats
Cons:
Complicated procedure to record and convert
Live streaming is not so brilliant
Top 4. IINA
For Mac users, IINA also works well. It is free of cost, and it has fantastic features. With these features, you can easily play your designated files and videos on Mac. It has a perfect operating system. The additional features of this app are perfect for Mac users. This video player alternative of QuickTime Player comes with video, audio, and subtitles settings.
There is the availability of Dark mode in this app. So this app can work well for users who love the idea of a dark aesthetic aura. There is an option for online subtitles, an option for online streams, and you can play YouTube playlists. There is a stylish interface that can make your use more enjoyable.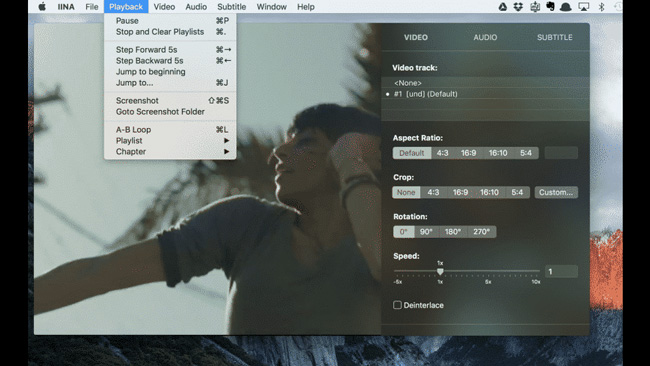 Pros:
Take a screenshot easily
Convert video aspect ratio or crop personally
Adjust the rotation of your video file
Enhance and balance the background audio
Overlay subtitles on a video
Cons:
It has no buttons to increase the video resolution or grade and correct the color layer
Top 5. OmniPlayer
OmniPlayer is one of the best alternatives to QuickTime Player. It supports so many formats, including AVI, MP4, MP3, FLAC, WMV, MKV, MOV, AVI, etc. It also provides a clean design and interface to Mac users. It has other additional features as well. You can easily adjust the video, there is an option for various adjustments.
You can easily adjust the video image subtitles and the audio. This app works well, as you can easily play online videos on YouTube and Vimeo. This app is a perfect option for beginners, you can create the files according to your choice. On the layout, real-time subtitle adjustments on the font, size, and location are at your disposal.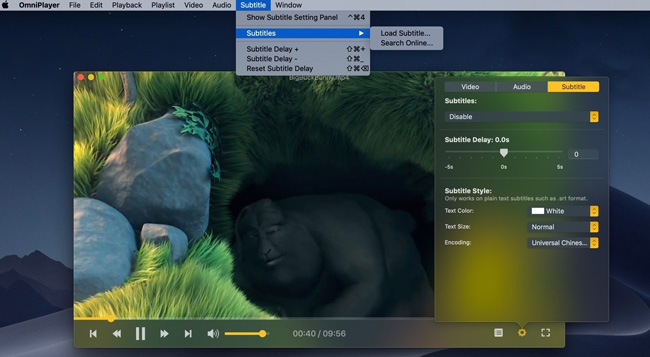 Pros:
Excellent video format support
Real-time adjustments on subtitles and sizes
Stipulate video playing speed from 0.25x to 4x
Casting to Chromecast, Smart TV, and Roku with strong compatibility
Color equalizer changes brightness, contrast, and saturation
Cons:
It needs you to become the pro version user to get the full features
Top 6. KMPlayer
KMPlayer is the standard and perfect alternative to QuickTime Player. It is a free media player, and you can play the files in various formats. There are built-in codecs, and you can easily watch any video or file of MP4, AVI, TS AND 3GP. What makes this QuickTime Player's alternative different is that the toolbar for personalization is movable.
There is an additional feature by which you can download content from YouTube. It is the most accurate alternative for Mac users. It also supports multi-languages by which you can easily watch the video of your choice in any language.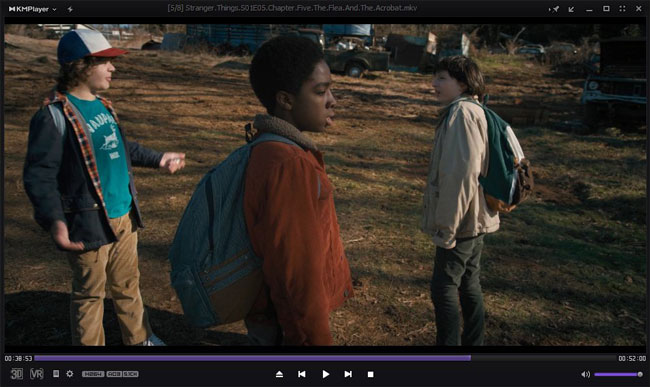 Pros:
HDR automatic calibration
Flexible speed-changing panel
Well-organized layout
Customizable toolbar
Rewind the playback swiftly
Which Is the Best Alternative to QuickTime Player for Mac?
In this section, there is a discussion on the comparison of QuickTime alternatives. You can select the app after reading the comparison on those differences.
| | Supported Formats | Customization of Subtitles | Color Equalizer | Convert Aspect Ratio | Adjust Playback Speed |
| --- | --- | --- | --- | --- | --- |
| JustPlay | It easily supports MKV, MPG and many other formats | √ | × | √ | √ |
| GOMPlayer | There is the support of various formats, including MP4, AVI, and MOV | √ | √ | × | √ |
| VLC Media Player | It supports MP4 and MPG | √ | √ | √ | √ |
| IINA | You can import MP4, MKV, M4A, FLAC, MP3, and more files. | √ | √ | × | √ |
| Omniplayer | It supports various formats of sound and video | √ | √ | × | √ |
| KMPlayer | MP4 and M4V. It also supports MKV and MPG | √ | √ | √ | × |
How to Enhance Your Video Quality to Playing Better?
QuickTime is an excellent app for Mac users. However, after the discontinuation of QuickTime, there is a need for an alternative to QuickTime. In the market, various apps work well for users. Some other options, like KM Player, have the features absent in QuickTime. However, most of them weren't designed to improve the video file quality to help you get a better watching experience.
Thus, if you need to increase the resolution, bit rate, frame rate, or convert the file format to a high-quality one, AceMovi Video Editor won't let you down! It has all the manners to edit the video sound and color without complicated steps.