When resizing the video content for your platform, you'd have tried to make it perfect from any angle. The video aspect ratio has a significant role in the digital video creative field. Some media where you intend to upload your videos recommend the particular scale, for example, YouTube needs 16:9. Thus, looking for a reliable video scale changer makes complete sense.
Losing the video resolution when changing the size is almost given. Still, we've reviewed some of the most exciting video aspect ratio converters that will allow you to do the performance without tinkering with the video quality. Here are the top 6 picks, meanwhile, you can learn how to convert video dimensions!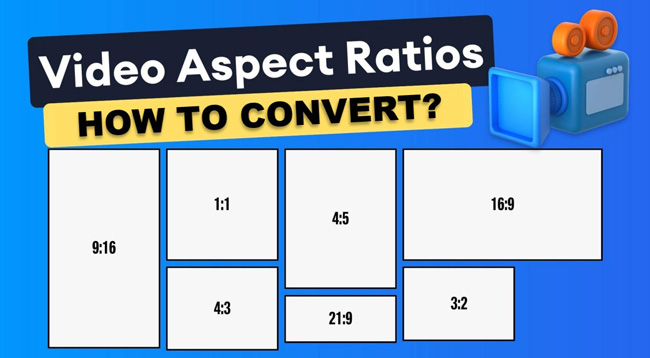 TunesKit AceMovi
As an intuitive software, TunesKit AceMovi is the most convenient video aspect ratio converter option that aims to maintain the original video resolution after converting the size of your footage.
Be it an Android or iOS device, AceMovi makes a video capable of being watched on any media you're using. For example, you can convert video aspect ratio for Instagram Reels at 9:16, or 1:1 for Landscape.
Surprisingly, AceMovi is not merely a video resizer as it allows you to edit your videos with the built-in Video Cropper, Splitter, Cutter, Compressor, and Reverser. If you're aspiring to add audio to your video, AceMovi provides you with an effortless user interface to serve your purpose. It also empowers you to add moving texts, filters, and transitions.
AceMovi Video Resizer
Edit any clip from social media
Pre-made options: 16:9/9:16/1:1/4:5/5:4
Customized performance monitor
The user interface is simple
Operate on low-end Windows and macOS
Export video on HD and Full HD
AceMovi Guides: How to Change Video Aspect Ratio Quickly
Install AceMovi Video Editor on computer. Add files to timeline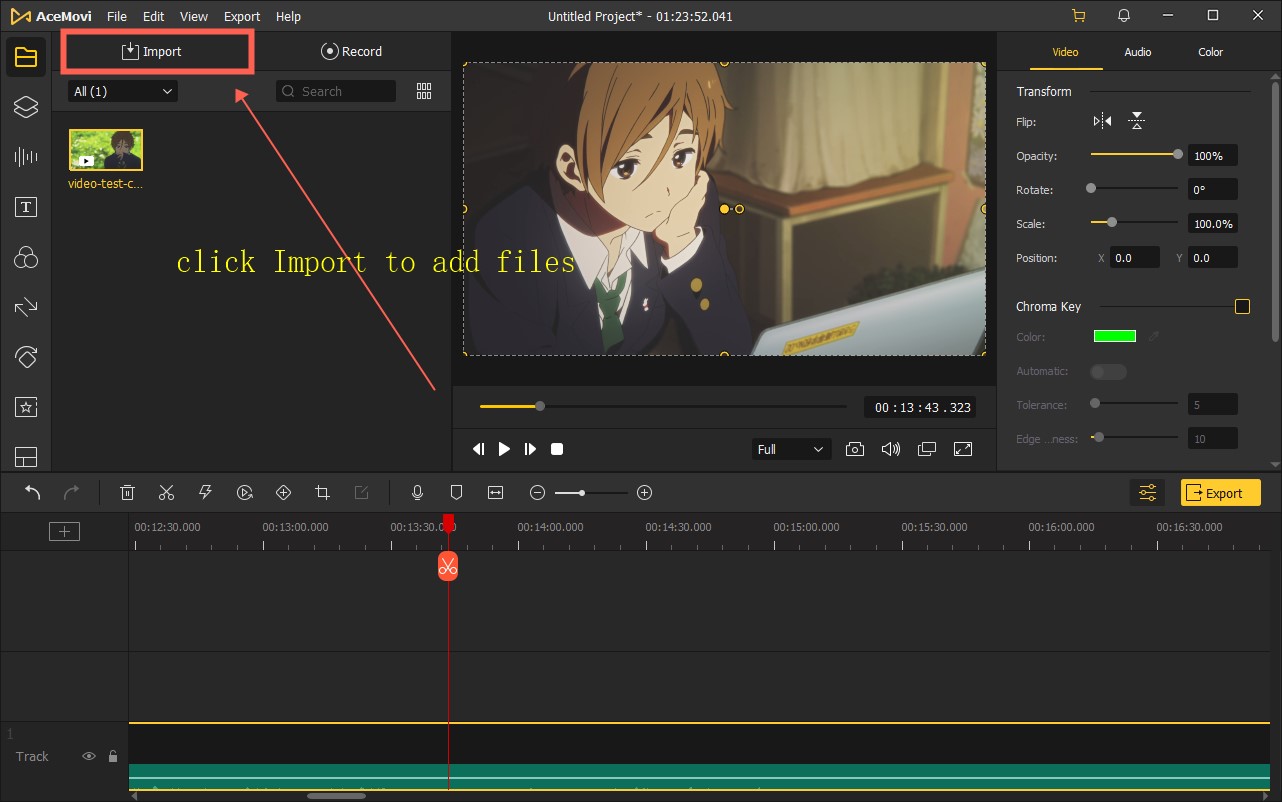 After downloading AceMovi, you can operate it on your desktop by clicking its icon. Then navigate to the "Import" button to upload your media, it can be a video clip, pictures, or audio. Or drop your files to the track area directly.
Right-click video track, then choose Crop. Or click Cropping icon from toolbar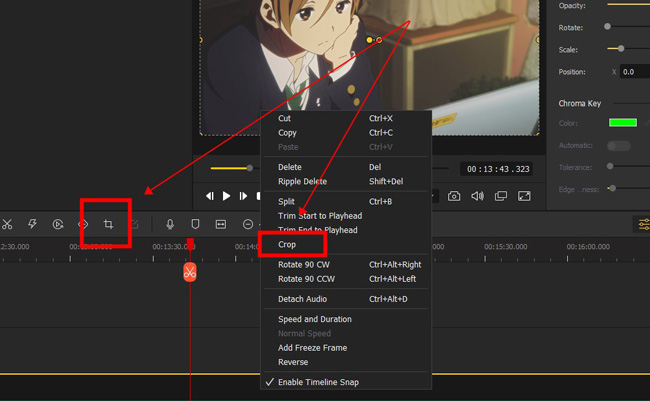 Now, it's easy and soft to change the video dimensions. You can set it at 16:9, 4:5, or other to your imported clips.
If you want to convert video to different aspect ratios, you should customize and drag the window edges on the performance monitor.
Set an aspect ratio to your video, or customize window size yourself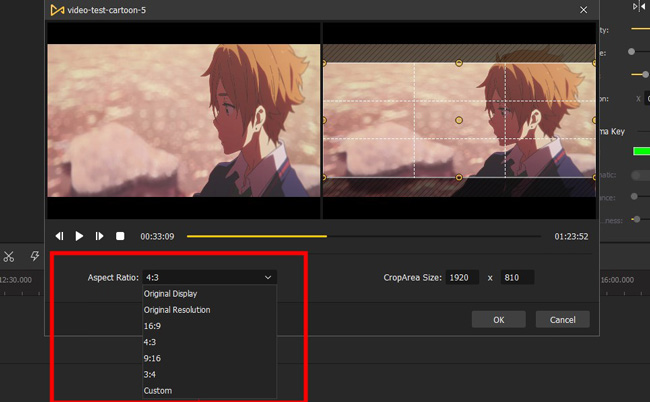 With that said, AceMovi is an audio converter so you can choose the target file type from the "Audio" plate. There are channels to locate the destination and output name.
Adjust other parameters per your needs. Download the converted video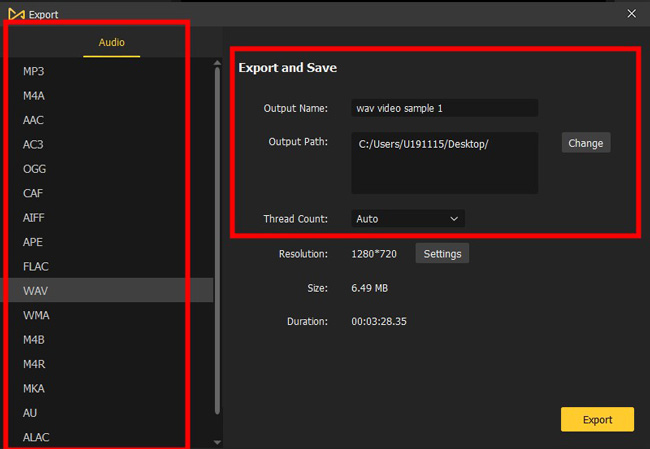 If the aspect ratio is not the only target for you, it's also accessible to convert video format, quality, output save path, codec, bit rate, and many more parameters with AceMovi. It's more than just a one-stop video aspect ratio converter, but is video editing software.
Media Coder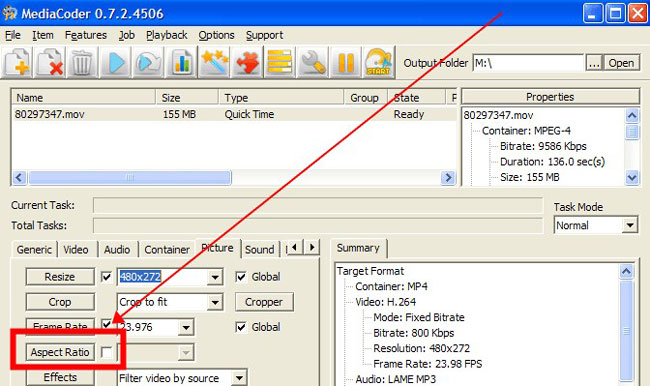 Finding an appropriate tool to convert aspect ratio of video might be difficult, but software like Media Coder can make your job easy and convenient. It is a brilliant video aspect ratio changer that stimulates editing the video in color and background audio.
Apart from doing basic edits, this tool helps you change your video's aspect ratio to cinematic film requirements. More importantly, Media Coder empowers you to import the videos into various formats and then change the dimensions of those clips.
When you're to convert video to 9 16 aspect ratio with Media Coder. Firstly, you need to upload files to this program by clicking on "File". Next, click the "Aspect Ratio" icon under the interface.
Pros:

Plain timeline
Ready-prepared aspect ratio options
Convert batch files
Check metadata in real-time
Apply filters to the video
Cons:

It needs a performance monitor and a video unwanted part trimmer
Openshot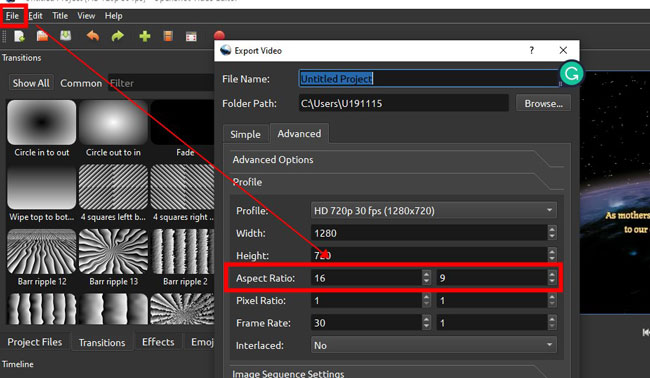 If you intend to convert the aspect ratio of the video, opting for Openshot won't be a bad idea. It's an open-source and cross-platform video editing program. Moreover, this tool doesn't restrict its features to change the aspect ratios of your video. Instead, you can also modify audio, frame rate, or perform any other activity you want, like adding transitions and filters.
The best thing about this tool is that it doesn't bother to ask you for even a penny, as you can use the tool for free. You can convert the videos into various popular formats and then export those videos to your PC. The button to convert video aspect ratio with OpenShot is built in "File" > "Export" > "Advanced" > "Profile".
Pros:

Free for all licenses
4K UHD 2160p
A library of emojis
Flexible timeline and plates
Cool effects
Cons:

No music resource
You cannot customize the size of video on the canvas
iMovie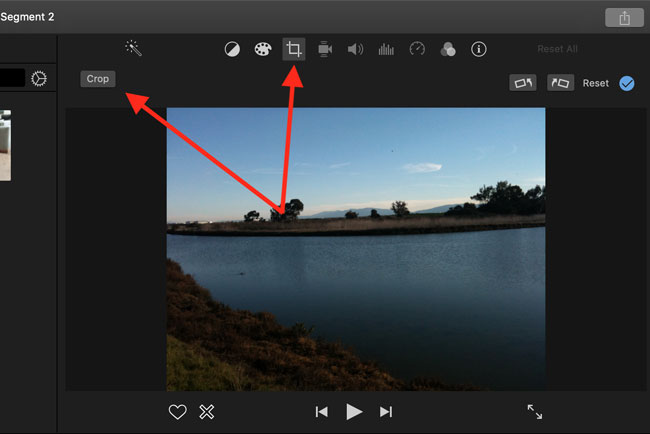 Who would not have known about the iMovie as it is a reasonably popular video editing tool that makes it pretty simple to edit your video? It is one of the most remarkable video editors going around that can reduce the file size without tinkering with the resolution of the video.
Applying this tool, you can crop, trim, and change your video's frame rate or aspect ratio. Although it supports limited video formats, it is still a reliable option. You can even choose to auto-frame video with it.
Pros:

Pre-installed on device
Slow-motion and fast-motion
Make picture-in-picture video
Frame rate converter
Cons:

Up to now, it doesn't provide Android and Window versions
OnlineConverter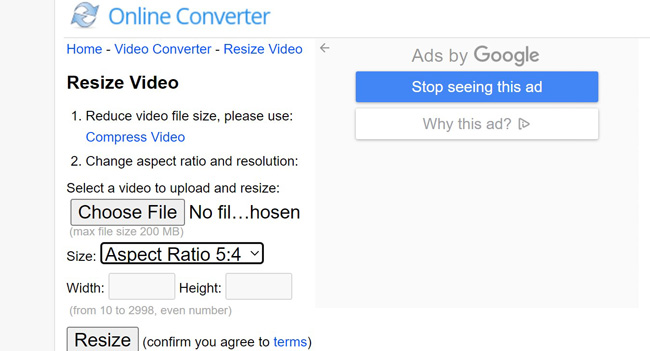 If you desire to convert video 16:9 aspect ratio online, OnlineConverter can fill your shoes. It is a terrific tool that changes a video's size and compresses it to make it relevant.
On top of that, OnlineConverter supports multiple file formats, meaning you convert your videos into the video format you'd want.
Apart from reducing or increasing the size of your video, OnlineConverter is equally good at trimming or splitting your video. Besides that, it also lets you add transitions and add music to your video content.
Pros:

Bases on webpages
Guided process
More aspect ratio options
MP4, MKV, AVI, WMV, etc.
Cons:

File size max is up to 200 MB
VLC Media Player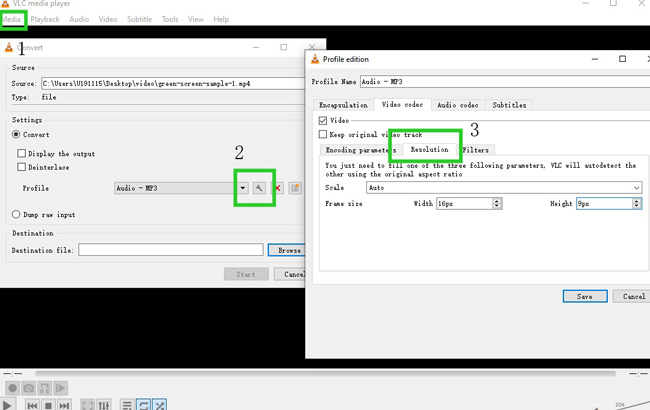 Although VLC is a media player that assists you in playing video or audio clips, it offers various stunning video editing abilities. It can be a breathtaking video aspect ratio converter that allows you to change the size of your video to cinematic dimensions. Besides changing the aspect ratio, VLC enables you to perform various other functions on your video.
For instance, you can convert a video to various formats and add filters or other functions to your video. Surprisingly, VLC also has the capability of altering the formats of your audio files. However, the process of converting size is a bit different. You need to click the "Media" > "Convert" buttons at the very beginning. After choosing the file, click the wrench icon. Next up, click "Resolution" and adjust the size.
Pros:

SQ and HQ media player
Cinematic film size included
Apply eye-catching VFX
Convert video to high resolution within clicks
Cons:

It's hard to learn
Only one single track for editing, and without the track plate
Wrap Up
You can't tell about the quality of a video aspect ratio converter before using it, which makes it complicated to select a particular tool for your purpose. Luckily, this post reveals the six brilliant video ratio converters that stimulate settings of video aspect ratio per your needs. They don't compromise the video quality when performing different video editing activities.