In today's modern world, technology has no limits. Capturing high-quality videos with a smartphone or camera has never been this easy. However, editing videos is considered challenging. No doubt, there is a variety of video editors available online, but unfortunately, most of them are not frame by frame video editors.
Frame-by-frame video editors allow you to deal with a single frame at one time so that you can easily split, crop, and make precise changes.
Are you wondering how to find the best frame-by-frame video editors? No worries, we've got you!
Here we have compiled a list of the 8 best frame-by-frame video editors. We have done a detailed review along with instructions on how to edit video frame by frame like a pro.
Let's get started.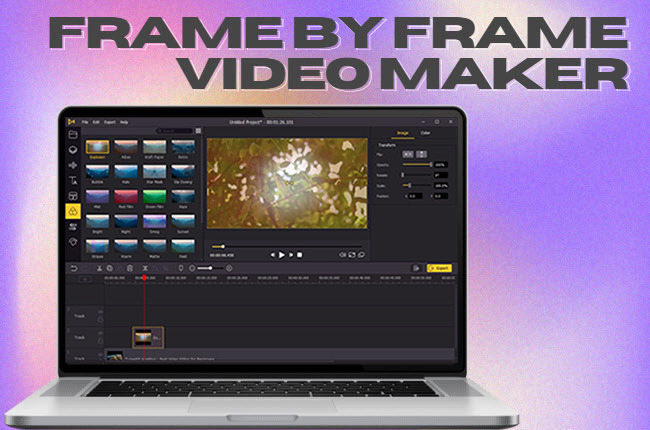 Top 1. AceMovi – Top Frame by Frame Video Editor (Mac & Windows)
AceMovi Video Editor has all the basic and advanced features to help you edit videos like a pro. From cropping to splitting, rotating, and adjusting speed, AceMovi Video Editor allows you to do it all in a frame-by-frame editing way. This software has a very responsive interface and enables hassle-free editing.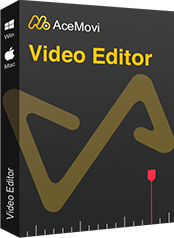 AceMovi Video Editor
Security Verified. 5,481,347 people have downloaded it.
It provides free media resources as it comes with hundreds of stickers and different font styles to make your videos colorful and attractive.
Variety of cool and modern transition effects.
Customize your videos using output customizations.
Allows you to use built-in filters, split-screen, PIP, keyframes, and animation, etc.
Create slideshows and be creative when adding music, pictures, video, and text.
A built-in recording tool enables you to record high-quality videos and audio.
How to Edit Video Frame by Frame with AceMovi
Step 1. Import Your Video
First, download and install AceMovi Video Editor on your Mac or Windows computer. After that, choose a New Project to create a project. Then, you can import your videos by clicking the Import icon and chose the video you want to edit. You can easily drag and drop the video.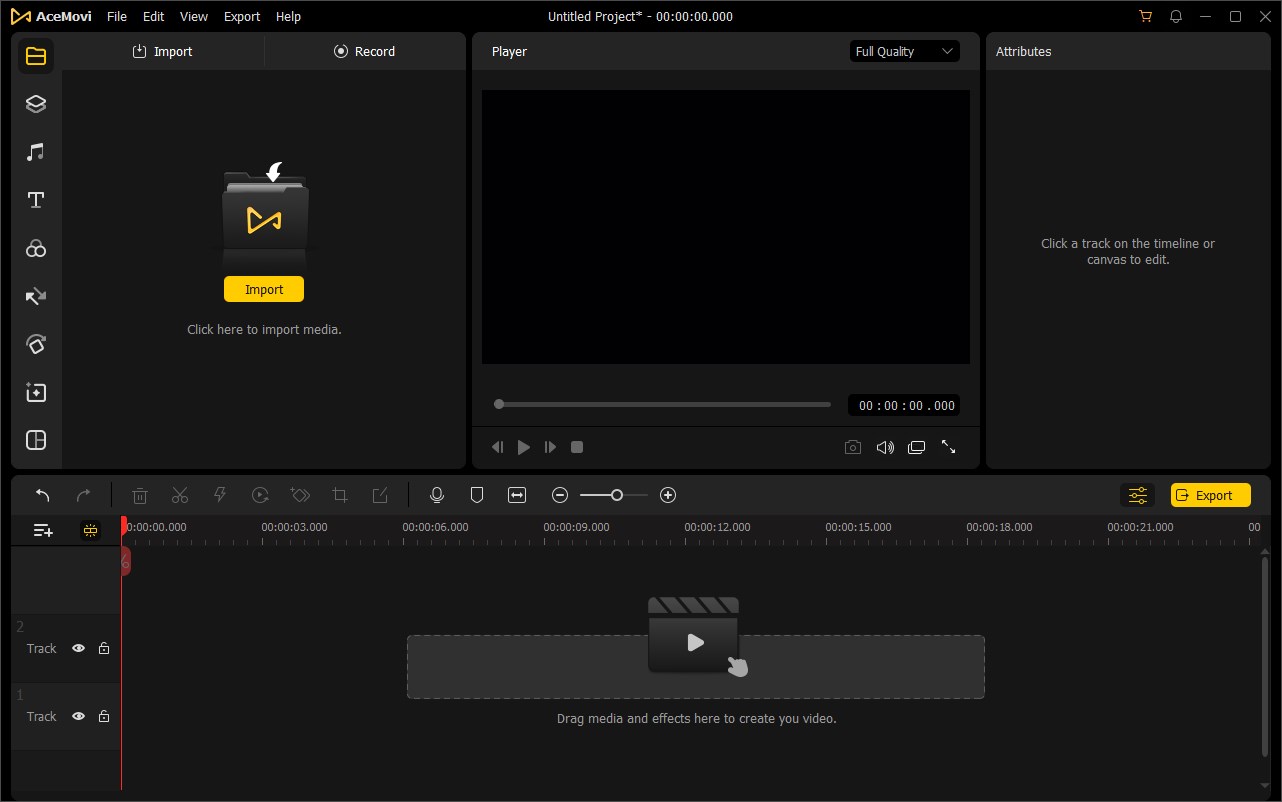 Step 2. Edit Your Video Frame by Frame
Now drag the imported video to the timeline, and then move the zoom slider to the right position that you want to edit. After that, you can start editing your video frame as desired.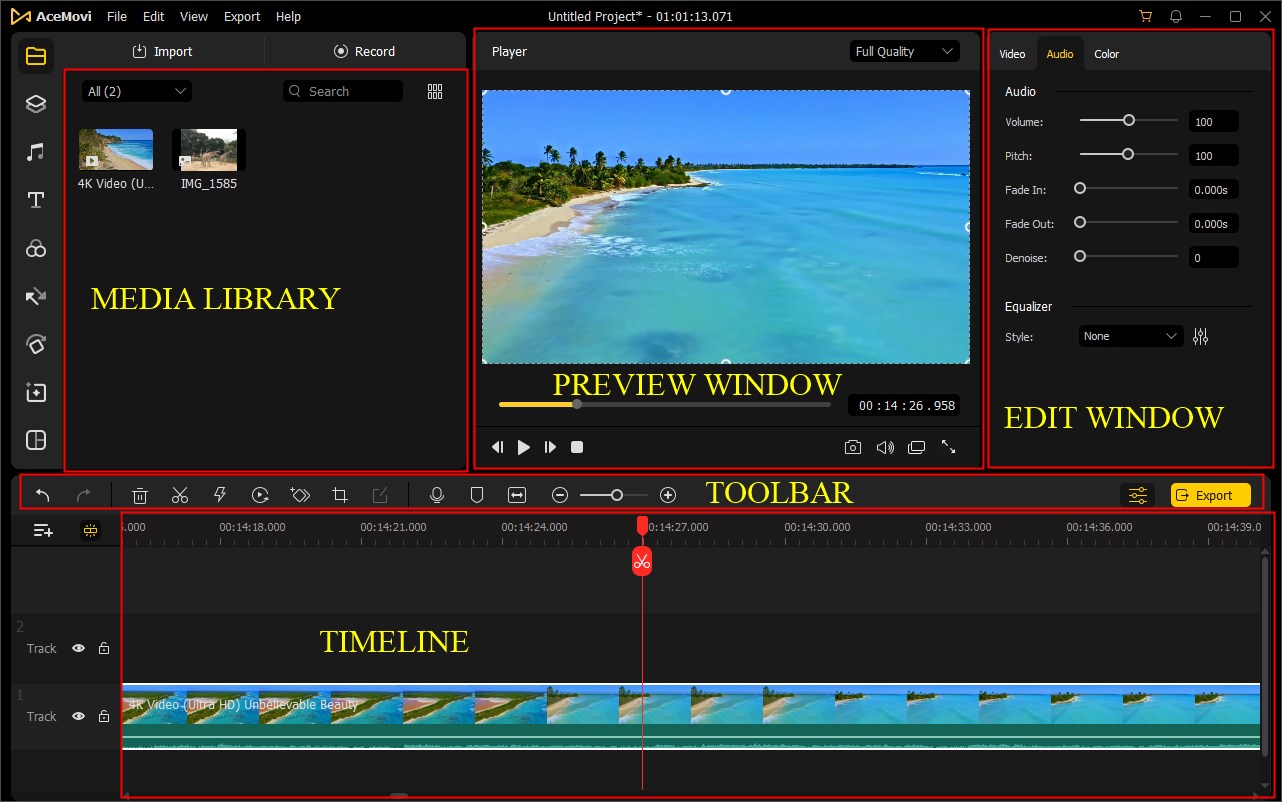 Trim the Video: To trim or cut the unwanted parts, you can choose the frames to exclude by moving the timeline cursor where you want. Then click the Scissor icon.
Crop the Video: You can crop and zoom your videos by choosing the clip or frame in the timeline and click the Crop icon.
Merge the Video Clips: To merge multiple clips, add them to your timeline in a sequence. When finished, clicking on the Export button will have your clips in the form of one video.
Change Speed of the video: You can also change the speed of your video to slow down it from 0.5x to 0.01x or speed it up from 2x to 100x. For this, press the Speed icon present in the toolbar.
Add a Freeze Frame: In AceMovi, you can add a freeze-frame by dragging the play head to the desired position. You can either press the speed icon or right-click the video clip to add a freeze-frame.
Add Text, Stickers and Music: Using this frame-by-frame video editor, you can add stickers and text to your videos. You can change the size and style of the fonts and choose from a colorful variety of stickers. You can drag and drop music on the timeline. Click on it you will see an option like de-noise or increase and decrease the volume.
Transition Effects and Built-in Filters: You can add cool transition effects to your video by clicking on the tab. There is a great variety of transition effects and built-in filters available. You can choose your favorite by just clicking on it and dragging it to the desired frame.
Step 3. Export the Video
Now you can export after finishing your work using the best frame-by-frame video editor. For this, click the Export icon. You can change the format and video resolution as well.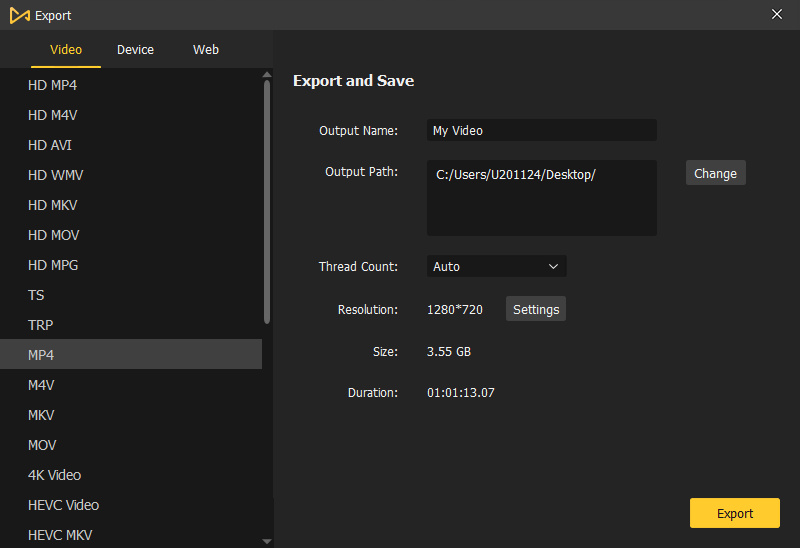 Top 2. Adobe Premiere Pro (Mac & Windows)
Are you someone who not only loves to make videos but also focuses on minor details? Then you must be looking for the best frame by frame video editor app that focuses on every frame so that you can have a professionally edited video. Adobe Premiere Pro is considered a trustworthy frame-by-frame video editor software for both beginners and professionals.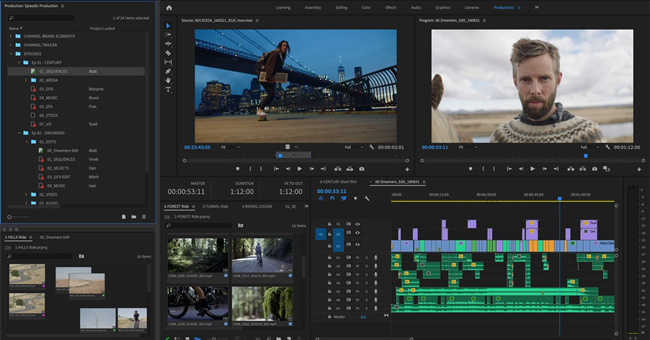 Pros:
It is high-quality frame-by-frame video and audio editor.
It works efficiently for both Windows and Mac
It offers built-in features for quick editing.
It Supports several features and formats like HDV, HD, and flash video.
It has discount offers for students and teachers.
Cons:
The software provides a free trial for only 30 days
Top 3. WeVideo (Online, Mac & Windows)
It is a cloud-based video editor with efficient features. You can enhance your ideas and make videos outstanding with multiple resources and cool effects. This amazing software is for students (school), businesses and third-party users.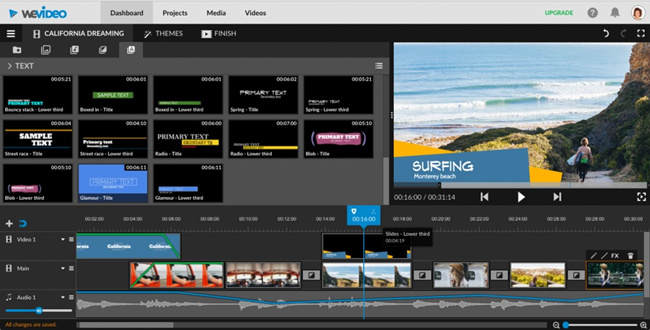 Pros:
It has drag and drop options and is easy to use.
It has a wide range of effects and a rich collection of soundtracks.
The frame-by-frame editing process enables users to add simple frames to their video clips.
WeVideo gives students and teachers unlimited access to about 650,000 royalty-free and high-quality videos, audios and images. This is to help students with their video projects at no additional costs.
Cons:
It takes a lot of time to upload a video before editing.
Top 4. VideoProc (Mac & Windows)
It is a simple yet efficient frame by frame video editor for users belonging to different professional fields. VideoProc is the ultimate one-stop solution for editing videos, to resize, convert and adjust 4K videos and audios easily and quickly. This software works on almost all devices and preserves the video quality to make the user experience worth it!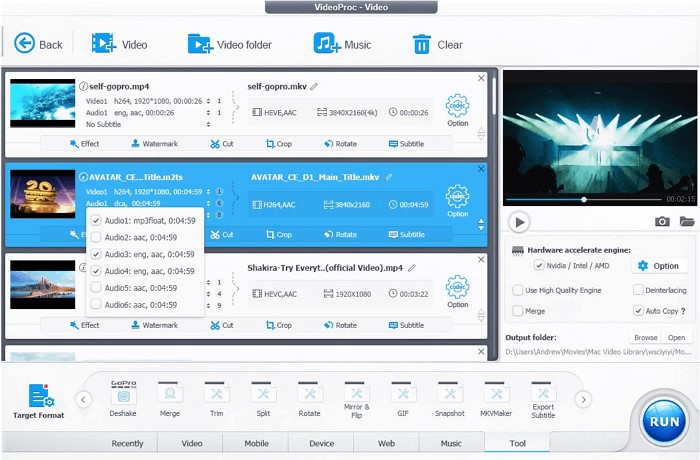 Pros:
Lightweight frame-by-frame video editor app designed for both Windows and Mac.
It has unique and modern features to edit videos.
Easily edit videos without any fear of crashing or freezing.
You can edit videos without compromising on the quality.
Empowered with full GPU acceleration and full hardware acceleration that gives high speed and better quality.
Cons:
It lacks sharing and collaborations.
It does not work on Linux.
Top 5. Windows Live Movie Maker (Windows)
It is considered the top choice for PC users as it has a built-in program to make editing convenient for everyone. It is a user-friendly software created by Microsoft for its users. It helps to edit simple to complex videos with a mix of images and audio clips etc. It is fun to use and guarantees a hassle-free experience.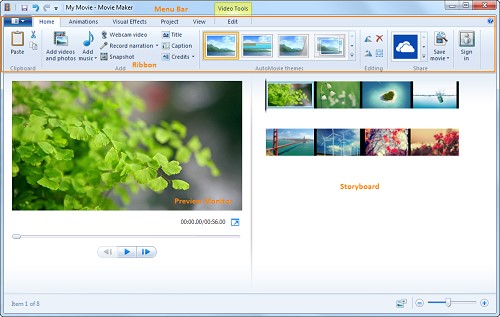 Pros:
It has a variety of free-of-cost editing functions.
The timeline feature enables you to edit videos frame-by-frame.
Beginners friendly.
Several output settings are present.
Cons:
The loading process for large files take time.
It crashed often.
There are no adjustments for visual effects.
Top 6. Aiseesoft Video Editor (Mac & Windows)
Aiseesoft makes it to the list of best frame by frame video editors. It is because of its user-friendly and advanced approach towards video editing. Moreover, it helps to produce high quality video conversions. Aiseesoft Video Editor offers customized profiles so that you can choose according to your needs.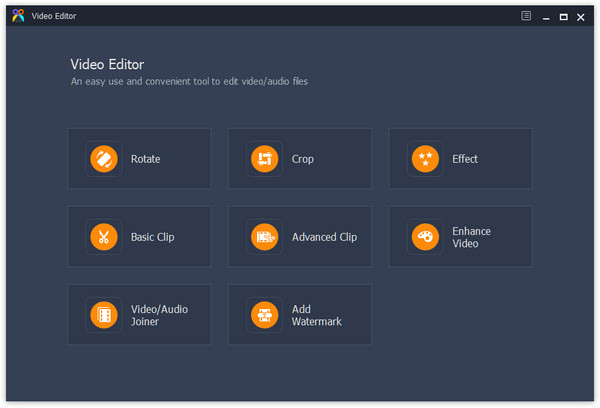 Pros:
It displays video clips on your timeline to enable frame-by-frame editing.
It is for multiple devices like Windows computers, IOS, and Mac.
Videos can get converted into different formats like 3D and 4K.
The quality of video or audio remains undamaged during the conversion process.
Cons:
The account has the chance to get hacked if the user password is not strong enough.
Top 7. AnyMP4 Video Editor (Windows)
Do you like filming yourself or love making videos of things you find interesting? Then you must be looking for easy-to-use yet advanced video editing software that makes storytelling easy. This video editor is a simple yet excellent frame-by-frame video editor that saves both your time and effort.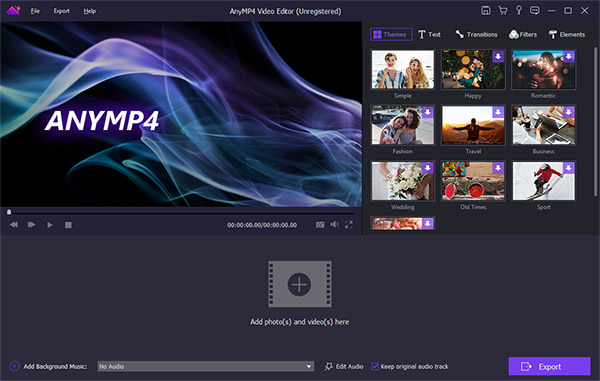 Pros:
AnyMP4 is for both Windows and Mac.
It acts as a video enhancer and can improve the quality of videos with advanced features.
It is easy to use and straightforward frame-by-frame video editor app.
AnyMP4 keeps on updating the software to deliver the technologically updated version to its users.
Cons:
It is subscription-based and requires a registration code every year.
Top 8. Joyoshare VidiKit (Mac & Windows)
Joyoshare VidiKit is another best frame by frame video editor for desktop. It is both a converter and video editor. Using the program, you don't have to think about any watermark, adware or time limit etc. It can work efficiently on all devices and is supported by both Windows and Mac.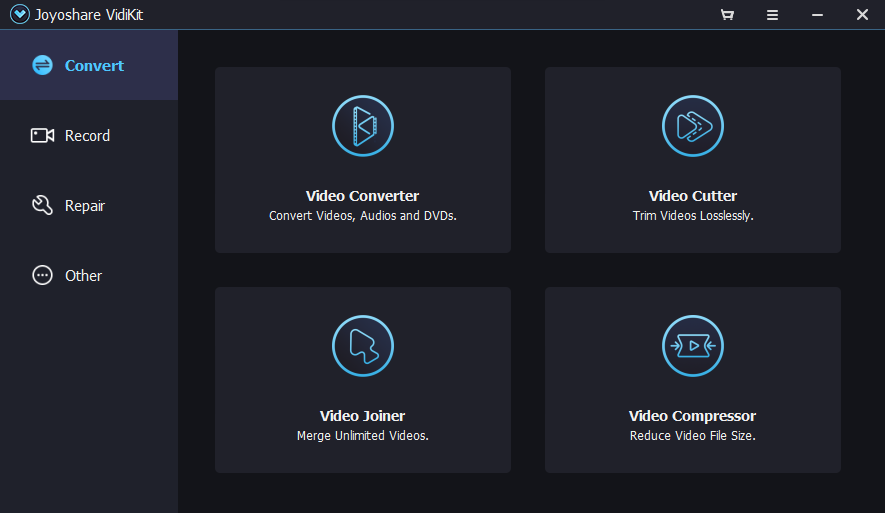 Pros:
Efficient and friendly user interface.
It has a high processing speed.
4K video files are supported.
Cons:
The trial version offers limited features, you have to pay for full features.
Summary
Thus, the above-mentioned detailed review of the best frame by frame video editors for Windows and Mac has benefits and unique advantages. We see that frame-by-frame editors have modern features like freeze frame, filters, attractive transitions, and splitting options to make editing easy and quick. Using such easy-to-use editors like AceMovi Video Editor, you can instantly split a video clip and edit it frame-by-frame, making video editing hassle-free and professional.