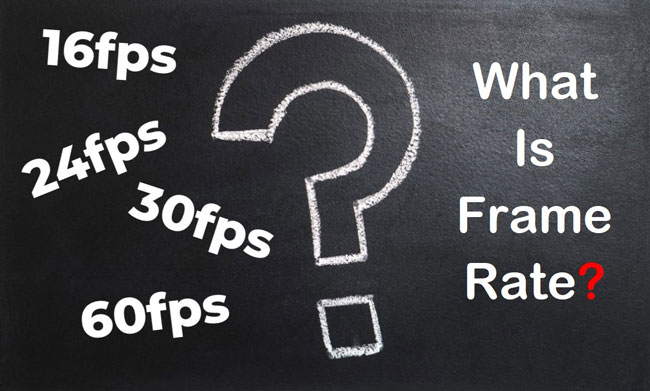 The concept of Frame-Rate is not something that is new in the video-making field. Instead, it has been used for quite a long time until now. In brief, the frame rate is the frequency expressed in frames per second or FPS at which consecutive images are caught or performed, and normally, as the frame rate changes, the motion that happens in the video will be changed as well.
And you still need to learn about this term even though modern cameras allow you to create smooth and high-definition videos without telling much about the frame rates in the modern era. So today's content will introduce all the detailed matters concerns frame rate including what on earth does the frame rate means, how to select an appropriate frame rate as well as which is the best video frame rate converter. Now, here we go!
Part 1. All You Want to Know about the Video Frame Rate
1. What Is the Meaning of Frame Rate in Videos?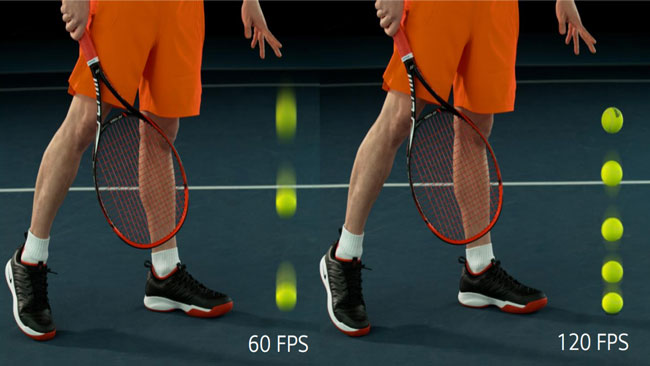 The video frame rate is nothing but a frequency at which you can see images on your screen, which means you've got the opportunity to change the number of stills that will be displayed on your screen within one second. Usually, the more the number of frames, the slower the shot moves on your screen. On the other hand, decreasing the frame rate can make your shot move faster.
We humans can only see 10 to 12 photos per second and the 16fps is the minimum frame rate you can use for a not bad visual experience. As a result, using a frame rate lower than 16 fps can make your shot on the screen move at an unnatural speed.
2. Why We Need Different Video Frame Rates?
Frame Rate is directly proportional to your viewing experience so that you need to be pretty careful while selecting a frame rate for the video you're going to record. If you're to create a standard video, using a 24fps frame rate is a befitting option. Since, in this frame, the screen will look like the way we see this world, you can create an appropriate video. However, if you've got a big budget for your content, you should go for high definition frame rates to make your video extremely pleasing to the eyes. And let me give you two examples, now, please look at the below image and think about what is the exact number of fps the baseball applies? 30fps or 60fps?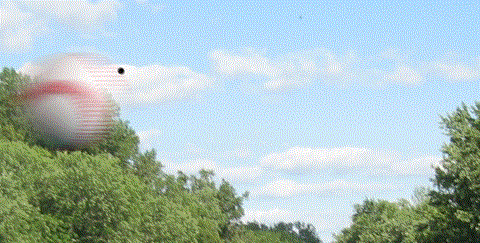 The answer is actually 30fps with 1.0 realistic and 1000 px/s, and in this following, try to guess which fps this image uses? 60fps or 120fps?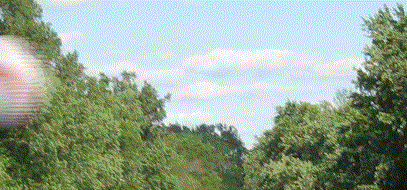 And the answer is 120fps with 1.0 realistic and 1000 px/s. Apparently, we can see that with the same realistic number and px/s, different fps with change the motion speed and video quality. While higher video frame rate carries out more loads of system, so finding the suitable one will make a vast difference. Right now, let me introduce the sorts of fps and show you how to pick up the appropriate frame rate for video creation.
3. What Are the Commonly-Used Video Frame Rates?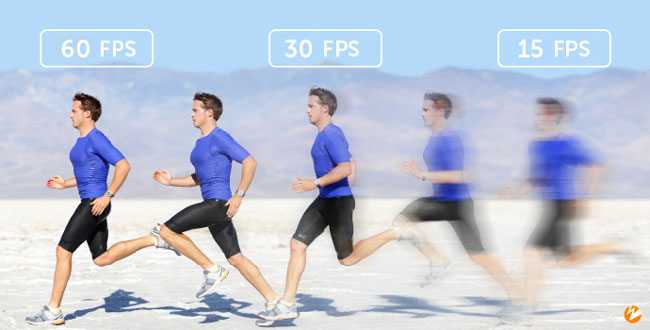 Many movies and DLSR cameras have been using frame rates of three different kinds, among which the 24 fps and 30 fps are standard frames that have been used in TV shows. And since you'll have to move the objects rapidly in sports, the video frame rate of 60 fps is an appropriate option. Here are the description of 16fps, 24fps, 30fps, 60fps, & 120 fps.
16 FPS
If you're going with a 16fps frame rate, you won't see the continuous motion of the objects on your screen. Even if you're to create a silent movie, using a frame rate of less than 16fps will not help your cause.
Surprisingly, it has been rare occasions where people tend to use 16 fps because you'll get to watch the objects moving faster than usual on your screen.
24 FPS
The majority of the footage you'd have recorded might have carried a 24fps frame rate. Suppose you've been asked to use more than a 24fps frame rate; that's a separate thing altogether. But, almost every filmmaker tends to use a 24fps frame for the perfect outcome. Shooting videos in this frame rate will give you a cinematic look. However, you may find your footage less smooth than when you were using 60fps, but it is fine, and nothing is harmful there.
30 FPS
TV shows and Live TV broadcasts have been recorded at 30fps. Since people want to watch these shows in high-resolution quality, using 30Fps has become a norm nowadays.
60 FPS
Before introducing 4K video resolution, pretty few people had used this frame rate. Using 60fps frame rates makes your video look fantastic and pleasing to the eyes. Moreover, 60fps can also help you eliminate the choppiness of your video.
120 FPS
The 120fps video frame rate is a huge advantage for fascinating video games because instant action can make a big difference, and playing the game at higher frame rates also can help to eliminate motion sickness. Likewise, an evident difference between video frame rate 60fps and 120fps is the smoother displaying, viz, when you play games at 60fps and then switch it to the 120fps, you will see that the animation becomes smoother for which enhances the experiences of visual response.
4. How Can We Choose the Best Frame Rate for Videos?
There are a couple of reasons behind using non-standard frame rates. The first reason is based on the style and visual effect that a high frame rate can add to your video. For example, if you want to record video for airing on the TV, using the frame rate of 24fps to 30fps will do good for you.
The second reason for using high frames rates is to make your footage detailed and smooth. To be detailed, with 30fps to 60fps frame rates, you're not going to get videos with pure quality and choppy playback. Likewise, selecting the frame rate for live broadcast is slightly different from choosing a video you'd want to record with your DSLR or another camera. And if you want to create smooth motion videos, you should go for frames between 30 to 60fps.
However, when you increase the frame rate, the size of the video increases automatically. Before increasing the frame rate of the video, you need to ensure your PC has enough memory space to deal with it.
5. How Can We Choose the Best Frame Rate for Videos?
The process of changing frame rate is an advanced video editing skill so that you'd better find a professional video frame rate changer (or converter). And some of the frame rate conversion software, based on our testing, can be operated for only one system either Windows or Mac. So in the following section, we'll be sharing with you a very good-to-use toolkit that operates for both Mac & Windows - TunesKit Video Converter, and by which you can choose a set of video frame rates including 12fps, 15fps, 20fps, 23.97fps, 24fps, 25fps, 29.97fps, 30fps, 50fps, 59.94fps, and 60fps in keeping with your requirements.
Part 2. Best Video Frame Rate Converter - TunesKit Video Converter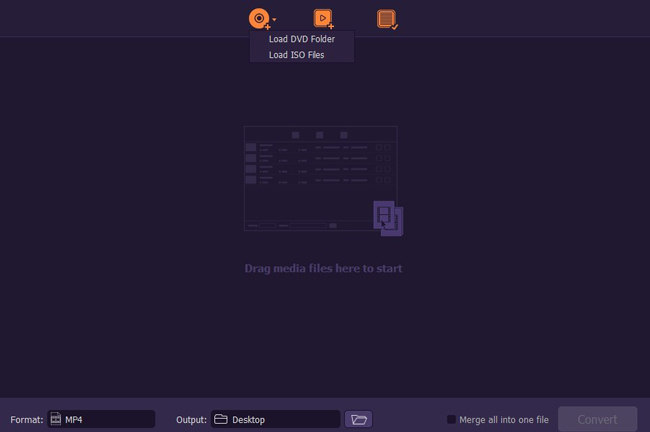 TunesKit Video Converter is a very professional toolkit for video format exporting and video frame rate conversing and by which you can do your workflow with great ease. Right now, users can download this software for free at any time for both individual and collaborative usage. And you can download it in the following description box.
Speaking of the features built-in TunesKit Video Converter, you can import any kind of video formats like MP4, M4, MKV, GIF, DV, AVI, HEVC Video, 4K Video, or DVD-Video just by drag-n-drop and then you can use it to make video converted, trimmed, adjusted, effects applied, watermarked, audio inserted as well as frame rate changed. Besides, as the best video frame rate converter, TunesKit Video Converter offers hundreds of useful tutorials on the official website as well, so if you're confused about the working process, just visit it!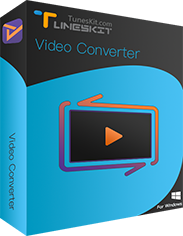 TunesKit Video Converter
Security Verified. 5,000,000+ people have downloaded it.
Convert 250+ popular video & audio formats
Change the video frame rate into 10+ types
Supports both personal & commercial DVDs
User-friendly and very clean user interface
Convert videos with higher quality at 60X speed
You can get a discount in critical festivals like Christmas and Black Friday
This is a 2-step guide of how to convert the video frame rate for PC.
Import Video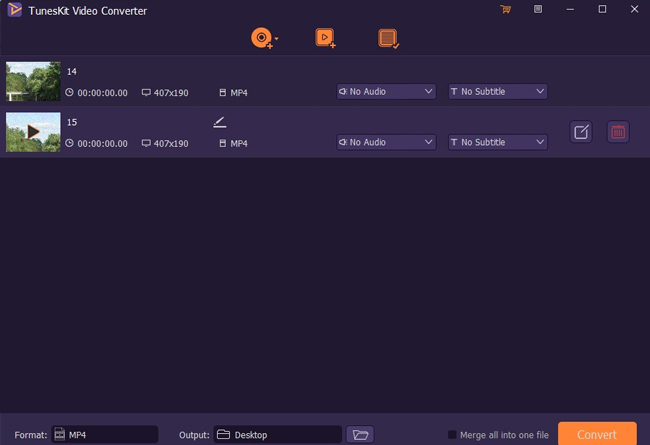 The easiest importing method is dropping the wanted files under TunesKit Video Converter. Also, you can unpack the Disc icon to import from the DVD folder or the ISO folder, or click that Video tab to import your video files.
Begin to Convert Video Frame Rate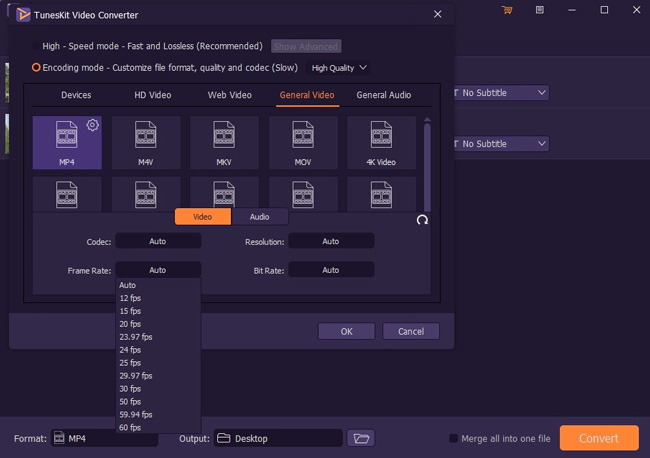 To convert the video frame rate, try to: (1) Unfold the Format tab, which is located on the left bottom; (2) Choose the video format you prefer; (3) Click the settings, which shaped like a gear; the most important step is, (4) Convert the frame rate into 12fps, 30fps, 60fps, or others; and lastly, (5) Tap OK & Convert.
Part 3. Best Tool to Edit Videos before Frame Rate Conversion - AceMovi Video Editor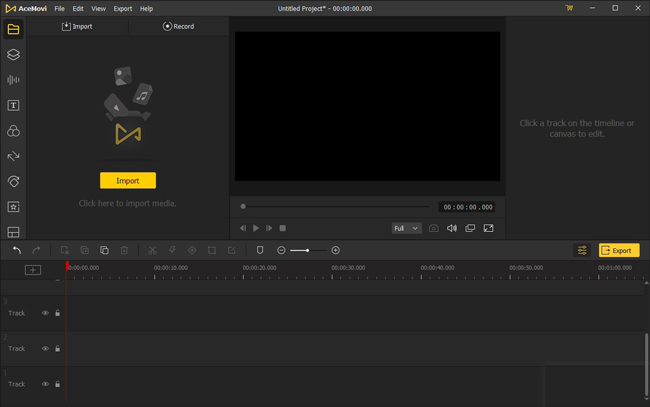 If you're looking for a video editor, going for AceMovi Video Editor isn't a bad idea. It can edit your video in any manner you want effortlessly, including video trimming, reversing, chopping, recording, compressing, etc.
And TunesKit AceMovi Video Editor comes with a pretty manageable user interface, making the process so smooth and elegant. Besides, AceMovi also has the function to change the frame rate, all you need to do is: import videos by drag-n-drop > click the yellow tab Export > find the settings > unfold Frame Rate and convert into the fps you want.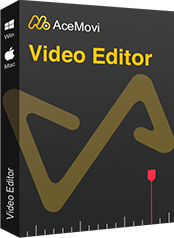 TunesKit AceMovi Video Editor
Security Verified. 5,481,347 people have downloaded it.
You can quickly increase or decrease the frame rate
Comes with a pretty prestigious user interface
Export your video to the AutoFit format that various social media platforms need like Instagram, YouTube, DailyMotion, and more
Blesses its users with stunning editing options like trimming, cropping, splitting, adjusting, or rotating a video
Offers you a free version with excellent features, meaning you assess the software without paying any penny
Supports multiple video formats like MP,4 4K, FLV, MPEG, etc.
Part 4. Conclusion
The appropriate frame rate is a very key element for videos, and we hope that you can pick up the best frame rate successfully as we've highlighted the whole aspects of it. Moreover, we've provided you with 2 options in the last 2 sections - if you'd like to increase or decrease your video frame, TunesKit Video Converter must be the best tool; and if you want to edit video before the frame rate conversion like trimming, reversing, splitting, and blurring, just choose AceMovi Video Editor.