Videos are inarguably the best way to express your thoughts or do advertising for products and services. Not just this, you can create content for recreational purposes as well. But some people take videos and share them with the rest of the world. When it comes to sharing the videos, editing them before publishing makes sense to ensure the video receives the most views.
Taking this into account, we've figured out the 8 best Windows 11 video editors that you can take advantage of. These video editors for Windows 11 were tried and tested from aspects of features and services over and over again. Please note that some tools will be free, while others are paid. Now, look at the tools and figure out which fits the best for you.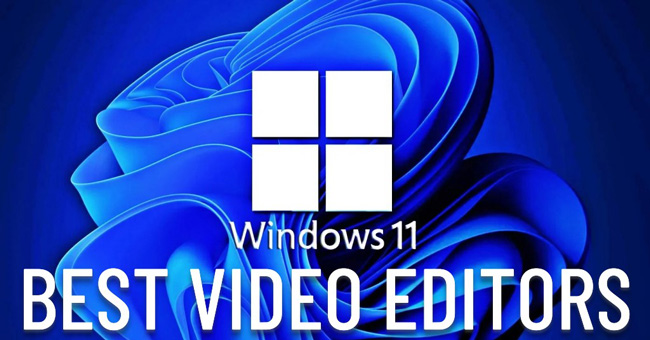 8 Best Free Video Editors for Windows 11
Top 1. TunesKit AceMovi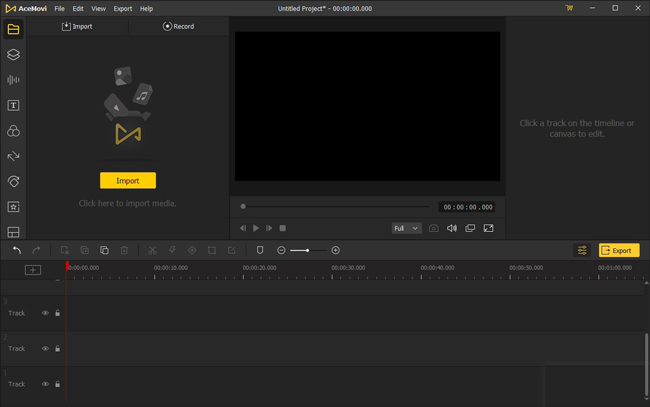 The first on the list is AceMovi by TunesKit, which is applied to Windows 11, 10, and even low-end Win systems. With a screen/webcam recorder that you can use to capture new footage with sound, AceMovi makes video editing absolutely easy.
Downloading and using this video editing software for Win 11 is not difficult at all even if you're an entry-level editor. When it comes to its advantages, it works seamlessly on a computer and supports multiple video formats, such as MP4, OGV, MPG, MKV, etc. It lets you do an inspiring array of basic operations covering Record, Rotate, Crop, Split, Reverse, Subtitle, Speed, and Converter.
Ultimate Guides: How to Edit Videos with AceMovi
But more than that, AceMovi comes with a stock library, which lets you do a real-time preview of the edited videos and audio files, and convert into 720p/1080p/2160p resolutions them quickly.
AceMovi Video Maker
100% safe to download
Run on Windows 11 without trouble
Full of elements for video-making
Add captions and subtitles
Multi-track timeline
Easy-to-follow user tutorials
Support 4k/2160p quality files
Advanced green screen
Top 2. Microsoft Photos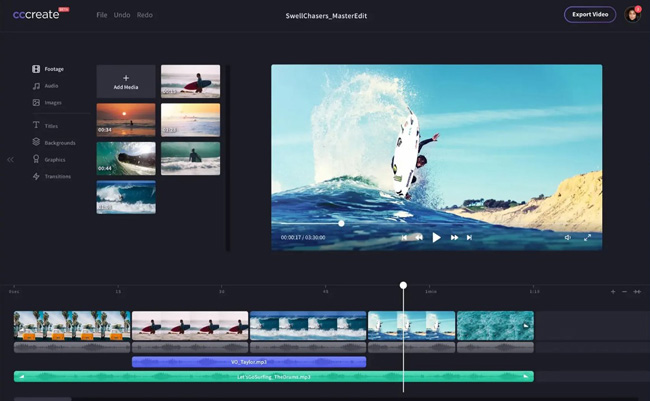 Microsoft Photos is typically used to edit photos. However, what many users don't know is that the Microsoft Photos tool comes with a few editing features that let you edit videos as well. It enables you to add 3d animations, animated subtitles, slow-motion effects, etc.
As the built-in video editor Windows 11, Microsoft Photos will be more than enough. But if you are looking for a more advanced-level video editor, you might want to skip it. It also has a search bar, which lets you search for effects easily. For 3d effects, just click on the 3D library tab, and all the 3D effects will be displayed.
Pros:
Smart motion detection
Combine multiple files on one track
Redo and undo buttons
Video backgrounds and graphics
3D animations and effects
Cons:
It lacks advanced, popular features, such as the split-screen and chroma keying
Top 3. Avidemux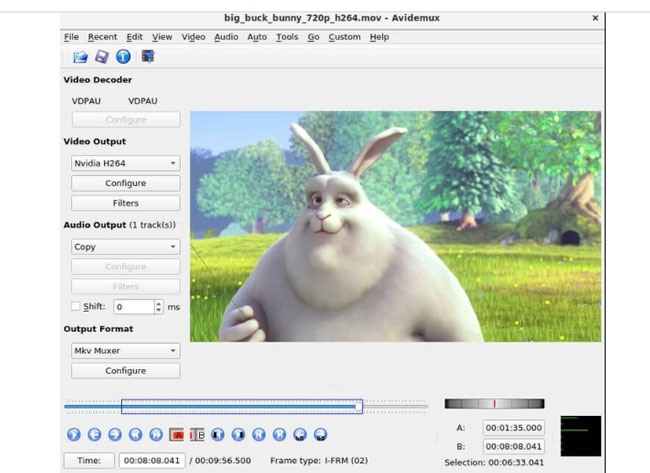 Next is Avidemux, which is an open-source tool to operate Windows 11 video editing and upgrading, meaning absolutely free. It empowers you to operate all the basic editing work on a video, such as converting, configuring, filtering, cutting, and encoding. If you want, you can even automate some of the tasks.
Avidemux accepts many video formats like MPEG. ASF, MP4, and AVI. There are a few more things that Avidemux can help you with, such as transcoding videos into different formats and adding stunning visual effects, and it also accepts non-linear video editing.
Pros:
Streamlined interface
Set video resolution
Easy for beginners
A series of formats included
Play clip at a higher speed
Cons:
You cannot extract audio from your video and edit the soundtrack specifically Old-fashioned interface
Top 4. Clipify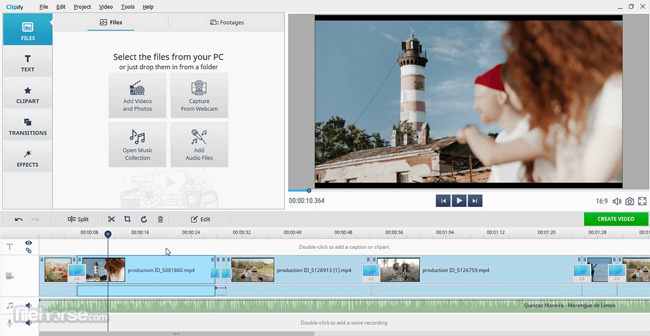 Another free video editor Windows 11 helper that one can go for is Clipify. The feature this one has to offer can intelligently stand against paid tools. You'll find all the basic video editing features, including file quality enhancement, cutting, clip trimming, scaling, color correction, and video stabilization.
If you don't have the time to edit the video manually, you can simply try the automatic video creation feature. Apart from this, there are title cards, transitions, effects, and stickers. If you want to add background music, you will be happy to know that it has a massive library with free-to-use tracks.
Pros:
Webcam recorder
Action detection
Video transitions
Full of VFX
Special ClipArt panel
Cons:
Limited tracks for editing multiple footages
Top 5. OpenShot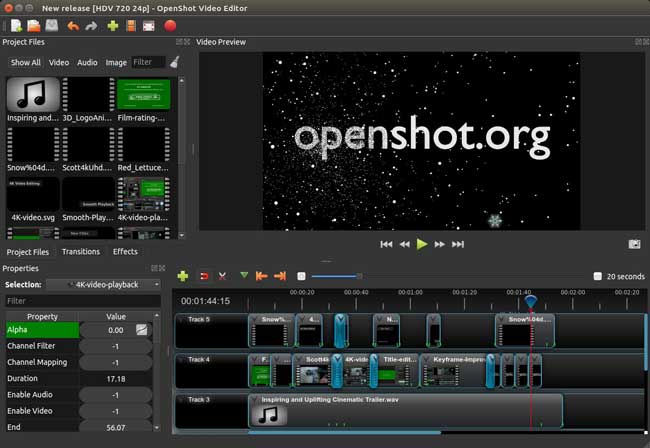 Windows 11 video editing can become super convenient with OpenShot, which is the best free video editor for Windows 11. It has a customizable interface, easy to understand, Chroma key features, multiple templates so you can create a video fast, built-in 3D titles, and audio from video extraction.
Not just his, there are so many effects to try from, title cards, and a watermarking tool to protect your videos. Although OpenShot is considered user-friendly, for someone new, there will be a long learning curve. But since it is free, you can keep trying and testing it until you enhance your skills.
Pros:
Open-source and cross-platform
Watermark-free
Multi-track timeline
Classic transitions
Customized interface
Cons:
There are no built-in music resources
You may face a long learning curve
Top 6. DaVinci Resolve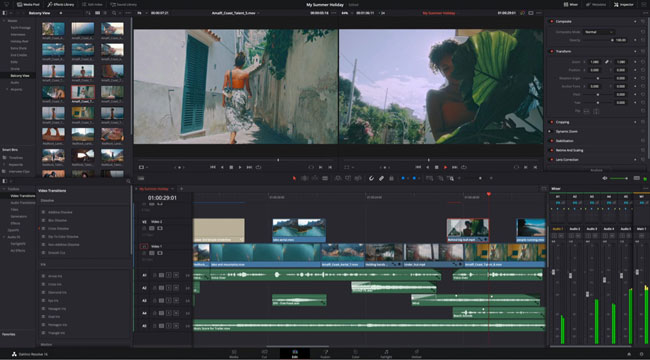 DaVinci Resolve is the best video editor for Windows 11 that leaves no watermark on your exporting files. You can download the basic version for free, and if you like it, you can think of upgrading it to the studio version by paying $299.
Like most video editing tools for Windows 111, this one also comes with many basic-level features like cutting and converting. But that doesn't mean it misses out on pro-level editing features. You can do multi-cam editing, noise reduction, add music to your videos, create a new background by the green screen, and more. It allows you to do 8k quality export and comes with a few collaboration features.
Pros:
Up to 8k resolution
Advanced panel for music
Color grading
Real-time changes
No branding watermarks
Cons:
You cannot use most of the video effects because they are not free
Top 7. VSDC Free Video Editor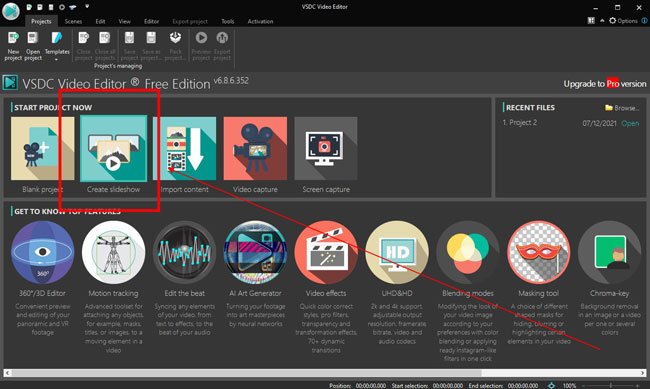 If you want to produce a video with meticulous parameters of audio and video, VSDC Free Video Editor is a good option, which is a watermark-free Windows 11 video editor. You simply need to download the tool, upload the video, and start editing it from scratch or with a pre-designed project like slideshow-making.
Considering the number of video enhancing and editing tools it comes with, it might make you wonder whether VSDC is a free tool or not, but worry not, it is free. It lets you do 4K quality export, supports multiple screens, and export edited videos on different social media platforms.
Pros:
Generate a video slideshow with music in a professional panel
1080p and 2160p resolutions are free to set
Boost audio volume and apply fading effects
There is no watermarks
It's compatible with low-end Windows
Cons:
Intricate learning curve
The 360-degree video editing and hardware acceleration are paid
Top 8. Shotcut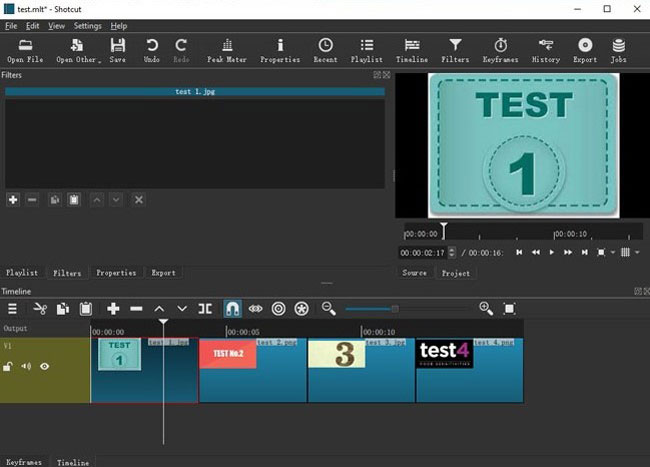 For the last one, we have Shotcut, which is a reliable and easy-to-learn tool to manipulate Windows 11 video editing. This tool is available for open-source and completely free, and there are multiple video editing effects that you can try. The features are good enough for a new user.
Shotcut has a wide range of effects and filters, which you can use to enhance the quality of your videos. Although using the filters and effects won't be easy at first, as you start learning, things will become easy. It has an advanced Chroma key tool, lets you export videos in 4k, supports external 3D LUTs, and comes with lens distortion correction.
Pros:
Advanced color grading
4K resolution
3D LUTs
Encode footage
Various format types
Cons:
It's uneasy for newbies
You'd better not use it on low-end systems
Frequently Asked Questions about Windows 11 Video Editors
1. Does Windows 11 have a built-in video editor?
Yes, Windows 11 comes with a built-in video editor. The video editing tool is called Microsoft Photos. If you are using Windows 10, you will have to download it individually, but for Windows 11 users, it comes for free. This tool will let you cut, split, speed, crop, rotate, split, and tweak your videos.
2. Why shouldn't you use the hidden Windows 11 video editing program?
Although the built-in tool is suitable for basic editing, if your requirement is more than rotating the video or cropping it, it is not advisable to use this Windows 11 video editing program. The tool is outdated, it also does not support batch editing. Also, it supports very few video formats.
Your videos can be saved in any format by other options introduced in today's content like AceMovi and VSDC, but unfortunately, the hidden video editor on Windows 11 doesn't accept some HQ video formats like WAV and DivX, particularly the not-so-popular ones.
3. Is "free video editor for Windows 11" really good?
Although the free video editor for Windows 11 has so many advantages as it shows, if you don't want advanced-level video editing features and don't want to do a lot of video editing, then, for this reason, free tools are good to go. But you may face issues of music licenses and poor-quality output settings.
By comparison, with premium services of some tools, you can remove the watermarks, produce a new background with the green screen, enjoy hardware acceleration, and more.
4. Which one is the best video editor for Windows 11?
| | Easiness | Flexibility | Multiple Files Editing | Video Effects | Elements [Music, Filters, Subtitles] |
| --- | --- | --- | --- | --- | --- |
| TunesKit AceMovi | ⭐⭐⭐ | ⭐⭐⭐ | ⭐⭐⭐ | ⭐⭐ | ⭐⭐⭐ |
| Microsoft Photos | ⭐⭐⭐ | ⭐⭐ | ⭐ | ⭐ | ⭐⭐⭐ |
| Avidemux | ⭐⭐⭐ | ⭐⭐⭐ | ⭐ | ⭐ | ⭐ |
| Clipify | ⭐⭐ | ⭐⭐ | ⭐⭐ | ⭐⭐ | ⭐⭐ |
| OpenShot | ⭐⭐⭐ | ⭐⭐⭐ | ⭐ | ⭐ | ⭐ |
| DaVinci Reesolve | ⭐ | ⭐⭐ | ⭐⭐⭐ | ⭐ | ⭐⭐ |
| VSDC | ⭐ | ⭐⭐⭐ | ⭐⭐⭐ | ⭐⭐ | ⭐ |
| Shotcut | ⭐⭐ | ⭐ | ⭐⭐ | ⭐⭐ | ⭐⭐ |
Since we shared with you a plethora of high-class options on the page, we can come to the conclusion that AceMovi and OpenShot are the best tools for Windows 11 video editing.
AceMovi provides you with a beautiful, streamlined interface, and you can use it to do both small and advanced editing. OpenShot is a lightweight, cross-platform tool even though it doesn't offer any sound effects and music resources. Now, you can use AceMovi via the downloading buttons here.
The Final Verdict
We've reached the end of this guide, and we hope this article will help you find the best free video editors for Windows 11. As you can see, there are both free and paid tools. So, before picking one, consider the features and precious services you need in the whole video editing workflow and the price it is asking for, and read reviews.