In video editing, the most frequently used feature should be the transitions. Generally speaking, the transition is the join or connection between two different scenes. A well-used transition can make the viewers get an immersive watching experience in movies or TV series.
Not only in films and television editing, but transitions are also applied in vlog editing. Vloggers add stunning and magnificent transitions like scroll-up and scroll-down to make their videos vivid and animated. Therefore, are there any video editor transitions that can be free to use with a bulk of templates? Read it on and find the best answer in this post.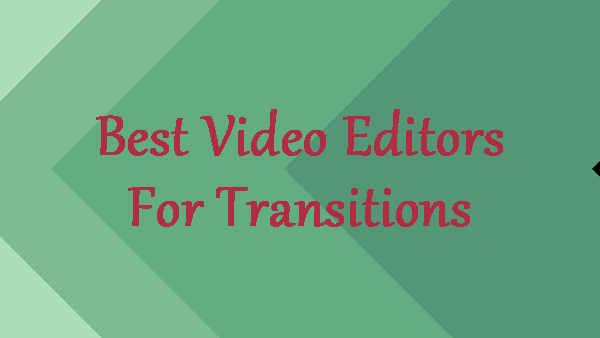 Top 1. TunesKit AceMovi Video Editor
For most video editor users, the criteria for judging whether the software is good or not are the ease of use and the number of features. To find a good video editor transitions feature adeptly, TunesKit AceMovi is the one you cannot ignore.
It is a comprehensive video editor with the features like stickers, background, audio, text, filter, transitions, and so on. TunesKit AceMovi offers a huge number of video transitions for users that can combine the scene of videos as well as you want. What's more, it provides basic and advanced editing features, which are suitable for both novice and expert.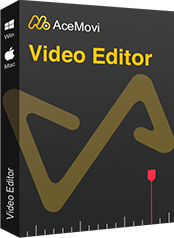 Key Features of TunesKit AceMovi Video Editor
Security Verified. 5,481,347 people have downloaded it.
Built-in Features::

A bulk of transitions templates
Easy-to-use & beginner-friendly interface
Faster audio & subtitle sync rendering
Supports MKV, MOV, AVI, MP4, etc
Customizable and stretchable alteration in the canva
Can customize the transitions as well as you want
Top 2. Davinci Resolve
As a talented video editor, Davinci Resolve always performs well in video editing. It is good at color adjusting and comes with a professional color palette, which can help you get the best HUE for your video. As a competitive Mac and Windows video editor transitions adder, Davinci Resolve provides various video transitions like wipe, motion, shape, iris, dissolve, etc.
You can drag and drop the wanted video transitions to the beginning or end of the video clip easily. Also, you can add other visual effects to your video projects. Though it is not a beginner-friendly program, it is still a good choice for video editors to use.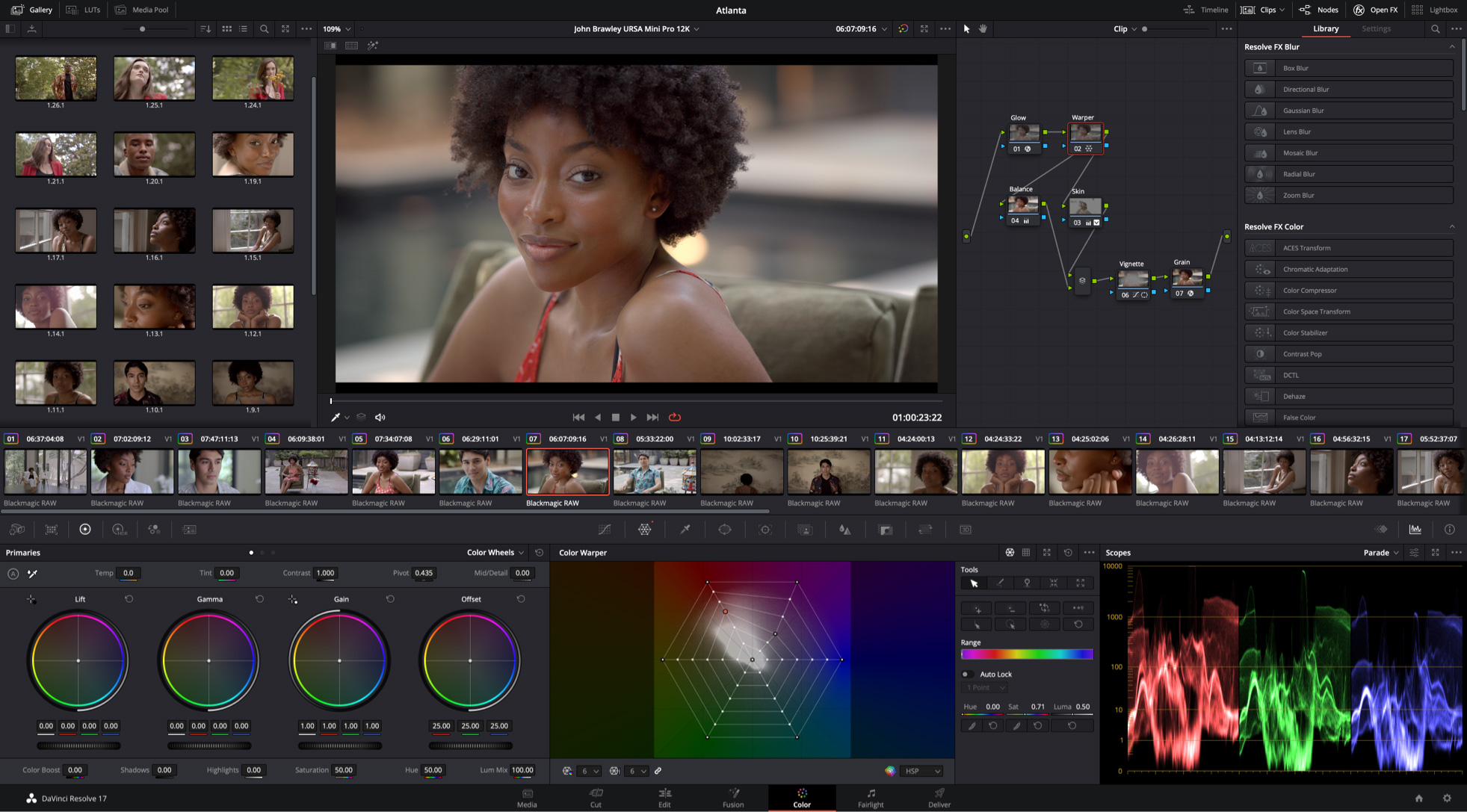 Pros:
Professional color palette
A bulk of transition templates
Different visual effects can add to videos
Top 3. OpenShot
As a free and open-source video editor, OpenShot is a considerable video editor for transition. It comes with various transitions like fade in/out, big losange, bubbles, cloud, puzzle, ray light, spiral, stain, etc. Also, it comes with other video editing features like cut, join, crop, zoom in/out, and so on. Users can add unlimited tracks to OpenShot, and it supports videos, audio, and images. If you need to edit a green screen video, the chroma key of OpenShot can meet your needs.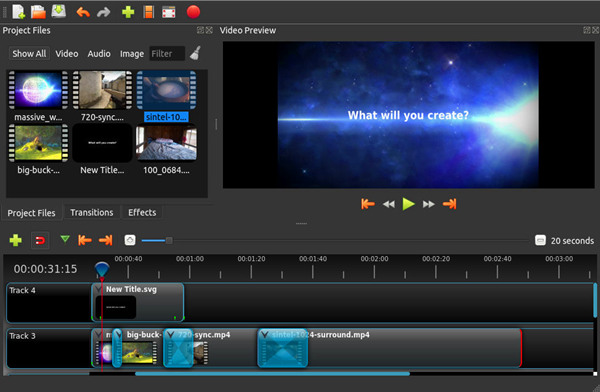 Pros:
Free and open-source
Very easy-to-use and beginner-friendly
Supports 70+ languages
Cons:
It's a difficult job to make advanced video editing
Top 4. Lightworks
Lightworks is a famous and free video editing program that can help you edit out Hollywood-like videos. You can regard it as one of the best Windows video editor transitions providing programs. You can use the transitions in Lightworks like dissolve, blend, masked bland, squeeze, push, luma wipe, and wipe. As one of its features, the non-linear timelines can simplify our video editing. Though there are limitations in the free version of Lightworks, it is still a wonderful video editor.
Pros:
Has a free version for users
The non-linear timeline is useful
Has cloud storage and local backup features
Cons:
The free version only supports 720P
Top 5. Hitfilm Express
Hitfilm Express is undoubtedly the top video editor transitions with basic and advanced video editing features. To add a transition to your video clips is an easy job using Hitfilm Express, what you need to do is to drag and drop them to the timeline between every two video clips. Hitfilm Express provides transitions like zoom/cross zoom, wipe, motion, dissolve, and so on. What's more, it supports almost all video formats that you may use like MKV, MOV, MP4, AVI, etc.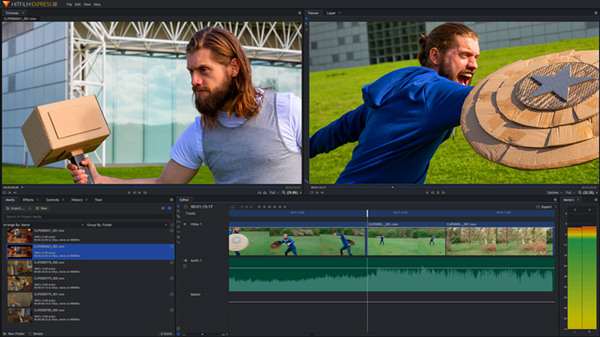 Pros:
Can customize the transition properties
Has a built-in voiceover recorder
Can edit vertical video
Top 6. VSDC video editor
VSDC video editor is a free video editor transitions adder for Windows users. Besides transitions adding and editing, VSDC can add audio, edit green screen video, and add visual effects. It has basic video editing tools like zoom, charts, 360 video editing, and color-coding that can make your videos better. VSDC has a hardware acceleration feature, which means that though you are using a low-end PC, VSDC can also work very well and smoothly.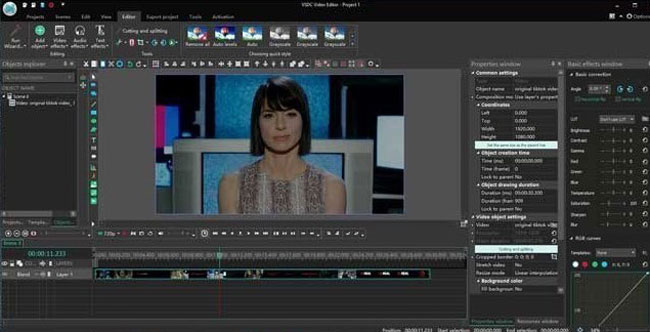 Pros:
Requires a low PC system and hardware
The color correction helps a lot
Has great resources templates
Summary
Hope that you can find the wanted video editor for transitions in the above six recommendations. For me, I prefer TunesKit AceMovi better, it is a comprehensive video editing program that performs perfectly in transitions adding, screen recording, video editing, and video clips joining. No matter you are a video editing novice or master, TunesKit AceMovi is always the best choice.