Currently, more than 85 percent of businesses use video as a marketing tool. According to a survey related to video marketing conducted in the first quarter of 2022. Which is to say that video is preferred by most businesses across the globe.
If you are looking to make the most of videos, you will need good video editing software that can help showcase your offerings from every angle, especially putting an overlay on a video like a video overlay, image overlay, and text overlay. It can be achieved through professional promos over various social media platforms like Facebook, Instagram, Youtube, etc. Several video editing programs can help you to stand out from the competition. Below is a list of the top 8 overlay video editors for overlaying effects and text.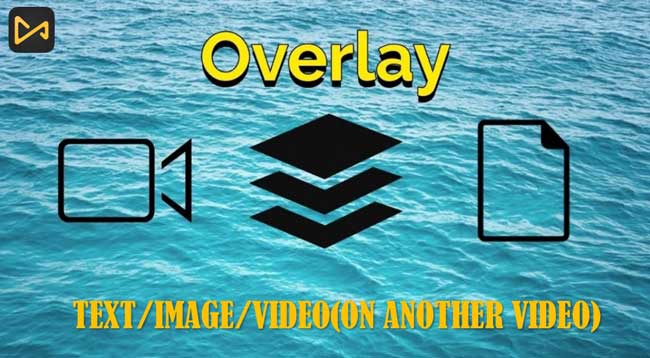 AceMovi - The Best Windows Video Editor Add Image Overlay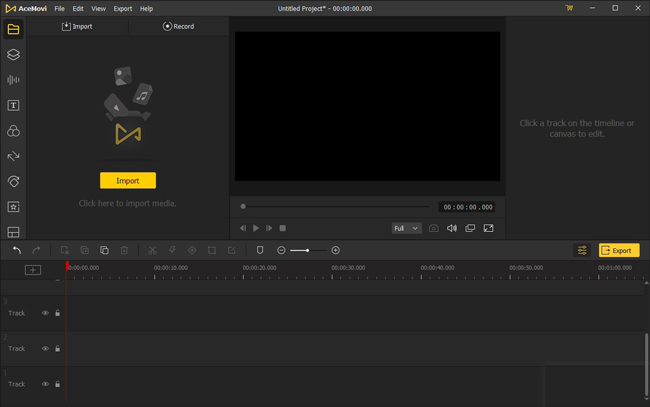 Released by TunesKit Co., AceMovi has got features that help to render and model 2D animations in your video, like making a video with text overlays and image overlays. This software happens to be a collaborative creation of several developers from across the globe. Because of the huge community of 80M+ users, AceMovi has been making a difference in the video-making field for both beginners and professionals.
It is equipped with a functional video editor that is supposed to be enough for the needs of most users. Through testing the built-in effects and functions, AceMovi inspires a full of video enhancement suite, you can freely and smoothly try out Screen/Webcam Recorder, Video Trimmer, Edge Cropper, Volume Increaser, Filter Overlays, Beat/Pitch Changer, as well as Green Screen Render.
Now all features available on AceMovi's full version can be applied to the free trial version. Click here to get the AceMovi video overlay editor right now!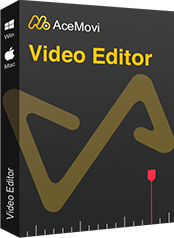 TunesKit AceMovi Video Editor
Security Verified. 10,233,447 people have downloaded it.
Pros:

Overlay a picture on a video for free
Overlay a video on a video flexibly
Live video overlay software
You can try all the features on the trial version
Advanced tools abound
Professional video editing tools for social media
4K resolution up to 60fpx
Cons:

You cannot put other video editors' customized settings into AceMovi Overlay Video Editor
How to Overlay Videos in Windows Video Editor AceMovi
Lightworks 2022.2 - The Free Video Editor with Overlay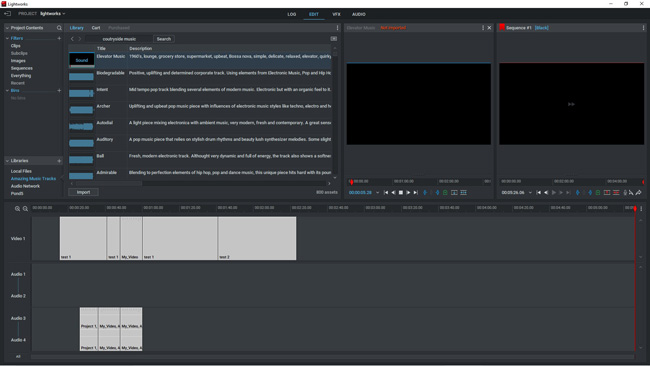 Can you overlay videos in Windows video editor? You must try this 4-panel video-making and -editing tool called Lightworks, which includes an intuitive and simple interphase, making it easy to get started. It is a multifunctional software that offers a collection of tutorials. It happens to be among the most accessible and easy to handle video editing software available at present.
Lightworks has a library of original stock videos and music clips licensed for use in any of the videos that may be taken up for editing. It, therefore, allows extending a polished look to the final video. You find it easy to make images overlaid on a video.
A few of the prominent features of this overlay video editor include precision editing and easy trim options. It further allows speed control, allowing one to edit while importing fresh content. Also, it is possible to share videos easily for quick export to YouTube, Facebook, Vimeo, and Instagram. Switching from VFX to audio enhancement is quite soft.
Pros:
Unlimited tracks to do video overlays and image overlays
Amazing music tracks and audio networks
In-built VFX resources like 3D DVE
Aduio Mixer and Waveform
Overlay animated texts in your video
Splip, slide, trim in, and trim out footage
Cons:
You need to log in every 7 days
Some features are unavailable on the free trial version, such as Advanced Titles and export video up to 4K video (Tips: you can only export video up to 720p on the trial version)
VideoPad - 360-Degreee Video Editing Software Image Overlay
Being one of the best video editors with overlay free, VideoPad is a great option for video editing, and the best functionality of it is that it is free. So, if you want to create a HD video without spending a penny, pick it up. It is equipped with all sorts of simple features like 3D video editing and sound effects for trying out various styles and compositions.
It is very likely to overlay videos with texts, overlays, and VFX/SFX on VideoPad. After that, export all your finished videos to various online video platforms. It may not have many advanced features, so professional video creators may find it too simple. The options to add images, texts, colors, and light are more than enough on the double built-in screen that makes editing quite intuitive and easy.
Pros:
Edit and make 3D video footage
Ready-made projects to make quick edits like Adding Media and Detaching Audio Track
A suit of color grading tools like Photopad and PhotoStage
Full on built-in tools like Photopad and PhotoStage
Cons:
The interphase is out of date
Complicated for newcomers
HitFilm Express - The Best VFX & Video Overlay Editor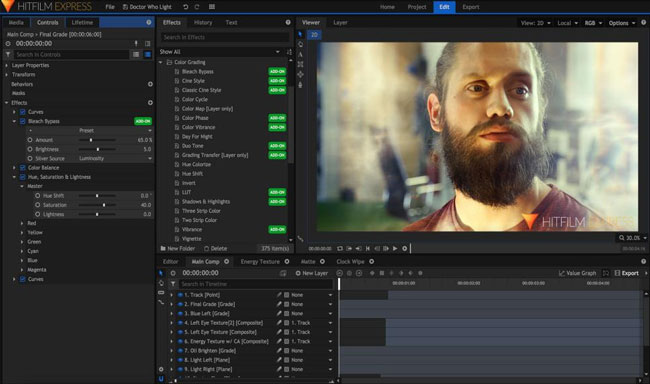 In case you do not have a lot of experience with video editing, you might find HitFilm Express a bit proxy. However, it has the potential to produce a Hollywood-style film. So we can say that the learning curve is worth it. This overlay video maker happens to be one of the best all-inclusive software for overlaying videos.
You may be asked to share a social media update status while downloading the software. But that is nothing compared to what you get. HitFilm Express is equipped with animation tools that allow overlaying a video onto another, thereby eliminating the step of creating composite shots.
It can help to save a lot of time while editing. The most significant advantage of using HitFilm Express is professional-grade motion-tracking and video editing. It comes with an auto stabilizer function that makes shaky footage smoother. The transition options are many including zoon, push, dissolve, etc.
Pros:
Advanced LUT and color grading
Create wonderful gaming videos for Clans and PubG
Unlimited tracks to overlay images and texts
Play and render video overlaying in real-time
Cons:
In fact, there is no free trial version of HitFilm Express at all, although the possessor
DaVinci Resolve 17 - Fully-Fleged Video Editor with Video Overlay
DaVinci Resolve 17 allows visual effects, color correction, audio post-production, and even 8k editing, yet you need high-end compatibility. Hence, this windows video editor add image overlay application has become a good choice among professional television, film, and commercial video editors.
Resolve can be used for both online and offline editing. It helps save time while trimming and editing because of the high-performance playback engine and applies even to processor-intensive file formats like H.264 and RAW. The complex features of this toolkit may be too extensive for some users. However, the free version also covers advanced projects.
Prominent features include cutting, trimming, navigation, cropping, reversing, and color grading. In addition, on the intelligent auto-editing option, you can sync audio and video clips flexibly. Other features include audio, text, stabilization, dynamic zoom, retrimming, and image in image effect.
Pros:
The free version comes without an expiry date
Free transitions and filters to overlay on a video
Great sound mixer and sound equalizer
You can make videos in 3D mode
No watermark on exports
Cons:
In-built effects need you to spend money to buy the pro version
VSDC - Windows-Only & Pro Overlay Video Editor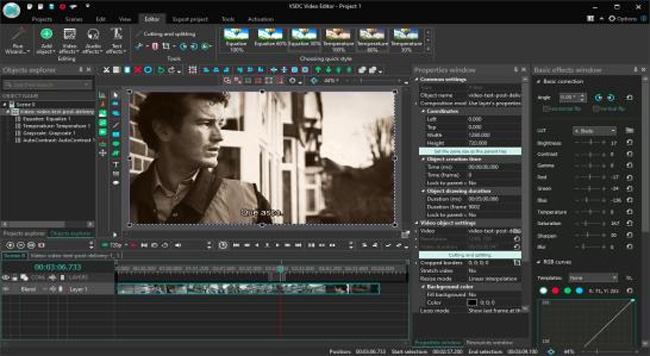 The Image overlay windows video editor of VSDC is available in the form of a paid and free version. Although the free version has limited features, it still provides the full editing suite with a chroma key and a mask tool specifically for green screen video effects.
In the full version of this application, you get features like post-production functions, video stabilization, presentation features, 3D templates, and social media. The other features include:
● Color correction tools.
● Transition effects suite.
● Image filters.
● Blurring.
A few other essential functionalities for processing 4K and HD files. You can only use VSDC overlay video editor on Windows system. More parameter settings and footage adjustments are offered on the bare-bones interphase. For example, if you want to overlay a text on a video in the Slideshow project, you will see horizontal text templates and vertical ones.
Pros:
Motion-tracking tech
More precise and proxy settings in your project
Used for professionals
Recrord a new clip straight
Export video on social media channels
Cons:
Hard to use at the very beginning
You need to get a subscription to some advanced services
OpenShot - Open-Source Overlay Video Editor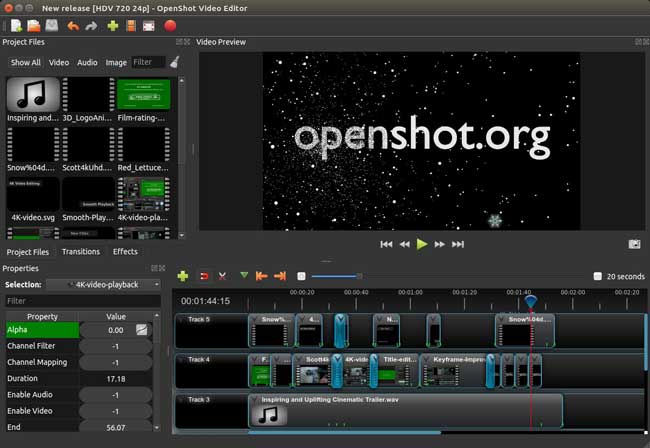 With an easy to handle UI that allows excellent video editing facilities, OpenShot is a great image overlay video editor for beginners. Other tools may offer more options. However, the interphase and the minimal design are more than enough for beginners who usually look for simple editing.
The image overlay and text overlay are efficient options for small businesses when trying OpenShot. As the best tool for clip resizing, trimming, snapping, rotation, and resizing, OpenShot also extends credit scrolling, frame stepping, audio editing, time mapping, and real-time preview.
Openshot offers unlimited layers for the audio and video tracks, and the title cars templates are customizable. Most of the features can be operated using the drag and drop function. In addition, this application is equipped with keyframe animation capabilities for producing animated videos.
Pros:
Easy-to-learn 4-panel overlay workflow
Unlimited tracks for overlaying audio and video
A vast choice of music tracks from stock
Customizable window
Time mapping and frame stepping
100% Free & no watermark
Cons:
Less Powerful Hardware Acceleration
Obesolete UI
Shotcut - Open-Source Overlay Video Editor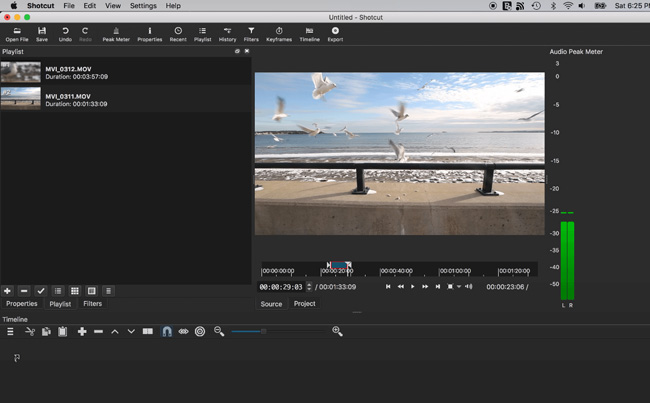 As one of the best open-source and cross-platform video editors to overlay texts and images, Shotcut is a video editor application having a vast collection of tutorial videos. It supports a wide range of formats, including 4k, DNxHD, ProRes, and FFmpeg.
When it comes to appliable systems, Shotcut was originally designed to provide extensive for Windows, Mac, and Linux. People may find the interphase a bit quirky. Still, it happens to be a top-notch editor.
Shotcut gets a lot of format support like FFmpeg, AVI, MP4, MOV, WMV, DivX, DVD, etc. You are empowered to download the video up to 4K resolution with any kind of aspect ratio on desktop.
Pros:
Intuitive and sleed interface
A wide format support
Completely free to use
Many resources of transitions and filters to overlay
Change the text overlays in no breeze
Cons:
You cannot find music resources
No export options for devices
The Verdict
Hope now you have an idea about the most popular overlay video editors who can satisfy your video overlaying and editing requirements. Apart from the overlaying features and related video overlaying tutorials given above, you can also try to make video split-screen and chroma key.