Marketing video, a tool that helps you get the message across without typing out all the details on a website or blog post, is a powerful way to display products and services to your target audience. Marketing videos are so engaging and interactive, and they have become one of the most widespread types of content on YouTube and Facebook.
A marketing video creator is an application that makes videos for marketing purposes. You use it to promote an event, launch a product, or just show what your company does. Often, marketing videos are professionally made with HD visuals and sound. The overall result is such that they draw potential customers in and make them desire more. Here are the top 10 marketing video editors!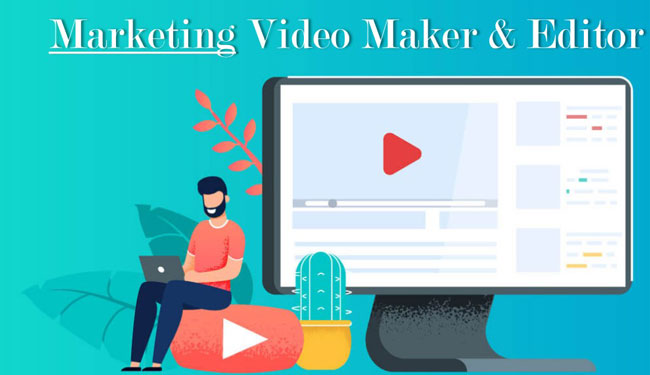 TunesKit AceMovi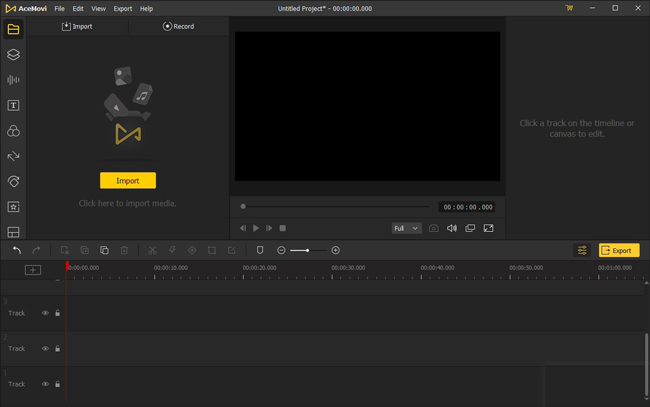 TunesKit AceMovi is an all-purpose video editor that helps you create professional-quality marketing videos in just a few minutes! It is straightforward and has everything you need to produce successful videos. With an extensive set of video templates, high-quality video effects, animated marketing texts, and more, AceMovi turns your creativity into a profitable business!
If you have been thinking about expanding your video marketing but don't know where to start, try this software for Mac and Windows! The exceptional features such as rotate, flip, crop, zoom, split, merge, speed control, and more give you the power to create a mesmerizing marketing clip.
With AceMovi, you get advanced features to make marketing videos, such as PiP, reverse video, filters, keyframing, split-screen, transitions, green screen editing, and mirror effects. The intelligent tool records your screen and webcam to produce real-time footage. It also has a slideshow maker where you can add music, transitions, and much more.
Pricing: Free Plan-$0(Watermarkings); Month Plan-$15.95; Year Plan-$49.95; Lifetime Plan-$69.95
AceMovi Marketing Clip Editor
Static and animated marketing video text templates
Easy beginners' learning curve
Color grading and correction feature
Video templates for making marketing videos
Loads of licensed background music & sound effects
Download videos on 720p and HD resolution quickly
How to Make a Marketing Video with AceMovi on You Computer
Add Media to the Timeline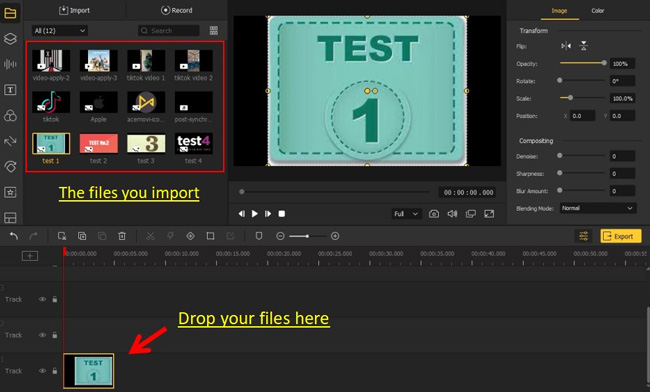 Drop your video, audio, and image under the "Media" plate on the top left corner. AceMovi has a drag-n-drop interface, so you can directly import your files to the timeline without delay.
Add Texts to the Marketing Video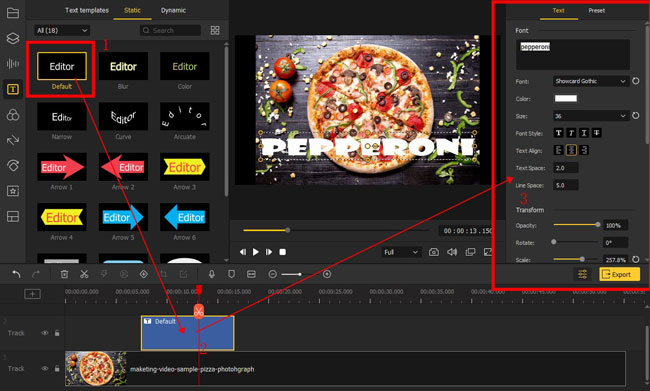 Let's do first thing first, selecting a piece of caption from the "Text" panel on the left sidebar. Then click the text under the timeline to set parameters, such as the font, color, size, opacity, scale, etc.
Add Music to the Marketing Video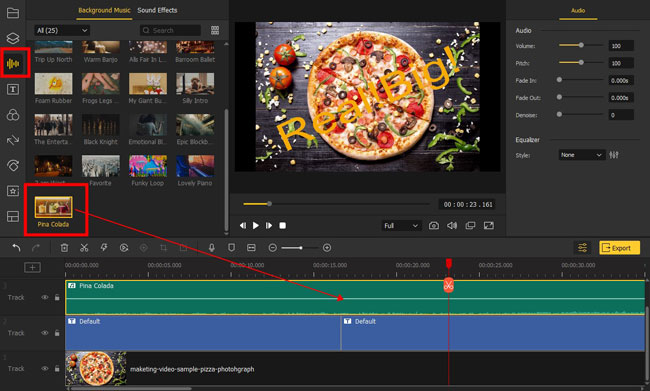 There is a plethora of royalty-free music and sound effects in AceMovi's stock. You pick up one of the genres, then adjust the duration, volume, pitch, and style. It will be engaging if you apply the fade-in & -out effect to your marketing clip.
Download Your Marketing Videos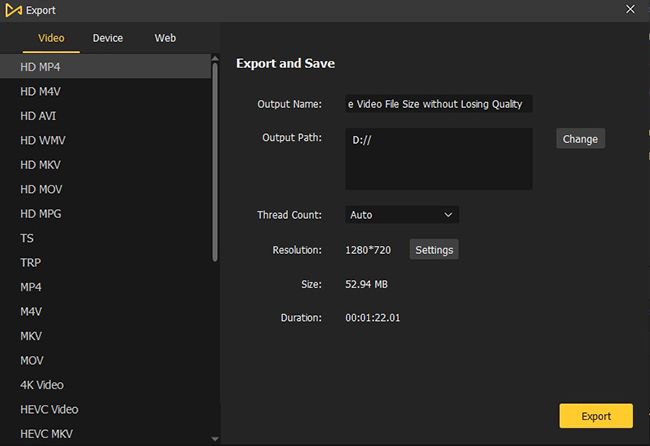 If you make a marketing video for YouTube, click the "Export", "Web" and "YouTube". There are many more formats to choose from, such as MP4, AVI, WMV, MOV, M4A, MKV, MPEG-1, MPEG-2, DivX, and more.
The official downloading buttons are set here. AceMovi has split-screen and PiP features on the clutter-free user interface. You can use the trial version for free without any hesitation. Just do it!
Animoto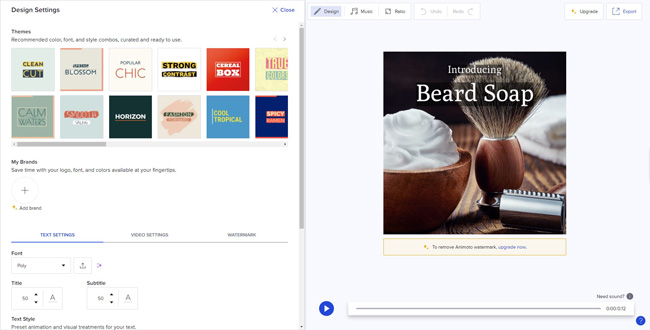 Animoto is an online free marketing video maker that allows you to create professional-looking videos in minutes without requiring any video production skills. Animoto's video maker will enable you to choose from various templates for the type of video you want to create.
In addition, you can customize your videos with music and images and add text and captions to enhance your message. As the best animated marketing video maker, Animoto offers free stock footage, motion graphics, and animations, which can be used in your videos to produce remarkable results.
Pricing: Free-$0/mo(Watermarkings); Basic-$16/mo; Professional-$29/mo; Professional Plus-$79/mo
Pros:
Drag and drop animated marketing video maker
30+ results for creating marking videos
3,000+ stock images and background music
Resize your videos into any aspect ratio
Intuitive color, font, and design tools
Cons:
The free version comes with a branding watermark and has no HD output option
Vyond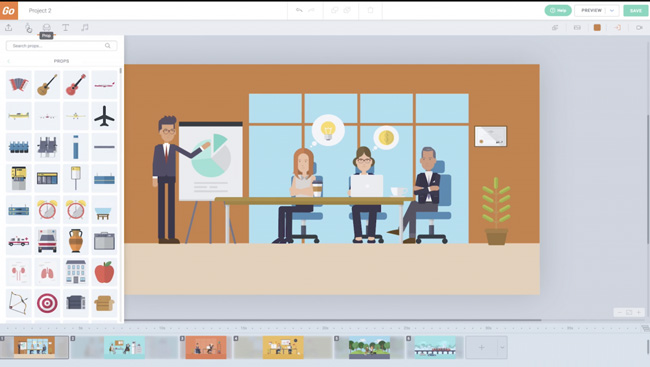 Vyond is a free video marketing maker that allows anyone to create animated marketing videos. It is a user-friendly and easy-to-use web-based tool for people without video editing experience. It offers more than 100 templates pre-built with animations and graphics to make video creation easier.
Vyond is used by businesses, enterprises, and individuals to create videos in various fields, including business marketing, social media, education, and training. In recent years, Vyond has expanded into video creation software for the virtual world.
Pricing: Free-$0/mo(Watermarkings, 14-day); Essential-$49/mo; Premium-$89/mo; Professional-$159/mo; Enterprise-Cutom Pricing
Pros:
A variety of prebuilt marketing and ads video templates
A full suite of resources
Flexible speech enhancement tool
Clean media library panel
Remove background automatically
Cons:
It is expensive and provides each account with only 14-day free trial with limitations
Powtoon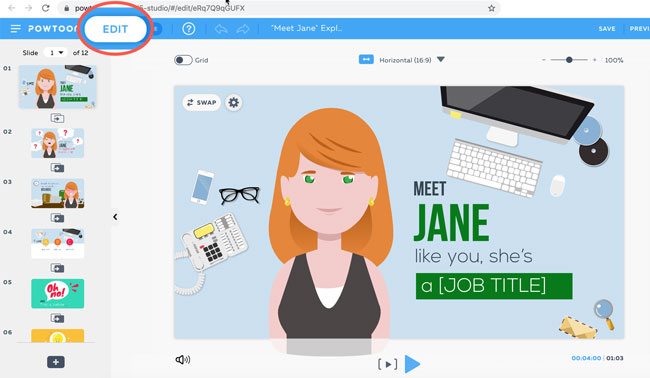 As a free and easy-to-use animation software that enables you to create animated videos in minutes, the Powtoon marketing video maker app features an intuitive drag-and-drop interface, making it possible for anyone with basic computer skills to make professional-looking animations.
Powtoon is a web-based software that can be used to create animated videos without any knowledge of video editing. It also has a wide variety of templates and backgrounds. The paid plan includes additional features such as privacy control, downloading in MP4, 24/7 support, and commercial use rights.
Pricing: Free-$0/mo(Don't Support MP4); Pro-$89/mo; Pro Plus-$197/mo
Pros:
Hundreds of featured templates for marketing strategy
Responsive system
Set ratio at horizontal, square, and vertical
Add a new music track or voice-over
Share to YouTube and Vimeo quickly
Cons:
You cannot export any clip that has Powtoon materials
Many services need you to upgrade to unlock
Moovly
Animated videos are an excellent option to engage your audience and tell a story. They can be used to explain complex ideas, illustrate new products, or entertain. There are several video-creating applications on the market.
Still, Moovly is the best choice for anyone looking to know how to make animated marketing videos because you can operate it efficiently, and it has a wide range of features. The marketing video maker also has a custom animation creator that allows you to design any character or object you can imagine but don't know how to animate.
Pricing: Free-$0/mo(Watermarkings); Essential-$49/mo; Mac-$99/mo; Enterprise-Cutom Pricing
Pros:
Many artificial voices in stock
Automatically generate and translate subtitles
Apply effects and animations with a couple of clicks
Unlimied tracks in the timeline
Pulish to YouTube, Vimeo, Ins, and more social media
Cons:
HD 1080p quality and watermark-free services are not allowed in the free trial version
Hard learning curve for first-time marketing video creators
Headliner
Headliner is the best free marketing video maker for marketers to create promo marketing videos in a few simple clicks. This promo producer offers everything that one needs to create a flawless video. You can upload local videos and music files or use the templates available to create one.
The editing features, such as adding animations, videos, images, music, GIFs, and more, make creating a fantastic marketing video enjoyable and effortless. Upon completion of the video, you can export the file locally or share it across different social accounts for quick attraction from viewers.
Pricing: Free-$0/mo(5 Unwatermarked Videos); Basic-$9.99/mo; Pro-$25.99/mo
Pros:
Free to export video on 1080p resolution
Add up to 10 min of subtitles
The free version supports you to export videos without watermark
Trackless timeline
Add black bars to your videos
Cons:
There is no video template
The video will crash when you are using a low quality internet
Offeo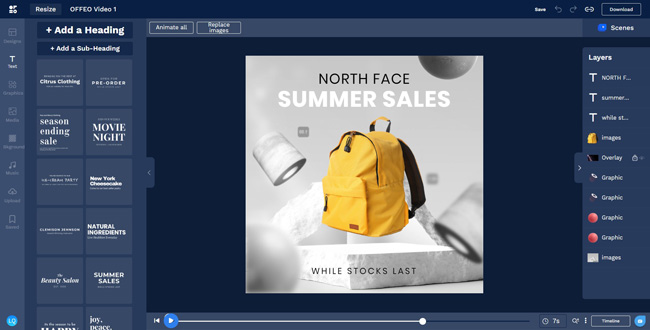 Offeo is a cost-effective, professional, simple product marketing video maker. With Offeo, you can create professional videos in minutes with the same quality as industry professionals. The paid plan has everything that one needs to create a compelling marketing video without the hassle of learning complicated software.
The features included are time-lapse, text overlays, and more. You can add filters, music, and more for an even more customized look. In addition to this, you can try the $19/month plan that provides advanced editing tools, text overlays with up to 10 lines of text, audio mixing, and editing capabilities.
Pricing: 19/mo; 149/yr
Pros:
Thousands of curated video templates for marketing, business, and ads
You can add stock photos and videos
High-quality soundtracks
There is software for computers
On-brand designs
Cons:
This tool doesn't offer trial plan
Typito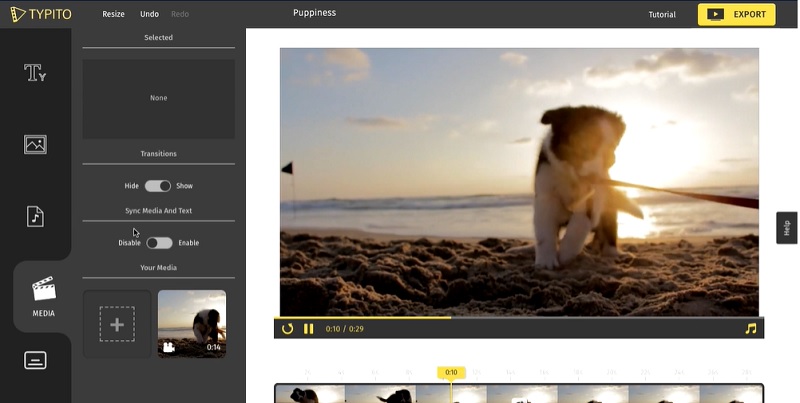 Typito is a free marketing video maker that has been designed to help businesses create engaging online videos. It has an easy-to-use interface and a massive library of texts and graphics. The main intention of the tool is to provide text-based marketing videos.
With over 200 templates available, creating a marketing video consumes only a few minutes. You can also use the built-in images, audio, and music library. As well as this, there is a specialist video editor that allows you to create your own videos from scratch and optimize them for any platform.
Pricing: Free-$0/mo(Watermakings); Solo-$18/mo; Pro-$35/mo
Pros:
Full HD exports for free
Unlimited marketing video editing projects
Add the border to a video breezily
Choose the prebuilt aspect ratios
Auto motion detection technology
Cons:
No advanced features, such as split-screen and duet
There is only one track for video editing every time
Animaker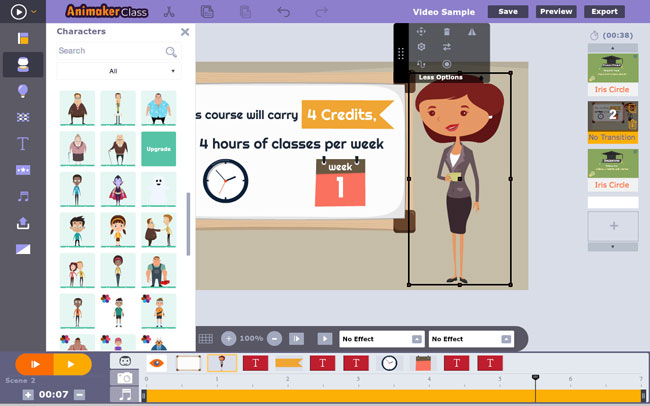 Animaker is a cost-effective way of making high-quality animated videos without the need for expensive hardware or software. The interesting feature about the video maker is the ability to produce live-action videos.
With the well-designed user profile, you can drop effects, animations, characters, and more. You can create any character per your marketing requirement in minutes, which helps create a personalized video. It has over 100 million assets of photos, images, and more, which is the biggest among any promotional or marketing video maker.
Pricing: Free-$0/mo(Watermakings); Basic-$20/mo; Starter-$35/mo; Pro-$79/mo
Pros:
Professional in making live-action videos
15 facial features for you to create your wanted character online
Auto lip-sync
Animate smart objects easily
Produce GIF and short videos
Cons:
The online marketing video editor has no free trial version
Shakr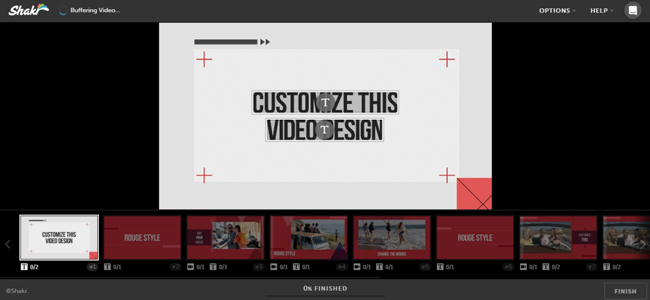 Shakr is a marketing video maker platform that helps businesses create compelling content to gain engagement and build their brand. This video creator makes it effortless for marketers to create engaging videos for Facebook, Instagram, Twitter, LinkedIn, and YouTube.
Shakr offers marketers a range of pre-made templates and customizable features that make it easy to produce professional-quality videos without requiring extensive editing skills. The interface has a vast collection of options, which helps marketers create their own look, feel, and voice. Companies use Shakr to broadcast a consistent message across multiple channels and social media platforms.
Pricing: Free-$0/mo; 2,000/mo
Pros:
Turn your videos into programmable templates
Display videos to different social platforms
Make dynamic shocase, weather, and geo ads for marketing
Dynamic and creative texts and captions in stock
Make a professional marketing video with clicks
Cons:
It is expensive for some users
Conclusion
Videos help companies capture the audience and spread messages within a few seconds of the ad. A video has the power to influence consumers, and a good video is all that is needed for a company to announce a new product, service, or technology! It is here that a marketing video maker becomes handy. The list discussed here contains all the tools you need to create a perfect video to spread your message to the customers.