Advertisement video has gradually become the principal way to promote brands and communicate messages. Bringing your company's ideas to life by creating an ad video that will be shared on social media is the default fact.
Without any doubt that the rise in technology helps companies to choose advertisement video maker tool that allows them to produce videos for their requirements in a few minutes. Literally, with these ad footage makers and editors available online or offline, one can create a video that targets their audiences using prebuilt templates (a mode contains prepared texts, music, colors, etc.), or from a chosen scratch by exploring effects and animations. Here are the ten selective methods to make an advertisement video for your business of this great year!
Top 1. TunesKit AceMovi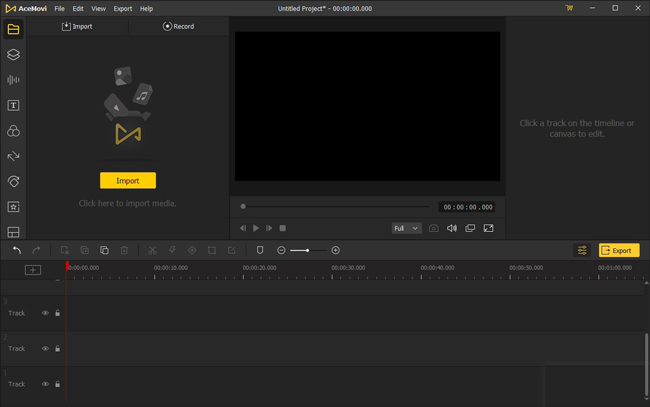 TunesKit AceMovi is the leading advertisement video maker designed for entry-levels and professionals alike. As a full-on toolkit that allows you to create high-quality ad videos and clips without loss of time, the drag-n-drop interface of AceMovi motivates everything you import and upload, including images, videos, and soundtracks. It's free now to download AceMovi on Windows and Mac.
AceMovi is endowed with different genres of VFX to make your videos eye-popping and engaging, e.g. voice-over, split-screen, and speed motion. You can use this software for creating a music advertisement video, adding a filter to a selfie, or even making your own GIF.
The high-class software is simply equipped and empowers you to navigate to libraries of video templates for making a good advertisement video. It's wise for you to export the result in formats like MP4, AVI, WMV, MKV, DivX, GIF, DVD, etc., or download media in the designated folder with the best format for YouTube and Facebook.
AceMovi Ad Video Maker
Easily build, trim, chop, crop, and configure videos
Support various video and image formats
User-centered interface has all the buttons
Overlay animated subtitles to make an intro clip
Low-end PCs are compatible with it (Win/Mac)
Licensed music samples and audio effects
Guides! How to Make an Advertisement Video in AceMovi
Upload Your Elements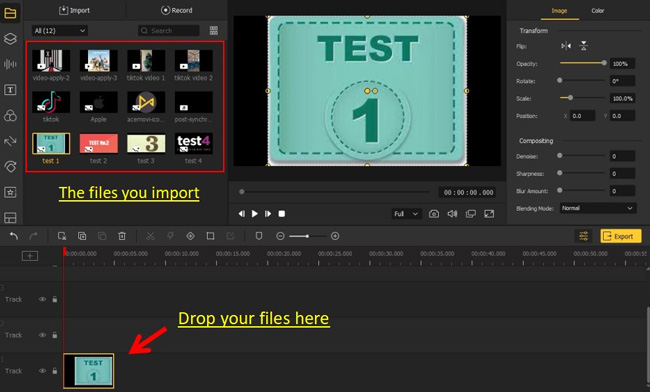 After downloading AceMovi software on your computer, drop the files under the Media panel in your left hand. Then add them to the timeline.
Commence Making an Advertisement Video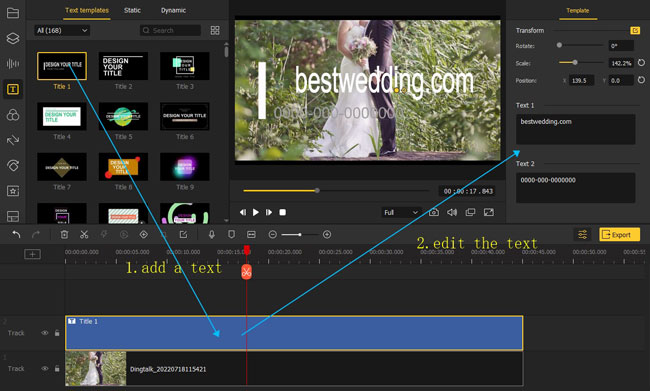 AceMovi has a plethora of ready text templates, static and dynamic subtitles, as well as meticulous parameter settings of font, color, opacity, size, scale, duration, etc. If you want to make a good advertisement video with texts, you need to drop a wanted text under a new track, then change the settings. To enter into the Pro editing mode, just click the button in the upper right corner.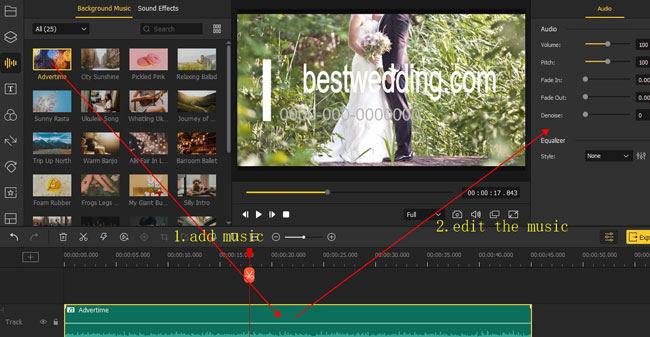 It's time to add a piece of music to the clip. You can open up the Music panel to choose one, or drop the imported files under a new track. Trimming soundtracks needs you need to click, drag, hold and drop the track in the timeline place.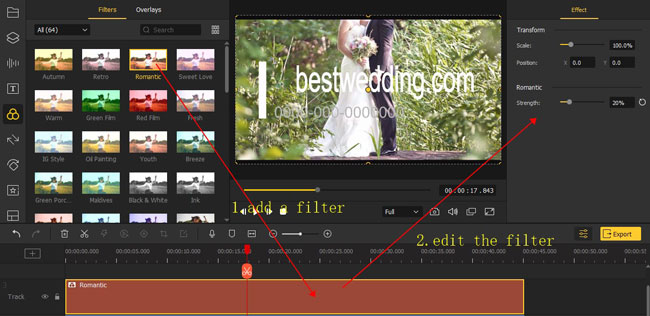 Applying a pertinent filter will make your advertisement video advanced. AceMovi has lots of high-class filters in the Effects panel. The scale and strengthen are available to alter to suffice your needs.
Get Your Video
You may want to download your files here. HD and Full HD formats of MP4, M4V, MPG, TS, AVI, WMV, MOV, HEVC MKV, DivX, and many more are under your clicks. Go to the Export panel to get your videos!
Top 2. Biteable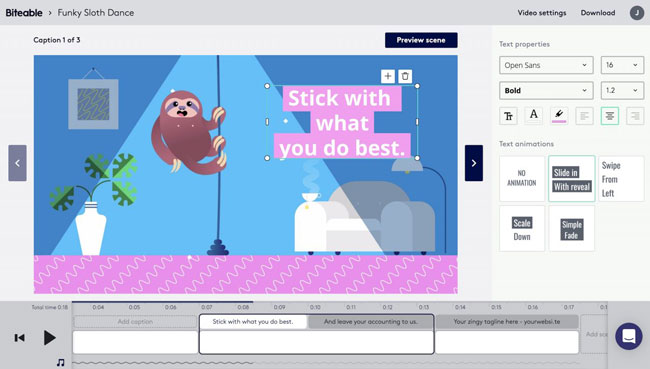 Biteable video advertisement maker is equipped with stock templates and footage that you can use to create a video advertisement for your business. Due to this, producing a video requires only a few minutes! Apart from using the templates, you can make a video right from the beginning. Biteable offers all the options, features, and tools that one needs to create a video.
When it comes to the plans. The free plan gives access to over 2 million images with unlimited watermark exports. However, purchasing a plan gives custom branding, commercial usage rights, and more. You can also bring in your team and collaborate with the templates to create videos that work in your favor and add more customers.
Pros:

Add your teammates to create a advertisement video together
Pick up from hundreds of selective video templates
Apply your corporation's colors and logo automatically
Non-leaner and smart video-editing timeline
Cons:

The trial version comes with Biteable's watermark and limited HD exports
It's more fit for making animated advertisement videos
Top 3. Wideo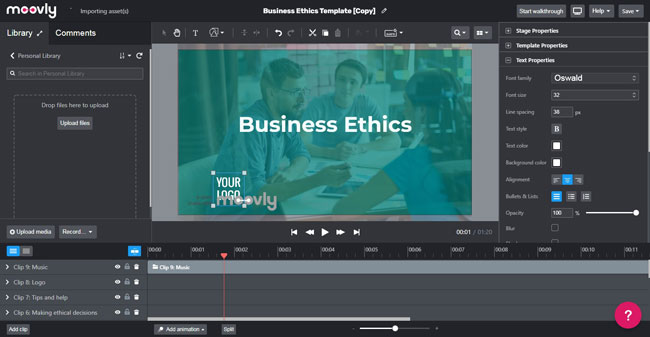 The online platform shared here has all the essential features to create an advertisement that captures the viewer's attention - The Wideo ad video maker app, which allows users to access over 80 ready-made templates through its platform.
With this ad-making tool, you can add the business's custom logo, text, background music, images, and more. The processing is responsive, and you can share or download the result on social media and other platforms. While the subscription plan does not offer commercial licensing, the support team is always ready to help with your requirement.
Pros:

No experience needed before creating new ad videos
Change the texts and colors that are consistent with your brands
An extensive of media library no extra cost
Share to YouTube channel on the profile
Cons:

Only 1-min video with 10 chosen video template options is at your disposal when you do not have a licensed account
Top 4. Adobe Express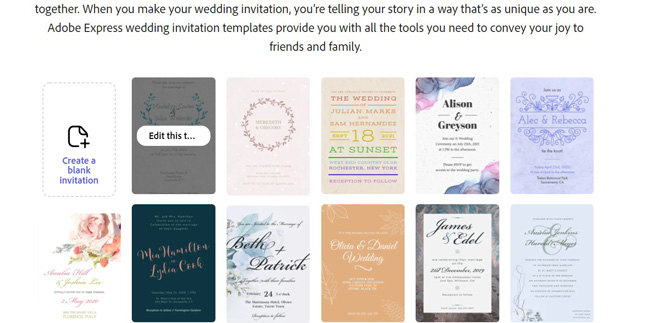 This video ad creator is an excellent tool for producing the finest advertisements. And, it is no surprise to see another variant from Adobe. It is Adobe Express. The tool has multiple layouts, themes, storyboards, and filers. Creating a stunning video requires a few minutes with the massive options provided.
Express's gallery includes a good collection of templates you can use when you run out of ideas for an advertisement without loss of time. Most of the professionally-designed text fonts are free, and you can access your personal preferences of images from the Creative Cloud, Dropbox, Google Photos, and Lightroom.
Pros:

Tons of ready-made assets and templates
Switch to other tools without hassle
Upload HD and Full HD videos straightforwardly
Make a video advertisement based on webpages
Entry experiences can deal with this program
Cons:

The trial version has an expiry of 7 days for a free account
Watermarks are embedded with your clips
Top 5. FlexClip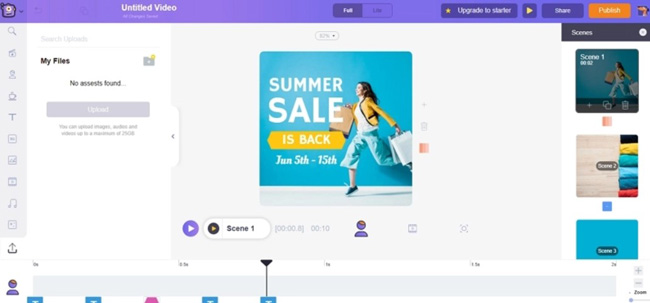 Want to export your videos without a watermark? FlexClip has garnered a lot of attention as the best advertising video maker because it provides editing features and options that are powerful and simple to use. With FlexClip's transitions, filters, templates, stock images, videos, music, and much more, building an intriguing ad is no longer a tedious task. If you cannot develop a new idea to create an ad, use the stock templates that match your need.
The media sources are rich, and the tool leaves no watermark for videos up to 480p resolution that is under a minute in length. The app's design makes it easier for anyone to create professional-looking videos without prior editing or camera work knowledge.
Pros:

All-in-one ad video-creation tools
Save your videos online
Export unlimited times of videos up to 480p resolution without any watermark
Convert any media to GIF
Streamlined track on the screen for your job
Cons:

720p and 1080p are prohibited for free trial use
You need to register in
Top 6. Animoto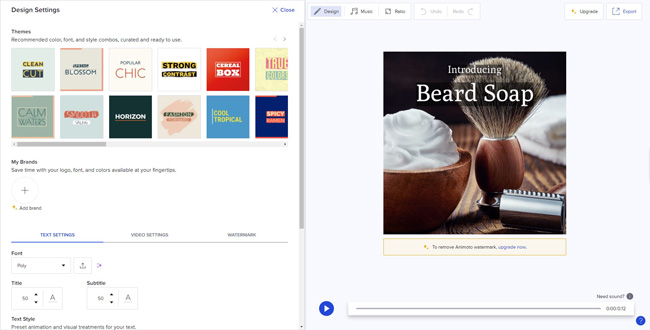 Animoto is an animated advertisement video maker and stands on the top of the list of many marketers and businesses. With this video ad builder, you can upload your photos, start editing them, add filters, music, voice-overs, and much more before saving them and sharing them online for commercial use.
Using Animoto is straightforward, and you can pick up any image and music from the colorful stock library. Although it does not have many templates as you desire, you can access the storyboard to create customized ads. The drag and drop feature makes it simple to create a project, and you can explore the cloud to import media and more.
Pros:

2D and 3D creative animations are provided
Add your preferred music to decorate the ad videos from the stock
Aspect ratios for horizontal, square, and vertical clips
Invite other to give your ad videos with time-stamped comments
Cons:

Registration necessary
Watermarks on the freely-exported videos
Top 7. Renderforest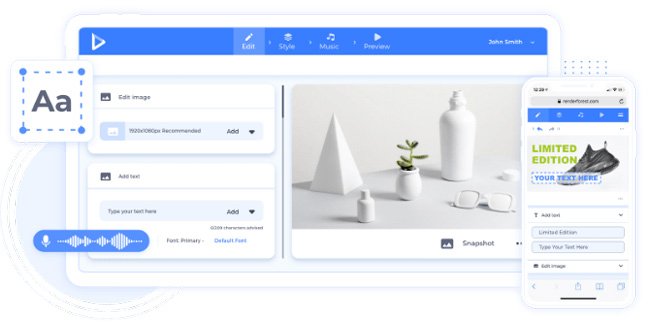 Renderforest is an advertisement video maker app that is able to create anything from infographics to commercial ad videos in a few minutes. The tool includes numerous whiteboard animations, 2D and 3D animations, explainer video templates, sales templates, etc.
The built-in features help create a good advertisement video and edit it as per your requirements. One can choose a subscription plan or pay for a product depending on the need. It also has a voice-over option, fonts, duration, adjustment of color, and more. Except for creating videos for advertisements, it is also smart in creating logos, mockups, design presentations, and graphics.
Pros:

Animated texts and captions
Easy interface for beginners
Design your own logos with customized shapes
Linear advertisement video-making process
Cons:

This tool need video cropper and converter
Top 8. Soapbox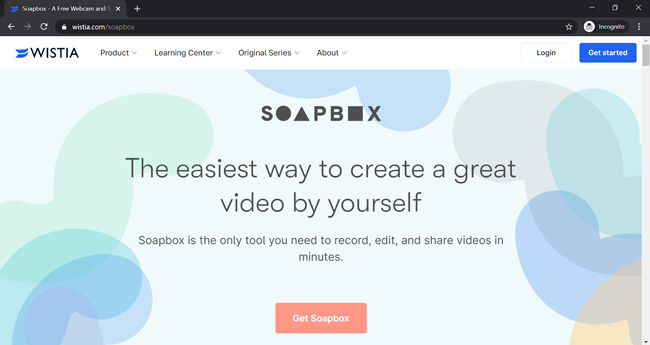 You may want an extension available for the Chrome browser. With the help of Soapbox, creating videos on the fly becomes easy because it helps you record your computer screen and webcam to create real-time video advertisements.
Once you have completed a video, you do not have to download it! You can quickly share the ad to different platforms, e.g. YouTube and TikTok, as part of your marketing strategy. It's direct to produce and share without limit using the free plan and generating custom thumbnails without rest. You can also reedit the videos, if required, before sharing. However, if you need custom branding and like downloading the video, you must upgrade to the premium version.
Pros:

Smooth transitions to add between clips
Record a new clip via the Webcam/Screen Recorder
Intelligent Calls-to-Action
Easy for explainer videos, training videos, Demos, and more
Cons:

Only 10 videos can be uploaded to social media for your free account
It's unavailable to trim videos without a premium account
Top 9. Wave.video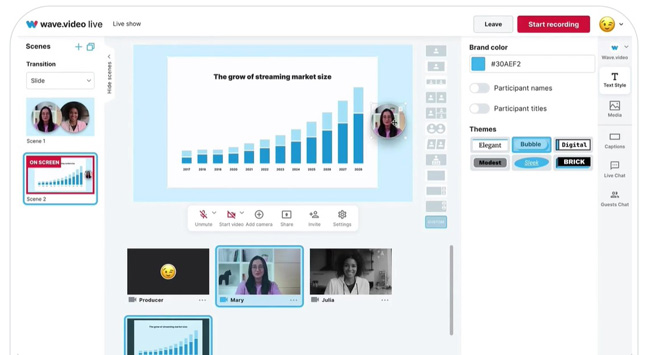 Wave.video is a free advertisement video maker that has a drag-and-drop interface. Plenty of features and editing functions are available that make creating an advertisement video simple. The free plan offered by the service allows users to access royalty-free audio, pictures, and video clips.
Additionally, you may create five videos as a batch per month that have a limit of 15-sec. If you need more, you can purchase a plan suitable for your business need. However, the free plan also includes the ability to resize footage, add pictures and video clippings, alter the layout, voice-over, and much more. Beyond that, you can import new stickers, graphics, captions, as well as watermarks.
Pros:

Distinct text fonts, color, and backgrounds
A bundle of templates for creating a good advertisement video
Apply the editable auto-generated captions
Stream live or broadcast pre-corded videos to various channels
Change the image background with your attention-grabbing layouts
Cons:

You don't have the opportunity to remove background and use the text-to-speech method on the free trial account
Top 10. Movavi Business Suite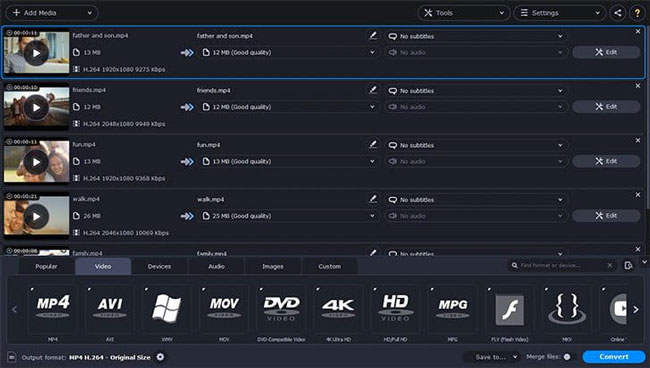 Movavi Business Suite is a video editing software that allows you to edit, convert and share your videos. The suite also includes a variety of tools for audio editing, color correction, and advertisement video production. The suite is compatible with both Windows and Mac operating systems, as well as various types of media.
There is a wide variety of transitions, special effects, and professional-level features in this advertise video maker. Even if you are not pro-level, the software has enough power to make an excellent video without having to change too much. You can edit videos on your computer and then share them with the world via YouTube, Facebook, TikTok, Instagram, or any other platform you use.
Pros:

Integrate brand colors and logos
Upload your advertisement to YouTube bluntly
Multifunctional screen recorder for business
Incorporate music, merge clips, and trim footage
Add your customized company's logo and watermarks
Cons:

It is expensive ($189.95/year or $236.95/lifetime)
The Last Word
Video advertisements on social media are the latest trends for companies to capture targeted audiences and earn a profit. Video marketing is a powerful strategy that companies use to the maximum extent. In addition, it helps them bring out innovative ideas to create videos that intriguingly send the right message. Whether you want to depend on an agency or use an advertisement video maker is an independent decision.
Surprisingly, the tools featured in this article have all the qualities, features, and templates that assist in generating a professional video within a few minutes. Any pick from the list above will help you create a video you want!