The necessity of business brand awareness and creating an emotional bonding with customers to promote business is pushing the use of animated video content for marketing. Animation has an intriguing appeal and brings out the best a marketer would want from an ad. With the changing technology and availability of applications that help create animated videos for use in the business ecosystem, switching from the traditional marketing campaign has become easy!
Several applications exist today that help any business portray what they want from their ad and how it will help appeal to the audience. On this page, we'll learn the importance of a business video maker and the popular tools. So let's get cracking.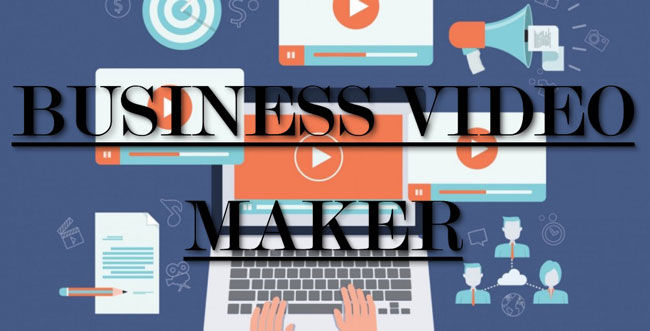 TunesKit AceMovi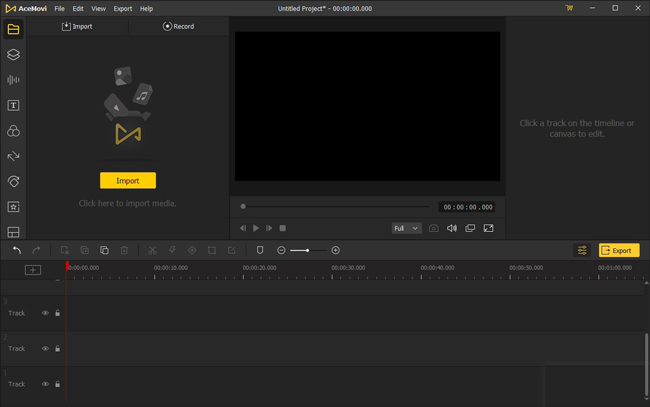 AceMovi is an award-winning business video maker for Windows and Mac OS operating systems. It has a broad collection of features designed for the latest video editing standards and is easy to use by beginners. The best thing is the free trial and affordable upgrade plans for users who need more power in their videos.
The editor has all the animations and effects that an expensive editor consists of. For example, it can be used to create cinematic effects such as slow-motion and time-lapse. It also has a range of filters and effects that can be used to make your short business videos more professional or creative.
Additional features include Rotate, Crop, Zoom, Flip, Music Addition, Extraction of Audio, and Speed Control. AceMovi also has a webcam and screen recorder through which you can record your computer screen or use the webcam to create effective real-time video effects.
Exporting Channel: Free download to any platform at 480p, 720p, 1080p, and 4K with watermarks
AceMovi Business Video Editor
Pre-made video templates for business and ads
Export your media with any aspect ratio
A number of licensed music and sound effects
Dynamic and animated texts in the panel
Keyframes, split-screen, duet, react, PiP, etc.
Make a short business video within a few minutes
Wideo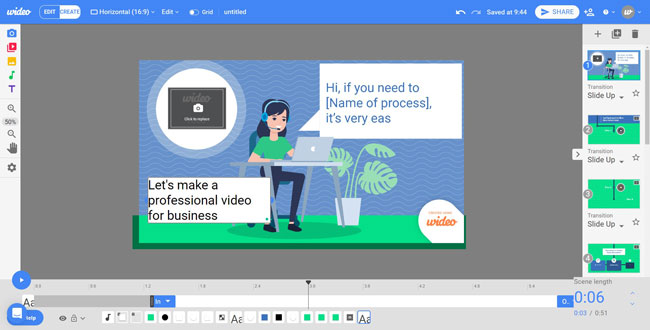 Wideo is a content creation platform that allows users to create professional videos for business in a simple, intuitive way. It is a platform that provides users with all the tools they need to generate marketing videos, such as text overlays, transitions, and animations. If you want to learn how to make a short business video without hassle, you can go to the offIcial website.
In addition, it offers several templates for use, making it easy for any business to pick their choice, enter the requirements, and make a video ready within a few minutes. While it offers a free membership, the Pro version is beneficial for a marketer who requires the creation of a 10-min video and unlimited creations.
Exporting Channel: Free publish to YouTube, Facebook and HubSpot with watermarks (Only MP4/GIF)
Pros:

Bountiful video templates for business
Shift the aspect ratio to Lenderboard (728*90), Medium Rectangle (300*250), or Smartphone Banner (320*50)
Edit pages one by one
A vast library of sound in stock
Cons:

It is an actual animated business video maker through our testing
The exporting formats and platforms have a limited range
Moovly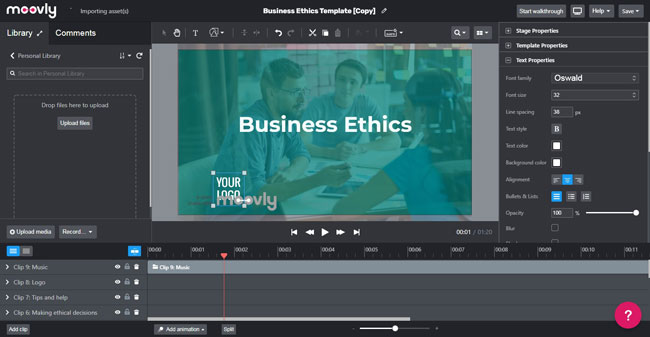 Moovly is a streamlined & online business video editor that allows users to create videos for social media and other platforms. It offers a bunch of video editing features, including background audio, captions, comments, graphics, and shapes.
This video maker for business is not the first online tool on the market, but the numerous features built in it make it stand out from its competitors. For example, it offers advanced editing tools like animated text overlays. You see a wide range of templates for creating videos with Moovly - from business presentations to birthday cards and more!
Exporting Channel: Free publish to any platform at 480p with watermarks
Pros:

Standalone video editing window
Streamlined workflow
Unlimited tracks for media
Let others comment on your projects
Templates for sundry topics, including business, Corona, and Enterprise
Cons:

Not so many templates to make a video for my business
You need to create a new account and it is not based on your E-mail account rather on Google account (Go to your E-mail and activate your account)
Powtoon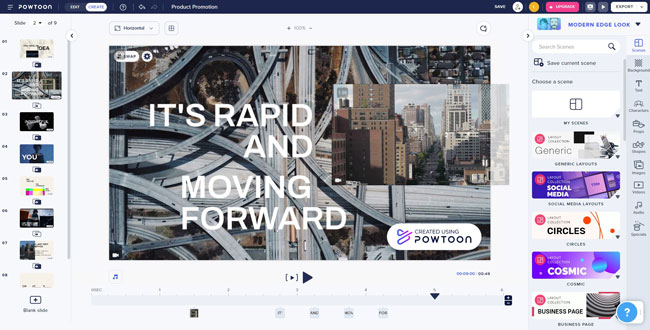 With a vast library of templates based on the website, Powtoon is the best video maker for business that makes it effortless for businesses to create videos. It compiles stellar effects and tools that make producing videos a breeze. It can be used in various ways: as an animation tool, video maker software, or video marketing platform.
The different templates available under different business sectors make it smart to pick suitable text, music, and background color. For instance, you can choose one under the "Marketing" category and start with the animated business video directly.
Exporting Channel: Free publish to Vimeo and YouTube with watermarks
Pros:

Easily add titles, subtitles, and body texts
Create your character online
A stock of animated shapes
Prebuilt special themes for holidays, socials, events, and mini-me
Add a new voiceover by recording or uploading
Cons:

It is unwarrantable to export your videos at MP4
You have to pay a fee to release some of the built-in texts and images
VSDC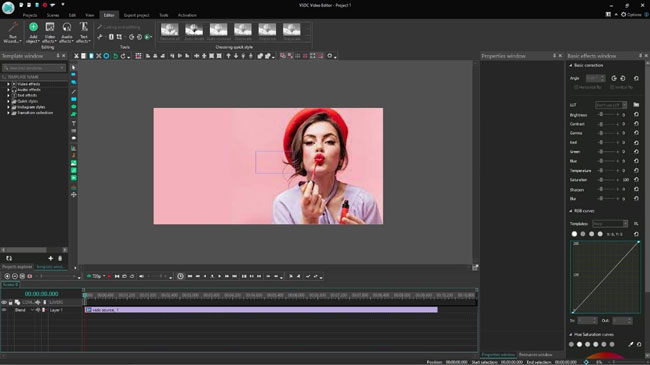 VSDC is the best free business video maker and an open-source 3D content creation suite with an integrated 3D modeling application and a powerful game engine.
This software is perfect for designers, artists, photographers, and hobbyists who want to work with 3D models in their projects. It has a powerful game engine that supports interactive design and animation. VSDC is also the ideal tool for students who need to create their 3D assets for use in virtual reality applications.
VSDC is the perfect tool for pro-level video editors because it's powerful and provides more accurate and meticulous parameter settings for every type of video editing workflow.
Exporting Channel: FFree publish to any platform without watermarks
Pros:

Make a business video with 3D charts
Advanced color grading
Beautiful filterations and transitions
Robust system and responsive downloading method
Watermark-free for every license
Cons:

It comes with hard learning curve for first-time video editors
There are no business video templates in stock
You need a high storage and well-performed computer to edit 4K footage
Adobe Animate CC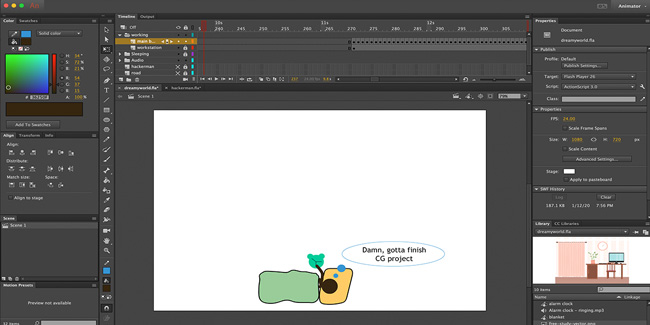 The Adobe Animate CC software is a must-have for any animator, whether they are a professional or just starting. With the software, you can create animated videos in no time and without any hassle.
The animation software has many tools that make it easy to create professional videos for business. For example, you can draw your characters and animate them using the tools provided by the software. It also comes with an inbuilt music library that allows you to choose from a wide variety of tracks to use in your video.
Exporting Channel: Free publish to any platform with watermarks
Pros:

Sketch impressive fonts and characters
It is full of frame-by-frame animations
All-new stylish rigging
Colorful asset panels that compiles backgrounds, audio rigs, and motion assets
Cons:

It is a professional animated video maker for business, you may need to learn tutorials before the formal editing
7-day free trial
Muvizu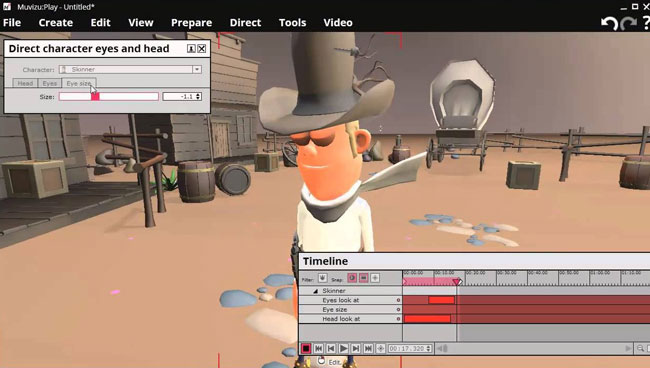 As a powerful 360-degree business promo video maker, Muvizu allows you to create personal animated characters. It has various features and animation styles to choose from, which you can use for business purposes. This tool has an easy-to-manipulate interface and tutorials to help you hit the road.
It is not mandatory to possess prior experience or knowledge about animation or video editing to use Muvizu. While the free version leaves a watermark, the paid version allows you to create unlimited, watermark-free business videos. It is available for Windows and macOS.
Exporting Channel: Free publish to any platform with watermarks
Pros:

Interactive 3D animation characters
Drag and drop timeline and track
A good deal of animation libraries
Auto lip-syncing feature
Cons:

You need to upgrade to the pro account costing $69.99 to create watermark-free 1080p animations
It's complicated to use for beginners
Cartoon Animator 4 (CTA-4)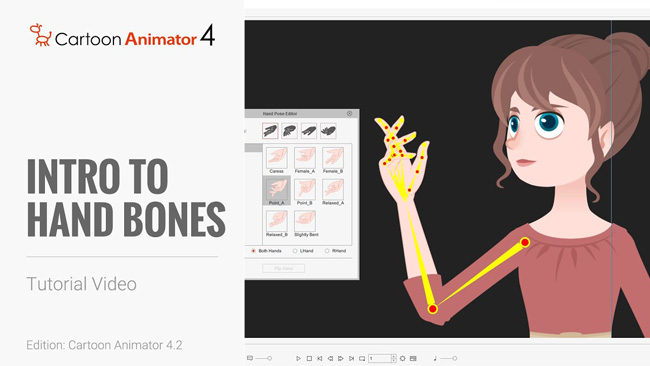 With CrazyTalk Animator 4.0, people can create and publish short business videos on social media. It is a free business video ad maker app that helps people to create and share their storytelling on Instagram, Facebook, Twitter, YouTube, and more.
It offers all the features necessary for creating professional quality results for business and marketing, such as the characters and texts. In addition, its intuitive interface allows users to easily create clips without any technical knowledge or experience.
Exporting Channel: Free publish to any platform with watermarks
Pros:

2D character templates
Auto lip-syncing effect
Straightforward timeline editing
Animate 2D characters with layers
Cons:

The free trial version has few character templates and music resources
Topexplainers

Topexplainers is the best short business video maker because it assists marketers and businesses to create professional videos that include animation and marketing techniques in a 50:50 ratio. You can also preset the size at 16:9 or 9:16.
Make video call in skype for business requires only a few minutes because of the availability of templates in this tool. With intriguing video content that promotes a business, it is possible to gain 5 times the attention of the audience than traditional marketing strategies.
Pros:

Professional in making explainer videos and whiteboard animation
Melodious background music
Convincing voiceovers
A stock of ready-made templates
Cons:

This tool doesn't offer any free trial version
Lightworks
There is a demand for professional videos for business because it helps a company reach its audience quickly. Lightworks aims to provide innovative and highly effective videos that help attract viewers' attention. You can personalize the video according to the need using templates, royalty-free music, and much more. The packages available are for 30 sec, 60 sec, and 90-sec videos. Based on the market, you can choose the right package.
You find video special effects from the built-in panel, including 3D rotation, blurring, color correction, and green screen. Lightworks helps you figure out how to make business advertisement videos with the least amount of effort.
Exporting Channel: Free publish to any platform at 720p without watermarks
Pros:

The free trial version has no expiry
Colorful VFXs & LUTs to edit business video
Trackless timeline with real-time effects for 4K video editing
Turn your clips into 360-degree easily
Cons:

The MP4 format without 720p resolution is the only exporting solution for free license
Conclusion
Given that video marketing is taking over and attracting audiences quickly, companies are accommodating the changes and using innovative marketing techniques to capture the customer's attention.
We have discussed online and offline platforms that are popular for creating animated and short business videos. Those business video makers will never disappoint you and help you create engaging videos necessary for your marketing with the least editing possibility.