Final Cut Pro and iMovie are reliable and widely used video editing platforms. You can use both platforms on Apple computers. As a bonus, iMovie is now available for the use of iPhones as well. Therefore, complete flexibility is now available for those who like to edit videos on the move.
iMovie vs. Final Cut Pro is a tug of war between two or the best editing programs. Nonetheless, the right choice for using software is dependent on the projects, user experience, requirements, and more. As both are Apple products, you will find a few similarities.
Today, you will learn about the latest comparison between the two editing platforms. In addition, the content will help you in choosing the appropriate editing tool that fits your need.

Comparison Between iMovie and Final Cut Pro
iMovie vs. Final Cut Pro will raise a query for many users: whether they are available for Windows? Unfortunately, both the video editing tools are exclusive to Apple's macOS products.
Understanding both editing platforms will help when it is time to decide between the two.
Pricing
Final Cut Pro vs. iMovie has a lot to offer for users. However, when we start the comparison with the price, the iMovie wins because it is free. In addition, Apple included the platform in Mac PCs, and users can also download it from AppStore. Therefore, you can install it on your iPhone and start editing videos while on the move.
On the other side, Final Cut Pro is a professional tool and requires a purchase. You will pay a one-time fee of $299.99 for the activation. Fortunately, students have the chance to get it at discounted prices. The downside in this paid version is there is no mentioning of lifelong updates. You must frequently check with Apple whether you are eligible for a free update or pay an additional amount each time an update is available.
Ease of use
Final Cut Pro X vs. iMovie are on the same scale of ease of use. It is because Apple developed both the editing platforms and have quite a few similarities. However, iMovie is a wonderful product for beginners considering a tool with a simple user interface, options, support, and features. Users will easily find the basic editing tools and use them to their heart's content with limited advanced features.
Final Cut Pro X focuses on professionals or users with prior video editing experience. Although the interface is straightforward, the presence of advanced features and graphics can cause distraction. Therefore, it is not the appropriate tool for those looking forward to using basic edits, trims, and cuts.
Text
In the next element of iMovie versus Final Cut Pro, we look at the inclusion of text. iMovie has various presets available with motion graphics that users can add to videos. You can select the required preset from the titles tab and start customizing it according to the need. However, the options for customization are limited.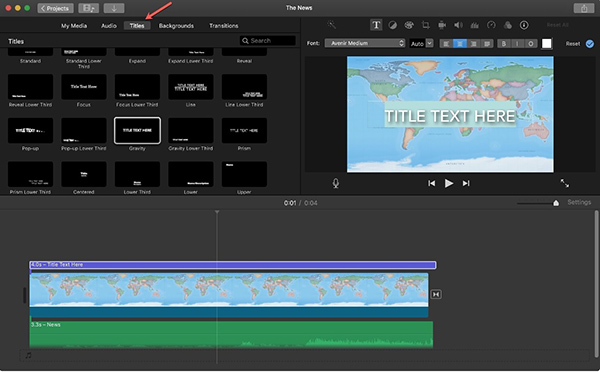 Adding text in Final Cut Pro requires knowledge because of the sophisticated procedure. In addition, the vast customization options provided will cause trouble for the user who wants to make simple edits. For example, the platform allows font style, size, color, and even position changes.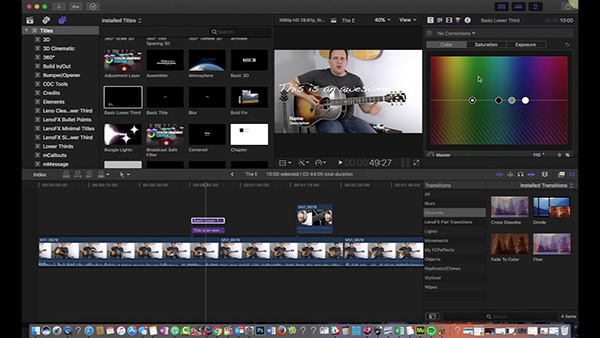 As you can see, Final Cut Pro has an edge in adding text and customization features.
User interface
The confusion between Final Cut Pro or iMovie has reduced slightly, and you understood that Final Cut Pro has advanced features. Now, let us consider the user interface, which is an important aspect.

When you look at the images above, you will notice a lot in common, except that one panel is missing in iMovie. Here, Final Cut Pro scores more points because the panel hosts more editing tools, which are missing in iMovie. It is because Apple designed iMovie for first-time users looking for simple edits. Therefore, an interface with reduced options makes sense.
On the other side, like Final Cut Pro is for professionals, adding a panel with manipulating settings for timeline, source, program, and effects makes a significant difference.
Workflow
The workflow in iMovie is straightforward – you import a video, drop it onto the timeline, make edits, and save it in the required format.
However, with Final Cut Pro, the process becomes a little tedious. The beginning steps are pretty similar to iMovie's, but the addition to timeline and edits change because of the magnetic timeline. So, if you add two or more clips, they attach instantly. And, when you delete a clip in the midsection, the remaining clips attach. After that, you can edit by adding effects, color correction, and other requirements.
Speed
Surprisingly, in the battle of iMovie vs. Final Cut Pro operation speed, iMovie wins the round. Although both the platforms run on macOS only, it benefits operating speed and project sharing.
The project sizes in both platforms are large than other products. Nonetheless, the two video editing programs can play the videos without any lag after they load and are functional. iMovie takes less time to complete a project than Final Cut Pro and other video editing platforms. It is because of minimal buttons present that make it easy to choose with smaller file sizes.
Advanced Effects
As iMovie is for first-time users, Apple did not add advanced effects in the software. Instead, it limits the user to create titles, use preset transitions, record voiceover, overlay clips, edit sounds, manipulate speed, and export to specific uses.
Final Cut Pro targets professionals and is an advanced video editor. Apart from the basic editing tools like iMovie, the advanced features include color correction, keyframing, motion graphics, and much more. The platform also provides an advanced audio editor that is crucial for filmmaking. The Final Cut Pro also gets the flow dissolve tool, which removes the "umms" and "uhs" from a video to create a seamless conversational output.
Alternatively, both the platforms have access to the Ken Burns Effects, which helps slow zoom in and out of a photo or video clipping.
Plugins and integrations
As Apple designed the iMovie for small and home usage, it cannot use plugins. Therefore, Apple provided a few built-in plugins that come to the rescue of beginners for creating small projects.
Final Cut Pro is for professionals, and therefore, can use professional plugins. For example, it comes with a built-in warp stabilizer, which helps attend to shaky footage. In addition, other users of the platform offer many self-developed plugins at no or less cost. Therefore, one has a wide array of plugins to choose from for a project. Powerful plugins include tracking technology, mask zoon, auto-zoom in/out, glitch effects, and more.
Speaking of integration, Final Cut Pro stands ahead of iMovie. You can export your project to multiple formats such as DVD, YouTube, Facebook, MP4, MOV, Vimeo, and more. Such a step saves time, as you do not have to wait multiple times for a single file.
Alternative to Final Cut Pro and iMovie
Not every user is a professional and may not spend money purchasing Final Cut Pro for a few video creations. Likewise, not every user has a macOS to run either of the software. On the other hand, plenty of people use Windows and like to use software compatible with both.
AceMovi from TunesKit fulfills this, as it runs on both Windows and macOS. iMovie vs. Final Cut Pro may not be an exact comparison for first-time buyers and Windows users. However, with the help of AceMovi, one can perform both basic and advanced editing at a fraction of the cost.
AceMovi is providing complete access to users for the trial copy. Therefore, you have the chance to explore all the options, features and understand everything about it wholly. However, the trial copy will leave a watermark on the final video. You can avoid it by purchasing the software.
This tool allows you put two videos side by side or combine multiple videos. AceMovi Video Editor owns more split screen modes and makes specific classification based on the number of screen splits.
The following is the pricing for Windows: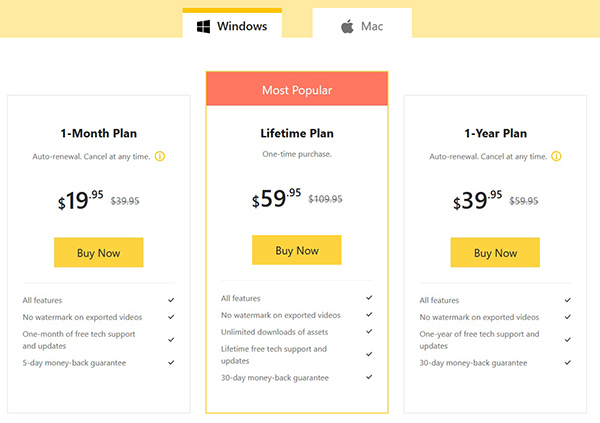 The following is the pricing for Mac: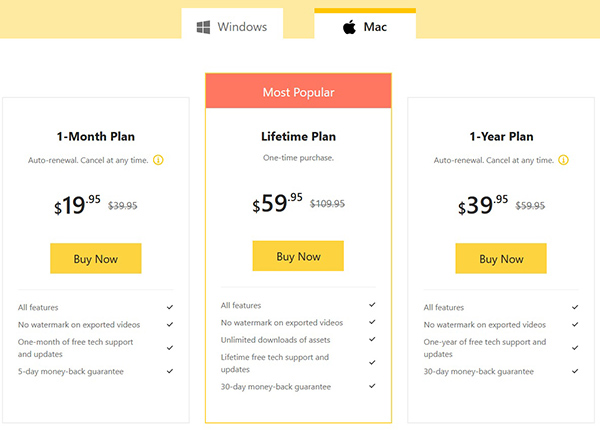 As you can see, the yearly plan is entirely affordable and suitable for both beginners and professionals. Furthermore, it is ideal for anyone who does not want an expensive platform for light edits and small marketing videos and yet wants to have all the options.
AceMovi has everything a user requires to edit a video– from rotating, flipping, cropping, trimming, adding text, audio to using filters, keyframing, animations, PiP, overlays, and transitions. These are the basic and the most-used editing tools that one requires and expects from a video editor. And the platform is offering them at a jaw-dropping price for both Windows and Mac users.
The other exciting feature is importing any video file and saving it in MP4, MOV, AVI, 3GP, MPEG, OGG, and more. Likewise, you can choose smart TVs, gaming consoles, iPad, Android phones, iOS devices, Xbox, and more.
Conclusion
In the battle of Final Cut Pro vs. iMovie, the clear winner is Final Cut Pro. However, it is for professionals and may not find a place among beginners or amateur video editors. On the other hand, AceMovi is for everyone. Moreover, it gains the upper hand because it is available for both Windows and Mac and stands a chance against iMovie and Final Cut Pro as the best alternative.
Do try AceMovi and find how useful it fulfills your editing requirements.