Football is the ultimate global sport and the fanbase is simply huge. Those who miss the game & diehard fans often watch the highlights after the game. Video editing software makes life easy for those who want to make a make-match highlight video or even for coaches. A well-edited match video using video editing software for football highlights will tell the whole story that happened in the match. Built-in post-production software will elevate the quality to broadcast standards. You will also be able to add commentary or slow-mo effects to the video. The massive popularity of different video-sharing software has made these custom-made sports clips or videos super popular.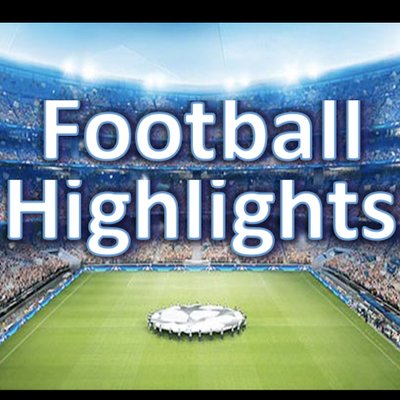 But the question is which video editing software for football highlights is the best out there? The best one will let you do whatever you want to do with the video clip and make it super interesting. If you want to learn about the best video editing software for football highlights, We've put together a few ideas that you can use. Let's get started!
Top 1. AceMovi Video Editor
Due to the massive popularity of video-sharing platforms, many new free editing programs have gained acceptance & one of the most prominent of these programs is the wonderful and free AceMovi Video Editor program. AceMovi Video Editor is the perfect solution for those who want to start working in the field of video editing for football highlights and do not have a high-end computer. Requirements for running AceMovi Video Editor are normal and suitable for medium devices, as the program supports computers powered by Intel and AMD processors. A processor with a minimum 2GHz frequency and at least 2 cores are enough to process SD and HD quality videos. To process video in 4k, a 2 GHz procession with 4 cores will be enough. This requirement made video processing available for most of the users. Ram specification is also quite user-friendly, 4GM RAM is enough to process SD video clips where 8GB is required for HD and 16GB RAM for 4K video.
The interface is very user-friendly and easy to use. Unlike other programs, you will find all the tools easy to use and easy to find. You will find that most of the available programs have very difficult operations. Finding the necessary tools and options will often be hard. On the other hand, AceMovi Video Editor has user-friendly options. For any novice or new user, each option and tool has a description of its use. Especially the timeline window, display window & list of files are just one click away from opening it. You don't need to find them hidden beneath other options like any other video editing software available. If you are already using other video editing software then you will find that AceMovi Video Editor is easier than any other video editing software for football highlights.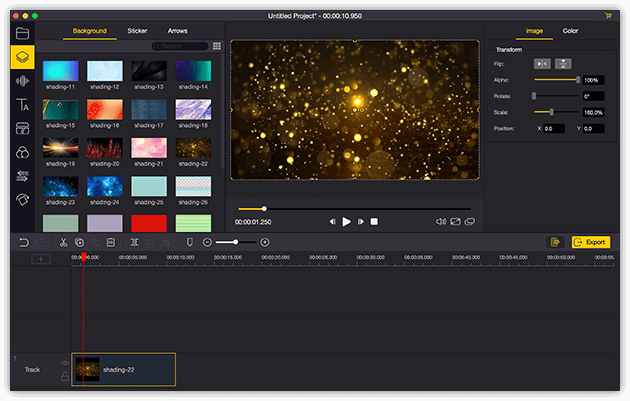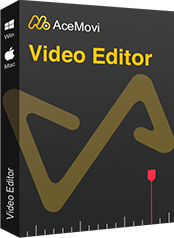 AceMovi Video Editor
Security Verified. 5,481,347 people have downloaded it.
Best video editor for both beginners and professionals
Very user-friendly & perfect for both new and professional users
Supports several video formats
Free trial available
Fantastic library construction
Record screen with customized resolutions supported
Cut, merge, crop, rotate video
Best video editing solution for any purpose
Basic and advanced video effects, filters, texts, transitions, animations, etc are available
Tutorial for new users
1 month, 1 year and lifetime package for better flexibility. Price starts from $19.95
Top 2. Lightworks
Lightworks video editing software includes a simple and intuitive interface for its user. It has a detailed video editing tutorial so that you can work on your football highlights editing project. It's good for both new and professional users.
Pros:
Simple trim functions
Multicam editing
Real-time project sharing
Easy exporting on different platforms
Supports different video formats
Cons:
Most of the features come with the pro version
Watermarks on the free version
$24.99 for monthly package
Top 3. HitFilm Express
One of the best video editing software out there that can produce professional-quality videos. The only and major downside is its operation is not so easy. Some tools are so complex and hard to use that new users might find it really difficult. If you can learn it properly then it's a very good video editing software for football highlights.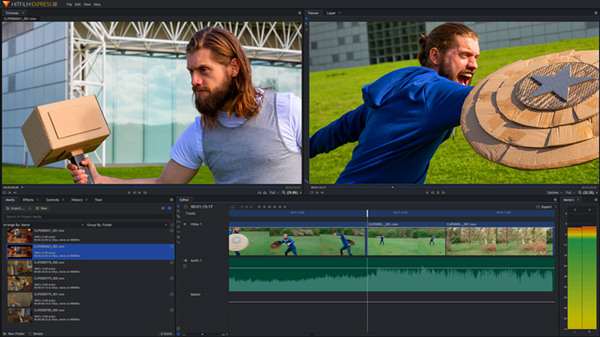 Pros:
Professional-grade video editing
Auto-stabilizer for better video quality
Adaptive trimmer with retrim options
Audio mixer
Various transition options are available
Cons:
The price is a bit high which is $349 for the lifetime pro version
Very difficult operations
Top 4. DaVinci Resolve
Many professional film editors use DaVinci Resolve for football highlights because of its 8k editing, color correction, visual effects, and post-production features. Its features are also complex like DaVinci Resolve & some users may find it difficult to use.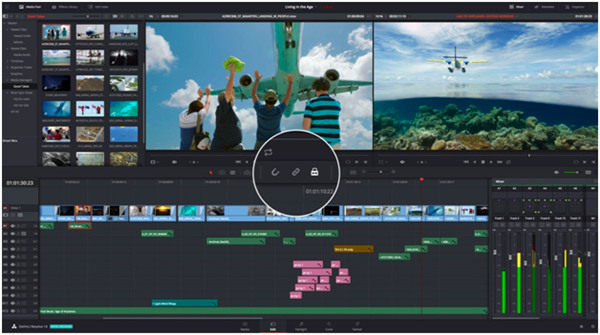 Pros:
Dual timeline
Dedicated trim interface
Intelligent auto-editing
Facial recognition that detects faces
Realtime speed up or slow-down options
Cons:
$269 for the full studio version
Difficult operations
Top 5. VideoPad
VideoPad lets you create high-quality videos without spending any. Most of the advanced features come with the free version with a huge plus such as 3D video editing, sound effect, etc. The only downside is it's a basic video editor when used as the free version. Some advanced features are also unavailable here.
Pros:
Double built-in screen
Customizable transitions
Easy export options for different platforms
Social media sharing and publishing
Stabilization tools
Cons:
Some major advanced features are missing
Tool simple for advanced football highlights project
Top 6. OpenShot
OpenShot is one of the best video editor software for football highlights for beginners. It's easy to use and has most of the advanced tools. It's best for simple video editing projects.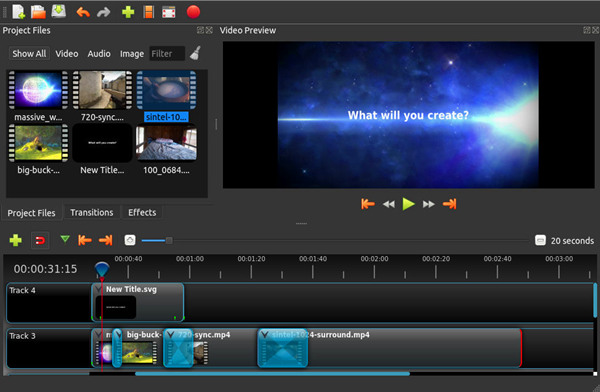 Pros:
Unlimited layers
Title-card templates can be customized
Drag-and-drop functionality
Digital video effects
Cons:
Not suitable for advanced projects
Some advanced features are missing
Top 7. VSDC Free Video Editor
VSDC's desktop video editing software is available as both a free and paid version. Although the free version has reduced features, it still comes with VSDC's full video editing suite—including a mask tool and chroma key functionality for green-screen video effects.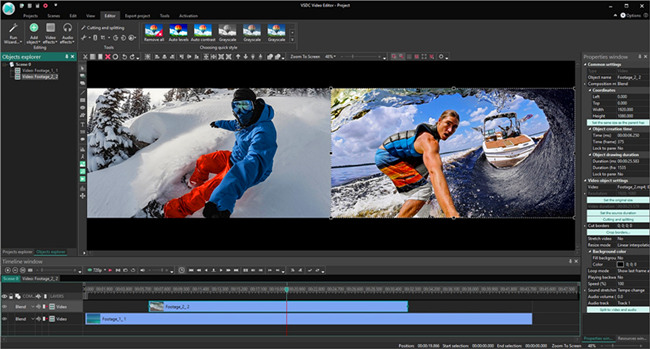 Pros:
Color correction tools
Supports professional level transition
Image filters are very easy to use
Social media sharing
Cons:
The free version has reduced features
The price starts from $19.99
Top 8. Movie Maker 10
Movie Maker 10 is a convenient video editing software for Windows for people looking to use a basic video editor. It's fantastic for making quick edits to short video clips you need ready right away. The major downside is it's only available for windows.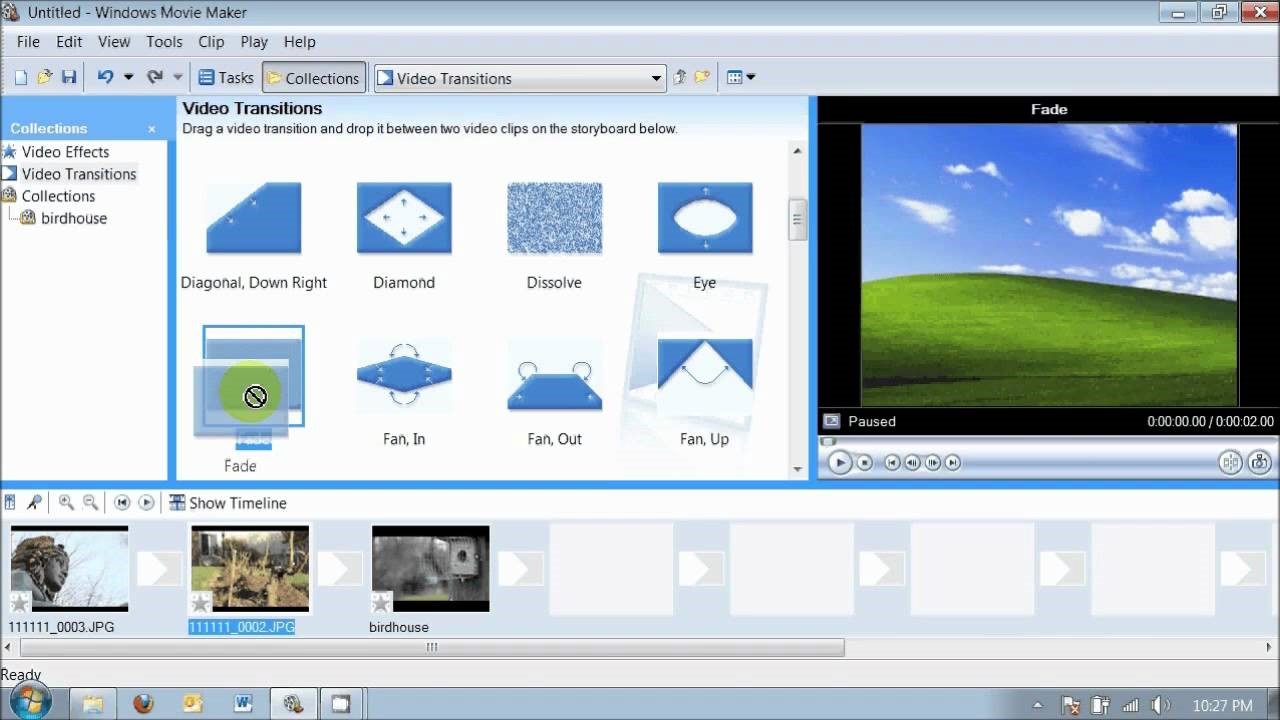 Pros:
Auto-preview tool for edits and effects
Auto-movie options for creating customizable cuts of your video clips
Animation tab to easily add music, titles, and credits
Cons:
Only available for windows
Not suitable for advanced uses
Conclusion
Since you have read and evaluated all the video editing software above from the list, I would highly recommend you to use the AceMovi Video Editor. Its free version comes with amazing features to let you evaluate it properly. If you like it you can purchase its pro version. The monthly, yearly, and lifetime pricing gives you flexibility on your hand. Download AceMovi Video Editor and let's start your football highlights projects right now!