Every piece of great highlight in sports is worthy of yelling and applauding, more important is to turn them into a collection when you want to share with others. But reaching a wonderful playback result is uneasy, not to mention you need to keep recording all the time, at least lots of trimming and splitting workflows are required. Luckily, there are some brilliant highlight video editors for sports in the market that will be of help. And I'm going to show you how to use the top-ranked 2 tools to make a highlight video on computers, online, and mobile phones, let's begin now!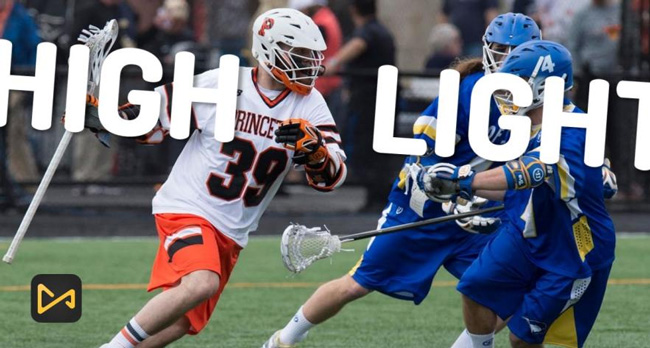 TunesKit AceMovi - The Best Sports Highlight Video Maker on PC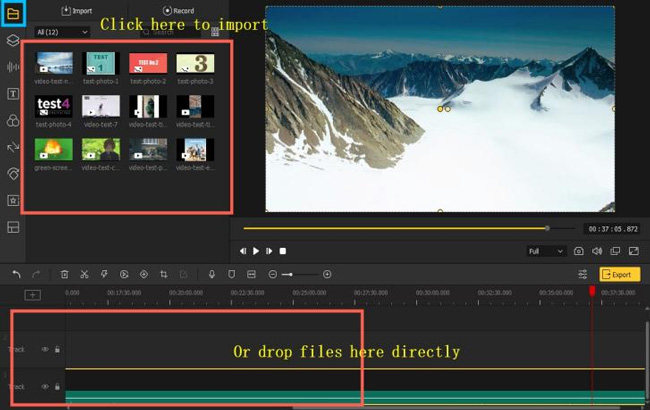 For making highlight videos with ease, TunesKit AceMovi is so-called the best one because of the one-stop features and effects and a plethora of elements that a standard highlight video needs. When it comes to adding elements to video, AceMovi brings amazing filters, classic filters, beautiful overlays, transitions, and animations. And there are over 100+ genres of static and dynamic text templates.
For more deployment of advanced effects, with AceMovi Sports Video Editor, you can change the background of a green screen video using the chroma key, make a split-screen video, join two or more videos into one file, and balance the noisy circumstances in a couple of clicks. The mentioned techs can be applied on the trial version, surprisingly.
As we all know, the resources are the most important factor for making a sports highlight video and sometimes we'll find the video formats downloaded from websites are distinctly vary from each other. Don't worry, this program supports all of the popular formats used nowadays such as MP4, AVI, DivX, WMV, M4V, MPEG-1, MPEG-2, TS, etc. Now just go for AceMovi!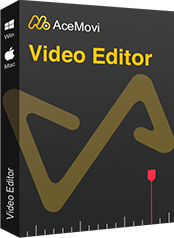 TunesKit AceMovi Video Editor
Security Verified. 9,022,279 people have downloaded it.
Pros:

Edit 720p, HD, and 4K sports videos easily
Full of built-in elements for sports lovers
Easy-to-learn & sizeable layout
Free download the trial version without expiration
Quickly trim and crop videos
Grade color professionally
Many advanced effects like chroma key and split-screen
Cons:

Able to convert videos, but not audio
How to Make a Sports Highlight Video with TunesKit AceMovi
You must download and install this video editor in advance so that you can enjoy the features and effects. Now scroll down to review the step-by-step guides below.
Record Sports Highlights or Import Files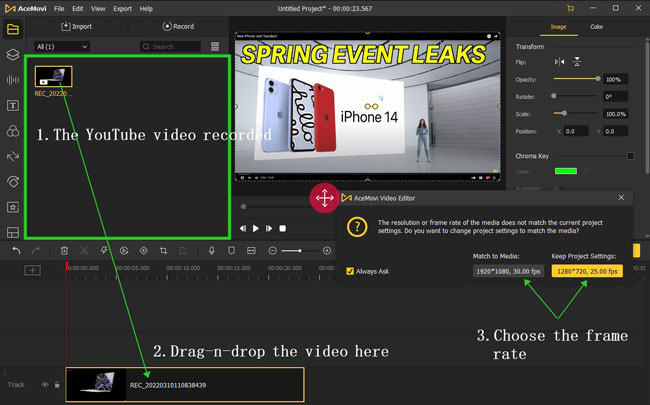 a. Record. The majority of active users will operate the built-in Video Recorder to shoot the highlights of a live sports competition. To launch the Video Recorder, click the Media > Record. This will be functional whether you want to record the screen or the social media window like YouTube. The recorded thumbnails will be saved automatically on the Media place.
b. Upload. Also, if you've already gotten the sports resources, just drag-n-drop the files under the interface. As well said, AceMovi supports almost all video and audio formats.
Trim and Crop Unnecessary Clips
a. Trim. With an unlimited timeline and the shortcut Ctrl+B, AceMovi is capable of chopping out clips efficiently and easily. Firstly, move the handle and drop it under the designated trimming points, and later, delete the trimmed parts.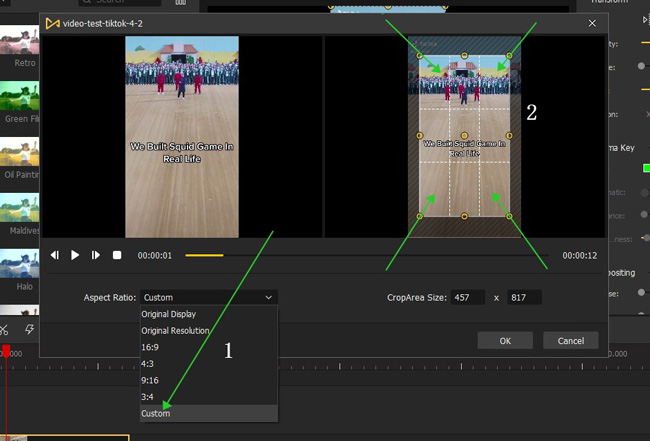 b. Crop. You'll find the icons to launch the Video Trimmer and Video Cropper from the toolbar. As for cropping videos, you'll be turned to a new canvas that helps you change the aspect ratio into 16:9, 4:3, 9:16, 3:4, or others. Once done, click the OK button.
Add Elements to Sports Video (Texts, Stickers, Music, Filters, Overlays, etc.)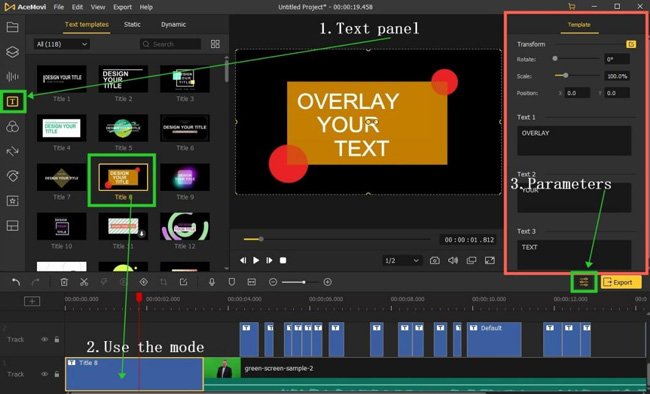 a. Text. For adding captions or overlaying texts on the highlight video, the first step is open up the Text plate on your left hand and drag-&-drop the wanted mode under a new track. AceMovi brings many selections of text templates that you can take as the introduction part of your highlight videos. Then fill in the content, for example, you can add the "Top 10 Greatest Moments Of Kobe Bryant's Unbelievable Career" in the box.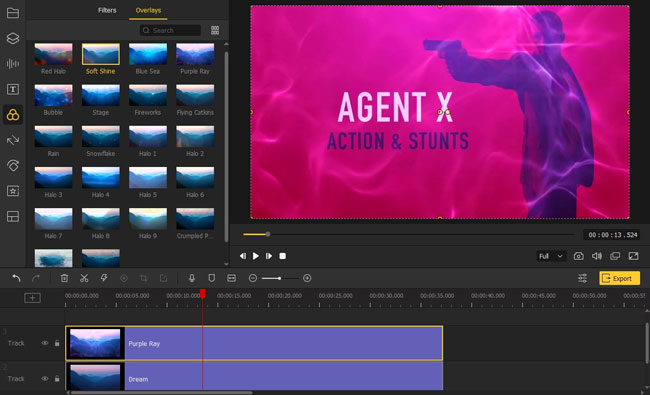 b. Filter. Want to leave your audiences with a different visual experience? Video filters can be your next step. Go to the Element > Filters, and drop the Emboss or Pinch or other types under the clip. Play the effect to check the rendering results.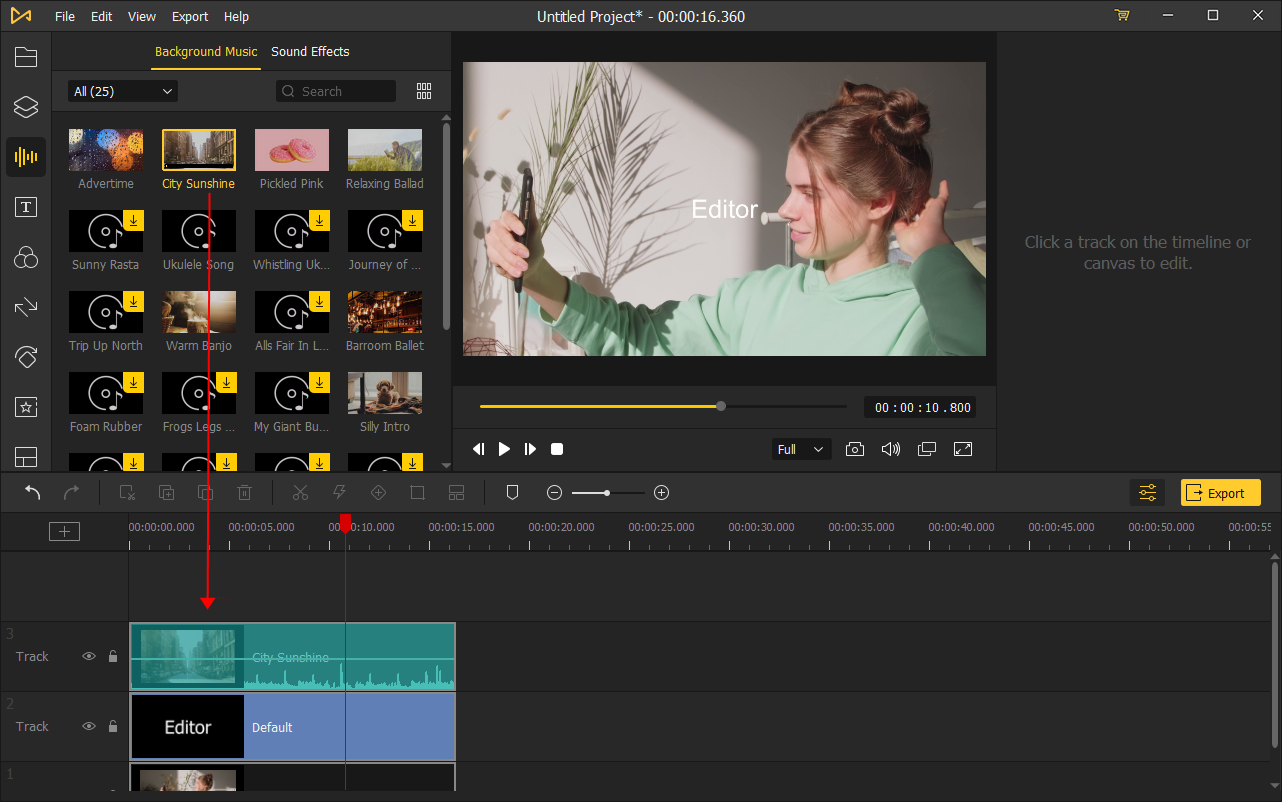 b. Music. Now time to change your background music or add a new one from the music plate. You can choose a more exciting soundtrack and then try to trim it as well. For equalizing the background noise, find the Properties(besides the Export icon) > Equalizer/Denoise.
For trying more like the transitions, overlays, or animations, continuously click the plates on your left hand!
Add VFX to Sports Video (Slow-/Fast-Motion, Reverse, Chroma Key, etc.)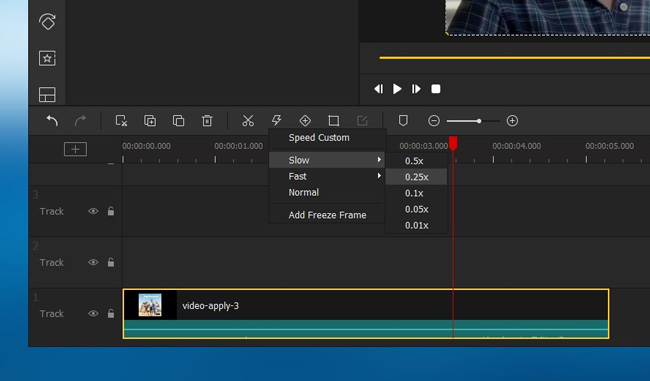 a. Motion. Want to make your videos more popular and stand out? The slow-motion and fast-motion effects can make your video cooler, especially those critical shoots. Go to the Toolbar > Speed to make such effects.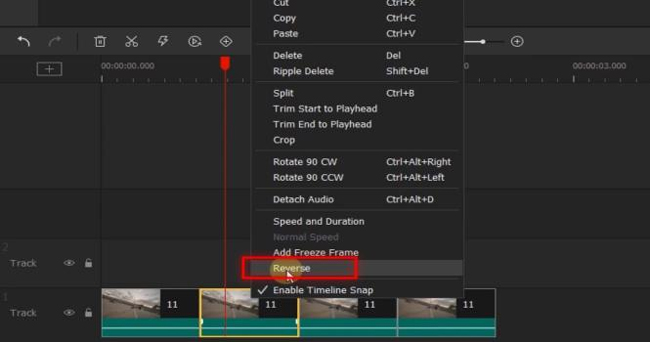 b. Reverse. Usually, you need to playback the sports highlights once or more times to help your audiences get more details. It seems poor to play it again as before, so the Video Reverser works. You can find this button from the toolbar or right-click your video to choose the Reverse option.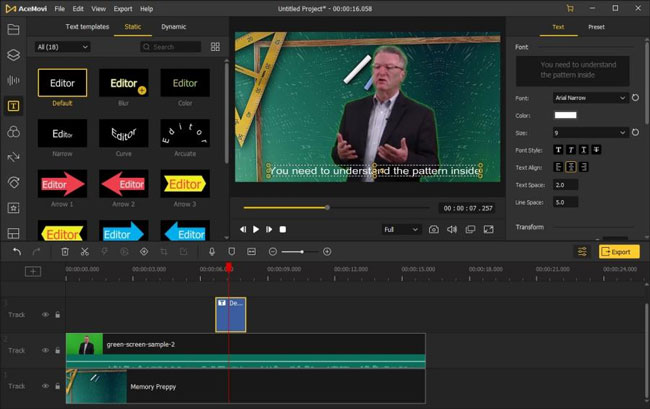 b. Green Screen. Learning to edit green screen videos with the tech of chroma key is another world for video makers. You can freely and flexibly replace the background of your videos, for instance, making a sportsman running under the galaxy. The chroma key feature is built-in the Properties.
Export Your New Videos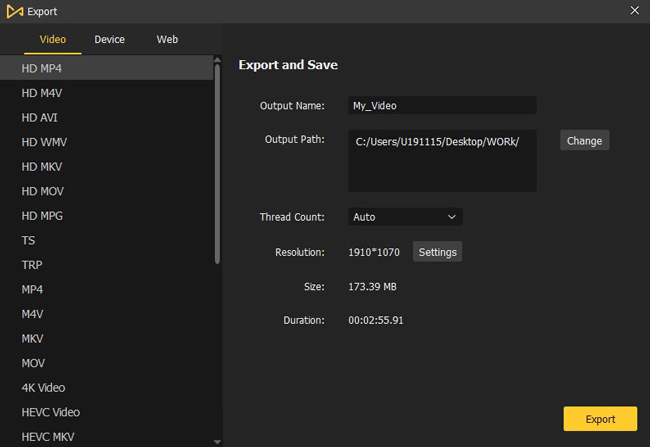 AceMovi has three channels to export your video. You can choose to export video in MP4, AVI, DivX, or other formats from Export > Video. Or open up the Device and Web to download the video in device formats. Now, see here to join us!
How to Make a Highlight Video on Hudl for Online & Mobile Phones
Providing live competitions and recordings for sports lovers, Hudl is a website-based sports video player for everyone. Basic features of this website include checking a team's detailed information like the coaches and players, enjoying the competition recordings, as well as leaving comments.
More importantly, Hudl brings the function to make a sports highlight video in a few steps. You can make it possible with Hudl both online and on mobile phones. Here we continue!
[Online] Making a Sports Highlight Video on Hudl
Log in & Select the Video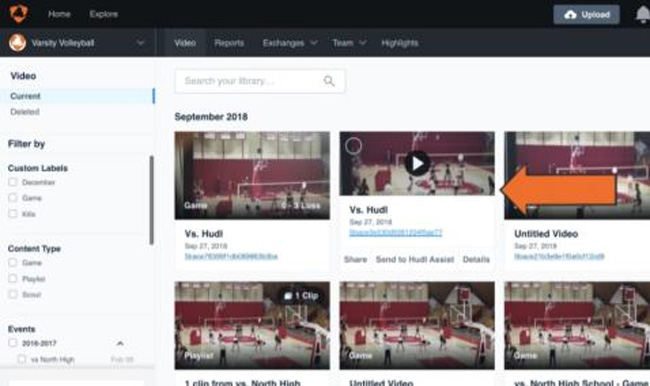 You need to register on Hudl.com, then go to the Video project. Now choose the wanted videos.
Begin to Make a Highlight Video Hudl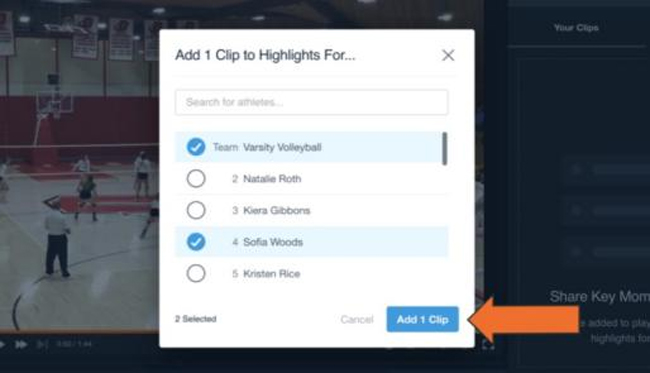 By default, the 10s before and 10s after will be saved. And now tap the Add 1 Clip. Tap the Star icon on the canvas. Once you see the highlights, click the Create Clip button. You can select it to drag the handles to change its duration as want.
Then go to the Save Clip. Likewise, opt for more highlights and tap the Send to Highlight to add more clips. Finally, you'll see a Hudl sports highlights video on your profile.
[Android/iOS] Making a Sports Highlight Video on Hudl
Now, let's see how to make a Hudi sports highlights video on mobile phones. Hudl app is free for both iPhone and Android, also, you need to log in at the very beginning.
Select Your Video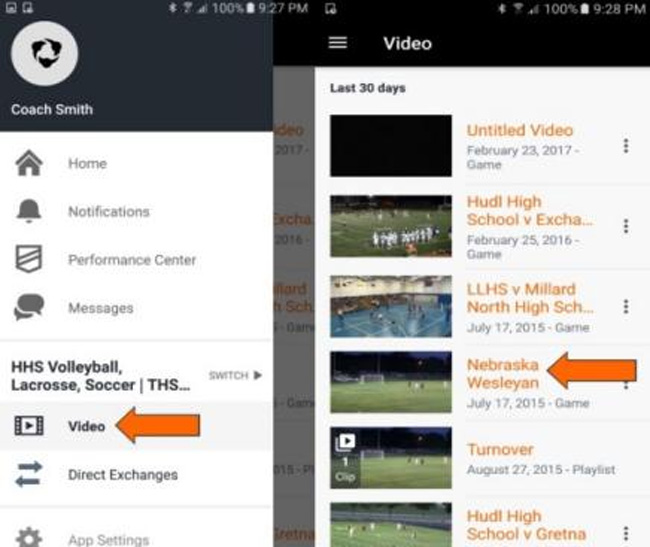 Now go to the Profile > Video, and then select the video that you want to extract highlights.
Commence Making a Sports Highlights on Hudl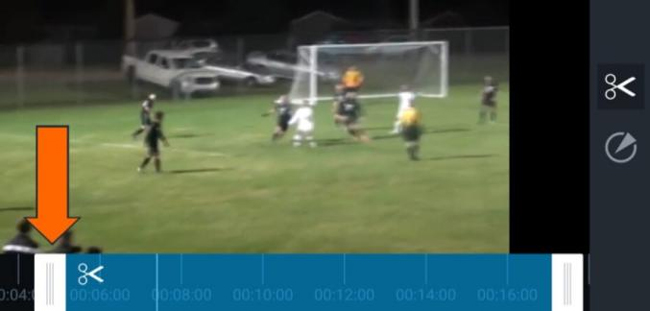 Tap on the Star icon once you see the highlights. Then click the ✂ to trim unwanted parts by dragging the handles.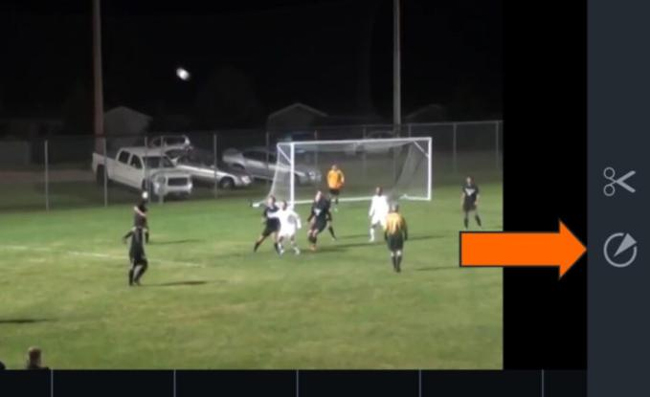 Then click the Circle icon to spot a shadow or an arrow. You can adjust the duration from the toolbar as well. Once finished, click the Publish icon.
Lastly
Making sports highlight videos needs much more time in the process of trimming and splitting. After that, it's advised to apply special effects like the Split-screen and Slow-Motion to make the video looks cooler. If you have any ideas about making a sports highlights video, tell me in the below box!