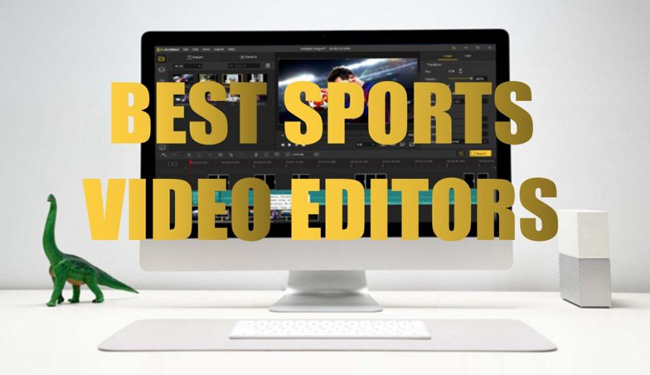 "Football, basketball, swimming, rugby, sprint, marathon, fencing..." Which one is your favorite sports game? Slamming dunk, critical shooting, rip entry, or taking the crown, you can hardly find someone who refuses to enjoy those sports highlights shows. Admittedly, the process of making a great sports highlights video is not an easy job no matter highlights capturing or post-production. For instance, sometimes you may feel most of the materials should be cut after viewing hundreds of sports playbacks.
If you're trying to make a sports highlights video and looking for the easiest sports video editing tool, you can read this post and we'd like to share with you the 10 best sports highlights makers on Windows 10 & Mac.
Top 10 Best Sports Video Editors to Make Highlight Videos with Ease
Top 1. AceMovi Sports Video Editor
Free: √, Watermark | Full Version: $19.95/Month, $39.95/Year, $59.95/Perpetual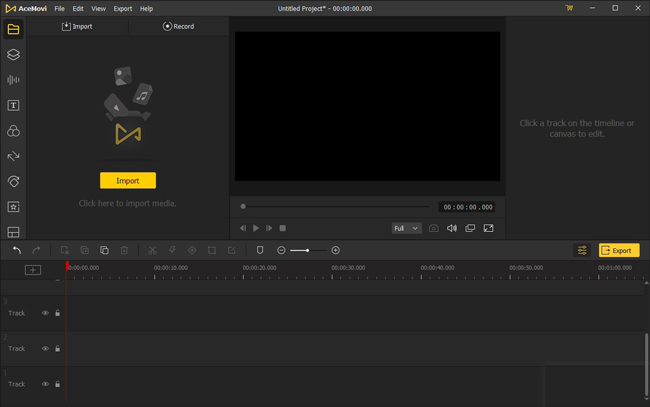 You can use TunesKit AceMovi Video Editor to make all of the sports video projects like top-performance highlight video, career retrospect video about an NBA star, championship time video of the World Cup, or professional sports narration/comment video. AceMovi can assist you in adding texts, stickers, background music, transitions, and filters just in a couple of taps. Besides, by default, unlimited tracks are allowed to be applied with AceMovi so that you can edit multiple sports videos at the same time and change the queue of tracks freely.
With the toolbar built-in AceMovi, you'll find it's very easy to make your sports video cutting, zooming, cropping, splitting as well as add keyframing, voice-over, and makers. In addition to those, the pricing policy of TunesKit AceMovi appears very attractive, usually, you just need to pay $19.95 per month or get the perpetual license by $59.95; but in important festivals like Black Friday, Christmas Day, and Thanksgiving Day, a deeply discounted entry price even 3-month freely-use will be provided.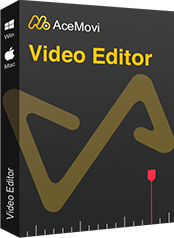 Key Features of AceMovi Video Editor
Security Verified. 5,481,347 people have downloaded it.
Pros:

You can finish all of the sports highlight video projects by AceMovi
Download the free version anytime anywhere
Streamlined sports video editing routine
Change the speed from 0.01x to 100x for sports video as you like
Hundreds of transitions, animations, and filters for sports video
Ready-made text templates and classical dynamic/static text models
Reverse or slow-motion the rotate videos
Most the video/audio/image formats included
Cons:

Not suitable for Linux system
How to Make An Excellent Sports Highlight Video by AceMovi Video Editor
Download AceMovi
You should make sure that you've installed AceMovi on your desktop and then click that icon to operate it. If you'd like to remove the watermark, you can register to get personal account and order a formal subscription.
Import Sports Clips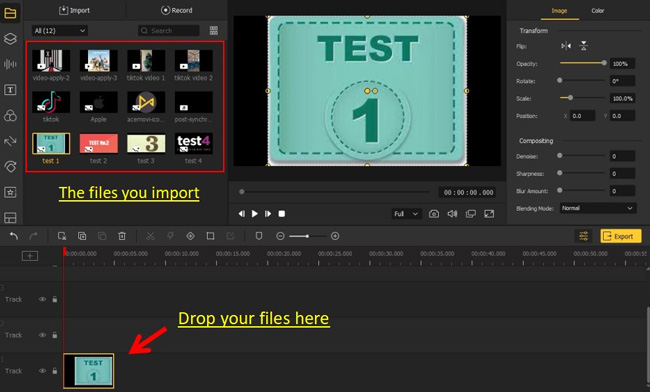 Dropping your files under the track area can work well to finish the importing step. Then all of the sport clips you just import will become thumbnails in the Media area.
Add Video Elements to Sport Videos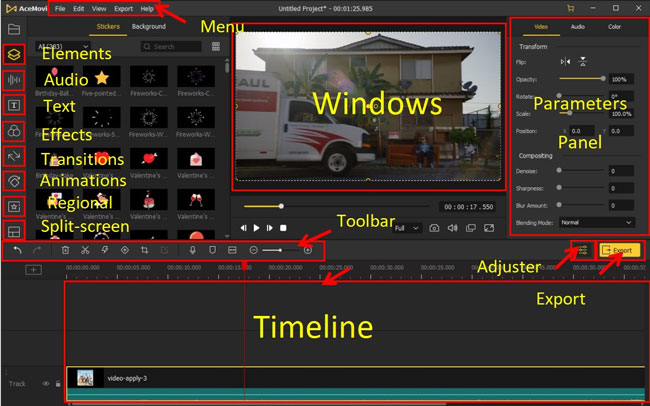 On the left side, AceMovi designs 9 item trays, if you want to add narrations or comments to the sports video, you can right-click the Text tray and then select a proper text style; If you'd like to add background music, just try to click the Audio tray where you can apply loads of loyalty-free music or you can use the audio track you just imported; Alike, you'll find the Transition tray, Animation tray, and Effects tray below, while the processes are the same.
Use Advanced Effects to Sports Videos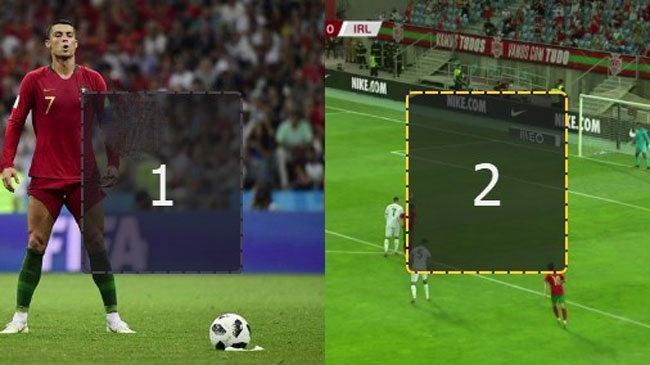 When Cristiano Ronaldo is ready to hit the door, you can use the Split-Screen effect (in the 9th item tray) to show the sports video from more angels.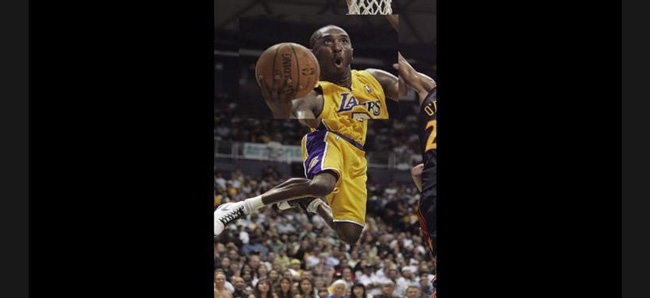 When Kobe Bryant is slamming dunk, you can use the Magnifying effect (in the 8th item tray) to highlight the specific area like the holding position and expression.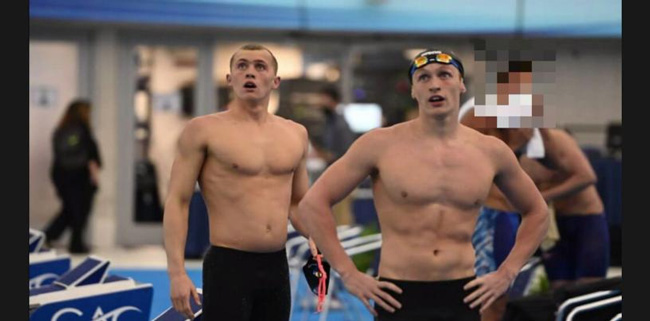 And if you want to keep the man from appearing in the sports video like passerby, lifeguard, or someone who has been banned from the competition a while back, you can use the Mosaic effect (in the 8th item tray), as you can see from the image above, audiences won't know who they are on earth.
Export New-Made Sports Video
When it is over, you can click the Export button to choose the exporting format as well as set the aspect ratio and video resolution. For more advanced effects like slow-motion/fast-motion, blurring, reversing, voice-over, cropping, etc., just dig in AceMovi.
Top 2. Pinnacle Sports Video Editor
Free: 30-Day, Watermark | Full Version: $69.95/P-Plus, $79.95/P-Ultimate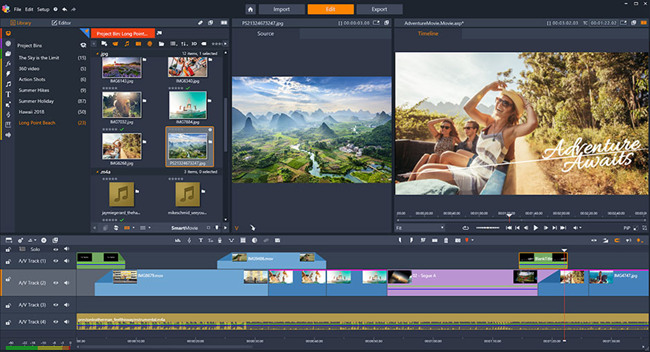 Pinnacle is an open-source sports video editor with double-canvas editing windows (you can compare the effects applied in real-time). Pinnacle is not an absolutely free sports video editor, users should pay for the services like keyframe controls, color grading, 4-camera editing, MyDVD menu templates, 8K Import & Blend Modes, etc.
Actually, you can still use hundreds of templates, texts, sounds, and other effects to sports highlight videos in the free version.
Pros:

4-camera editing for sports videos
Export at HD, 4K, even 8K quality
Smart object tracking
Batch processing
Basic and advanced color grading
Cons:

Your account will be expired after initial 30 days without a paid license
Top 3. Filmora X Sports Video Editor
Free: √, Watermark | Full Version: $51.99/Y-Individual, $155.88/Y-Business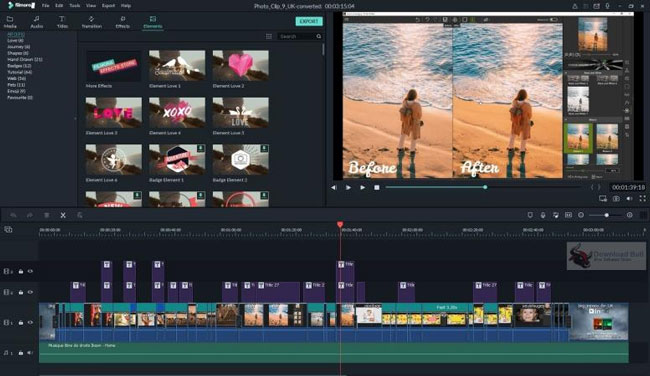 Wondershare Filmora is one of the best sports video editors runs on both Windows and Mac. Filmora has 7 item trays (Media, Audio, Titles, Transition, and Effect) yet 50+ subcategories so that you can use a lot of v built-in video elements and effects by this tool.
Moreover, you can edit the sports video on the canvas like color grading, filter effects comparison (as the image shows), video trimming, or sound balancing.
Pros:

Hundreds of built-in sound resources for sports video
3D-Lut: Excellent color grading feature
Multi-track processing is supported
You can compare the filter effects
Color Tuning: Adjust the white balance and the dynamic wide of sports clips
Cons:

Pricing policy: not so cheap & no Monthly-PLAN & Perpetual-PLAN
Top 4. Adobe Premiere Pro CC
Free: 7-Day, No Watermark | Full Version: $31.49/M, $239.88/Y-Billed Upfront, $20.99/Y-Billed Monthly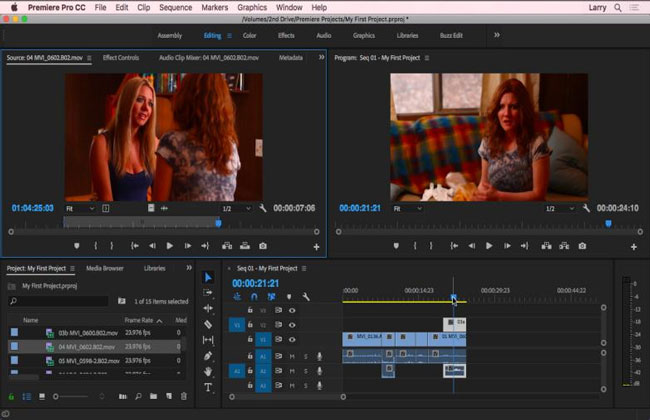 Adobe Premiere Pro CC is a widely downloaded sports highlights video-making software for both macOS and Windows systems. This Adobe product is more professional in color grading, audio adjusting, and graphics making.
In the head of Adobe Premiere Pro CC, you can find the Assembly panel where includes the files you input; the Editing panel helps you trim, split, crop, move, and reverse sports clips; while most importantly, the Color panel operates for controlling parameters like hue, pitch, brightness, volume and more.
Pros:

You can insert graphics to sports video
A vast library of audio resources
Very professional color grading panel
Double-windows editing experiences
Cons:

Subscription-based model & high RAM requirements
Top 5. Final Cut Pro
Free: 90-Day, Watermark | Full Version: $299/One-Time
As an Apple product, Final Cut Pro is a responsive and fully-featured sports highlights video editing software you can only get the full version with a one-time purchase (no upgrade pricing). The thing about Final Cut Pro you should pay attention to is it only works on macOS systems and the recommended PS is 11.5.1 or later, with Quad-Core i5 or greater CPU and 8GB to 32GB Memory RAM.
Speaking of the features, Final Cut Pro can be used to detect faces and objects, later match the movements with proper titles and video effects, you can even adjust the focus points and the depth of sports videos captured in Cinematic mode on iPhone 13. All in all, if you're an Apple fan, this could be the best option to make sports videos.
Pros:

Motion/faces/objects detector
Optimized for Apple silicon
With a revolutionary click-to-track design
Use keyframes to adjust the blurring amount
Cons:

Only one-time purchase PLAN for users
Top 6. DaVinci Resolve 17
Free: √, No Watermark | Full Version: $295/One-Time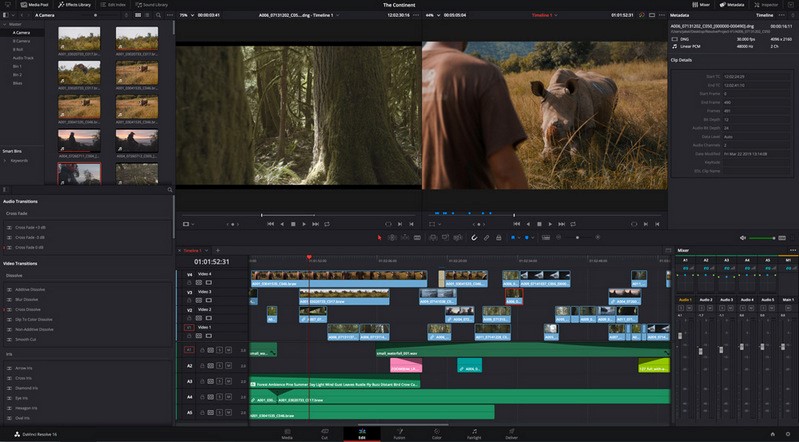 DaVinci Solution 17 is a complete professional post-production kit for sports highlights video making and editing. You can do the multi-camera workflow, animate your sports clips through the keyframes, narrate the customized titles, and insert proper transitions. Version 17 has 300+ video elements in the free and studio versions, including HDR trays, color grading, magic masks, smart refactoring, 3D editors, and fusion settings. However, some of these basic and advanced features are limited to use within the studio version.
And luckily, the exported sports video won't be printed with any watermark, meanwhile, there won't be any time expiration after downloading DaVinci.
Pros:

You can export sports videos at HD or 4K quality for free & no watermark with
A plethora of video and audio effects such as Fusion Effects, FX Blur, and Fairlight FX
Generator & Pro Fusion Generator like Solid Color, Contours, Noise Gradient, etc.
Quick Export option to YouTube, Vimeo, Twitter, and Dropbox (Automatically set the AutuFit resolution, frame rate, video codec, and audio codec)
Cons:

High requirements in OS & one-time purchases only
Top 7. Camtasia Sports Video Editor
Free: 30-Day, Watermark | Full Version: $299.99/One-Time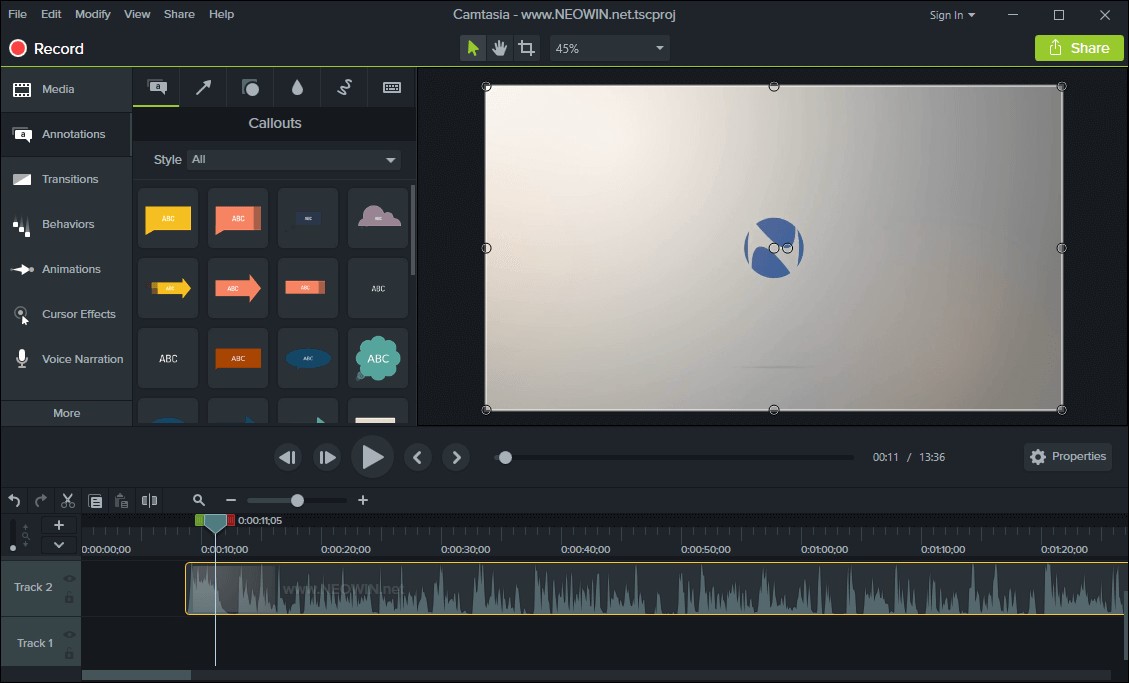 Camtasia is a powerful sports highlights video editing tool used for Windows and Mac. Camtasia 2022 supports a range of video and audio formats and provides an impressive degree of control over the videos you create while still being easy to use. Once you're finished editing the sports video, you can share the sports video directly to Youtube, Vimeo, and Google Drive. Camtasia is user-friendly for newcomers in sports video editing and making so you don't need to read a lot of user guides or tutorials before getting into this tool. Users now can try Camtasia free for 30-day max and later their account will be expired.
Pros:

Quick-to-learn interface
Pro sports video recording software
PowerPoint Integration: Turn your PPT into video without any hassle
Connect your iPhone/iPad to edit the videos import from your album
Top 8. Movavi Sports Video Editor
Free: 7-Day, Watermark | Full Version: $64.95/Y-Plus, $84.95/P-Video Suite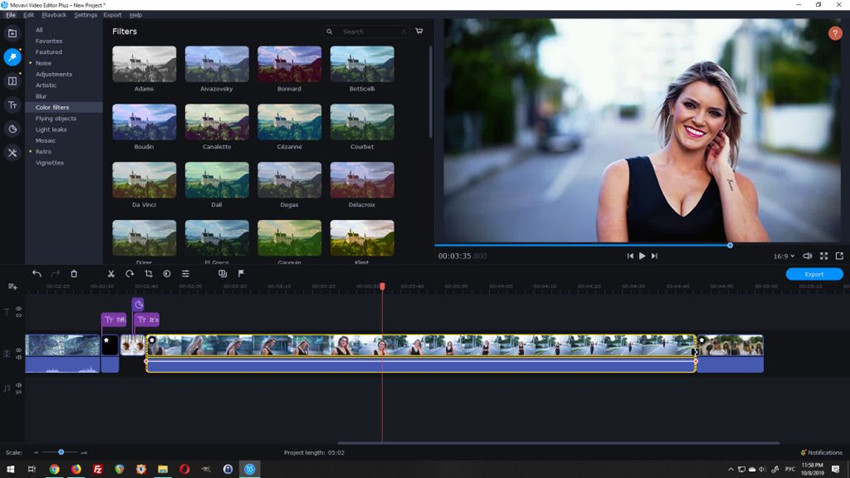 Movavi's pro sports highlights video editor can deal with most sports video editing and making work. With Movavi, you can create your own professional-looking sports content with music, texts, transitions, and other basic effects in no time. Besides, Movavi has vast options of video resources, advanced features (Just like Mirror, Reverse, Split-Screen, Audio Sync, Color Grading), endless tracks, etc.
In addition, unlike the DaVinci Resolve or Camtasia, the real effects within Movavi will inherently be shown by icons so that users can make it clear about whether should they apply it quickly rather than wasting time on trying and trying again.
Pros:

Loads of music and audio effects for sports videos
Clutter-free sports video making interface
Slow-motion and fast-motion effect
Mirror (or flip) & video reversion can be applied
Cons:

Users' accounts will be expired after 7 days just
Top 9. GoPro Studio
Free: √ | Full Version: Downloaded by the Third-Party Platform Only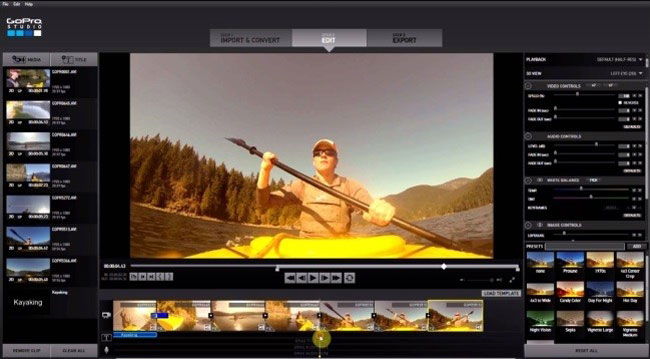 As a fully-featured video editor for making sports highlight video, GoPro Studio belongs to the GoPro editing software family, which connects to all of the sports clips captured by GoPro cameras like GoPro Max W, GoPro HERO 10 & HERO 9 Camera Media Mode, and GoPro HERO 7 Sliver - E - Commerce Packaging Waterproof Digital. Unfortunately, GoPro Studio has been completely discontinued, so you cannot download it from the Quik site, but the third party may help you in some cases.
The interface design is a bit different from previous sports video editors, you can find three parts: The left part contains the sports video clips or other necessary files you input; The middle is a window where you're allowed to review what's going on about your screen; The right is parameter settings and this is also the main sports video editing panel, for example, when you're preparing to adjust colors, you can find the hue or pitch sliders from here.
Pros:

30+ filters and transitions for sports video making
Applied for the sports clips taken by GoPro cameras well
Review the effects in real-time
Import contents at high quality
Cons:

The Single-timeline design appears messy
Top 10. PowerDirector Sports Video Editor
Free: √, Watermark | Full Version: $69.99/Y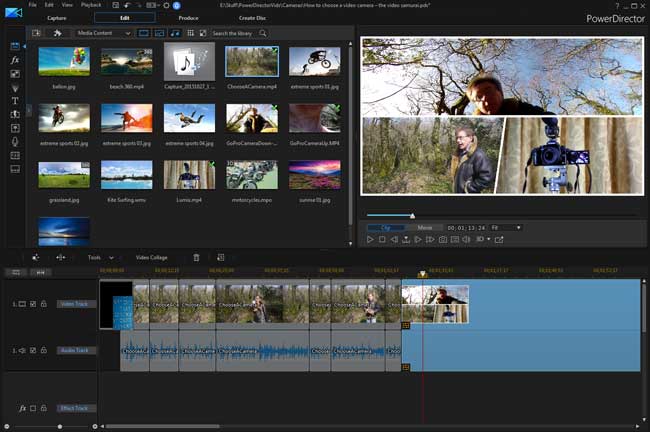 You can try unlimited use of plus 170+ audio tracks, 90+ plug-in & effect packs, and 580+ sound-free clips with the last recommended sports highlight video editor in this post - CyberLink PowerDirector. More video elements like video templates or text templates and more effects like split-screen and video reversion are available on this tool.
But users can only purchase the Year-P service at nearly $70. Besides, PowerDirector Sporting Video Editor will automatically show the keyframes within the sports clips by Motion-Tracking, this helps a lot when you want to find the time point what the sports highlight happens.
Pros:

Hundreds of royalty-free music for sports video
Motion-Tracking will show keyframes inside the sports video
You can use a split-screen to cut the playing windows
Users are allowed to record videos in advance
Cons:

Not support 2K/4K resolution H.264 video files export
Conclusion
A good sports highlight video editor can help you make twofold results yet with half the effort. Based on the analysis of advantages and disadvantages, watermark-removal service, pricing policy, and the features and effects the sports video editor embedded, believe you can find the one you like.