The different selection of video editors decides different visual outcomes. This article, by analyzing the whole layout, pragmatic functions, and user experience of AceMovi Video Editor, Camtasia, and Filmora, has attempted to explore which one is easier to master, what sorts of commonly-used or high-level functions and key features they can operate on, and whose price-policy appears more acceptable.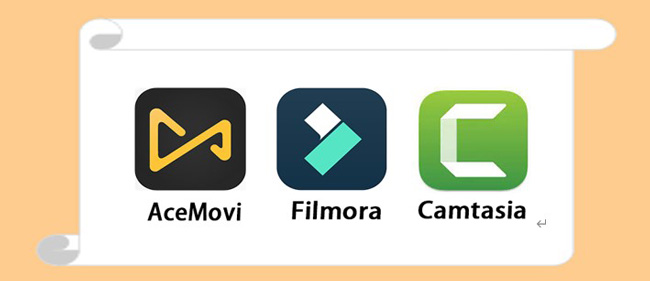 AceMovi vs Camtasia vs Filmora: What Are the Distinctions?
Interface
AceMovi Video Editor: AceMovi includes three main templates in the interface: canvas, track, and menu. AceMovi's track takes up space around half while the canvas and menu another half collectively. Its coordinated and clutter-free templates do not need so many customizations that you can work quickly.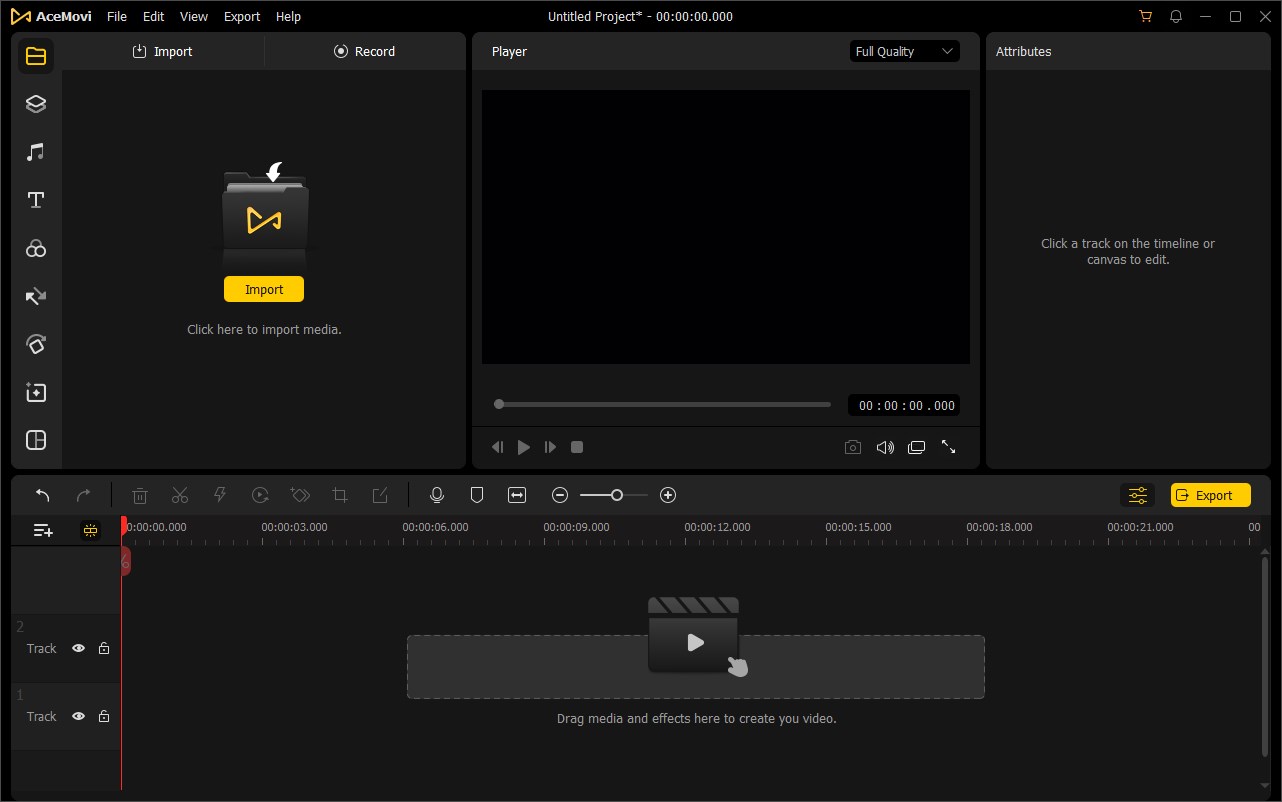 Camtasia 2021: Similar to AceMovi, Camtasia also contains three regions in the layout. Differently, Camtasia's canvas occupies space around one-thirds, the track and menu are two-thirds together. You may have to detach the track to fit in your practice because it's likely to discover that the tap and scroll will become hard to carry on.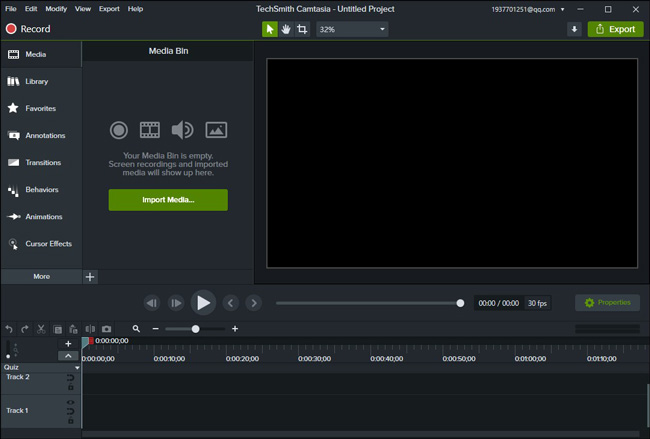 Wondershare Filmora X: The interface of Filmora appears more sophisticated in the coordination of the three panels, especially in the keyword tag window. So clear as we can see in the below picture, eight tags are lined up side-by-side with text explanations. And to have a closer discovery, all the tags have been divided into categories like the Audio whose sub-categories contain more than ten sorts. Consequently, it is hard for newcomers to make a simple video-editing-start before precisely figuring out some of the essential options. Besides, the size of the canvas seems so small that you'd better customize it into the matched degree.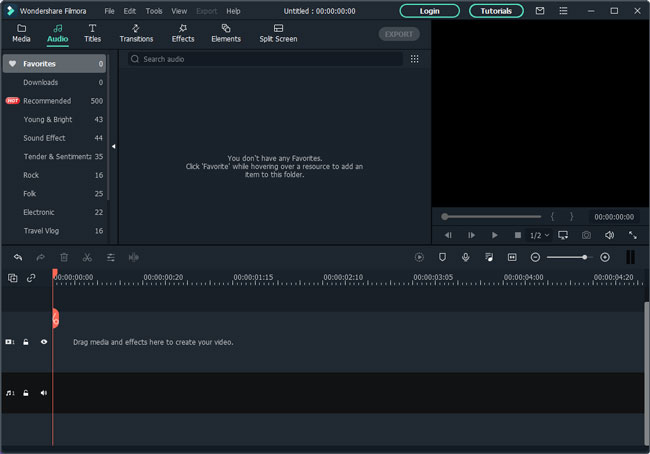 Comment: If your operations in the track tend more and you're not willing to change it, better choose AceMovi. If you have the habit of operating canvas to make the drag-and-drop, Camtasia is a better choice. Besides, the detailed divisions in Filmora will be likely to choose if you're demanding in the categories of tags.
Pragmatic Functions:
AceMovi Video Editor: The Split Screen plays a different visual effect, which helps in prompting video-telling such as synchronously showing two videos to contrast more outright or three to promote the process. And the PIP(Picture-in-Picture) makes your video more interactive.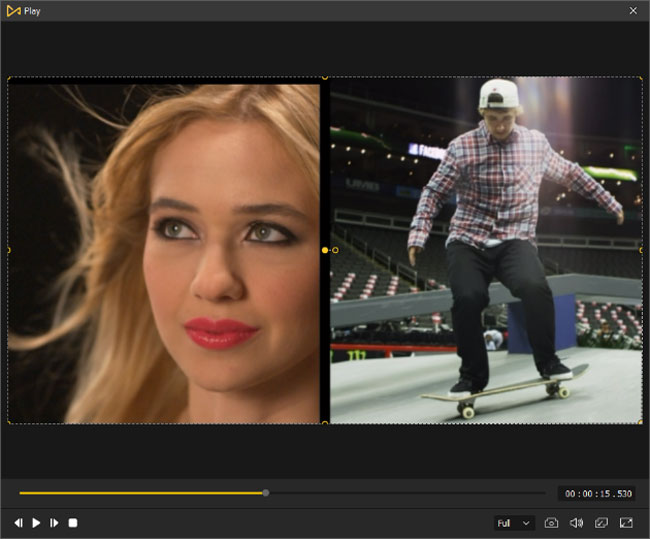 Camtasia 2021: Camtasia also has its in-built functions: the Cursor Effect uses highlight, spotlight, and magnifies or adds click sounds and effects, the Caption includes manual or automatic syncing of text or Speech-to-Text transcription, and the Interactivity adds an interactive quiz or unscored survey. They all mesh the software with the requirements of utilizing the text or click-punch to adorn the video.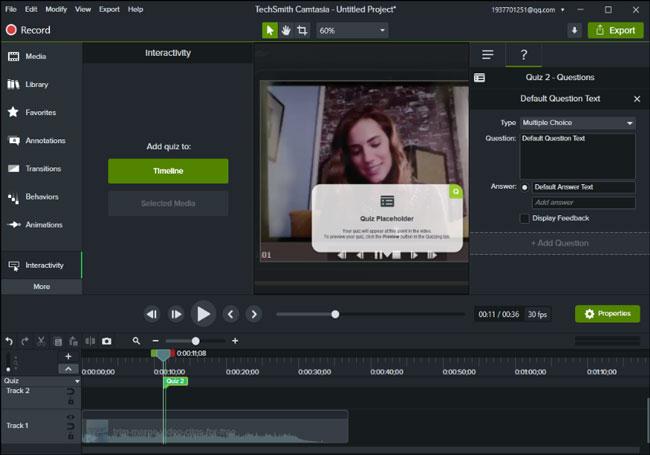 Wondershare Filmora X: The Motion Tracking and the Color Matching & Correction in Filmora, so to speak, belong to one-of-a-kind functions. After dragging and dropping the video files into the timeline, the timeline will display the motions in a sequential line. The function works in presenting crucial time dots without any further needless operations like checking the whole video to make a keyframe. And the Color Matching & Correction polishing in matching the selections' color to a reference frame and altering the aesthetic of your media by adjusting settings like white balance, saturation, and contrast or applying 3D LUTs.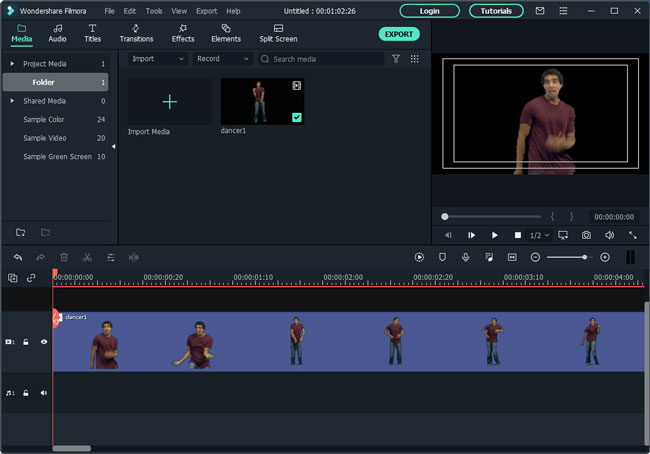 Comment: AceMovi outperforms in the channel of expressing lens, more explicitly, moviemakers will be likely more comfortable with it, whatever feature-length or not. Rather than AceMovi, Camtasia will surprise you in annexing text or other explanatory content to the video. And Filmora will give you a mind-boggling on its auxiliary modification functions like the areas of color and motion.
Menu
AceMovi Video Editor: AceMovi's menu includes File, Edit, View, Export, and Help. Preferences in the File list settings like the exact location of media files, default duration, and auto-save period.
Camtasia 2021: Comparatively, the menu of Camtasia not only including another way of operating functions but the channel of exporting files into more Websites such as Knowmia, Panopto, etc.
Wondershare Filmora X: The Burn DVD and the Render Preview are the special functions listed in the menu. It also contains a fast channel for exporting media.
Comment: AceMovi's menu appears precise and nifty in its options and style, while Camtasia's has more local sustaining websites, which can be geared to a new work channel as you like. And Filmora provides the functions of Burn DVD and Render Preview.
TRACK
AceMovi Video Editor: In AceMovi, the track is strikingly powerful and scalable, which means you can zoom in/out the timeline in the track by holding the left-click. The track contains Hide and Lock, Undo and Redo, Split, Speed, Crop and Zoom, and Add Marker, etc.

Camtasia 2021: Detaching the track when editing the video in Camtasia is advised because of its small size. Camtasia's track includes Cut, Copy, Add Exported Frame, and Bring all media on the timeline into view, along with a columnar detector in the right-hand place, which can make a peak-time detection. Few differences in the menu area.

Wondershare Filmora X: The track cannot be detached but customized a little. But more professional functions are offered in the toolbar like Auto Ripple, Motion Tracking, Audio Mixer, Collection Matching & Correction, Green Screen, and Stabilization.

Comment: Comparatively, the track of AceMovi is out-of-the-box. But Filmora Provides more professional tools.
Supported Formats
AceMovi Video Editor: AceMovi supports a vast library of file formats like HD MP4, HD M4V, HD AVI, TS, TRP, MOV, ETC, and devices like most current iPhones, Galaxy, Huawei, PSP, SONY, LG TV, and so forth.
Camtasia 2021 By comparison, Camtasia could be a good tool for exporting videos to different websites because it contains more sustaining websites like Screencast, TechSmith, Knowmia, Panopto, and Google Drive.
Wondershare Filmora X: Filmora has few channels of exporting media files into websites as AceMovi, but it offers DVD Burning.
Comment: If you are demanding the video formats or devices, better choose AceMovi, besides, Filmora also provides slews of ways to export, while Camtasia performs better in transferring the media files into more websites.
User Experience
AceMovi Video Editor: For user experience, AceMovi has a shallow learning curve for its more intuitive interface and easy-to-use editing process, as it aims at offering service for beginners.
Camtasia 2021 & Wondershare Filmora X: Both Camtasia and Filmora have a steep learning curve because of their more advanced interface and complicated editing process.
Comment: Camtasia and Filmora are not so friendly to the newcomer, but professionals in the area may accept it.
Pricing
AceMovi Video Editor: Windows' price is the same as Mac. Including three options, namely, 1-Monthly Plan, 1-Year Plan, and Lifetime Plan. Specifically, 1-Monthly Plan costs $19.95 with auto-renewal, and you can cancel it at any time. It contains all the features shown in the trial version, no watermark, one month of updates, as well as the 5-day money-back guarantee; 1-Year Plan costs $39.95, whose service is as same as the 1-Monthly Plan except the 30-day money-back guarantee; Lifetime Plan costs $59.95, it's a one-time purchase.
Camtasia 2021 Camtasia is $299.99 for the Lifetime Plan with 30-Day Money Back Guarantee, but $50 should be paid every year for renewing. It includes the service of Free upgrade to Camtasia 2022, Access to English, French, German, etc., Compatibility with Windows and macOS, Priority hands-on support via phone, e-mail, or online, and Volume discount when you purchase five or more licenses, etc. Besides, Camtasia provides a discount for special groups like businesses, students, and government unity.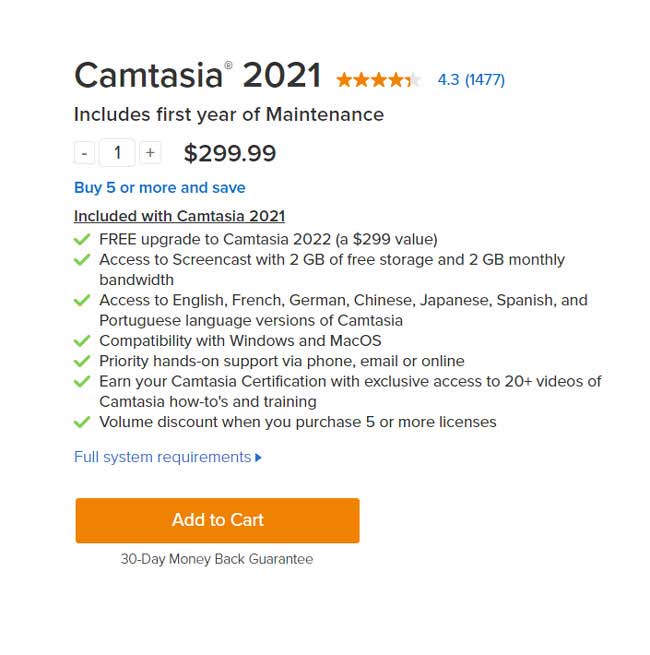 Wondershare Filmora X: Windows' price is the same as Mac. Individual, business, and education will be charged respectively: three plans for the individual; company-price for business; educator-discount for education plan, such as students save up to 37%.
When it comes to the three individual plans, specifically speaking, the Annual Plan costs $61.99 with the service of automatically renew, and you can log off at any time, and it contains no watermark on your exported videos, one year of Filmora updates, one-month of the AI Portrait Add-On, unlimited assets download and preview, one-month unlimited download of standard assets tagged with the diamond and export, and Senior Tech Support. Besides, you can get one month of the Filmora Standard Assets or the AI Portrait Add-on by paying $9.99/month; Perpetual Plan costs $89.99, it's a one-time purchase, and all the services provided is as same as the Annual Plan except it doesn't include upgrades to future versions of the software beyond Filmora X; Bundle Subscription Plan costs $109.99 with contains the service of download the latest version and get the latest features for as long as you're subscribed, all features, no watermark, Senior Tech Support, and one year free downloads from the specific website. For a bit more, you'll get the one-year Filmstock Standard Subscription and the one-year Filmora Video Editor Subscription.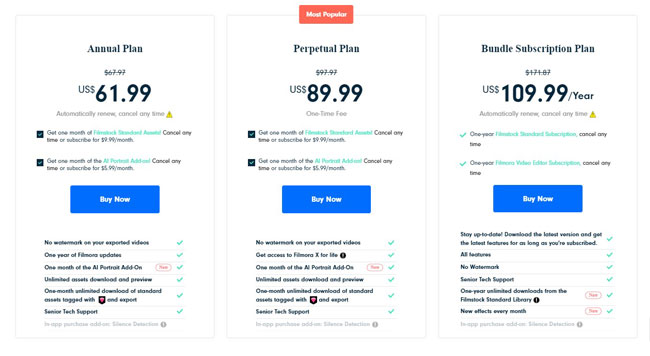 Comment: The price of Camtasia and Filmora seem not so acceptable for the newcomer. Not like AceMovi would be a bargain for customers. That being said, but you can get the point that AceMovi's monthly pricing seems unwise to purchase for the reason that it isn't less than the 1-Year Plan so much.
System Requirements
AceMovi Video Editor: AceMovi works on all versions of Windows from XP forward, and macOS 10.8 or later. That is to say, only need a 1GHz processor can AceMovi run, and it requires 521MB of RAM or 256MB on a Mac. As for resolution, the minimum monitor is 1024*768.
Camtasia 2021: Camtasia needs the Windows 10 (64-bit) 1709 "Creators Update" version or later, and macOS 10.14 or later.
Wondershare Filmora X: Windows 7 version or later, and macOS 10.12 or later could process it.
Comment: There's little difference between their system requirements. By the way, although various kinds of computers could operate both of them, an advanced one will perform better.
Video Editor: Which One Suited the Most for You?
Pros & Cons
| | AceMovi Video Editor | Wondershare Filmora | Camtasia 2021 |
| --- | --- | --- | --- |
| Clutter-free and easy-to-use interface | √ | × | × |
| Input& output formats | More | Fewer | Very Fewer |
| More in-built functions | √ | √ | √ |
| A vast library of effects and animations | √ | √ | √ |
| Detach canvas | √ | × | √ |
| Motion Tracking and Color Matching & Correction | × | √ | × |
| Paid resources and sharing store | × | √ | × |
| Cost-efficient, especially suitable for beginners | √ | × | × |
Summary
As three of the best video editors in the world, AceMovi Video Editor, Camtasia 2021, and Wondershare Filmora X offer industry-standard functions, along with their special built-in techniques.
This article isn't created herein to select the winner but to figure out the differences between the three products and their pros and cons. Although exploring detailed interface, listing special functions, and analyzing concrete datum can provide us with suggestions, it's still advised to test the trial version yourself to get an overall gamut of the editors beforehand.