Do you feel that the video you made is not as compelling as others? Do you worry about sharing videos on social media and have very few likes? The root of all these problems is that your video does not have so many special effects and visual impacts that are pleasing to the eye. There are so many video editors in the current market. Do you still hesitate to choose which video editing software? Today, we will choose two programs and make a comprehensive comparison between TunesKit AceMovi Video Editor and Wondershare Filmora for your reference.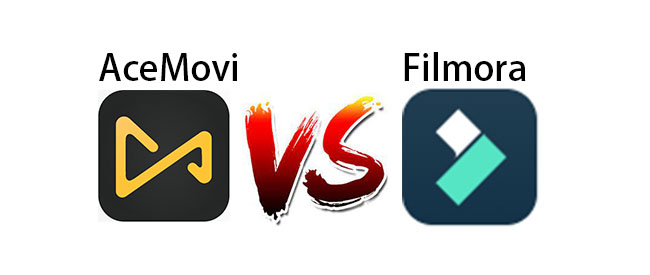 Similarities of TunesKit AceMovi Video Editor and Wondershare Filmora
Nature
Two programs are video editing software that can be used on Windows and Mac systems. With AceMovi and Filmora, you can easily create high-quality videos, no matter you are a professional or just about to video editing field.
Interface
The interfaces of both software are very simple and intuitive without the extra and tedious buttons. This is very friendly for novices, allowing amateurs to understand how to use them in a short time, and quickly complete video editing.

Modes to Import Media
You can import media in program by dragging files or clicking the "Import" icon, selecting the audio and video you want to edit, and dragging to the timeline.
Editing Features
Each software includes basic editing functions such as crop, split, rotation, adjust speed and so on. These features can meet your editing needs for videos and perform some basic processing of videos.
Advanced Effects
Another feature that AceMovi and Filmora offer is advanced Effects, which consist of filters, animations, transitions, behaviors, text, audio, etc. With these effects, you can get an interesting video.
Record
This function can be used to record videos, calls, PPTs, and web pages. After recording, you can edit the video with the software from speed, volume, size, etc. If you want to record the tutorial or share some software operation experience, they will be your good choice.

Keyframming
It is another important feature that will be used in video editing. With this feature, you can animate changes to the position, rotation scale, and opacity of clips and other media.
Output Settings
When you have finished editing the video, you can output the file by clicking the "Export" icon. Two software allow you to set the output format, name, path, resolution, bit rate, channel, sample rate, codec and other aspects of the video and audio while outputting files.

Differences between TunesKit AceMovi and Wondershare Filmora
Input Formats and Output Formats
Both software support a large number of input formats and output formats, which can meet your basic needs, but in terms of quantity, TunesKit AceMovi Video Editor is still better. Compared with Wondershare Filmora, it supports more input and output formats like MTV, OGV, MTS, etc.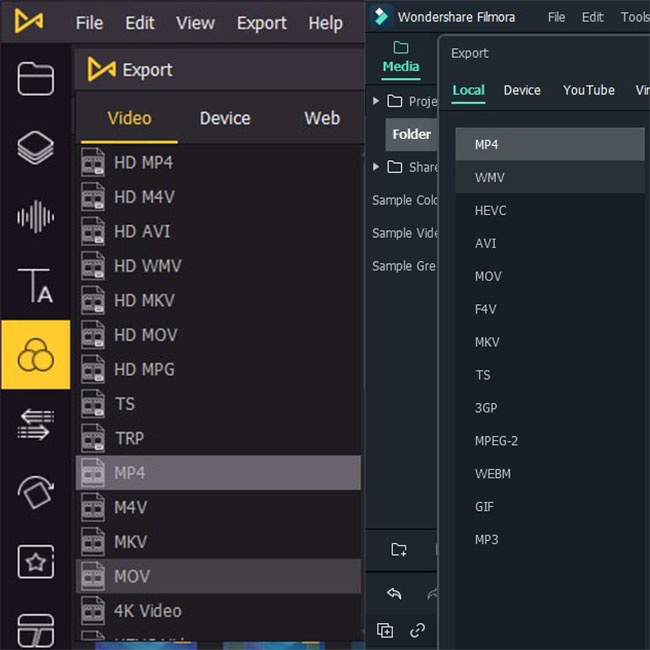 Supported Social Media
Both software support sharing videos on social media, such as YouTube and Vimeo. But Wondershare Filmora only can output to these two social media, while TunesKit AceMovi Video Editor also supports saving as compatible Facebook video format, then uploading to social media. In this way, you can share your interesting videos on Facebook.

Split Screen
This tool allows you put two videos side by side or combine multiple videos. TunesKit AceMovi Video Editor owns more split screen modes and makes specific classification based on the number of screen splits.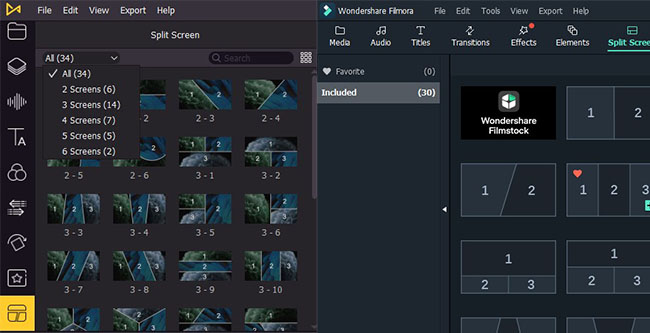 Detach Canvas
Detaching canvas is another distictive feature of AceMovi. This function allows you to detach the canvas when editing a video. You can adjust the size of the canvas as you like or place the canvas anywhere on your computer screen. This feature makes it convenient for previewing and editing.
Editing Operation
When you want to drag audio into the timeline, Wondershare Filmora merely allows you to drag audio into the bottom track of the timeline, while you can drag audio into any track of the timeline in AceMovi. In addition, the operating differences between the two software include deleting files on the track, using online content, etc.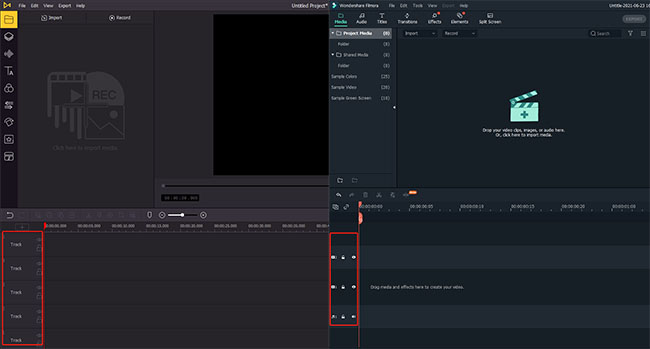 Pricing
No matter AceMovi or Filmora, they all provide different packages for users with different needs. The packages provided by AceMovi are $19.95/month, $49.95/year and $69.95/lifetime, and Filmora is priced at $51.99/year and $79.99/lifetime. By comparison, you will find that the price package of the former is your best choice.
| | TunesKit AceMovi Video Editor | Wondershare Filmora |
| --- | --- | --- |
| Supported system | Mac & Windows | Mac & Windows |
| Input& output formats | More | Fewer |
| Basic editing (Rotate, Crop, Cut, etc.) | √ | √ |
| Filter, element, transition, animation, mosaic | √ | √ |
| Detach canvas | √ | × |
| Slideshow | √ | √ |
| Picture-in-picture | √ | √ |
| Advanced text editing | √ | √ |
| Record | √ | √ |
| Split screen | √ | √ |
| Denoise | √ | √ |
| Audio/color equalizer | √ | √ |
| Detach audio | √ | √ |
| Keyframing | √ | √ |
| Speed of downloading the online content | Fast | Very slow |
| Fade in& fade out | √ | √ |
| Ripple delete | √ | √ |
| Dynamic transition | √ | √ |
| Background blur | √ | √ |
| Output to Facebook | √ | × |
| Output to DVD | × | √ |
| Free trial | √ | √ |
| Price | $49.95/year | $51.99/year |
Summary
It is undeniable that TunesKit AceMovi and Wondershare Filmora are good video editing tools, which have basic editing functions like transition, acceleration, etc. At the same time, you can also use them to make slideshow, picture-in-picture, split-screen, background blur. Compared with Filmora, AceMovi has a favorite advantage, that is, the online contents are loaded very quickly, and you just wait a few seconds, while Filmora takes several minutes. Meanwhile, TunesKit AceMovi supports video output to Facebook and supports more input and output formats at a lower price. Wondershare Filmora, however, supports the DVD output of video, but is more expensive. If you want to experience better video editing at a lower price, TunesKit AceMovi can be a good choice.