In today's review, we will see Movavi vs. Filmora comparison, which should be interesting given that both the editors have earned respective places in the video editing category.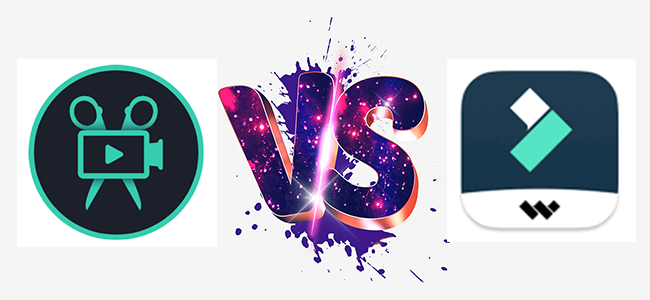 Both the tools are suitable for beginners and contain all the features one expects from a video editor. Likewise, the pricing is reasonable for both and is available in a free-to-use version that allows checking options before opting for a license.
As a beginner, it is crucial to invest in a good video editor because it is the tool that will help you learn everything and evolve into a mature editor. Fortunately, you can have come to this comparison, enabling you to get inside of different factors about the two video editors. In addition, you will also learn about the alternative that you can use apart from these two sources.
Part 1. Comparison between Movavi and Filmora
The Movavi vs. Filmora comparison is an exciting take because you will compare different aspects of the two programs. Once you acquire knowledge of these two video editors and the alternative that we discuss later, you can choose the appropriate tool to help you with your video editing requirements. You will make an informed decision without any regrets.
1. Ease of Use
Filmora vs. Movavi comparison is an excellent way to pick the best among two editing platforms. We will start with the ease-of-use factor. Both the utility tools are suitable for beginners and provide the best knowledge who like to improve their learning skills.
Movavi comes with presets and a simple interface that works like a charm. Therefore, a beginner will find no problem using the tool and will easily identify the different editing features and effects provided.
As the layout is quickly readable and understandable, there is no time wasted searching and applying an effect. The far-left consists of different interfaces, which you can toggle as per your needs. You will find trimming, graphics, effects, transitions, audio and video effects, titles, and color correction options.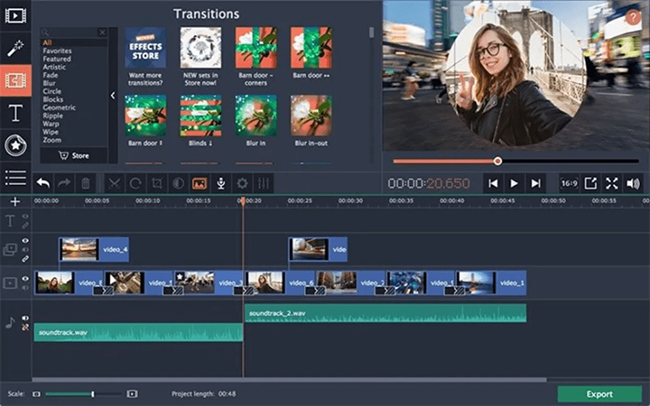 The left side notifies you about the effect that you are using and the sub-options available. The right side of this panel is the effect panel, and you also have the playback panel to check for the effects applied. The bottom plane is large and easily differentiates between transitions, clips, and effects.
Filmora, on the other hand, requires a bit of a learning curve. Nonetheless, it means that you have access to advanced features, and applying them will create wonders during post-production.
The interface is similar to Movavi, but you will notice the difference in branding and functionality. The left corner at the top is the project panel, where you can add media that you can drop to the timeline below. In addition, there is a playback window to the right that shows the effects applied.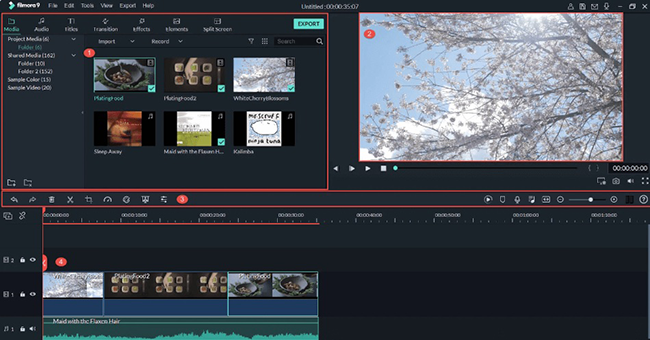 There is a strip separating the two windows, which is the access toolbar. You will find all the editing features here. Alternatively, you can use the shortcut keys for the quick application of an effect. Although it is challenging for a beginner, the functionality is on the higher side compared to that of Movavi.
2. Preset Effects
Movavi vs. Wondershare Filmora in the preset effects category has a lot to compare. However, according to the users, Filmora offers a better collection of presets as opposed to Movavi.
Movavi has a decent collection of presets. They include beaches, gradients, a city in the night, and more. You can quickly overlay, blur, and use it for a video to create the right effect.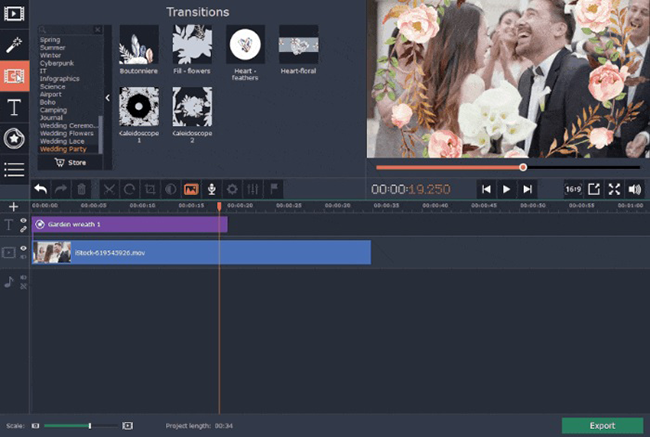 Additionally, Movavi has preset videos that are transparent. You can easily use them on the original video and alter the parameters according to the need. The videos include the money falling, roses popping up, balloons flying, and more. As they are HD videos, you can create an HD video from your original video. You will also find light leaks and stickers that are astonishing.
Filmora has a massive collection of presets, 245 to be precise. Therefore, you can browse the category, select a preset, and apply it to the video. The other significant factor is the ability to download and install third-party preset effects. Therefore, you have greater control and customization options when it comes to Filmora.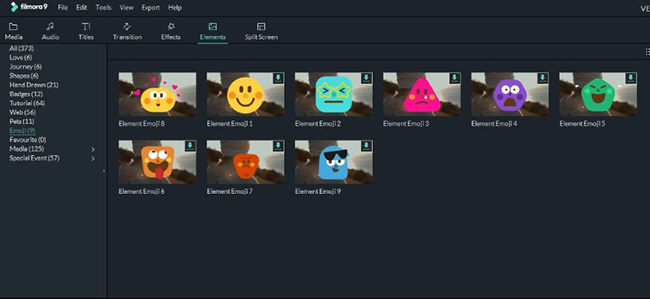 3. Titles/Text
Wondershare Filmora vs. Movavi provides distinguishing abilities to add titles and text to video during edits. There is an assortment of preset functionalities that you can apply, but if you like it to be unique and stand away from the rest, Filmora is the choice.
Filmora allows the user to use their imagination and create attractive titles and text. The options provided are numerous, and one can easily change the size, style, color, leading, and spacing. Additionally, the availability of transitions makes it interesting to watch the titles or text on the video. You also have preset options that you can choose according to the mood and tone of the video.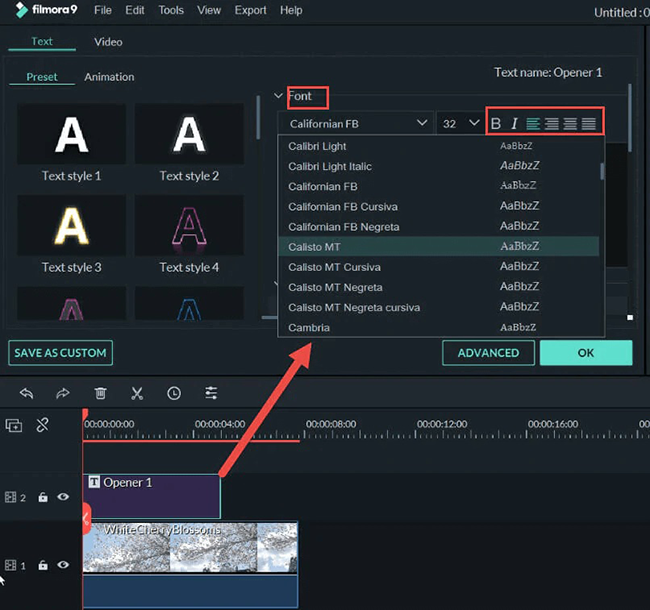 Movavi also provides customizable titles and text features. However, they do not have the diversity and uniqueness compared with other projects. Such a step makes it impossible to create the titles or text you want for your video. However, Movavi is a good solution if you are comfortable with the familiar and preset themes that are quick to enable and adjust.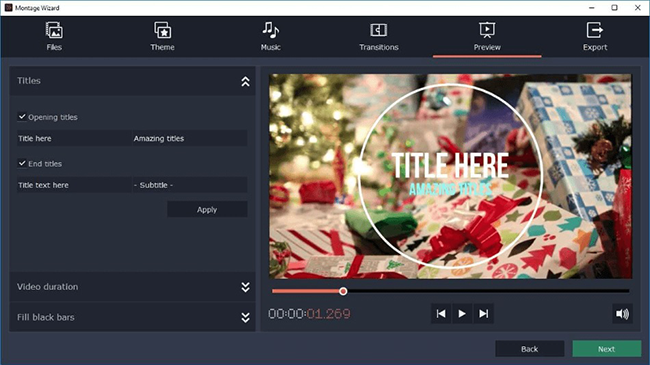 Adding the title is simple, and you can change the font, style, color, and size quickly. Unfortunately, there are occasions when it is not possible to change the font or text size after selecting a preset, limiting the scope of generating creative output.
4. Usage
Filmora vs. Movavi video editor has an interesting approach towards the usage feature. Movavi has a good collection of tools that make it easy for beginners to find what they need and a user-friendly interface. One will find easy access to adjustment, cropping, tilting, animation, zoom, stabilization, chroma-key, and more.
The stabilization tool is the one that you find in inexpensive programs, which helps correct shaky footage. The animation tool helps add overlay presets by adding keyframes, stickers, and more.
Filmora is a blend of the old and the new, targeting both beginners and experienced editors. It is what makes the tool stay ahead of Movavi. It is also what makes it a quality product. Therefore, there is plenty of customization options provided, making it an ideal tool.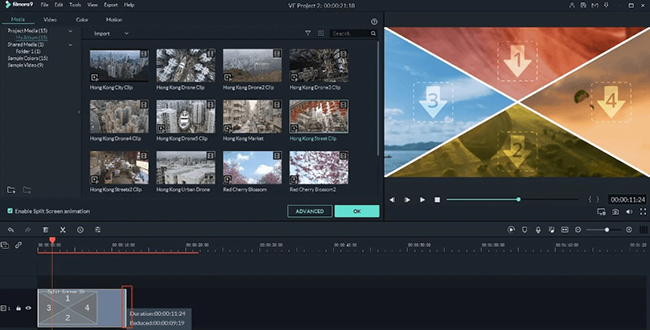 Additionally, Filmora has an advanced version of the stabilization tool and chroma-key, perfect for green screen editing. The other effect is the split-screen effect, which combines multiple screens into a single frame. You also have access to the freeze-frame product, which freezes a portion of a video while the main clip continues to play.
5. Workflow
The workflow of Movavi vs. Filmora is an appealing factor. Movavi is a combination of a video editor, converter, and screen recorder. The converter detects over 180 formats with features such as stabilization, crop, trim, and rotate clips before you can begin editing. However, as it is for video editing, you will notice the interface consisting of features related to video editing. The screen recorder is decent and helps you capture the screen in 1080p at 60 FPS.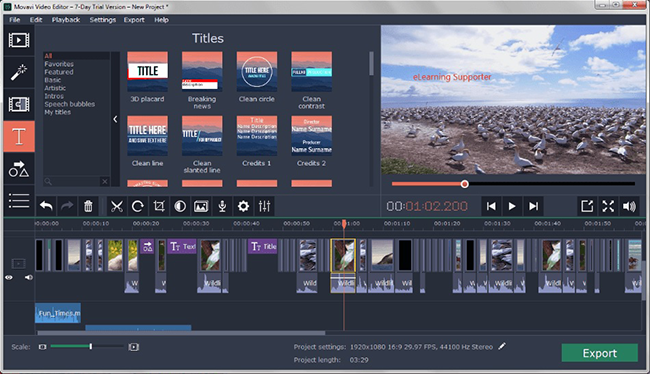 Filmora, on the contrary, allows the users to customize the interface according to projects. Additionally, there are plenty of tutorials and how-to videos, making it easy for a beginner to find the required option and how to use them for editing a video.

6. Pricing
Movavi vs. Wondershare Filmora is a close contest. Both the editors are available in different pricing formats. Movavi is available for $39.95 a year with six layers of video and audio. You can pay $59.95 if you want to use 99 layers. There is also the $99.95 plan aimed at businesses. Two users can use it simultaneously, and it comes with an extensive collection of presets loaded.
Filmora costs $19.99 for monthly use, $49.99 for the yearly license, and a perpetual license that costs $79.99. Each of the plans has varying limitations and accessibility.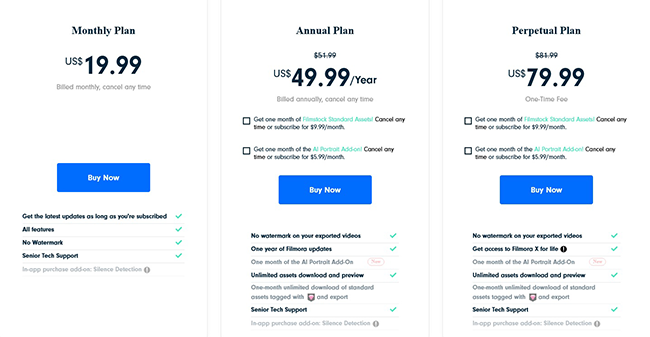 Part 2. Alternative to Filmora and Movavi – TunesKit AceMovi
Filmora vs. Movavi video editor gave you everything you wanted to know about video editing platforms. However, you can consider an alternative to them, which is the TunesKit AceMovi Editor.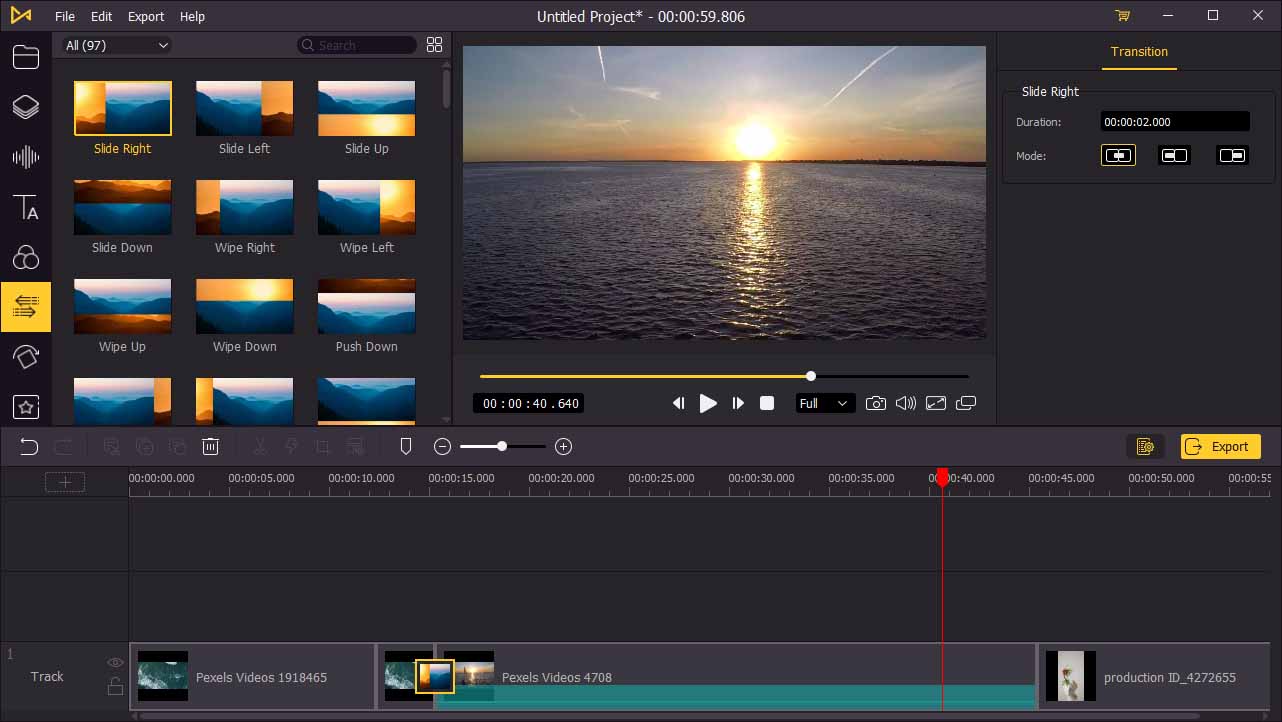 AceMovi is a combination of a video editor and screen recorder. Therefore, you can record the screen in 1080p or 4K at 60FPS and begin editing or importing media files from the computer. The interface is simple and gives easy access to all the features and effects in a straightforward manner. There is also the preview window, where you can watch the video after applying the effects.
TunesKit AceMovi comes included with basic and advanced features. The basic edits include crop, trim, split, merge, zoom, pan, split, add music, and subtitles. In addition, you have further sub-options in these categories that help you elevate the video to the required standards.
The advanced features include transitions, animations, keyframing, overlays, and picture-in-picture mode. All these are useful in bringing out life to your imagination, and you can create an impressive video that will attract your targeted audience efficiently.
The software detects over a thousand formats, making it easy to import and export finished projects. Likewise, you can choose a device to save the file or share online by opting for the web presets. TunesKit AceMovi is an excellent tool.
Conclusion
Both Filmora and Movavi offer the needed features and effects for video editing. They focus on beginners and have intriguing interfaces for easy accessibility of the options provided.
However, if you are seeking professional results without much ado, considering TunesKit AceMovi is advisable. The interface, features included, pricing, and functionality make it a better choice. Even if you have an old computer, AceMovi works smoothly without a lag. Overall, the TunesKit AceMovi is a better choice when viewed from customer support, pricing, customization features, and control.