If you're just beginning your journey as a video editor or working as a professional video editor chances are you have already heard about Adobe Premiere Pro and DaVinci Resolve. Then you must have read countless articles and blogs on DaVinci Resolve vs Premiere Pro.
Both of these 2 video editors are very popular and has separate user and fan base. Millions of high-quality video clips, movies, music videos & hobby projects have already been produced using them. But if you want to pick one from DaVinci Resolve or Premiere Pro as your first or best, it will be a bit tricky. Adobe Premiere Pro vs DaVinci Resolve, which one you should pick?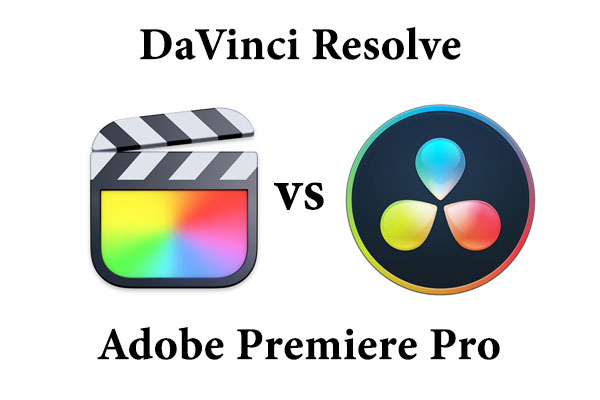 Comparison Between DaVinci Resolve vs Premiere Pro
Read this ultimate DaVinci Resolve vs Adobe Premiere Pro comparison to find out which one is the best editing platform for you.
1. Interface
Both DaVinci and Premiere have similar interfaces. The difference is that Premiere has been in the video-editing game for a bit longer, therefore it has had more time to fine-tune the interface to precisely what you require as a video editor.
Premiere Pro's main editing layout looks complex to newcomers but is quite intuitive, with media browser and clip controls on the left, preview monitor at the top center, multitrack timeline on the bottom, and effect controls on the right. Once you've done your basic edit, you can switch layouts for different jobs, such as color, effects, and audio.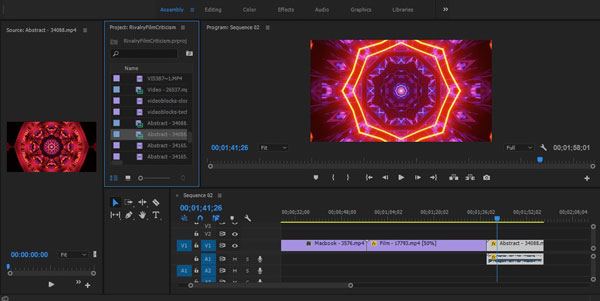 DaVinci Resolve's interface is similar, with separate workspaces for editing, color, effects, audio, and exporting, as well as the Cut Page, a recent feature designed for fast editing.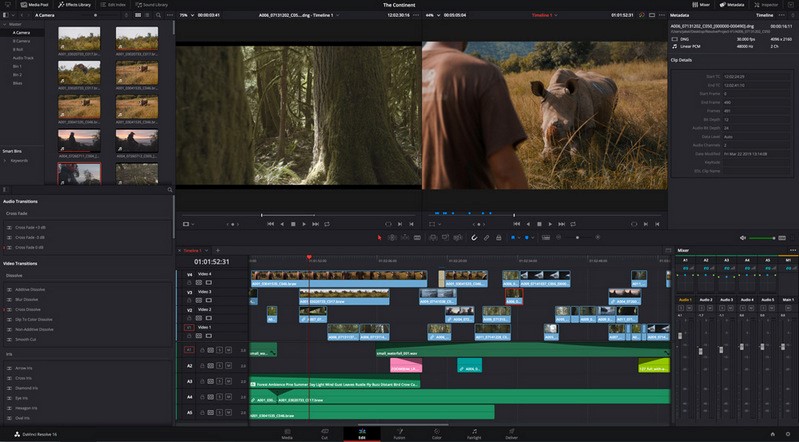 2. Audio Quality
Premiere prides itself on its audio engineering tools. On top of that, Adobe offers a professional audio mixing program called Audition, which provides seamless transitioning to and from Premiere.
3. Text/Graphics
The text and graphics involved in Premiere are quite extensive. You can apply complex compositing and sleek titles right within the program.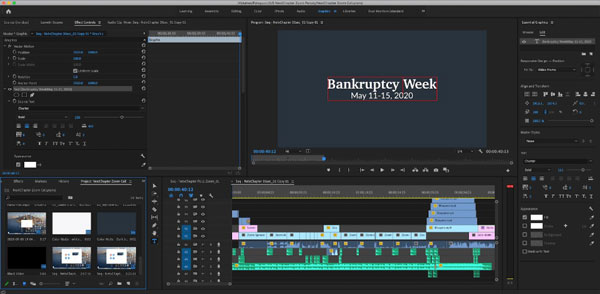 4. Color Correction
Premiere Pro has many options to fine-tune the various aspects of your project. For example, there are numerous color effects, including the powerful Lumetri Color, which has RGB curves and shadow/midtone/highlights wheels. However, for the best possible audio, effects, and color work, you have to send the project to other programs within Adobe's Creative Suite, such as Audition or After Effects.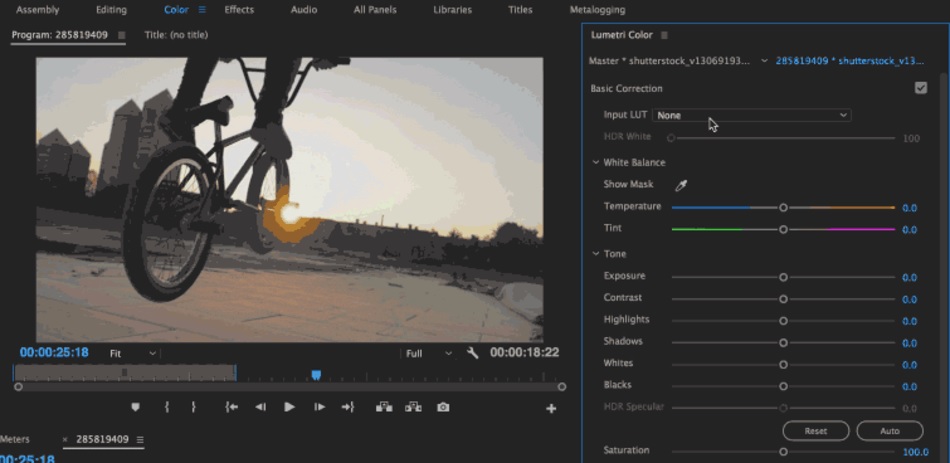 DaVinci Resolve was originally a color correction program, specifically designed for professional colorists. As of recent, Blackmagic has extended DaVinci's offering to allow users to video-edit complex projects and has entered the video-editing industry.
DaVinci Resolve's big selling point is that there's no need for this complex process. Its in-depth audio, color, and effects workspaces are to a standard used for major Hollywood productions and all within one program. The color options are particularly advanced. Resolve started as a color grading program, and it shows in the unmatched depth of the controls available.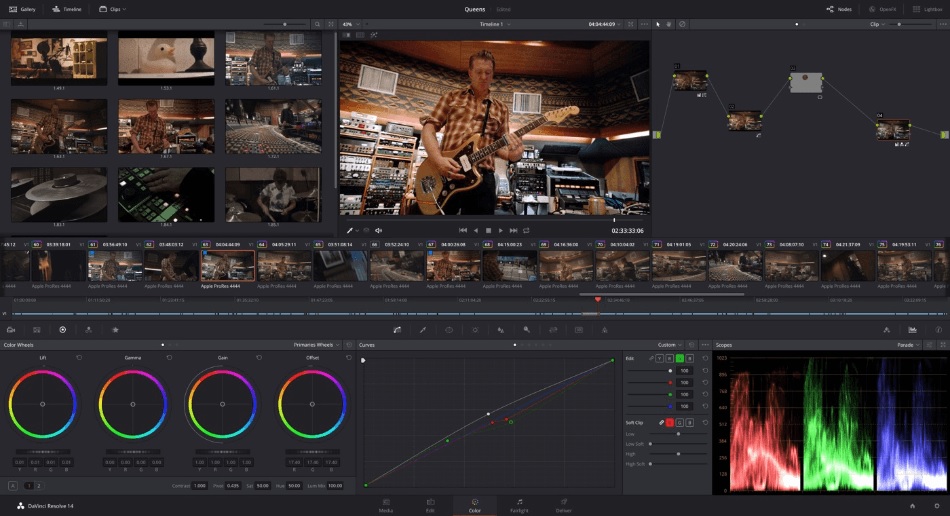 5. Motion Graphics
Now that DaVinci Resolve is integrated with Fusion, you can create some pretty cool and advanced motion graphics. While Premiere Pro uses many of the After Effects features for its motion graphics functions. DaVinci Resolve's motion graphics capabilities are more significant in scope than Premiere Pro.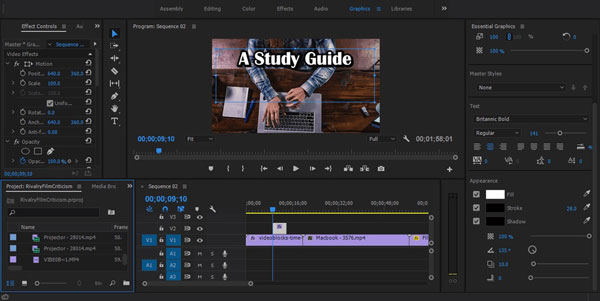 To get the Adobe software to match these capabilities, you would likely need both Premiere and After Effects. While DaVinci can technically do what two Adobe programs can, it's nowhere near as user-friendly for first-time video editors. Even seasoned professionals might have difficulty making the change to DaVinci Resolve!
6. Ease of Use
Both of these programs require a steep learning curve. That being said, because DaVinci is designed for a slightly higher expertise level, Premiere is the easier of the two to use for a first-time editor.
Both Premiere Pro and DaVinci Resolve require a fairly steep learning curve. Both of these editing programs are the industry standard for professionals. Thus, the tools and features provided are designed for editors who have years of experience.
Premiere Pro, however, happens to be the easier of the two to learn. Because Premiere Pro has a larger user base, there are many tutorials online on blogs and Youtube. In fact, if you're having difficulty applying a specific effect or maneuver, there is surely a tutorial out there somewhere for you. This is actually one of the strongest selling points for Premiere that few people talk about.
The learning curve for DaVinci is a bit steeper, as it was originally a color correction platform for professional colorists. This makes the program designed for even higher-end professionals that have years of experience. Of course, it is possible to pick it up as a first-time editor as there are helpful blogs and video tutorials online, the offerings for the Premiere Pro user base are just much larger.
7. Tools
Premiere Pro offers a wider array of tools and features to its users. On top of that, the user base is larger, so there are more tutorials and solutions available online via blogs or videos to help you progress as an editor.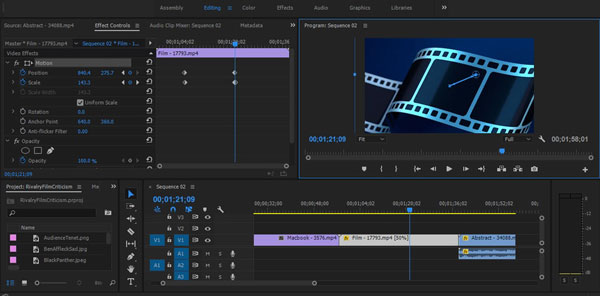 8. Pricing
Adobe Premiere Pro uses a software as a service (SaaS) model of distribution and pricing. The SaaS model means the program is accessible and downloadable via a cloud service and paid for by monthly subscription. The cost per month of Premiere is $20.99 or a discounted annual payment of $239.88. If you're conscious of spending, the recurring fee might be a dealbreaker.
The standard version of DaVinci Resolve, however, is completely free and ready to use once downloaded. Many advanced features exist in the free version, with the upgraded Studio edition costing $299. This is a one-off payment, after which all future upgrades are free.
Features
DaVinci Resolve
Premiere Pro
Operating System
Works at Mac, Windows, and Linux
Works at Mac and Windows
Pricing
Free (with limitations)
Studio Version: $295
*Future version updates are free
Annual Subscription: $239.88
Monthly Subscription: $20.99
User Interface
Adaptable layout for each stage of the editing process
*Designed to work across multiple monitors
Customizable layout and window size, and save your own template workspace
Timeline
Arrange the clips how you want in a traditional timeline
Arrange the clips how you want in a traditional timeline
4K Editing
4K and 8K are only available in the Studio version
Not available
Color Correction
1. Full manual control of color correction and grading
2. New Auto Color Balance and Matching features are available in Studio
Easy and intuitive color controls
Text & Titles
Easily create text and titles in your projects
Easily create text and titles in your projects
Motion Graphics
Includes new 3D compositing engine for VFX
Includes After Effects integration
Audio
1. Fairlight digital audio workstation
2. ADR tools and access to Foley effects sound library
Links to Adobe Audition
Integrations
Integrates with web-based Frame.io review platform
Compatibility between other Adobe programs
User Collaboration
1. Studio version has a full range of collaborative features (read-only mode and built-in chat)
2. Export presets for popular platforms
Great for working with a team across multiple systems and/or other programs in the Creative Suite
Plugins
1. OpenFX capability for third-party plugins
2. Library of visual and audio FX with Studio
Vast amounts of third-party plugins are available
AceMovi Video Editor - A Light Alternative to Premiere Pro and DaVinci Resolve
The Ease of Use
AceMovi video editor is an easy-to-use video editing software to create and edit high-quality videos. Unlike other video editors, AceMovi Video Editor is a light and very easy-to-use video editor with almost all the premium features. The best part of this fantastic software is its system requirements are fairly low. "Potato Computers" or low spec machines can run this software.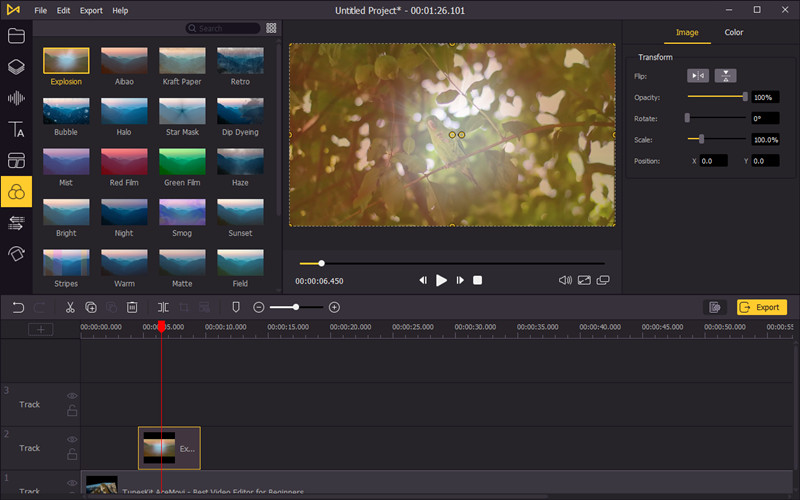 System Requirements
Requirements for running AceMovi Video Editor are normal and suitable for medium devices, as the program supports computers powered by Intel and AMD processors. A processor with a minimum 2GHz frequency and at least 2 cores are enough to process SD and HD quality videos. To process video in 4k, a 2 GHz procession with 4 cores will be enough.
This requirement made video processing available for most of the users. Ram specification is also quite user-friendly, 4GM RAM is enough to process SD video clips where 8GB is required for HD and 16GB RAM for 4K video.
Interface
The interface is very user-friendly and easy to use. Unlike other programs, you will find all the tools easy to use and easy to find. You will find that most of the available programs have very difficult operations. Finding the necessary tools and options will often be hard.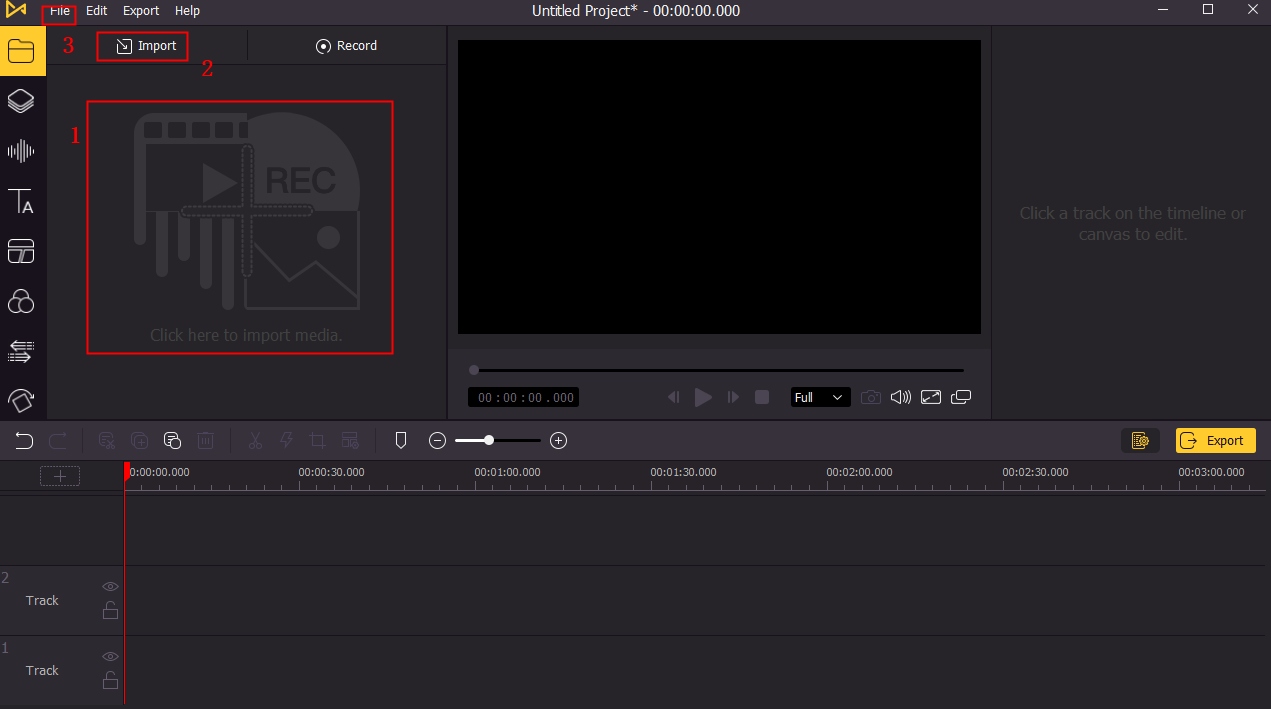 On the other hand, AceMovi Video Editor has user-friendly options. For any novice or new user, each option and tool has a description of its use. Especially the timeline window, display window & list of files are just one click away from opening it. You don't need to find them hidden beneath other options like any other video editing software available.
If you already using other video editing software then you will find that AceMovi Video Editor is easier than any other video editing software for football highlights. AceMovi video editor can be an easy and light alternative to DaVinci Resolve or Adobe Premiere Pro before jumping on complex and high-end video editing. It's very popular for its low system requirements and easy-to-use interface.
Conclusion: DaVinci Resolve and Premiere Pro, Who Wins?
The information above should (hopefully) give you a clearer idea of which software will be best for your needs. If you're still on the fence, let's just quickly take the logical approach.
DaVinci Resolve is without question a brilliant piece of kit, and the fact that there is a free version should automatically make it a winner. However, for editors just starting, DaVinci can do a lot to put you off with its steep learning curve.
To be able to use the software well, you already need to know what you're doing as a video editor. If you're sold on DaVinci Resolve, it's well worth investing in some training to use the product. Even a beginner's course can get you on track to create stunning compositions and visual effects in no time.
Premiere Pro is a much more user-friendly piece of software, and Adobe has worked hard to make it accessible for beginners. The interface and workflow of Premiere mean you can be editing in minutes, and over time discover the full scope of the program.
If your computer can't run this software or you want to use it as a light video editor or you just want to have a look before diving deeper then AceMovi video editor will be your best pick.