You may have used Camtasia 2020 or Camtasia 2021, but do you know that this all-in-one screen recorder and video editor have been updated to Camtasia 2022? Camtasia is one of the best products released by TechSmith. Perfect for YouTubers, Vimeo users, and short video makers, Camtasia provides users with libraries of audio, callouts, kits, and animations, but also features real-time captions and interactivity. You can use it for a 30-day expiry and you will see a one-time purchase option that costs you $299.99 after that. In this case, a lot of content creators turn to Camtasia alternatives like AceMovi and Premiere Pro to edit videos. Let's see all the details of it in the Camtasia review!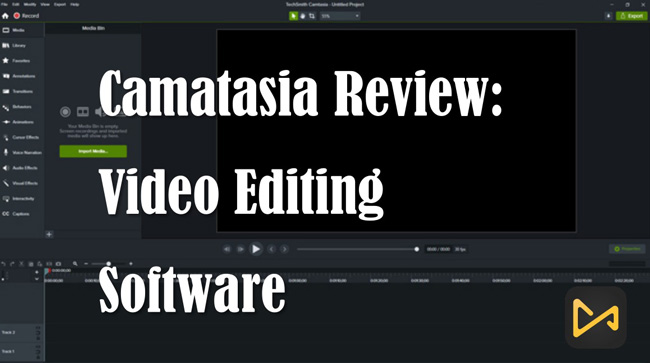 Is Camtasia Worth the Money?($299.99/One-Time)

There are no month-plan and year-plan for any Camtasia versions, no matter if you check the Camtasia 2019 review, Camtasia 2020 review, Camtasia 2021 review, or the latest Camtasia review. If you want to export video files without watermark in Camtasia, you will need to upgrade to the pro version of Camtasia which costs you $299.99 once time, while Adobe Premiere Pro costs $20.99 per month for every individual and $35.99 per month for a team member. And there is no one-time purchase of Premiere Pro.
Is Camtasia Worth the Money?
That depends. To be detailed, Camtais is brilliant and excellent at adding captions, overlaying texts, making animations, applying transitions, and doing interactivity. However, if you want to make video trimming, cropping, joining, converting, sequence editing, color correction, green screen, slow-motion, or any other functionality. I think the alternative AceMovi and Premiere Pro will be better for you. You see introductions to AceMovi in the next chapter.
Camtasia 2022 System Requirements
| Camtasia OS | Product Details(Recommended) |
| --- | --- |
| Operating System | Microsoft Windows 10 (64-bit) 2004 version+; macOS 12.0+ |
| Processor | Intel® 10th Gen or newer CPU or AMD Ryzen™ 3000 Series / Threadripper 2000 series or newer CPU; 2.4 Ghz Intel® Core™ i5 Processor with 4 CPU Cores or better; gen 1 M1 Pro / Pro Max SoC |
| RAM | 16GB+ |
| Hard disk space | SSD with 4GB |
| Monitor Resolution | 1920x1080+ |
| Internet | Internet connection and TechSmith's account are needed for the trial and additional connected features |
AceMovi Video Editor - The Best Camtasia Alternative for PCs
AceMovi allows you to try full features and effects in the trial version or you can follow advanced versions to remove the final video watermark monthly, yearly, or perpetually. Camtasia is good for captions and animations, but one of its evident disadvantages of it is the shortage of built-in stickers, text templates, split-screen modes, supported exporting formats, and more. And this is why we recommend AceMovi as the best alternative.
AceMovi is an easy-to-use video editing software that comes with Screen Recorder, Video Converter, Cropper, Trimmer, Reverser, Syncer, Pitch Changer, Audio and Video Equalizer, Slideshow Maker, and many more engaging tools. You download AceMovi's free trial version on Windows and Mac easily and go to edit videos on its drag and drop UI directly.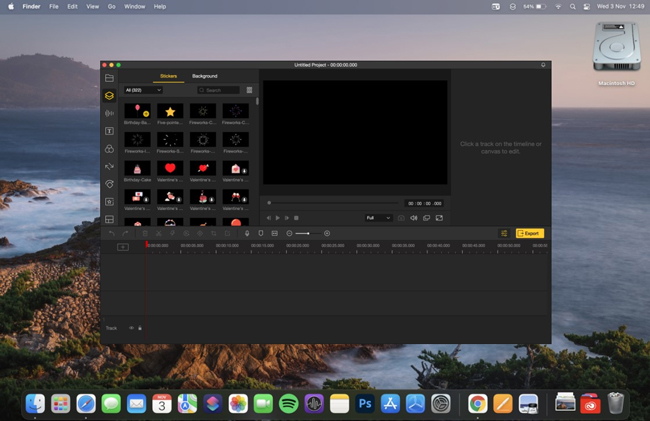 No matter whether you are using a low-end computer or high-end ones, AceMovi never makes you disappointed!
Camtasia Screen Recorder Review

When it comes to the Camtasia Screen Recorder. Camtasia captures any sound and clips in a couple of clicks. You can choose to change Camtasia widescreen to 1080p(1920×1080), 720p(1280×720), social media Instagram mode(640×640), or customize the target recording ratio aspect. You can capture two screens at the same time with or without any sound/microphone. To record a video with Camtasia Screen Recorder, you need to click the "REC" icon, then you see buttons to restart, pause, and stop.
Camtasia Video Editor Music, Audio Effects, and VFX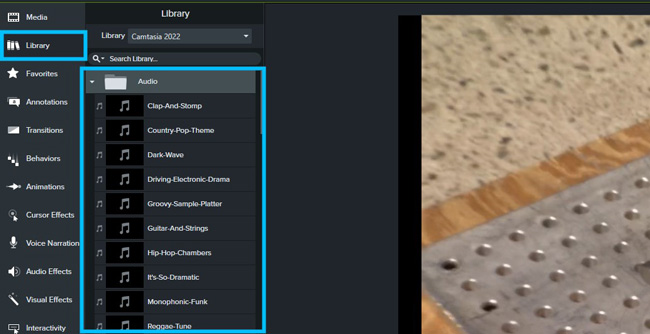 There are many royalty-free music resources and audio effects in TechSmith Camtasia that can be used upon the timeline directly. Then you can make the audio tracks edited, trimmed, cut, split, and muted. If you want to use those built-in audio effects, go to the tabs "Library" and "Audio" in the left-side dialogue box. For applying audio effects, follow the tabs "Audio Effects". Audio compression, clip speed, emphasize, fade in, fade out, and noise removal are some of the popular audio effects you must try.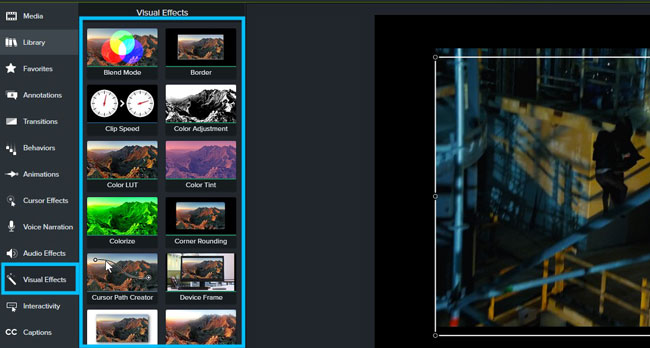 In this Camtasia video review, you see more fantastic visual effects in Camtasia: The blend mode used for correction and grading, border used to add cinematic feeling, clip speed that makes your videos slow-motion or fast-motion, blur, spotlight, a color removed, media matte, etc. All of the mentions are high-fidelity on the free version for you. And you can drag and drop the wanted VFX to your clip in the timeline.
Camtasia Software Review Transitions and Animations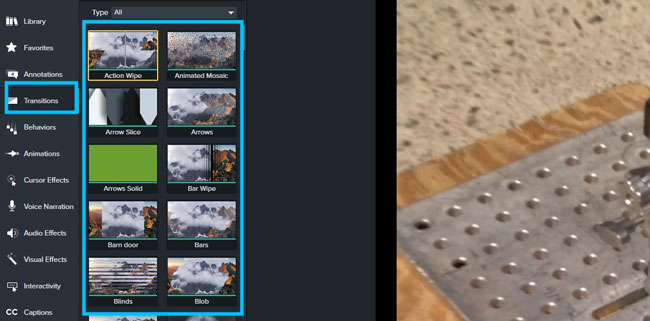 Transitions play a really key role in multiple video joining, splitting, and trimming. Camtasia contains a smart array of transition sorts, including 3D, blur, divisions, fades, radial, solids, splits, and wipes. You can preview the transition image and motion in the box from "Transitions" and "Type", which requires you to put the cursor under the picked mode and stay still. A lot of users gave feedback that the Card Flip, Card Flip Swap, and Card Slide are cool because they will turn your videos into 3D DVE to a large extent.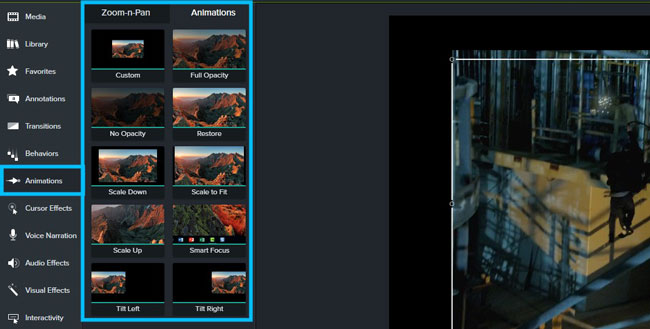 Is Camtasia a good video editing software? The answer must be yes if you say it from the perspective of video animations. If you want to change the aspect ratio in accordance with the beats of the clips, you can go to use the animations from Camtasia 2022. Changing the modes into full opacity, no opacity, restore, scale down, or scale to fit, it is required to click the "Aminations" button. If you move the playhead over a footage, callout, or image, the zoom-n-pan effect will be enabled. You just slide the value of the zoom slider to make this effect.
Camtasia Interactivity and Caption

Want to make your videos go viral and attract more audiences? I think you must apply the interactivity into your footage. You are able to add quiz to the timeline or other selected media. The built-in types of the quiz can be multiple choice, fill in the blank, short answer, and true & false. The same as overlaying a piece of text template, you can flexibly fill in content and give answers.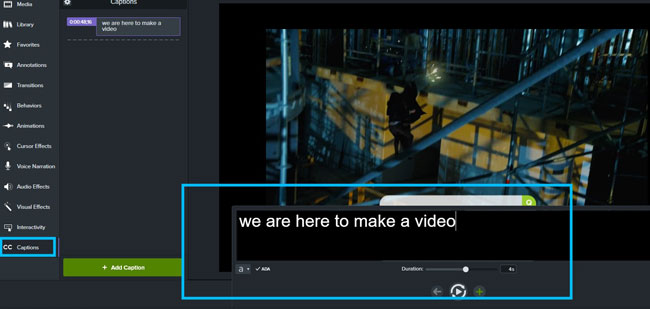 Camtasia is one of the advanced tools to add real-time captions. To create captions, click the "Caption" > "+ Add Caption", or import/drag-n-drop a caption folder under the box. The shortcut is "Shift+C". The font, size, color, opacity, alignment, and more parameters will be changed in this process by you. Besides, the duration can be adjusted based on the degrees to that you slide the slider.
Camtasia Video Export and Convert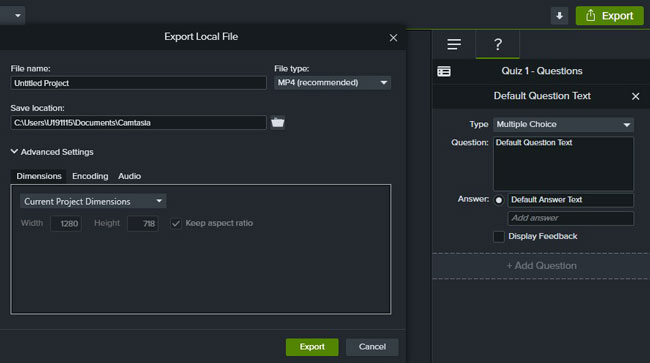 Camtasia exports your videos at local files(MP4, GIF, M4V, etc.), legacy local files, Screencast, Knowmia, Panopto, Vimeo, YouTube, and Google Drive. Content made on the Camtasia's free trial version will be left with a streamer TechSmith watermark and cannot be used for commercial purposes. To change the current project dimensions, video frame rate, quality, keyframe seconds, audio bitrate(kbps), and captions, you need to unfold the advanced settings. The file type is limited to MP4, GIF, and M4V(audio only) from the "Export" > "Local Files".
To Conclude
Here you see the Camtasia for Mac and Windows review of the trendy features, effects, pricing, tutorials, and specs. If you want to add stickers and do some green screen editing, AceMovi and PR are advised on this post. Above all, you need to remember that Camtasia's trial version can be used in 30 days with watermarks.