When it comes to investing money, people always want to be certain about their purchases regardless of the quantity. And in the case of video editing software, this is critical since you must pick software that exactly meets your needs.
Occasionally, the software may have interesting features yet be extremely complicated to operate, or even when the software is user-friendly, the toolset may be limited. As you can see, finding a perfect one is difficult. However, Camtasia and Final Cut Pro are two programs that may contain what you're looking for.
That is precisely what complicates the comparison. When comparing Camtasia vs Final Cut Pro, it's necessary to consider all relevant elements and requirements. We're going to assist you with that here. From features to advantages and disadvantages, every component of these two software will be evaluated to conclude.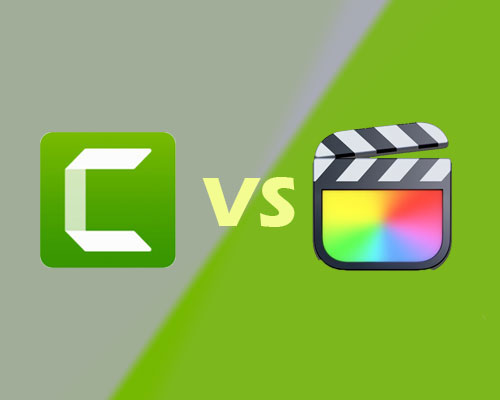 Camtasia
This robust video editing application is compatible with both macOS and Windows. It accepts a variety of media types and provides an intuitive platform for demonstration and education videos.
This software has a robust set of editing and capturing tools. The most impressive aspect of Camtasia is its ability to strike the appropriate mix between high-quality control, output, and an intuitive, well-designed interface. Therefore, the platform is geared toward filmmakers and developers of web content.
Both Windows and macOS versions have been available since 2011; it has improved significantly over the years. Its overall performance and toolset have improved. Apart from video editing features, Camtasia also includes video recording tools and records everything on the user's computer screen.
Camtasia can also be used to create visual lesson or demonstration videos. Even so, it is the optimal software for this function. You can record video and audio from your computer's screen and save them in a higher resolution. With this software, you can create a professional-looking video from your screen recordings in an incredibly short amount of time.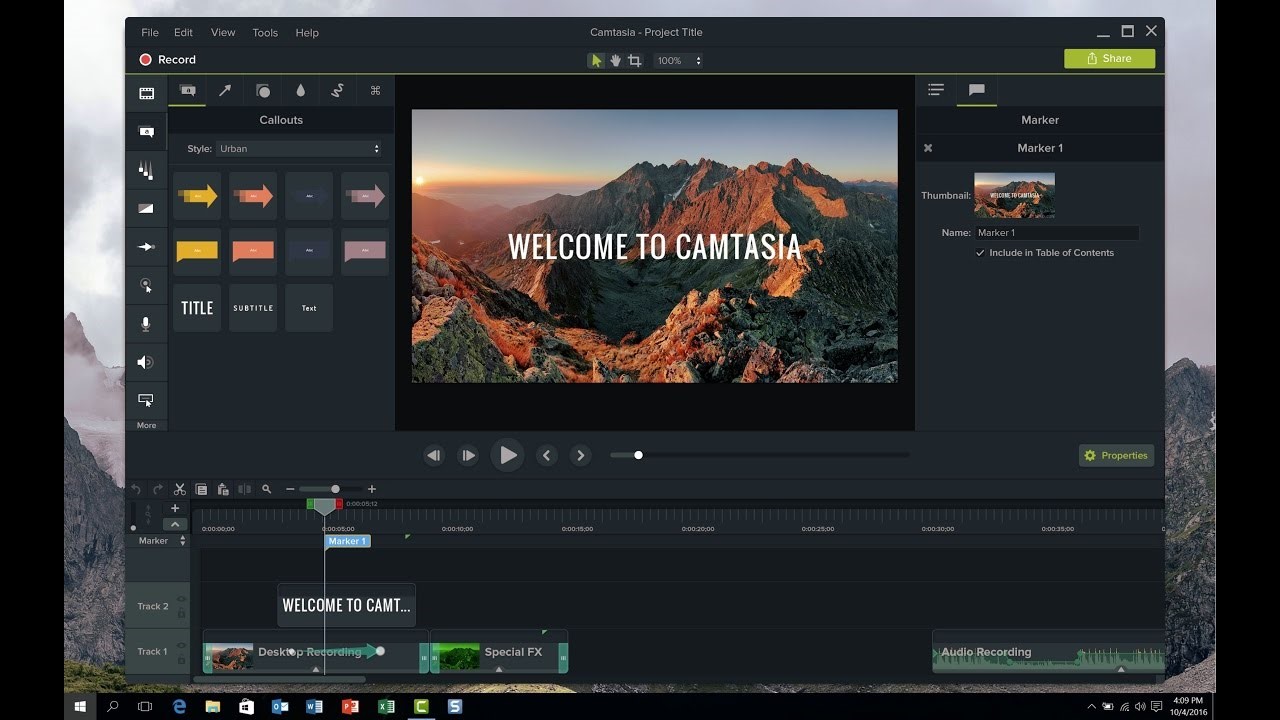 Camtasia's Characteristics
Camtasia is a single application that serves numerous purposes-as a video creator, a video editor, and a screen recorder. Its popularity is that it is not difficult to create a professional video with a strong interactive quality with this program. You may use these types of films for any purpose, whether it's an instructional for YouTube or a lesson for your student, this platform will take care of everything.
Camtasia provides us with a lot of features. From beginners to professional users, this platform enables anyone to produce a masterpiece. Camtasia is, in a nutshell, one of the most flexible all-in-one solutions accessible.
Webcam:
This incredibly cool option enables you to add a sprinkle of personality to your video's recipe.
Multitrack Timeline:
With the Multi-Track Timeline tool, you can simply make films with numerous tracks for video, music, text, and photos.
Media:
This tool enables you to keep the highest possible quality in your films. You may import high-definition pictures, audio files, and video clips at resolutions up to 4K.
Voice Narration:
This application enables you to add context to your movies using voice narration.
Interactivity:
This feature enables your audience to interact with your material. For instance, you can ask questions or include quizzes to determine who is watching your contact and how frequently they watch.
This is another great feature. With the tool's assistance, you can include yourself extremely creatively in the video. Finally, the video may get far cooler because of your presence!
Additional features include audio effects, visual effects, animations, and annotations. Camtasia's two primary components are the video recorder and editor.
The fully-featured video recorder captures high-quality video and audio from the computer's monitor. On the other hand, the video editor includes all the latest and most useful products, allowing users to manage numerous clips concurrently.
Camtasia has been around for ten years. Numerous features have been added to this software throughout the years, which means that you will now have an upgraded video editing solution that will easily meet your requirements.
Apple Final Cut Pro
Final Cut Pro is one of the top video editing applications for macOS that enables you to create a professional-looking video. With the aid of its cutting-edge and powerful tools, video editors may effortlessly make amazing videos.
There are awe-inspiring filters, special effects, and graphics, as well as a slew of other incredible tools for video editors. The most innovative feature of the software is that it offers 360-degree video editing for VR and VR headset playback, allowing users to verify that their adjustments function in their intended setting.
You won't even need separate audio editing tools if you're using Final Cut Pro. This app enables you to simply edit audio by reducing background noise and optimizing sound levels.
Finally, Final Cut Pro is fantastic for those who cannot go through a prolonged video editing session. The application efficiently utilizes multi-core multi-thread processors, which is why, in addition to providing high-quality video editing, the software also enables you to import video in various formats much faster than competitors.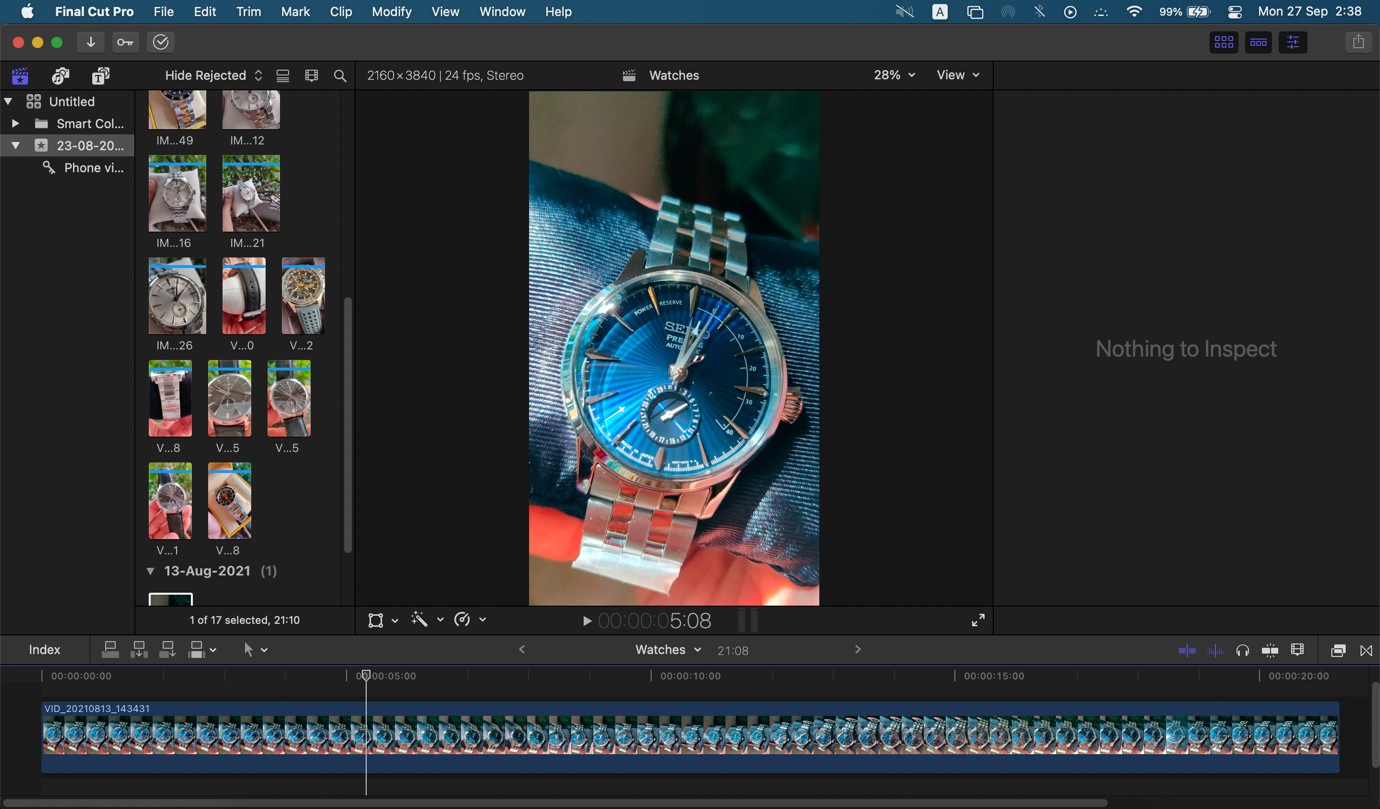 Final Cut Pro Characteristics
Multicam Editing Features:
This tool enables you to combine footage from multiple cameras into a single video. It's quite difficult for most video editing programs. However, with Final Cut Pro, everything will be simple.
Effects:
This software includes an astonishing array of video effects.
Clip Moving and Trimming: Final Cut Pro capabilities let you manage clips very efficiently and effectively.
360° Virtual Reality Editing:
This innovative function enables us to create visually attractive material.
Preset: The Final Cut Pro software includes a small number of presets. After selecting a certain style, well-designed presets take care of the rest.
Color Grading in Advanced Mode:
There are numerous color gradient options available to make your films look quite interesting. Don't you believe that adding a little animation can elevate your video to a new level? That is now possible with Final Cut Pro!
HDR Video Support:
The software enables you to import videos in high resolution quickly.
This software has numerous life asset management capabilities, virtual reality headset playback, and plug-ins.
Final Cut Pro vs. Camtasia
To properly compare these two pieces of software, we'll look at their most essential features.
User-friendly:
Camtasia is a simple application to use. The whole interface facilitates learning.
Final Cut Pro is not as simple to use or learn as Camtasia. It will take longer to develop the flexibility to use it.
Price:
Camtasia starts at $299 per license, which is quite affordable compared to other video editing tools.
Final Cut Pro is priced lower than competitors at $299.99 per license.
Customer Size:
Camtasia software is designed for medium- and small-sized organizations.
Final Cut Pro has a far wider target consumer base than Camtasia. It is geared toward medium to small-sized businesses.
Capabilities:
Camtasia includes sufficient editing features to create a professional-looking video. Voice narration, zooming and panning, highlight cursors, and a plethora of transitions-all these elements can be used quite creatively in a video.
Final Cut Pro includes everything a video editor might desire when creating a spectacular video. It's ideal for video editors because it includes color correction and exporting videos directly to YouTube. However, you may notice an absence of video editing options.
Audio:
Camtasia allows you to modify audio and drag it to a desired spot on the video timeline.
Apart from audio placement, Final Cut Pro assists in adjusting audio effects such as noise reduction.
Support for DV Cameras:
You can only download the latest version of Camtasia. If you wish to upgrade to the subsequent version, for example, you must pay from version 9 to 10. You may update Final cut pro to the latest version for free. They do not charge for updates to existing users.
Software Update:
Camtasia is a simple application to use. The whole interface facilitates learning.
Final Cut Pro is not as simple to use or learn as Camtasia. It will take longer to develop the flexibility to use it.
Exporting:
Camtasia includes a variety of exporting settings, which makes exporting videos easier.
Final cut pro has a restricted number of export options. While exporting, you will not have a large collection of formats and sizes.
Speed:
Camtasia can be a touch sluggish and laggy at times.
Final Cut Pro is sufficiently fast.
In general, effective: In comparison to Final Cut Pro, it's quite simple to use and understand, making it ideal for novices. It has numerous reasons to purchase it. However, consumers may have issues while utilizing it.
TunesKit AceMovi's attractive and straightforward user interface enables you to simply create and edit every moment captured in life, regardless of whether you're a novice NLE editor or a professional video developer. It comes with many effects, including transitions, filters, animations, music, text, and split screen. And you can easily make them visible in the timeline by dragging and dropping them.
The ideal video editor for amateurs and professionals alike.
Capture the screen in custom resolutions.
Cut, combine, crop, and rotate the video as desired.
For personal amusement, work, or instructional objectives, this is a tremendous video solution.
Contains a variety of simple and advanced video effects, filters, text, transitions, and animations, among others.
Provides an enormous stock collection for use in any project.
Export and share video creations instantly to any social media site.
Conclusion
Finding the ideal Video Editing solution for your specific requirements is a difficult undertaking. Implementing software like Final Cut Pro or Camtasia for YouTube videos involves considerable thought and analysis of critical elements.
To supplement your software research beyond these two options, Camtasia vs Final Cut Pro X, we've included another program - TunesKit AceMovi Video Editor - to assist you in making a better choice.