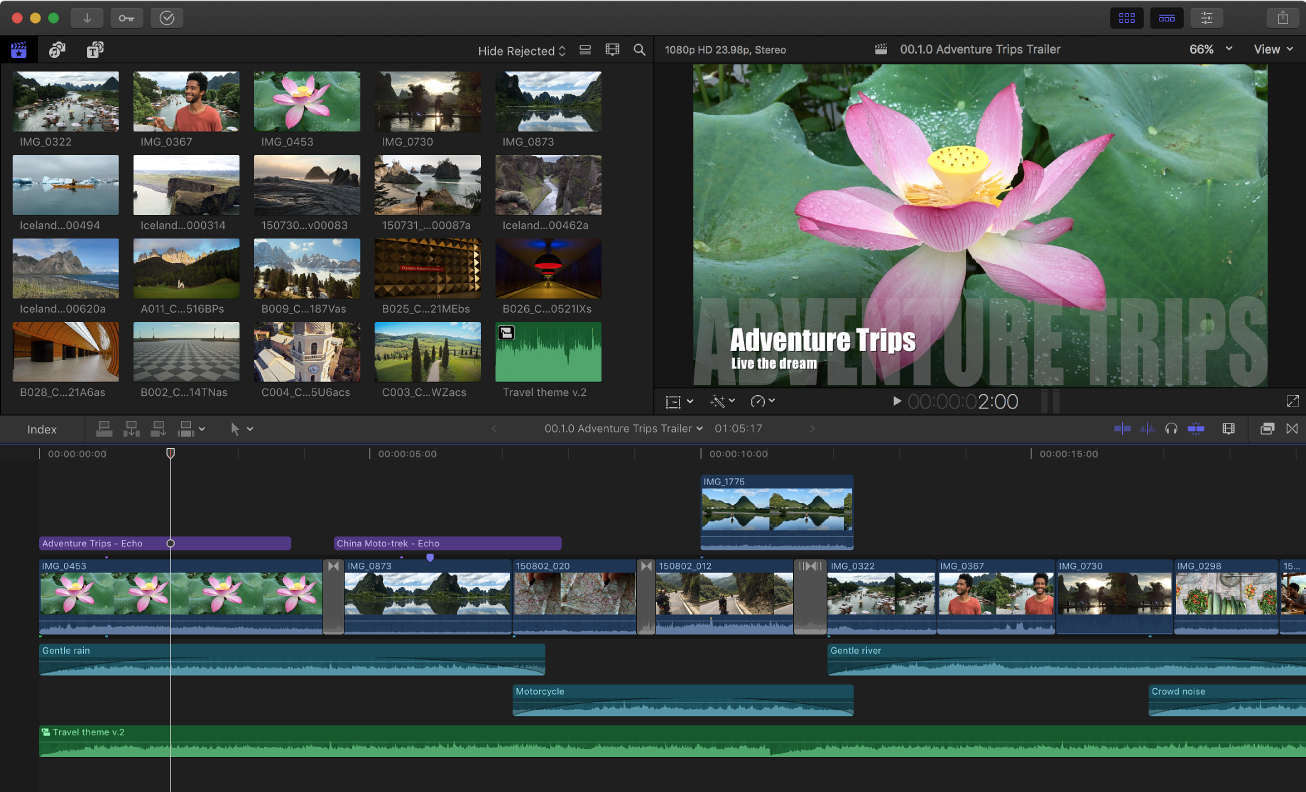 Final Cut Pro is a mighty video editing program compatible solely on Mac. Its great variety of features and delicate designs provide the ultimate video editing experience for Mac users, but the price is a headache for most people. Besides, Windows users also complain about now having access to this Apple-designed software.
It's no wonder people would search for the Final Cut Pro Alternatives that are equally good and charge presumably lower prices. This can be a difficult task. After all, not many video editing software can match Final Cut Pro. To help those who spend a lot of time searching for alternatives, here we list the 8 best cost-effective alternatives to Final Cut Pro.
Pros & Cons of Final Cut Pro
This part would like to introduce some tips for beginners before selecting and downloading a suitable software:
Final Cut Pro is hands down one of the best video editing software. Here is the list of its pros and cons to help you understand what you want from an alternative to it.
Pros:
• Seamless Video Editing: The Magnetic Timeline makes video editing smooth and fast;
• VR Processing: the 360-degree viewer provides great convenience to VR video editing;
• Organized Assets: users can tag assets to find them more easily;
• Fast Result Delivery: Final Cut Pro can render videos much quicker than ordinary video editors.
Cons:
• Mac Only: Final Cut Pro runs only on macOS;
• Pricing: This program is one of the most expensive of all video editing software;
• Format Compatibility: this app is not compatible with many old video formats. Plus it does not provide so many format options when exports videos.
Alternatives for Final Cut Pro
1. The Best Final Cut Pro Alternative - TunesKit AceMovi (Mac and Windows)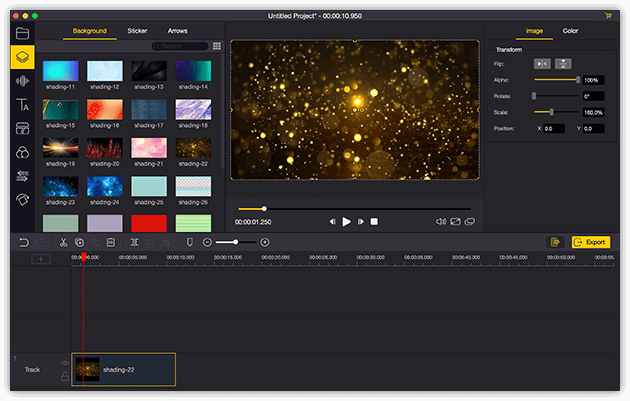 According to the analysis made by our professional team, TunesKit AceMovi Video Editor is the best alternative to Final Cut Pro. TunesKit AceMovi Editor is one of the best video editing software on both Windows and macOS. It can provide you with compelling editing content, ease of editing, and a price that is considerably lower than Final Cut Pro.
AceMovi Editor is able to trim, crop, rotate, caption videos, add special effects to them. With its immense library containing templates, elements, and music, you can create all kinds of smooth and fantastic videos, such as vlogs, wedding videos, class recordings, etc. The intuitive UI allows you to easily put a filter on your videos or split the screen into several segments. Its screen recording feature can easily turn the program into a screen recorder for your gameplay or tutorial videos. With the all-in-one TunesKit AceMovi, you could do what could have only been done by multiple programs.
The price of TunesKit AceMovi is a lot lower than that of Final Cut. Just 59.95 dollars and you can get such a powerful program on Mac or Windows forever.
All those factors along with the attractive prices make TunesKit AceMovi Editor the most cost-effective option to substitute for Final Cut Pro.
Pricing: $19.95/Month; $39.95/Year; $59.95/Lifetime
2. Adobe Premiere Pro CC (Mac and Windows)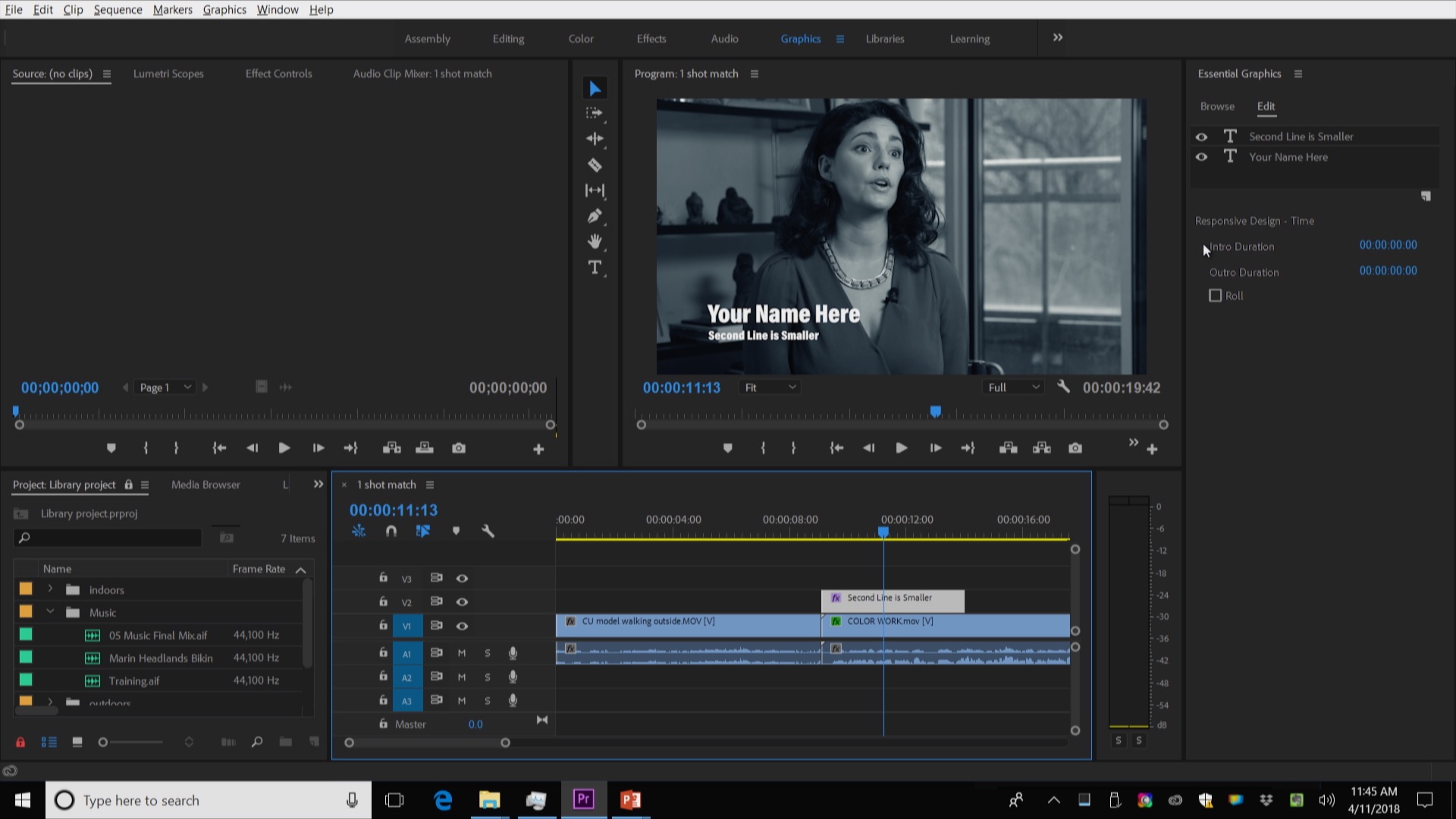 The high price of Adobe Premiere Pro doesn't seem very competitive compared with Final Cut Pro. However, it provides equally good features, such as the auto-frame, which makes the export of videos to various formats an easy thing, the Production feature, which allows many people to work on the same editing project simultaneously, and many other amazing features. Another major advantage of choosing Adobe Premiere Pro comes from the Premiere Creative Cloud, also known as Premiere CC. By subscribing to it, you will be introduced to a great software ecosystem, in which you can find kinds of video relating apps ranging from transition to animations.
Just like Final Cut Pro, Adobe Premiere Pro requires the users to spend enough time getting used to it. Plus, some features are not mature enough, and bugs strike from time to time, though the frequent updates of Adobe Premiere Pro will fix them in most cases. In a word, Adobe Premiere Pro is one of the best alternatives for Final Cut Pro on both Windows and macOS.
Pricing: Annual plan, paid monthly — US$20.99/month; Annual plan, prepaid — US$239.88/year; Monthly plan — US$31.49/month
3. DaVinci Resolve (Mac and Windows)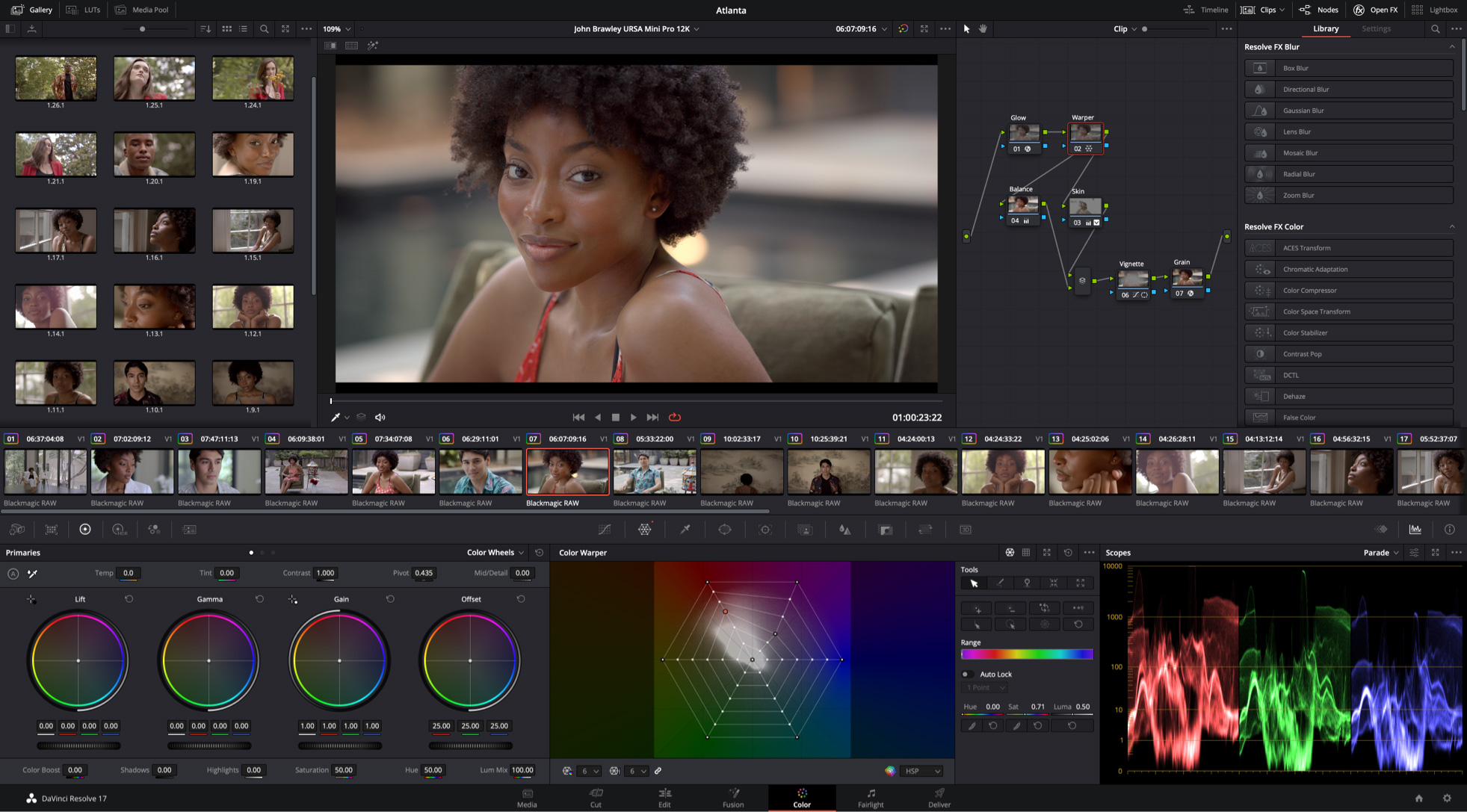 Blackmagic Design has turned DaVinci Resolve from a simple color grading program into a competitive video editor. The program now is perfect for processing 3D videos and camera images while retaining the original quality. It is actually more effective and simpler by combining editing, color correction, visual effects (Resolve FX), motion graphics, and audio post-production together, because now customers only need to learn how to use this specific software to master multi-dimensional demands. Its teamwork flow allows many people to work on the same project simultaneously. What DaVinci overtakes Final Cut completely is its color correction feature. Initially designed as a color correction tool, DaVinci continues to make its founding feature more specialized as the program develops.
If you are still not sure whether to buy it or not, you might as well try the free version. DaVinci Resolve Free also outputs videos of high quality but without any watermark. Your payments will definitely worth it, as the software developers update the program with new features year after year.
Pricing: $299
4. Vegas Pro (Windows Only)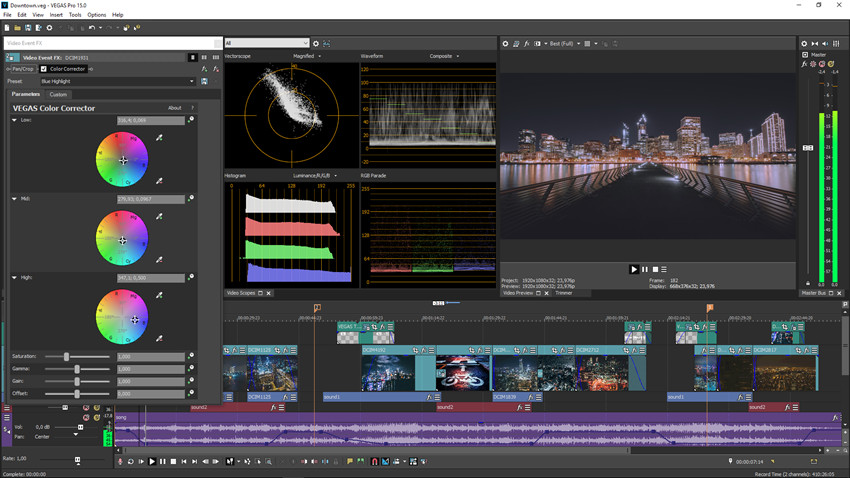 Compared with Final Cut Pro, Vegas Pro targets at a specific group of users instead of common intermediate users. Vegas Pro is indeed even more expensive than Final Cut Pro, but the additional features, which differentiate Vegas from Final Cut Pro, can explain why. Vegas supports 3D videos makes the software ideal for 3D video editors and a better subtitle editing experience. Lumetri Color tools provide users with satisfying yet easy enough color selection and editing. The Intel and NVIDIA acceleration make video editing with Vegas as smooth as possible. Therefore, it's safe to say that Vegas is a perfect substitute for Final Cut Pro on Windows.
As for the limitations, Vegas is only available on Windows and able to export videos to a smaller selection of formats. Just like the price, the difficulty of learning the software is doubled when you switch from Final Cut to Vegas. Upon using the software for the first several times, you may have to google for every part of its dazzling and complex interface.
Pricing: $399
5. CyberlinkPowerDirector (Windows Only)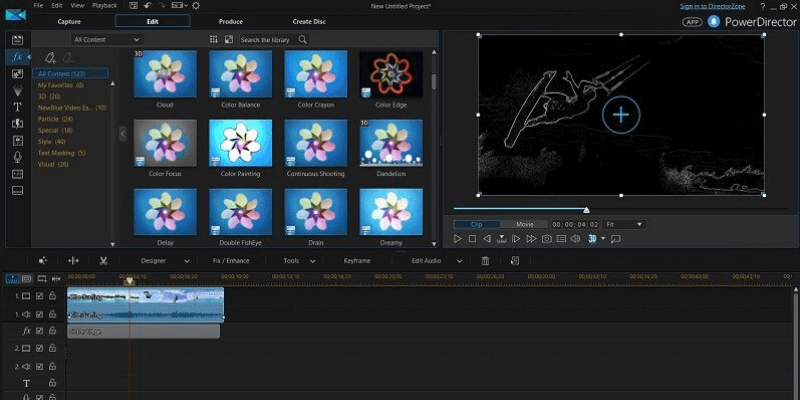 CyberLinkPowerDirector is a reliable consumer-oriented video editing software. It is a comprehensive video production suite that packs dozens of user-friendly features. The program strikes a good balance by being readily accessible to novice users without compromising the advanced tools treasured by professionals. It's completely adaptable to suit the user's level of experience and confidence. Its action camera tools and motion tracking makes it perfect for editing videos containing movements. Magic movie wizard, True Theater Color along with other features make the program stands out from other competitors.
With those being said, Final Cut Pro still overtakes Cyberlink in terms of the VR video editing and the diversity of functions, which is understandable considering Cyberlink is only half the price of Final Cut Pro.
Pricing: $51.99 per year
6. iMovie (Mac Only)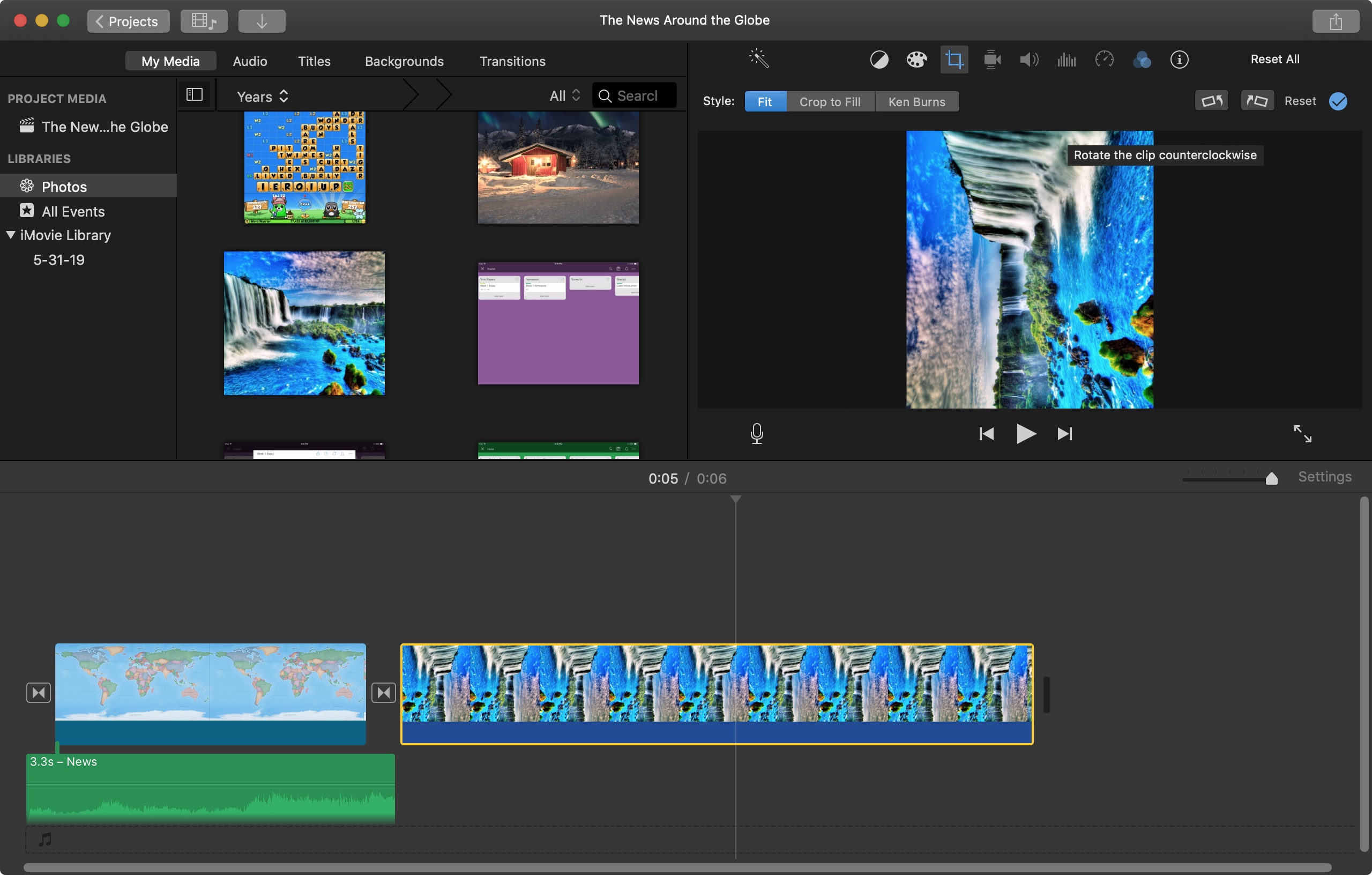 Maybe you think Final Cut Pro is too much for you or you don't want those fancy features? iMovie can serve your demand perfectly!
Unlike the professional tools we introduced above, iMovie is a lot simpler and easier to use. It doesn't the color correction or various transitions for you to make beautiful-looking videos, but it is enough to do basic editing works, including trimming and clipping. Most importantly, it is installed free of charge on mac with an intuitive interface, which along with the clean features make the app easy to learn. Even amateur users can get used to it quickly, and it is a good place to start your editing career.
However, its weaknesses are also obvious. It's too basic for a professional editor and it is only available on macOS. The exported projects cannot be opened on non-Apple devices.
Pricing: Free
7. Avidemux (Mac and Windows)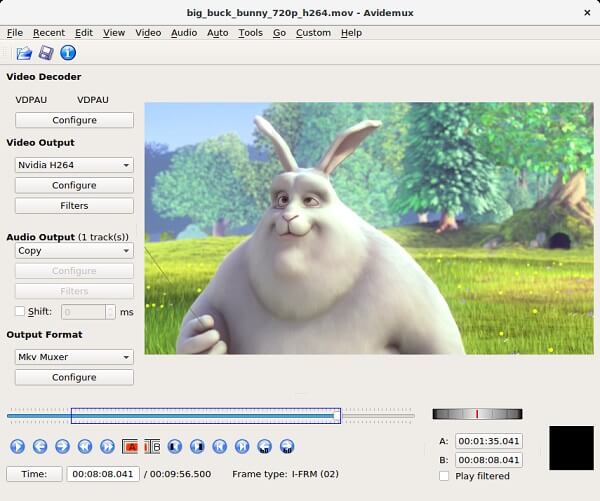 If you are switching from Final Cut Pro to Windows and you want simple editing software like iMovie to substitute Final Cut Pro, Avidemux is a good choice. Avidemux is a free open-source video editor that even beginners can use effortlessly. Despite being user-friendly, it still has the basic split, merge, trim features as well as a decent selection of common video formats.
Cutting videos and converting the formats are pretty much what this app is all about, and that's why it is still far from fulfilling the demand of pro users.
Pricing: Free
Bottomline
Final Cut Pro is a well-developed video editing tool with many amazing or even unique strengths, but that doesn't mean it is perfect for everyone. The delicate design does make it hard to find a good alternative to the program, but we still manage to find the 7 best alternatives after our in-depth research.
In the list, there a wide range of programs targeting at users with different needs. Professional video processing software on Windows for those who may leave macOS. More user-friendly apps for those who want to kickstart their editing learning. Freeware for those who just want to do simple editing. In a word, the best way to choose an Final Cut Pro substitute is to base your choice on your real needs.