Everyone who works in the space of content creation and video editing always wonders what's the best tool to get a certain job done because it can mean hours and hours saved with better quality of work.
Undoubtedly, Camtasia and Adobe Premiere Pro are the most popular video editing software. For sure, one software does not fit everyone; therefore this article has covered the "pros and cons" of both these software tools will help you to find out the best one.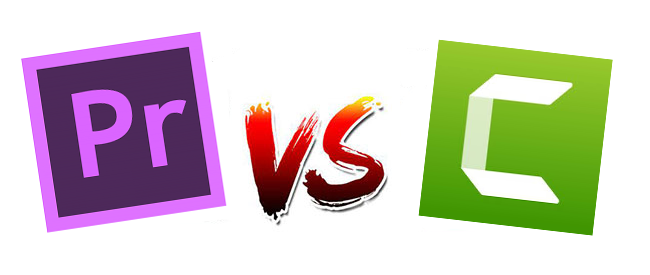 In this article, we have compared the features, unique benefits, customer support, pricing, supported devices, rates and reviews, system requirements, user interface, and more. All this information will help you to quickly assess the best one or the one that fits your needs.
So let's dig into it and have an in-depth Camtasia Vs. Adobe Premiere Pro comparison.
Camtasia vs Adobe Premiere Pro: What Are the Distinctions?
Salient features
Camtasia: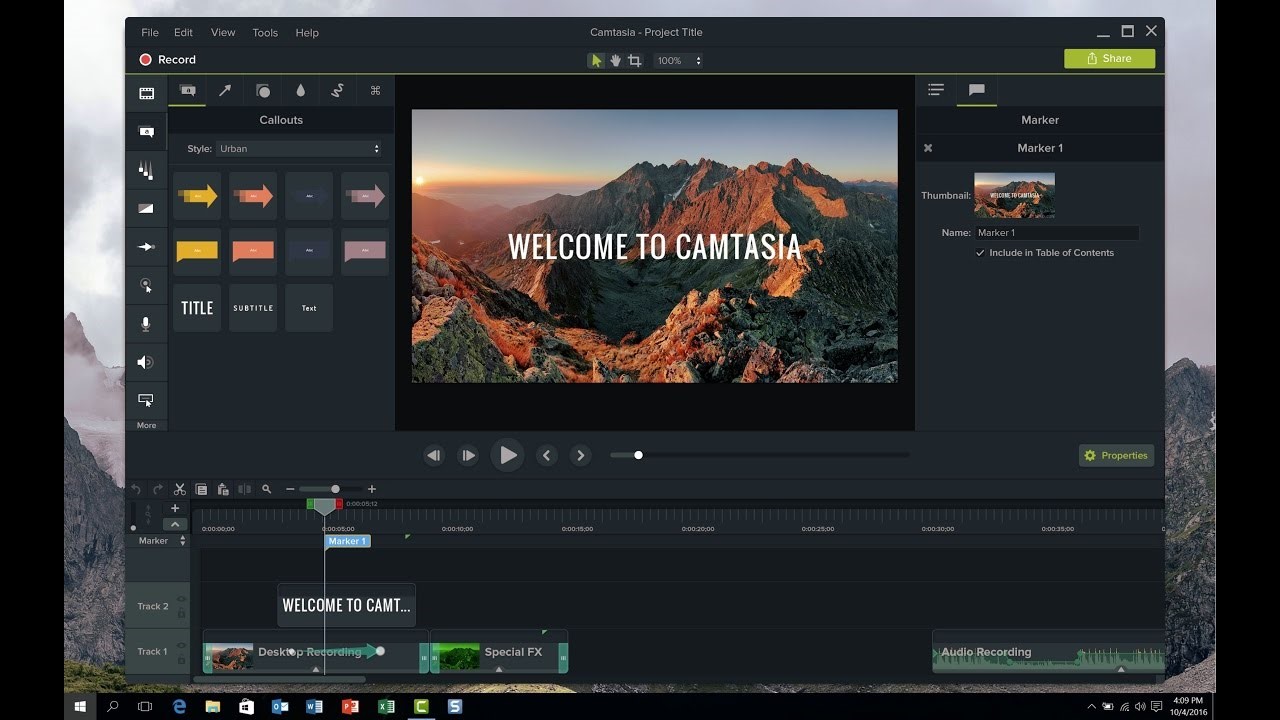 1: The customization feature has a really high production value.
2: It offers incomparable control of assets(transitions, animations, intros, and outro).
3: Video tutorials help you throughout your Camtasia journey with tutorials (How-to).
4: It well suits small companies, small marketing campaigns, entry-level YouTubers, instructional designers.
5: The screen capturing feature lets you record your own screen.
Adobe Premiere Pro: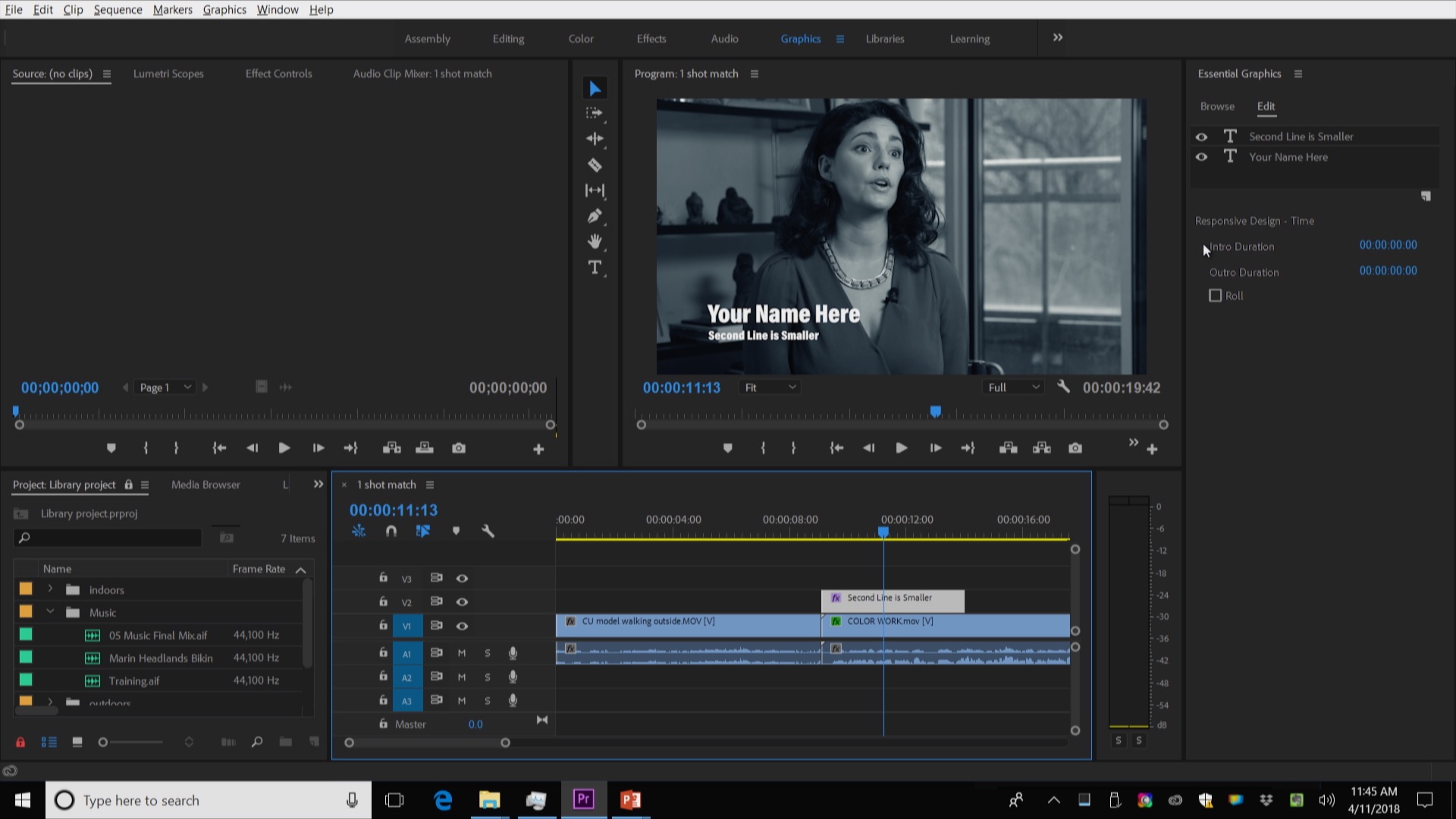 1: Being surprisingly robust in this department, Adobe Premiere Pro is widely used for light sound editing of podcasts by its users.
2: Adobe Premiere is compatible with other Adobe products.
3: Helps you to place things in order with its visual indicators while sequencing out the clips.
4: Saves much time and energy by automatically figuring out the cuts in the clips.
Rating
1: Based on 23 reviews by Adobe users and 22 reviews by Camtasia users, Adobe has an average rating of 7.2 out of 10 while Camtasia has an 8.2 rating out of 10.
2: Both editors help their clients in every way even before you make a purchase.
3: Their support is fast and reliable.
4: However, reviews also show that the video tutorials being uploaded in Camtasia really need to upgrade for all their available features.
Other support includes:
| | Camtasia | Adobe Premiere Pro |
| --- | --- | --- |
| Email | √ | × |
| Phone | √ | √ |
| Live Support | √ | √ |
| Training | × | √ |
| Tickets | √ | √ |
System Requirements
Before buying any plan and choosing the editing software you really need to be well aware of all the requirements to install your preferred software.
Camtasia:
• OS: Mac OS X 10.11/ Windows 7 or more updated versions.
• CPU: 2.0 GHz CPU 4 GB.
• Hard Disk: 8 GB of accessible hard-circle space.
• Sound Card: Compatibility with ASIO convention.
• Required Disk Space: 2 GB.
• Screen Resolution: 1024 x 768. At least 16-bit color or above.
Adobe Premiere Pro:
• OS: Microsoft Windows 10 or later. Mac OS 10.14(Mojave) or later.
• CPU: 2.0 GHz Intel 6th generation or newer processor is required.
• RAM: 8 GB.
• Hard Drive Space: 16 GB.
• Resolution: 1280 x 800 is required. 1920 x 1080 is recommended.
Pricing comparison
You can get these powerful video editing by buying any of their subscription plans. Let's have an in-depth look at the pricing of each tool.
Camtasia: $249.99/user for individual, $249.99/user for business, $169.99/user for education, $223.99/user for government & non-profit.

Adobe Premiere Pro: $31.49/mo/user for monthly plan, $239.88/yr/user for prepaid annual plan, $20.99/mo/user for annual plan, paid monthly.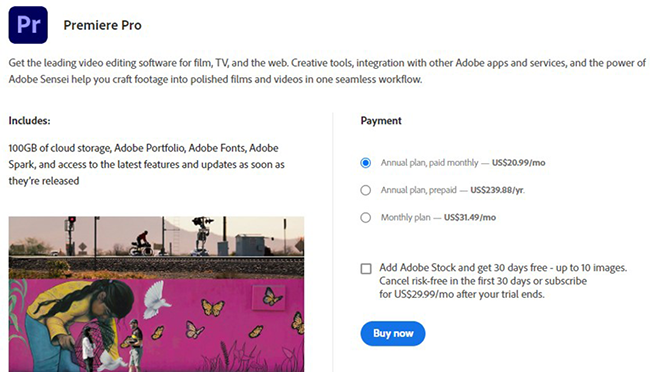 By the way, the concession is available if purchases aiding a large number of users.
Who can use them?
Adobe Premiere Pro: Adobe Premiere is the best choice for all the professional and dedicated content producers to produce bulk work at a time by working on multiple projects. This editing software provides wide room for learning with available tutorials. Adobe Premiere Pro goes well with freelancers, large enterprises, medium to large businesses.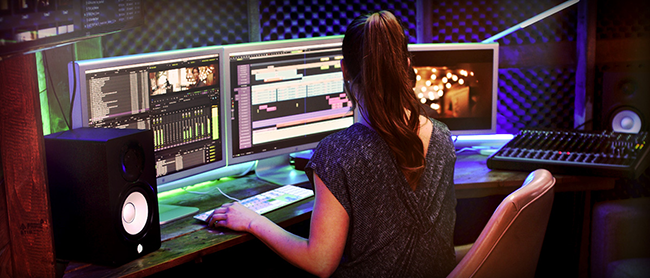 Camtasia: People have been using Camtasia for over a decade and it has built quite well a reputation or we can say it as an industry standard for screen recording. It fills all the basic needs of a powerful editor and yet is affordable. It also well suits medium to larger businesses, freelancers, and large enterprises.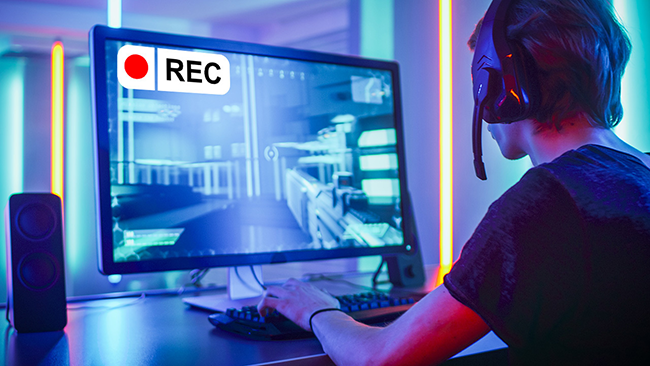 One benefit that Camtasia users get over Adobe users is the wide range of language support. English, Chinese, German, Japanese, and Portuguese.
Latest updates (2021)
New features are being added to both of the software to create more polished and modern-looking video content.
Camtasia 2021 updates
1: Accomplishing expert quality video content with drag-and-drop simplicity has been made possible for you.
2: Added 75 new transitions along with motion blur.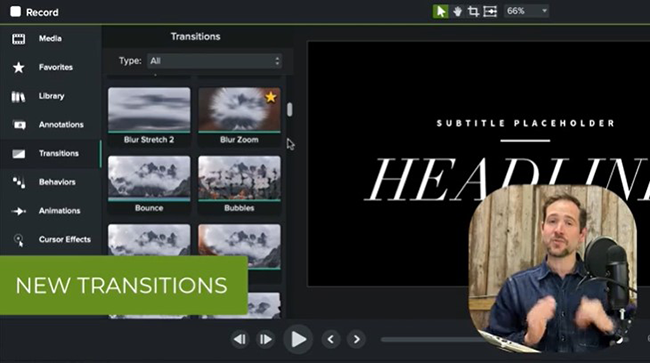 3: You can compare the edited and unedited parts of your content quickly.
4: Industry standard for quickly color grading footage features. With this effect, you can quickly turn any piece of media into a mask.
5: With the new Corner Rounding effect, you can smooth out sharp corners on your media.
6: You can add camera recording dimensions. Camera targets capture frame rate.
7: Fixed bugs. New updated feature finds out the bugs that can harm your data like copying of your data or crashing issues. Fixed a bug that disallowed characters in the names of the themes ultimately leading to a crash.
Adobe Premiere 2021 updates
1: Most recent updates by Adobe Premiere Pro introduced some amazing features like tools for stylizing and editing text, fast workflow for adding and customizing captions, native support for Apple M1 devices, and more: speech to text, generate captions automatically, color Improvements, faster scene edit section.
2: Here is a detailed preview of what these exclusively new features have to offer to the users.
3: Speech to text in premiere pro. Adds cation and generates a transcript automatically. This boosts engagement and improves accessibility. This offers support for 13 languages around the globe. Premiere Pro can intuitively pinpoint different speakers, streamlining, reviewing, and editing. The Create captions dialog incorporates sliders for calibrating how captions are layout, a maximum number of characters per line, and a drop-down menu for broadcast standard caption presets. If required, you can rescue your own custom presets as well.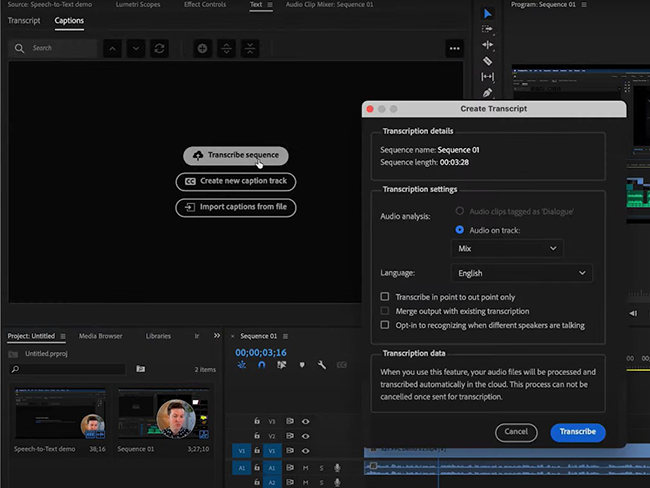 4: Transcript editing tool. Hunt your transcripts for concrete words or phrases; snap on a word in the Text panel to shift the play head to the communicating locale in the timeline. You can also export your transcript and generate a text file right from the Text panel. You can use the text files for browsing, to allocate transcripts with customers, or to get an anticipate on written content.
5: Upgrade legacy title. With this feature, you can convert legacy titles into Source Graphics within your Premiere Pro projects. Source Graphics are demonstrated in the Project panel, where you can trail and sort them like any other project item. Upgrading Legacy Titles transforms Legacy Title attributes, including text stylings, layer settings, and track item filters.
Pros
| Camtasia | Adobe Premiere Pro |
| --- | --- |
| Intuitive controls | Excellent exporting formats and styles |
| Custom formats | Has a great interface |
| Easy integration of audio or video edits | Feels spontaneous once learned |
| Sharing videos directly from the software | Smooth integration of graphics and audios |
| Great annotation gestures library | Aligns easily with another suite of software |
| Reduced production time | Easy and Flexible interface |
| Increased production value | Convenient playback |
| Rarely crashes | Tons of video tutorials available |
| Great autosave function | Unlimited creative tool |
| Magnetic timeless feature | Frequent updates |
Cons
| Camtasia | Adobe Premiere Pro |
| --- | --- |
| Struggle with large videos, multiple tracks | More time is required to learn this. Since it is a bit complex |
| Sharing large video files locks the software often | Crashes occasionally as it uses a lot of computer resources |
| Behaviors and gestures need to be renovated to something modern | Certain importing errors |
| Color grading is not smooth | Subscription-based only |
| Not as many plugins | Overwhelming UI |
| Is not compatible with adobe's software | Some effects require additional software |
An Alternate Option – TunesKit AceMovi
A lighter yet powerful alternative to Camtasia and Adobe Premiere is AceMovi Video Editor. It is much easier yet advanced video editing software. It comes up with all the basic features that are essentials for editing any video. The advanced features of this software make you edit like a pro.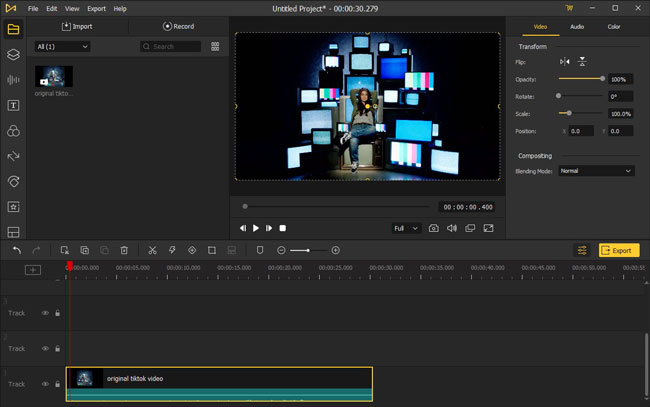 Key features:
1: Screen Recorder
2: Slideshow Maker
3: Real-Time Preview
4: Keyboard Shortcuts
5: 100% Secure Filters
6: Key Framing
7: Split Screen
8: Transition PIP
Formats:
You can save your videos in any of the popular formats like WAV, MP3, MOV, MKV, MP4, M4V, etc.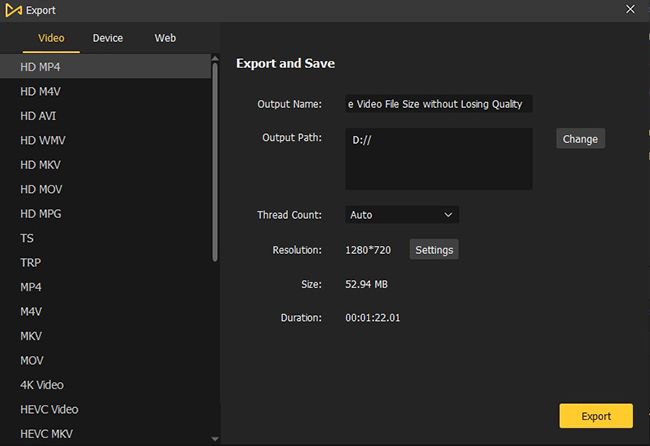 Subscription system requirements:
One of the best things about this software is that the software is customized to best fit any device: iPhone, iPad, Huawei, Galaxy series, and more!
Summary
Knowing your goals, what you want to achieve with the editing of your videos and the vastness of your work really determines which software you should opt for. If you own a small business, pay attention to analyzing the size because there is no means to pay for the functionalities that you might never have a chance to use.
Although they both are excellent editor software for your video editing tool kit, you need to be specific on your choice according to your needs.
Expectantly, this comparative article of Camtasia Vs. Adobe Premiere Pro aided you in deciding which software is better suited for you.