Linux, known as GNU/Linux, is a free-to-use, freely distributed, Unix-like operating system, which is a multi-user, multi-tasking, multi-threaded, multi-CPU, POSIX operating system. Along with the development of the Internet, Linux has been supported by software enthusiasts, organizations, and companies all over the world. Linux is not only a stable system but also an open-source software for video editing. Its core firewall components are effective and easy to configure, ensuring the security of any video clip created on the system. If you want to find a Linux video editor that comprises configurable interfaces and shortcuts, easy creation of cuttings or croppings, and audio and video synchronization to ensure an absolute balance of the outputs, here are the options!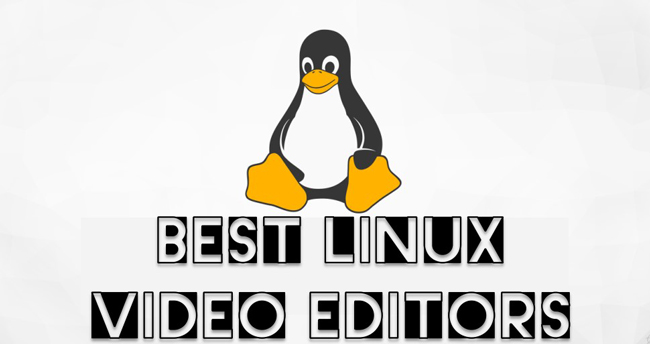 Top 1. Kdenlive Video Editor
As a cross-platform video editor for Linux, Mac, and Windows, Kdenlive is best for multi-media editing with color corrections and audio enhancements. The interface of Kdelive contains 2D titles to help you overlay moving texts on the screen with detailed font, color, size, and background.
Many effects and transitions are set inside this software, including but not limited to Dissolve, Dodge, Matte, Overlay, and Region. Users can preview the sound waveforms with the audio scopes. The Audio Meter and RGB Parade make Kdenlive a standout software on Linux.
But most importantly, just like VLC Media Player, this tool is free and won't ask you to register after you spend a lot of time adding a proper soundtrack to the video. The interface design seems old but it is themable, meaning that you can customize the width and height of the windows at any aspect ratio.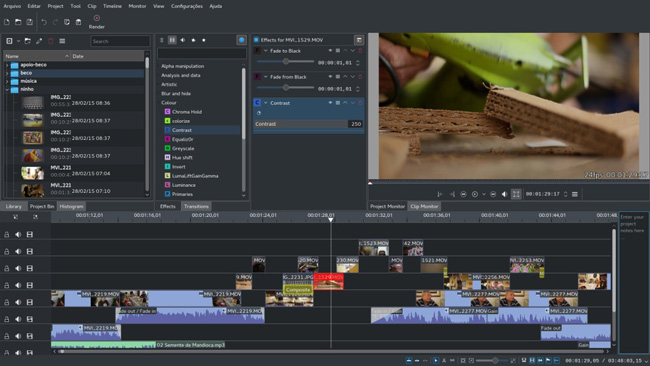 Pros:
It offers stereoscopic imagery as well as a color gamut
Open-source, no cost at all
QuickTime, WMV, Flash Video, MP4, and WMV formats supported
2D animated titles for professional editing
Cons:
Compared to other tools like OpenShot, Kdenlive is harder to use and offer limited output settings
Top 2. Lightworks Video Editor
If you want to find a multi-purpose Linux video editing software that contains royalty-free music stock you can put under the track right, then do not ignore Lightworks. Different from Kdenlive, all users need to make an account to download and use this software on Linux, and you need to re-register sometimes for protecting the files you created by this Linux video editor.
As regards the user experience, you won't find all function buttons on one screen. Reversely, for taking care of newcomers, Lightworks separates the function areas for video, audio, color, and output. In each plate, both basic and professional features are offered. For instance, if you want to give the video a special look, navigate to "Audio" and apply OpenFX Plugins or change the degrees of contrast.
Sadly, this video editor for Linux is paid, strictly speaking. Even if users can download video in MP4 format, h.264 codec, on 720p resolution, the other options like high resolution and varied formats are locked on the free version. But the trial version has no expiry and limits in the music resources.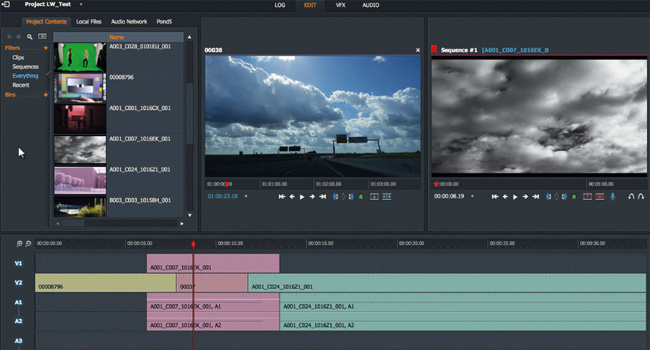 Pros:
Creative transitions to make clips transform seamlessly
Able to edit HD, 4K, and even 8K videos
Cloud-connected so you can store and download videos online
Drag-n-drop interface
700+ advanced motion graphics and subtitle genres
Cons:
Limited in output options
High-resolution file editing needs high-end systems
Top 3. OpenShot Video Editor
For many who want to find a cross-platform title editor and animation editor, OpenShot can be one of the best options, which is compatible with Linux and requires low-end system items. Creating a new slideshow with photos, adding 3D titles on the screen, speeding up or slowing download the video playback, cropping clips at 16:9 or 1:1 aspect ratio, and many basic skills are easy on OpenShot.
This Linux video editor is intelligent in trimming and slicing video clips: Users put the original file under the track, and there will be a lot of smart selections for trimming, such as cutting out the right place while leaving the left part or trimming the left and leaving the right. One of the demerits of OpenShot for Linux is the lack of music resources, so you need to upload songs to the Media for preparation.
Compare to Kdenlive and Lightworks, OpenShot is easier and more convenient. The interface design makes itself popular among video editors. You can resize the track timeline or the effects panel. More than that, there are no in-app purchases and ads bother you in editing and exporting.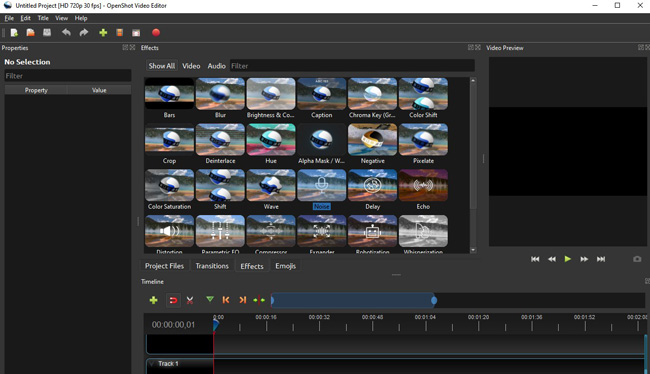 Pros:
Remove background from video by green screen
Charming 3D title templates like snow and lens flares
Audio waveform previewing
Export video for social media
Add as many tracks as you want for audio, video, watermarks, and video effects
Cons:
No music resources and sound effects
Updates slowly
Top 4. Blender Video Editor
The best video editing software on Linux for 360-degree preview and 3D animation must be Blender, which is free for everyone and provides ready-to-wear projects. Once entering Blender, you see a 3D video editing workspace that contains titles, background, and related elements. The normal video-making panel is weaker and performs not so well as the 3D. But this tool is totally free of cost.
What makes Blender different from other Linux video editing tools is the separate user interface for 3D video editing mode, with which users apply effects on both sides rather than mixing audios and videos on the timeline. The CPU & GPU rendering helps a lot in generating your clip without frame loss. Besides that, the auto and manual tracking feature is supposed to make previewing easier.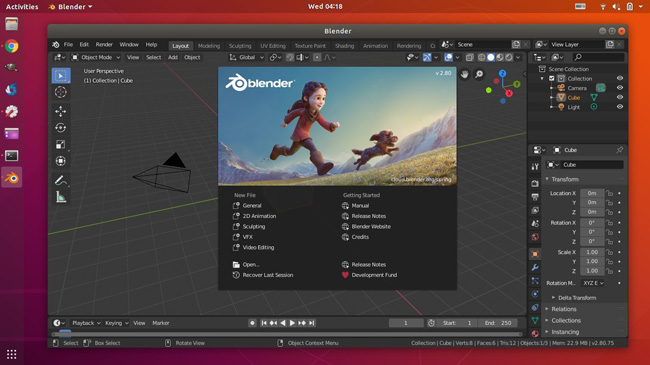 Pros:
Smart sound synchronization
Combine 3D and 2D elements together
Sculpt brush stokes for color grading
Customizable interface and timeline
No cost at all and no watermarks
Cons:
Not suitable for entry-level users
Editing high-quality video on low-end PCs causes lags and errors
Top 5. DaVinci Resolve
As the best point-based video creator, DaVinci Resolve has been updated to version 18, and still, there are surprising effects offered like video-making collaboration and advanced LUTs for color correction. This video editing tool is better for low-end Linux systems and comes with high-fidelity transitions in stock. The interface provides effects to use but most of them are only open for paid accounts. Users don't need to worry about the resolutions they set in this program because it supports up to 8K qualities. But the problem is you need to download extra music resources with a personal account so you can add new music to the track. For Linux users, you need to make sure that the plugin is compatible with the system.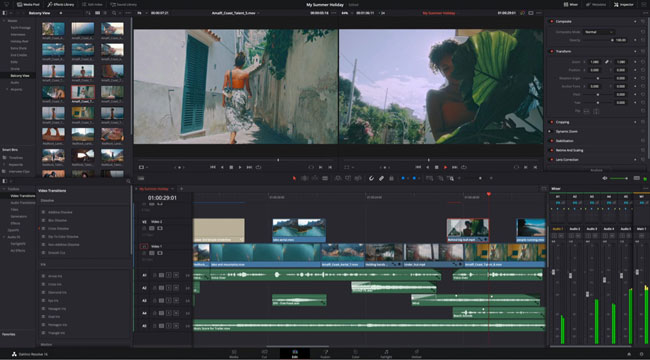 Pros:
Advanced fusion effects for filtering a video
Unlink audio from video without complicated steps
No expiry and downloading watermarks
Stable running circumstance when rendering
Cons:
Music resources need you to register and download plugins
Linux Video Editors Frequenly Asked Questions
1. Is iMovie available for Linux?
Currently, iMovie is unavailable for Ubuntu Linux users. iMovie was released by Apple company for multi-track video and music editing, which is pre-installed in iOS and macOS. That is to say, both Linux and Windows cannot perform iMovie.
2. Is VLC good for Linux?
VLC Media Player is excellent for playing high-quality video clips on Linux systems but the video-editing part is weak because users find it complicated to use the built-in features like trimming and converting. This software is completely free for Linux, Windows, and Mac.
3. What are the advantages of making a video in Linux?
There are so many merits of using the Linux system to generate a video clip, to be specific, this system offers tremendous configuration possibilities and is quite stable, mostly free, open-source, and safe to use. Even though you confront limited a range of software to download that is popular on Windows and Mac like iMovie, the third-party downloader is made to help you fix the problem efficiently.
Summary
Here are the five best video editors for Linux that users like currently. They're different in services and features built-in, so you'd better make a comparison before deciding which one to pick up as the video-making helper. However, there are still problems with editing clips in Linux, such as output crashes happening when editing large file size videos and some peripheral plugins being unfit for Linux.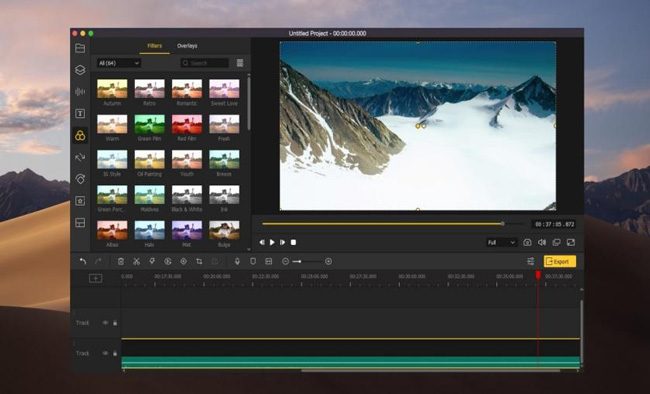 In this case, turning to Windows and Mac systems seems better, and we recommend TunesKit AceMovi Video Editor for generating great content. Problems like music resources, complicated operation steps, limited output formats, and more can be handled by this software. After editing, you can easily download videos from AceMovi and post content with the right aspect ratio, bit rate, resolution, or other settings on your social account directly.