Lots of techniques are supposed to create dramatic effects in our videos, among them the playback speed adjustment has been widely inserted in film-making and those short videos posted on Instagram, TikTok, or other media. Slow motion, normally abbreviated as slow-mo or slo-mo, captures stunts and motions at an ultra-high frame rate whereby time seems to be decreased.
If you need to build up suspense to let viewers pay more attention to the climax of the next thing to happen, slowing down the playback speed of a video is a feasible strategy, believe me. Here we'll show you four ways to slow down video online without steep learning steps.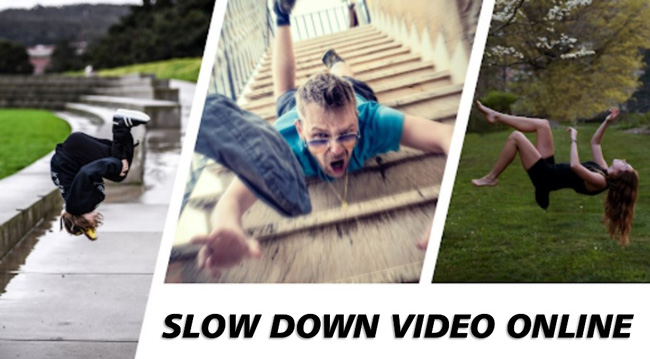 How to Slow a Video Down Online No Watermark - OnlineConverter
OnlineConverter makes quick and easy video speed changing possible. For one thing, you proceed all steps on one page, otherwise you need to use other features such as trimmer or cropper. For another, it is no need to register for downloading your files from this online speed changer. Nevertheless, the importing file size should be limited to 200 MB. Also, for each project, only one video file can be edited.
Go to Online Converter > Change Video Speed. Change the original speed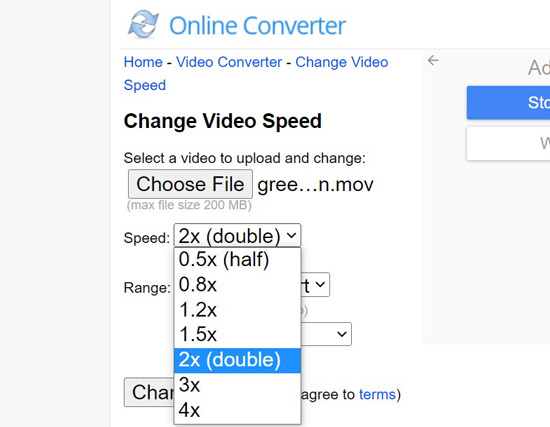 Search for "Online Converter Convert Video Speed" on a browser directly. Alternatively, when visiting this online website, go to "Video Converter" > "Change Video Speed". Then, you see the workspace for slowing down media.
Click "Choose File" to select videos to import. Change the speed at 0.5x or 0.8x as per your needs. Meaning, it is not possible to customize the speed value with this program. But you are able to change the range from a specific time to a specific time. Once you've prepared, press "Change".
Share videos to social platforms. Or download the edited video online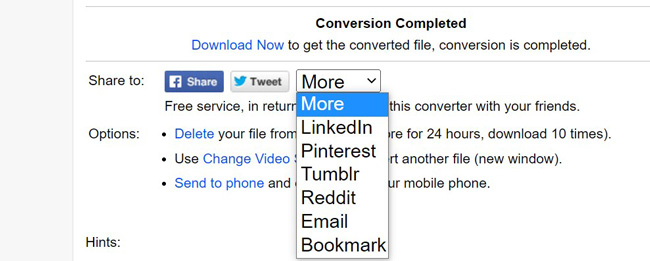 After you click "Change", you can download the videos by clicking "Download Now" or share to Facebook, Twitter, LinkedIn, or other media channel. In the following, users can pick up the options for deleting the files from the server, using "Change Video Speed" again to convert another video, or sending to mobile phone and download the file to phone.
How to Slow Down a Video Online Free - Clideo
Want to change the video speed at your customized speed rather than 0.5x or 0.75x to reach the best visual rendering effect? In this part, the Clideo website will be recommended for you. Clideo is an all-round video editing software, so you can use it to trim, split, reverse, convert, combine, slow down, or speed up videos. More importantly, all projects are separated into different workspce.
Enter "Change Video Speed" on Clideo. Choose local files to upload

The max file size is 500 MB. You need to choose the function "Change Video Speed" on this webpage. Upload files from click folder, Dropbox, or Google Drive. If you do not sign in, the final output will be left with watermarks.
Fine-tune the video speed as per your needs. Set the output format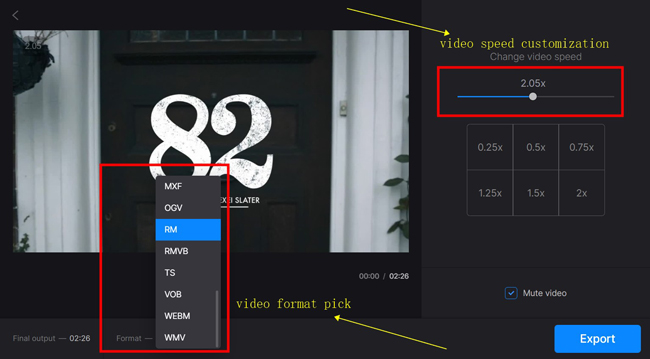 The slider can help you define a specific speed value which ranges from 0.25x to 4x. The interface is able to set the speed at 0.25x, 0.5x, 0.75x, 1.25x, 1.5x, or 2x as well. At the same time, you can mute the video if you want.
In the below part, setting the final video format is allowed. The formats cover AVI, ASF, FAV, FLV, MKV, MP4, MTS, WMV, WEBM, and many more. Next up, click "Export".
Remove watermark by upgrading. Or download the video with watermarks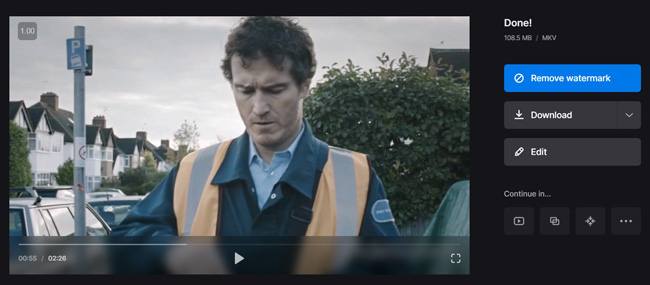 Different from OnlineConverter, Clideo is an online slow motion video maker with watermarks. If you want to remove the branding watermarks, you should update the account. Or directly download the video on this website.
How to Make a Video in Slow Motion Online Up to 4GB - 123APPS
You may find the previous two online video speed converters only handle small file size video. In this case, it is hard to slow a movie or a long video down. So, we suggest you trying 123APPS, which is an fully-fledged online video editing program offering screen recording, trimming, merging, audio extracting, etc. Users do not need to log in at the first place. Surely, in response to "Free", there are ads.
Follow Video Tools > Change Speed on 123APPS. Click Open File to import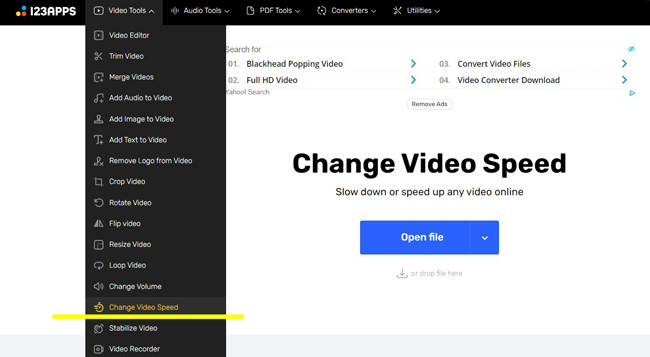 On the menu bar of 123APPS, navigate to "Change Speed" from "Audio Tools". You go to the workspace for changing video speed. Afterward, tap "Open file" to upload video files.
Customize video speed in real time. Play video to check the effect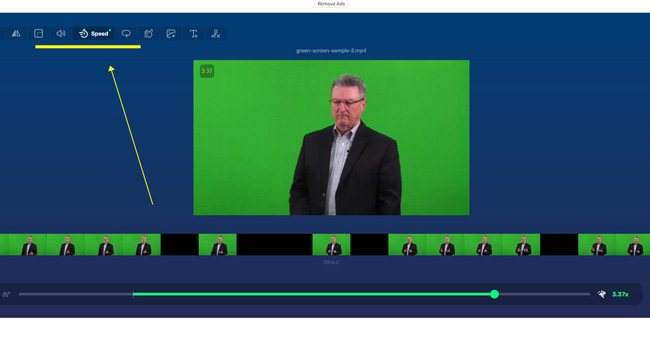 The performance monitor helps you render and check the video in real time. It is easy to slow down the video from 0.25x to 4x. If you want to trim out unwanted parts of the video, drag-n-drop the edges of the timeline. Once finished, click "Save".
How to Turn a Video into Slow Motion by an All-in-One Online Video Editor - Kapwing
Want to find a streamlined, online video slow motion editor? For decreasing the playback speed of multiple videos at once, you need a nonlinear program. Kapwing is such an online tool to slow down videos or edit them with various functions like URL uploader, trimmer, color enhancer, format converter, and filter maker.
Paste video URL to import or go to Click to Upload to add videos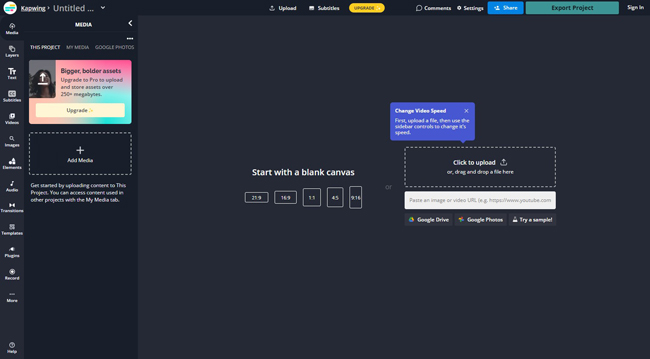 On the user interface of Kapwing, you can import videos by URL or click "+ Add Media" to select local files. After that, put the video thumbnails under the timeline.
Find EDIT > SPEED on right-hand place. Set the video speed
Kapwing offer effects and functions on the right-hand plate. For slowing down a video with it, you need to go to "EDIT" > "SPEED". Click the "-" to set the slow-motion speed. The window player is able to play the effect. If you are happy with the result, click "Export" to download the video.
Click Export from the interface. Set output format and resolution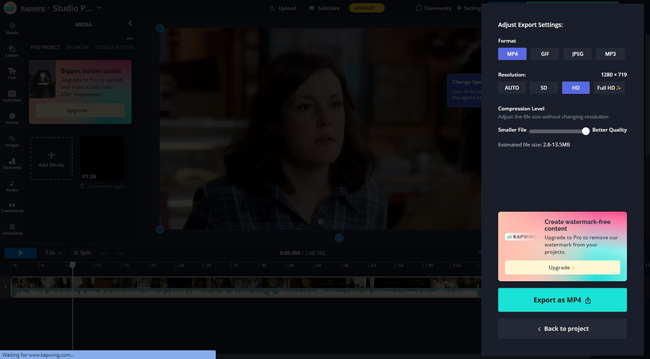 MP4, GIF, JPEG, and MP3 are some of the output formats for you. When it comes to the video resolutions, SD or HD are free but with watermarks, but the FULL HD only available on premium accounts. More importantly, you can adjust the file size.
Differences among the 4 Best Online Slow Motion Video Makers
We'll compare the recommended online video playing speed changers from aspects of file size limit, registration required or not, free or not, pricing, user experince, available speed values, or else. Go ahead!
| | File Size Limit | Registration | Pricing | Edit Batch Files | Speed Value Rages |
| --- | --- | --- | --- | --- | --- |
| OnlineConverter | 200 MB | Not Required | Free | No | 0.5x or 0.8x |
| Clideo | 500 MB | Required | $9/monthly, $72/yearly | No | 0.25x to 1x |
| 123APPS | 4 GB | Not Required | $5/monthly, $48/yearly | No | 0.25x to 1x |
| Kapwing | 6 GB (Paid) | Required | $24/monthly, $192/yearly | Yes | 0.25x, 0.5x, or 0.75x |
Alternative: How to Slow Down a Video Safer & Quicker on Computers - TunesKit AceMovi
You've reviewed the online video editors to change video speed. But compared to those online programs, software for Windows and Mac performs better. You don't need to care about the file size or the amount when creating a video with software due to the robust system.
TunesKit AceMovi Video Editor is a well-performed software to slow down videos without file size limit. On the streamlined interface, texts, images, videos, and audios can be mixed or edited. Most importantly, the speed value is range from 0.01x to 100x. Either you can personlize the speed degree.
The downloading speed is quicker with TunesKit AceMovi. And you're allowed to set the video format at MP4, AVI, DivX, WMV, MKV, MOV, M4A, etc. The system is available on Windows and Mac both.