If you haven't ever created a tutorial video to showcase products or communicate with others, that would be a kind of loss as tutorial videos belong to one of the most helpful methods to give your ideas to audiences in an easy-to-follow way. Particularly, audiences will be attracted by your uploadings quickly when a character in the video is demonstrating the step-by-step guides on cooking, planting, keeping a pet, building houses, repairing bicycles, or anything else with moving texts and appealing music. Then they'll naturally follow your social media accounts and share the link with friends.
Today, we're going to introduce you to the best tools to make a tutorial video for different projects that you are doing right now. Let's Begin!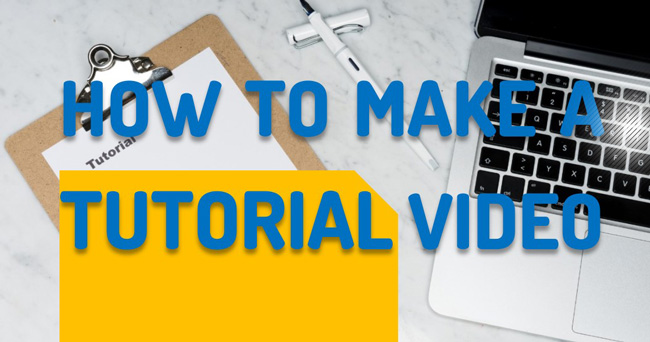 What Is a Tutorial Video? How to Make Good Tutorial Content?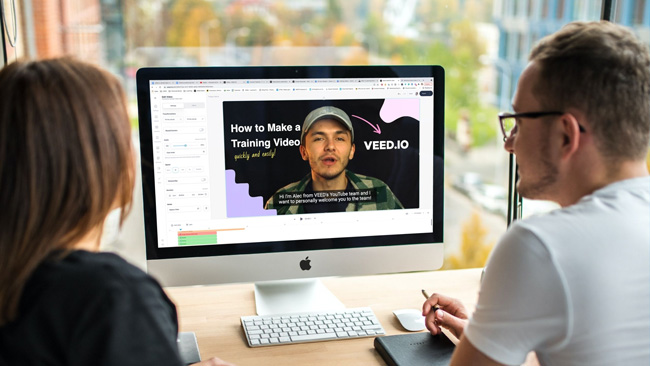 As one of the best ways to teach others or show ideas, the tutorial video provides audiences with step-by-step guides for a specific topic, such as cooking and drawing. Sometimes we define the video tutorial as instructional guidance, which is created from screencasts, animation clips, or live-action footage.
Nowadays, users can apply a mountain of attention-grabbing video effects to decorate tutorial videos rather than stereotypically explaining one thing before the digital camera and uploading it to social media. Transitions, filters, overlays, slow-motion, and green screens are at your disposal once you have excellent tutorial video software.
How to Make Great Tutorial Videos - 5 Tips for You
1. Define your target audience
First thing first, you need to analyze the audiences that might watch your videos and follow the steps. It's necessary to figure out want is information they really want to grasp.
2. Convey creative ideas
You may find hundreds of similar tutorial videos about your topic. Don't lose heart! There are also plenty of new ideas that can boost the effectiveness of your uploadings. For example, you can increase the frequency of communicating with the audience by adding captions.
3. List the steps clearly
Tutorials videos are based on the steps that will be functional to help users solve the problem. Consequently, the most important thing is that you need to give clear and concise steps and list them one by one.
4. Try advanced video effects
There are many more cool, advanced effects and features you can apply, such as slow-motion, split-screen, green screen, and mirror. Those effects are supposed to make your tutorial video stand out effectively.
5. Export on fit resolution and aspect ratio
The final point is that you should keep the video high quality and the right aspect ratio for social platforms. For example, you need to set the size as 16:9 if you want to upload a video to YouTube and Facebook.
The Most Recommended Software for Making Tutorial Videos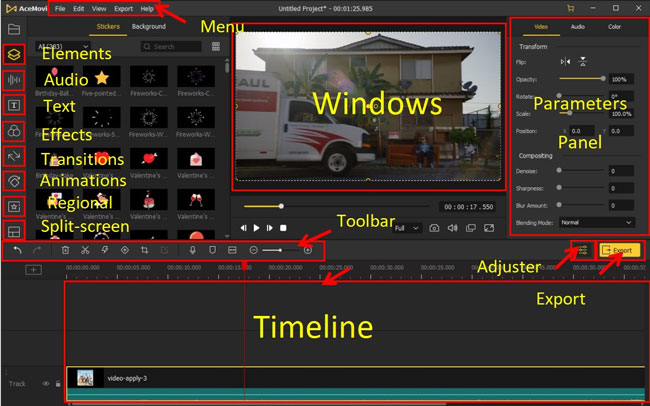 AceMovi is an incredibly computer tutorial video making and editing software for both personal and marketing channels. You can rely on it to generate many types of video tutorials, including the explainer and screencast mentioned above. This tool contains royalty-free music, high-class filters, animated stickers, and moving text templates.
With the streamlined, easy-to-use interface, you can add multiple tracks of image, audio, and video without any hassle. On top of that, 720p and 1080p resolutions are offered so that you don't need to worry about the file quality after editing. You can download AceMovi completely free and easy below.
AceMovi Tutorial Maker
Well-designed templates for tutorial video
High-quality output resolutions
Take screenshots and record new footage
Trim out unwanted clips
Prepare moving texts for intro parts
Add transition to make slideshow smooth
Compatible with both Mac and Windows 10/11
How to Make a Good Tutorial Video with AceMovi
Want to know how to make tutorial videos on Windows and Mac? After downloading AceMovi, launch it from your desktop. Then follow those steps:
Click the "Import" icon to add video footage, images, and audio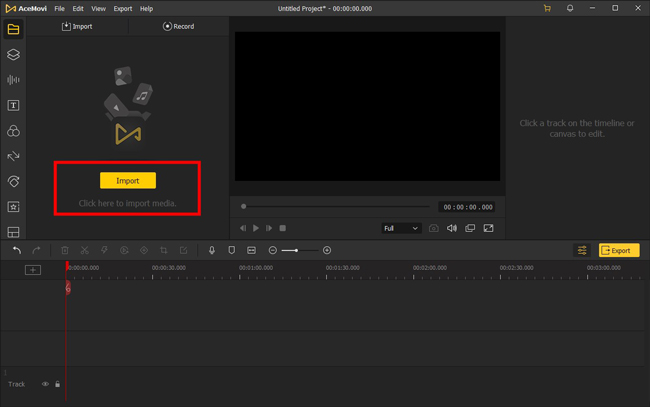 Once you enter into AceMovi, you have two options. You can click the "Import" button to upload media or tap on the "Record" button to capture new footage, which can be audio or video. AceMovi saves the recordings on the "Media" plate.
Pick up a text template from "Text" to make an intro clip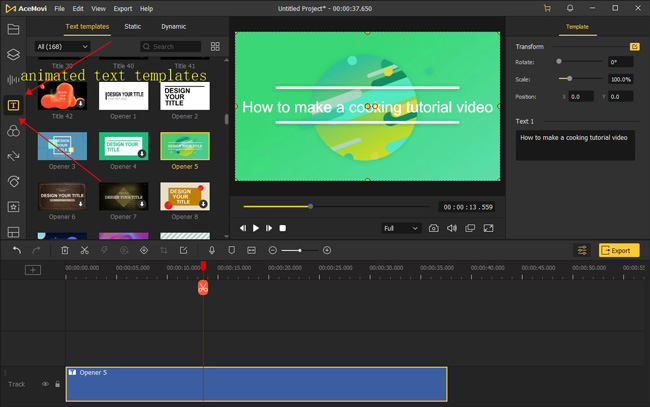 You can choose hundreds of text genres from AceMovi's Text panel, including dynamic and static samples. Many users prefer to make an intro with a well-designed text template.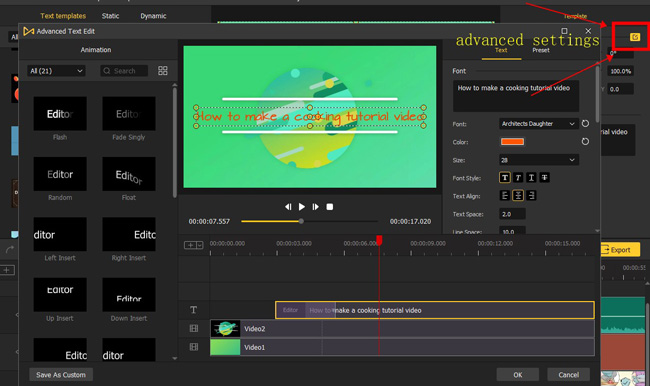 By clicking on the button on the top right corner, you'll get into a new window where you can fine-tune the text with the wanted color, size, location, font, opacity, background, etc. Besides that, the performance monitor allows you to customize the size of the tutorial video in real time.
Apply video transition between every two clips in the timeline space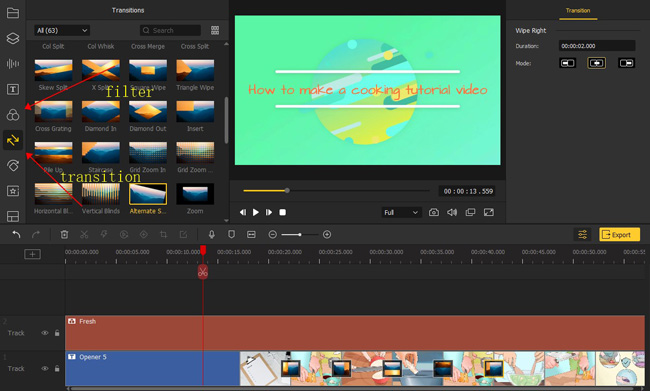 If you've taken a series of photos of the guidance. You can put them under the timeline directly. It's amazing to add a transition to make your photo collage looks better.
You can pick up 50+ types of transitions from the "Transition" panel. Just put the mode between two clips, then adjust the duration and mode per your needs.
Insert your music to the timeline or select one from the library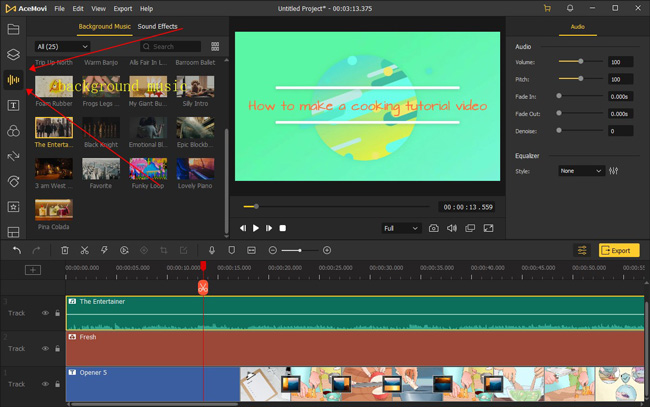 When it comes to adding music to your tutorial video, you can import your own files to a new track, then adjust the volume, speed, duration, pitch, and more settings. Also, it's easy to select a good one from the music library of AceMovi.
Download your tutorial video from AceMovi by via the "Export" button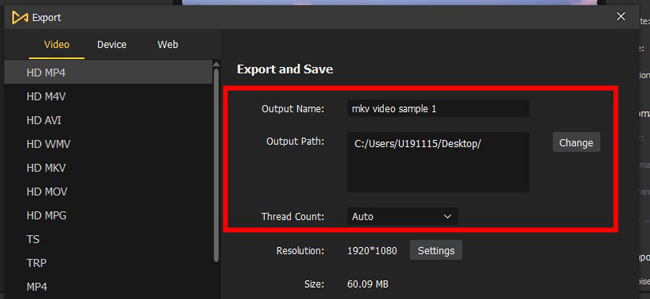 AceMovi supports any type of video format, such as MP4, M4V, AVI, MOV, DivX, MPEG-1, and MPEG-2. And they can be exported on HD resolution automatically. In addition, you should set the save path and output name before the final step. You've learned the ways to create video tutorials with AceMovi. For more exciting features, download AceMovi here.
Alternative Tutorial Video Makers You May Like
Here are some other options that you can manipulate to make a video tutorial within several minutes. In fact, you cannot use AceMovi to edit video and audio online or on a mobile device, so we're going to show you tools that operates on different platforms. Besides that, we'll give you an introduction to advanced software called VSDC, however, which is compatible with Windows merely. Just continue to read!
1. Animoto for Online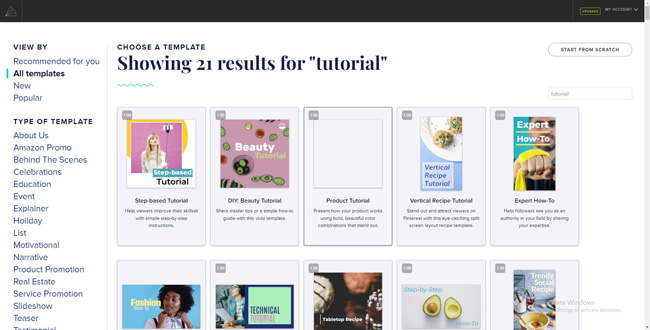 If you want to make an animated instructional video online for free, Animoto is one of the best options. With a free trial license, you can begin with a good tutorial video template. It's available to use the "Step-based" tutorial template, "DIY: Beauty" tutorial template, "Expert How-To" tutorial template, and many more.
With those video templates, users can highlight a series of hacks, help followers follow the guides by sharing expertise or improve trainees' skills with step-by-step instructions. Additionally, the watermark-free feature and 1080p resolution output service are only supported by premium accounts.
2. Splice for iPhone/Android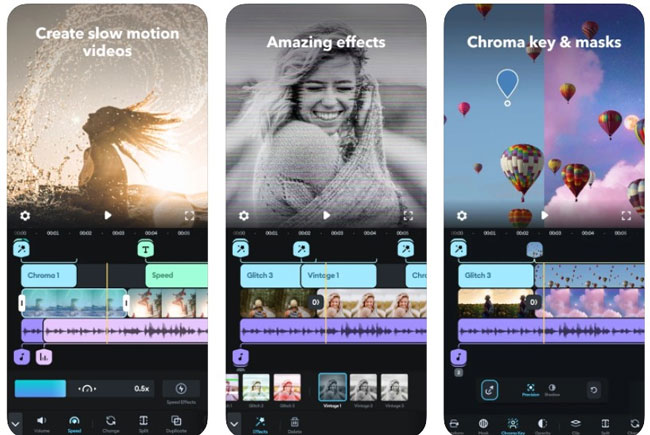 The Splice app is very popular among video editing users who are likely to make a tutorial video on a mobile phone. You can download it for free on both Android and iPhone. Like AceMovi, Splice comes with a streamlined interface so users can edit multiple clips easily. Then they can create new texts, music, and stickers by clicking on the tracks.
What makes a mobile phone video-making app different from others? Actually, just like TikTok and Instagram, Splice also provides users with amazing VFX, like Mosaic, Mirror, Slow-Motion, and Curve Mixing. You can produce a tutorial video on your phone with it with music and text from the online stock as well.
3. VSDC for Windows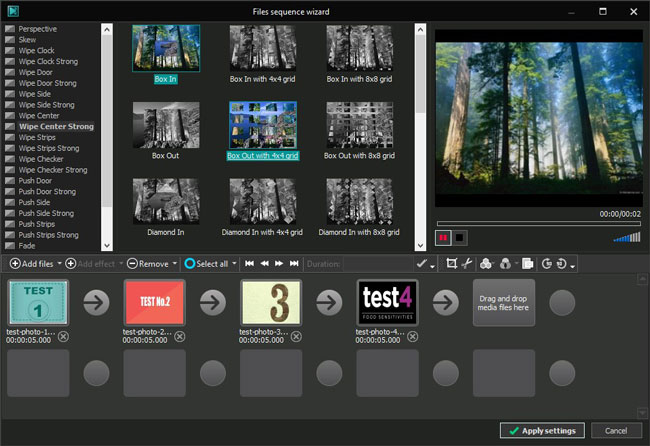 Tons of users deem that VSDC Free Video Editor is too intricate to manipulate. It's true to some degree, but the point is that you'd better try it before making a decision of giving up.
VSDC contains meticulous settings and parameters for every motion that you may operate, like trimming, cropping, and converting. However, if you want to make a tutorial video with photos, you can firsthand try the "Slideshow" project from the interface. As for exporting, there are channels given to share your videos on YouTube and Facebook.
Tutorial Video Types That You Need to Maker It Clear
More than 83% of people tend to watch videos to learn relevant tutorials or any formational content. And the percentage of those who bought the item after watching the tutorial video is up to 50%. The statistics show how important the tutorial video is. After defining your audiences and recording the footage, you may want to know what type of instructional projects you can generate. Keep reading.
1. Training Videos
You can make training videos to enhance the skills of employees' workplace and let them become professionals in a certain field. In most cases, the real person will take part to increase the authenticity.
2. Screencasts
The screencast needs you to learn how to take a screenshot and record screen. They're informal, quick, and short clips used to share the definition and usage of something.
3. Explainer Videos
You must be familiar with ad videos or promo videos if you've recommended products on social platforms. Likewise, the explainer video focuses on a business product service from an animated, visual angle.
4. Microvideos
This type of tutorial video is designed to help learners to get the meaning of a narrow topic. It's a knowledge-based, concise, and single genre.
The Final Verdict
No matter whether you want to make a tutorial video for cooking, drawing, or makeup, it's wise to define the target audience and tutorial video type before hitting the road. The four tools are available for a free trial without expiry right now, and you can select the one on your computer or mobile phone as want. There are great effects that you can apply from those tools introduced like green screen and split-screen.