As TikTok videos have the feature of short duration, many creators who desire to upload long videos are nervous for it. They often ask these questions online like: how to speed up TikTok videos or can I make my videos faster so that I can upload it on TikTok? I believe they also have got a lot of suggestions about those questions, but still has some confusion about it. So here offers some detailed information to teach you the ways to get a faster video step by step.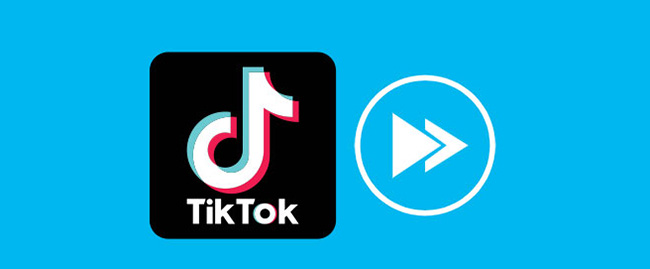 Part 1: Speed up Videos on TikTok
TikTok has its built-in feature on speeding up the videos in it. But according to your purposes, the steps would be different slightly.
1. Speed up Videos on TikTok While Watching
Although TikTok videos are always short, some people want to speed up them because of certain reasons. There are steps to tell you how to speed up TikTok videos while you are watching them.
Step 1: Click the TikTok app on your phone and find the video you want to change its speed;
Step 2: Hold on the video images for a while and then you can see a popped window from the bottom of the screen which includes some features like Not Interested and Speed;
Step 3: Click the Speed icon and select the speed you want; The selection includes 1.5x and 2x; Then you can enjoy the video in a quicker speed.
2. Speed up Videos on TikTok While Editing
Sometimes you have saved the video you want to upload to TikTok on your phone, but the video is too long and cannot upload to TikTok with the whole video content. Then you can speed up the video and make the duration of it short. The steps on how to speed up TikTok video while editing as follow:
Step 1: Click the + icon which is on the center of the screen bottom;
Step 2: Click the Upload icon on the bottom right of the screen and then choose the video you want to edit from your phone photos; and then click the Next button;
Step 3: Click the Adjust clip icon and then click the Edit icon;
Step 4: Click the Speed button to set up the speed of video;
Step 5: Click Save button; If you need, you can edit the video as you want using the features on the right of the screen;
Step 6: Then click Next button and post the video to your account.
Part 2: Make TikTok Videos Speed up With Effective Tool – TunesKit AceMovi Video Editor
Speeding up TikTok videos on TikTok directly is convenient and easy, but its options just two or three which is sometimes not enough for your requirement. Using a video editor can give you more choice and get a great video art.
TunesKit AceMovi Video Editor is a recommended video editor for speeding up a TikTok video. Its speed change feature is comprehensive, so you can change your video speed to all of level as you want. It has predetermined speed choice like 2x, 4x, 8x, 0.25x and 0.5x. If those cannot satisfy you, TunesKit AceMovi Video Editor also allow you to set up speed by yourself through drag the progress bars. In addition, as a video editor, its features are rich and you can design your video with those features such as adding filter effects and texts, background music and so on. The video output by TunesKit AceMovi Video Editor can be all kinds of formats including MP4, M4V, AVI and other formats and some platform formats. If you want to upload the video on TikTok, Output the video as TikTok format is convenient for you.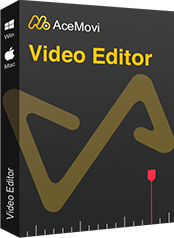 TunesKit AceMovi Video Editor
Security Verified. 7,399,007 people have downloaded it.
Pros:

An all-in-one video editor for all TikTokers
Remove watermark from TikTok videos without any lags and strikes
Easily make a TikTok intro video
User-friendly interface
A plethora of funny stickers
Download quickly on Windows & Mac
Dirty-cheap premium pricing
Export at HD and 4K quality
Edit multiple videos, audios, and images
Cros:

Cannot to be downloaded on phones
How to speed up TikTok videos after recording with TunesKit AceMovi Video Editor?
Download TunesKit AceMovi Video Editor
Download and install TunesKit AceMovi Video Editor and transfer your video to computer;
Import files
Open the software and import the prepared video saved on your computer;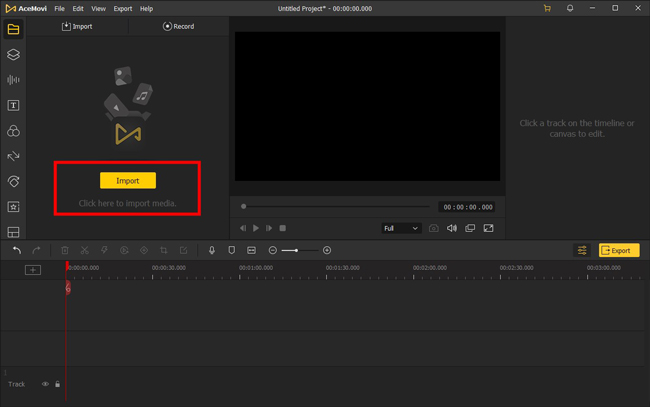 Add video to timeline
Move mouse on the video in Media and you can see a yellow + button and then click it to add the video to the timeline;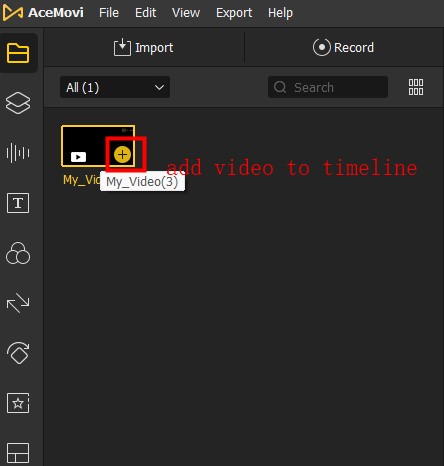 Change video speed
There are two methods to speed up the video.
The first method is to click the lightning-like icon; move mouse to corresponding words, you can adjust the speed of your video like 2x or 0.5x;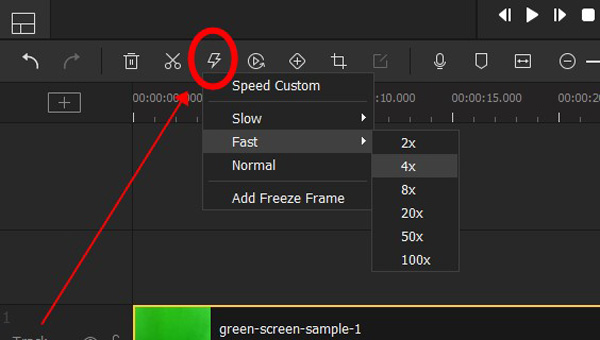 The second method is to right click the mouse on the video which is put on the timeline; then you can see the word Speed and Duration, you can click it and change the speed through dragging the progress bars or typing a specific number on the search bar; you can see the duration of the video immediately when adjusting speed in the Duration frame; and if you just want to set the duration as 15s, you can just write 15 in the Duration frame;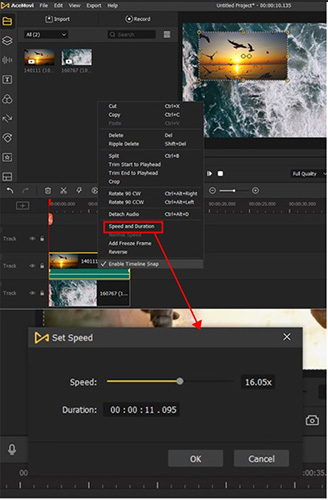 Add elements to video
You can design your TikTok video as your imagination using the features of AceMovi on the left of the homepage like adding filter effects;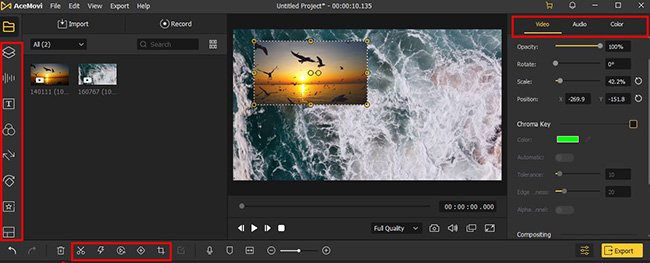 Export video
Once you complete your video editing, just click the Export button and there is a popped window on the center of the homepage; click the Web and choose TikTok format for your video on the left of the popped window; set video' s name and location on the right of popped window so that you can find it quickly. Finally, click the Export on the popped window.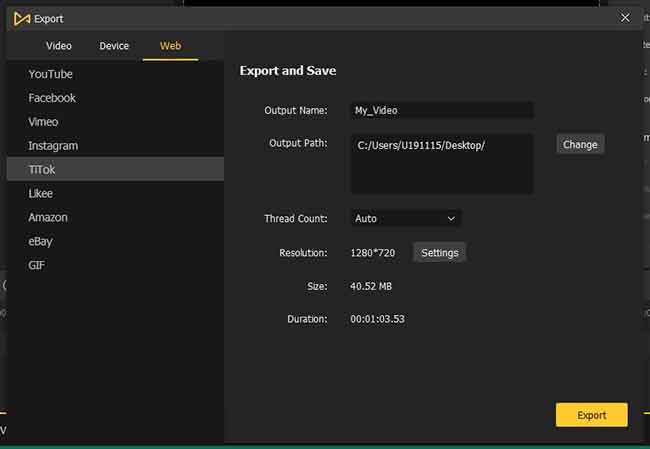 Conclusion
Making a video faster is not a difficult thing. Although the most important thing to make an attractive video is to create a good content for a video, changing video speed appropriately can give your video additional charm. Now you have known how to speed up TikTok videos and get an effective tool: TunesKit AceMovi Video Editor, I believe you can create more beautiful videos for your TikTok fans. Looking forward to your work!