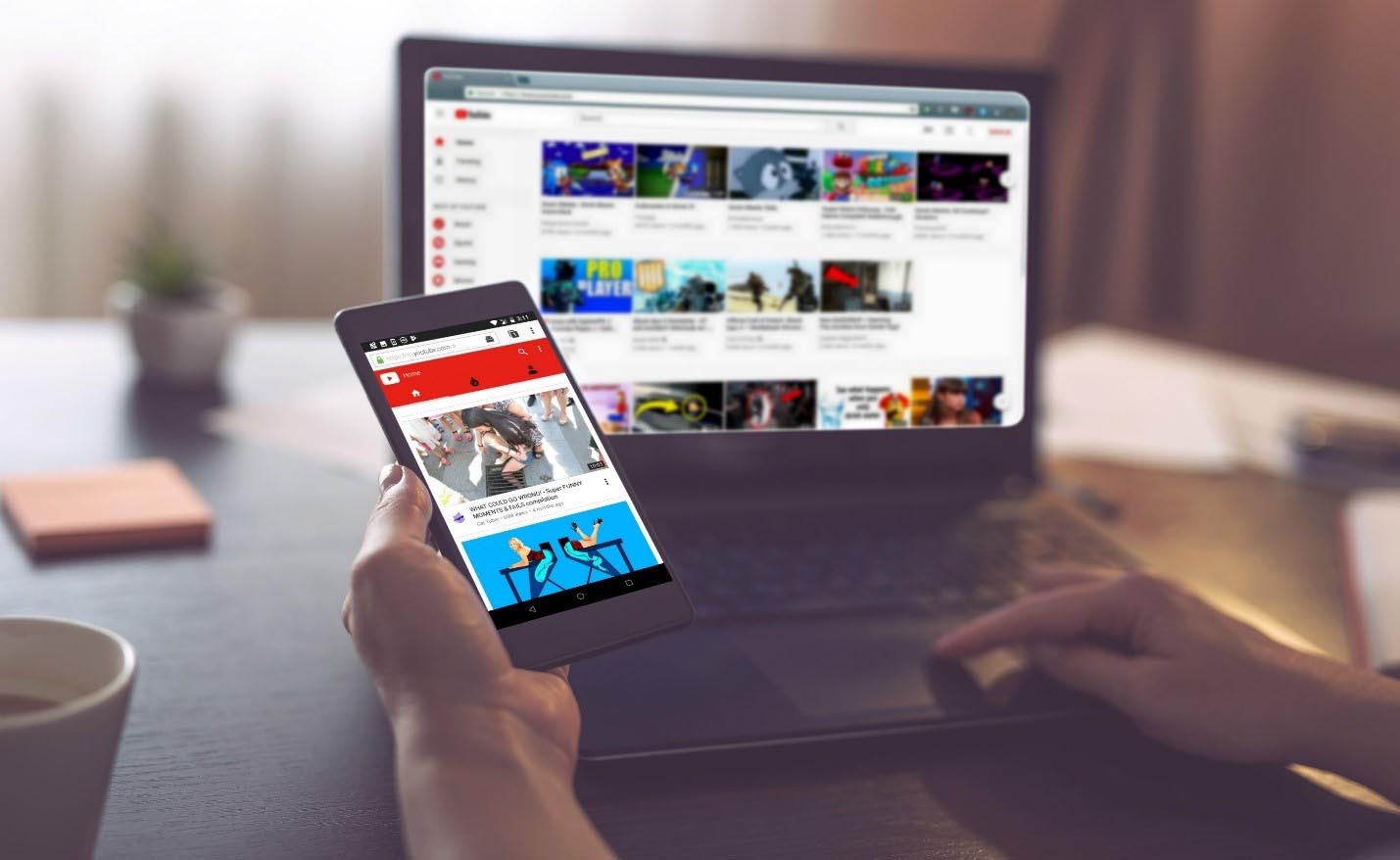 With over 500 hours of content uploaded every minute and over 1 billion hours of live content watch, the YouTube platform is the world's most used online media streaming platform. The economic multiplier effect of the platform is over and above your imagination. It has provided content creators with a stage to showcase their content and has ultimately built careers around YouTube- the YouTubers. All you have to do is create and upload content to your YouTube channel. Seemingly, uploading videos on YouTube is pretty straightforward compared to deleting them- it is wholly challenging even for professional YouTubers. Suppose you are looking to remove videos on your YouTube channels. In that case, we shall furnish you with a guide on how to remove YouTube videos from your channel and YouTube videos uploaded by others. Read on!
How to Remove YouTube Videos from Your Channel
Deleting videos from YouTube is somewhat considered a "severe" action, and that is why you have to maneuver around the platform before you get to delete a video. Remember, deleting a video on YouTube means that your content will no longer be available to your audience. There are many reasons why YouTubers delete video uploads to the platform, and here are some profoundly common reasons for the action.
1. Outdated video files
2. Too many videos on your channel
3. Video edit mistakes
4. Protecting your copyright from other people
For whatever intention you may want to offload video from YouTube, the verdict is clear- you want to delete the video off YouTube! Below is a guide on how to remove YouTube videos from your channel.
Step 1: Access YouTube and sign in to YouTube channel account.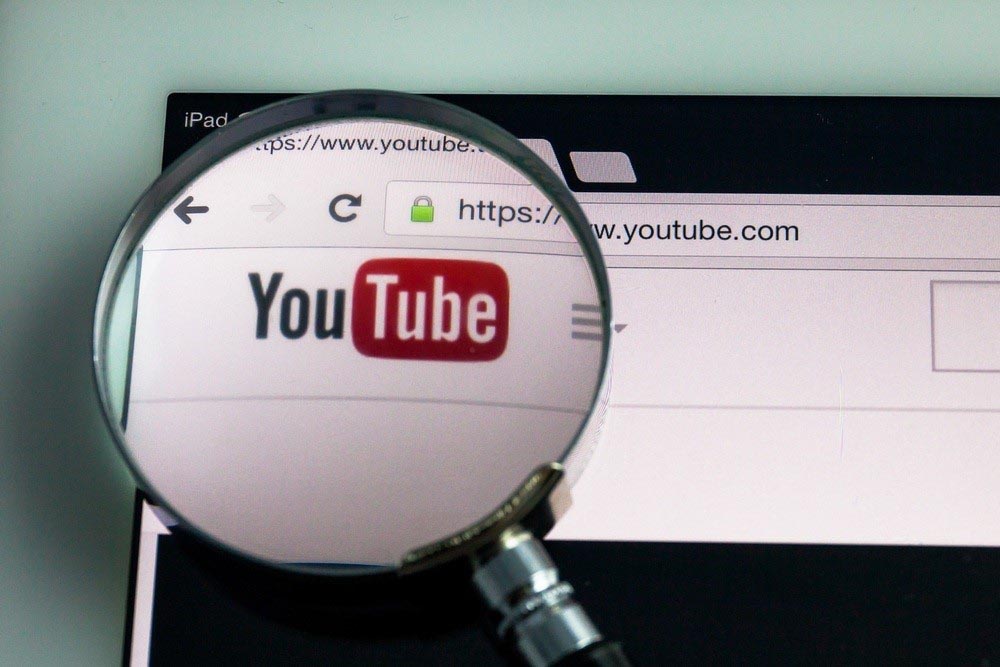 Step 2: Click on your profile image at the right-upper corner- it is a display circular image you choose for your account. A drop menu for your account will appear on your screen. If you have not yet chosen a photo, the display photo will appear as a colored circle with your initial at the center.

Step 3: On the available options, click on "YouTube Studio".- This action will then redirect you to your YouTube channel dashboard.
Step 4: Click on "Videos" option and a list of your uploaded videos will display on your screen.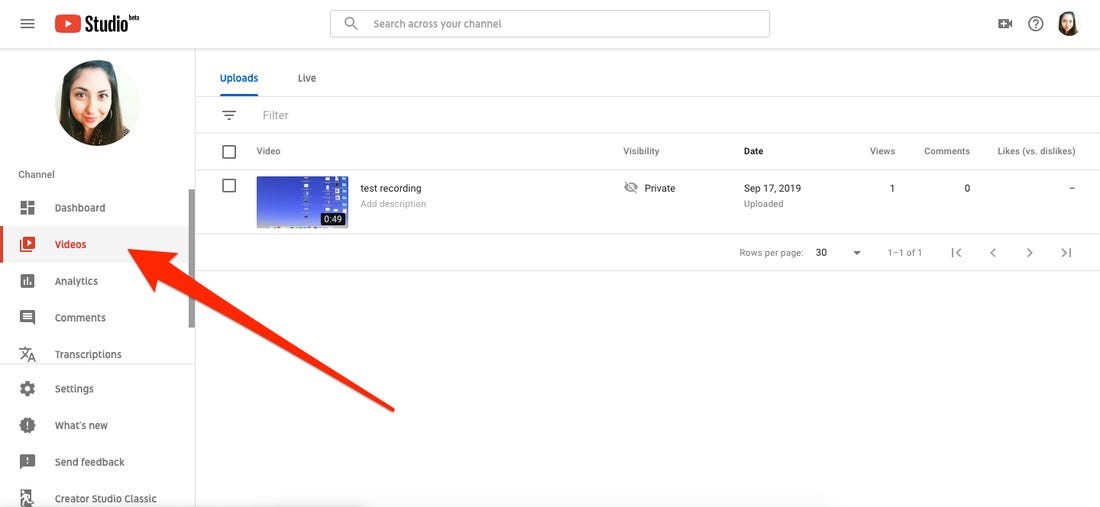 Step 5: Find the video you want to delete and move your cursor to the right and click on the three vertical dots. A drop-down menu will appear on your screen.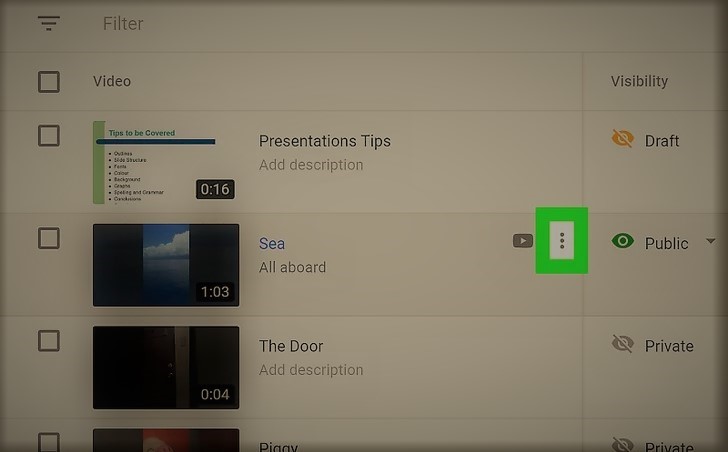 Step 6: Click on "Delete" option – it is usually the last option on the drop menu.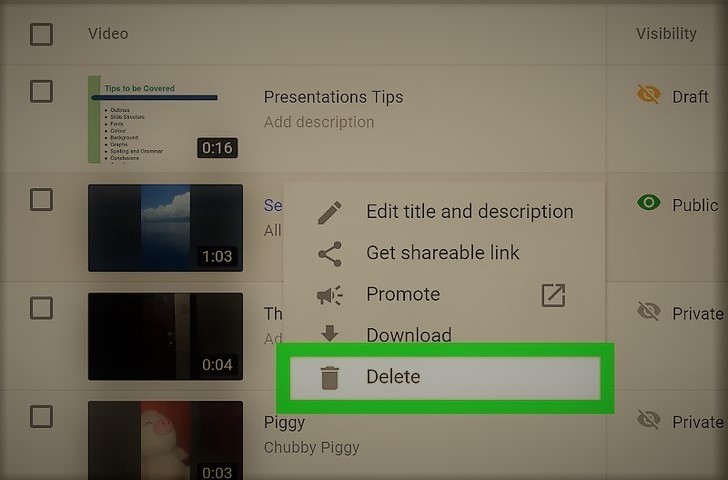 Step 7: A pop-up confirmation notification will pop up. Click on the check box to confirm the action and finally click on "Delete Video" to delete the video from YouTube.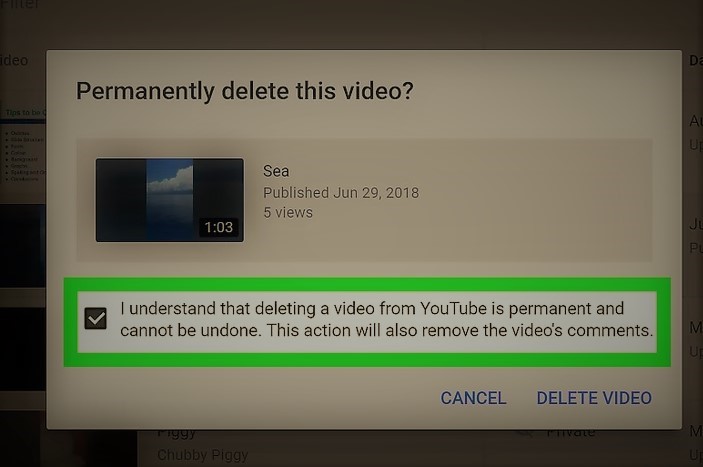 Note: Before deleting any video on YouTube, you should think long and hard before doing so. Once you delete you will lose all the comments, views and watchtime which are essential if you are essentially working to monetize your YouTube. It is impossible to recover deleted videos on YouTube- it is permanent.
How to Remove YouTube Videos Uploaded by Others
With millions of subscribers, the YouTube platform is one of the best channels to share content. However, it can be used for all the wrong reasons. Sometimes, you might encounter an objectionable video that may be detrimental to your public image or infringe on privacy rights. In most cases, the video is usually uploaded to the platform by another party.
In such an instance, it is practically impossible to remove the video from YouTubes directly- the channel owner has absolute control of the channel and all the listed contents. That, however, does not mean that it is entirely impossible to remove YouTube videos uploaded by others. YouTube has a reporting system available to content consumers to help them report contents that violates YouTube's Term and Condition or the law. Below are some general tips on how to remove YouTube videos uploaded by others.
1. Contact publisher
Before resulting in more radical solutions, it is imperative that you first try using a moderate and friendlier approach to remove YouTube videos uploaded by others. For example, you can directly approach the publisher and request that he/she removes the video from the platform. You can also leave a request in the comment section. The publisher will receive an alert, and if he is sympathetic and resonates, he/she will remove the video. If the video is not removed, you can move to the next radical option to get the video removed from the public eye.
2. Wave the flag
Raising a red flag is also another way to remove YouTube videos uploaded by others. Usually, under every YouTube video upload is a toolbar that provides users with a whole range of actions. At the far right is a flag icon. The flagging tool lets you report videos to the YouTube staff for review. You must detail the reason why you want the video removed from YouTube. If the video violates YouTube's community guidelines, the video will automatically be stripped from the platform. On the other hand, if it does not violate any of the stipulated terms, they will not bring it down, no matter how many times you flag the video.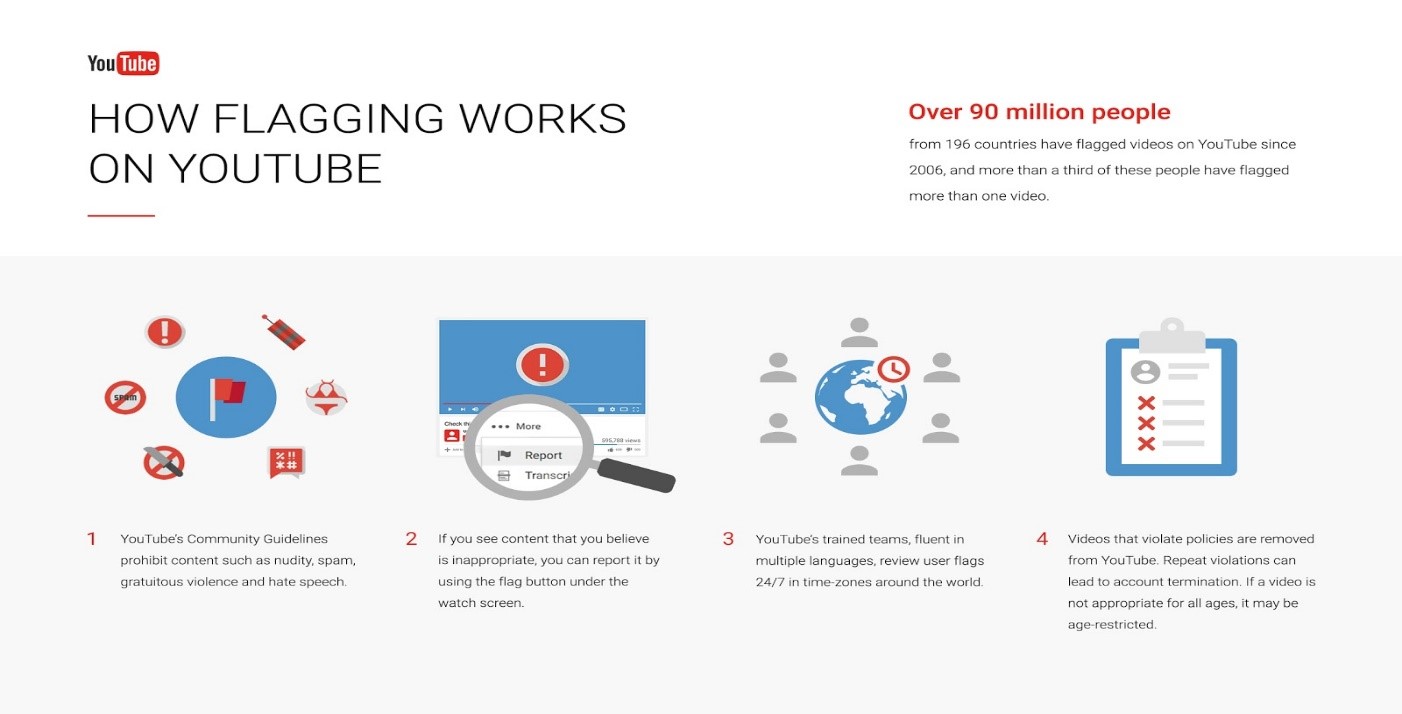 Your complaint should, beyond doubt, indicate how the video violates any of seven YouTube community guidelines.
3. More reporting options
If your complaint falls under copy and trademark violations and defamation, you are always free to explore legal processes to have the video brought down. First, you need to submit a claim via YouTube's legal web form. Accurately fill out the type of legal complaint and other parts of the form as required and submit it.
Note: Do not use legal complaint forms to submit non-legal complaints. It is against YouTube's complaint submission guidelines and may result in the termination of your YouTube account.
Conclusion
That's it! You know how to remove YouTube videos from your channel and also those uploaded by others. If you are looking to refurbish your YouTube channels with more stunning videos, it vital that you have the right video editing tool, and here, we recommend a top-rated solution for you! – the TunesKit AceMovi. It is an easy-to-use yet powerful video editor with advanced features like filter, PIP, etc. The program is built to ensure that you unleash your imagination and develop epic and stunning videos for your audience. Try TunesKit AceMovi today, and you will never regret it!