The greatest screen recording software for your Mac or PC is right here, as we all know that video material is crucial in this modern day. Proper tools are crucial for producing attention-grabbing movies, and a solid screen-capturing tool is necessary.
With the development of technology,some teachers is used teaching students with online videos. Those teachers need a useful screen recorder to recorder their PPT as a video for teaching. We've compiled a list of the best screen recorders for teaching and a summary of their advantages and disadvantages to help you narrow your choices.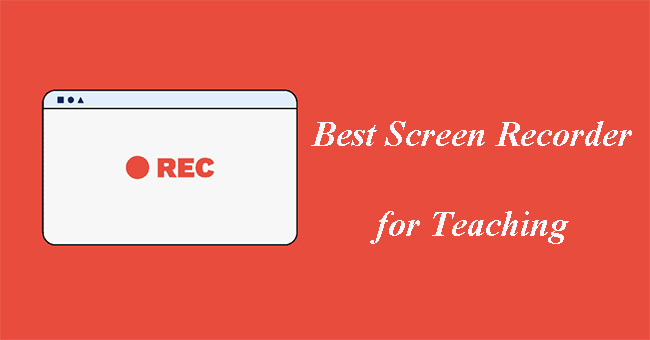 Top 1. TunesKit AceMovi
Video editing is not always simple, but it doesn't have to be that way. Using simple video editing tools, you may create a wide range of visually attractive videos that don't require much technical competence.
About video editing, the TunesKit AceMovi Video Editor has a solid reputation as one of the best screen recorders for online teaching. The program's numerous helpful features, like titles, transitions, effects, and filters, may make telling a narrative much easier. Incorporating images, video, and music into edited movies is simple, thanks to an integrated stock library.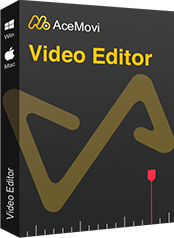 AceMovi Video Editor
Security Verified. 5,481,347 people have downloaded it.
It can be used for recording your screen on Macs and PCs.
Online call recorder to capture meetings, webinars, and video calls.
Audio recorder to record speech from microphone and computer audio.
Video recorder to capture online events, streaming videos, and gaming.
How to record screen using TunesKit AceMovi?
Download and Install AceMovi Video Editor
To start with AceMovi, download and install it on your computer.
Record Your Screen
Open AceMovi and go to the Record Screen option.
Move the cursor to the upper left section of the user profile and click on the Record icon. This will launch the Video Recorder, and a new window will appear.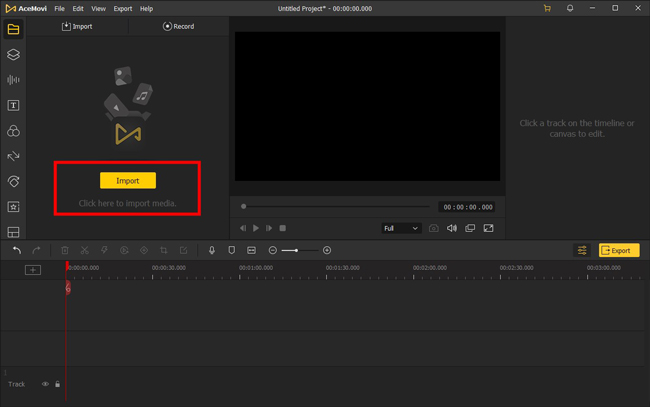 Set Up Presets Before Recording
You can start recording your screen immediately, but it's a good idea to set up presets for more control.
In the AceMovi Screen Recorder, you'll find two workflow toolbars. The top one includes basic modes like screen recording, webcam recording, and audio-only recording.
Click on Settings to access the second workflow area to set options like the save path, recording duration, shortcuts, and cursor settings. For example, to save your recordings to the desktop, select "Save to" and change the path to your desktop.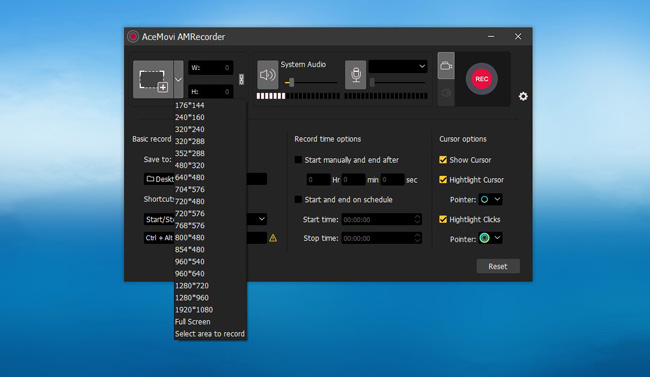 Start, Pause, Stop, and Trim
When you're ready to record your Windows 8 screen, click the REC icon.
All your actions within the selected recording area and any background audio will be recorded and saved in the Media plate.
You'll see three buttons in the bottom right corner for pausing, stopping, and trimming your recording. If you want to trim your recording, click on the scissors icon.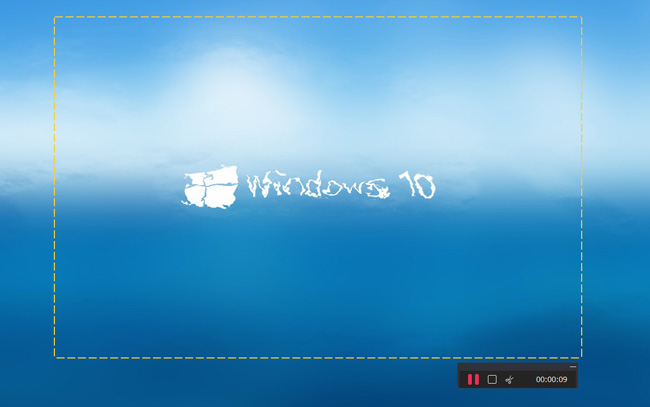 Use Elements and Effects to Edit Your Recorded Clips
AceMovi isn't just for screen recording; it's a versatile toolkit.
You can enhance your recorded clips by adding intro or outro text templates, cropping out unwanted parts, creating split-screen effects, or making slow-motion videos with the Slow-Motion Maker.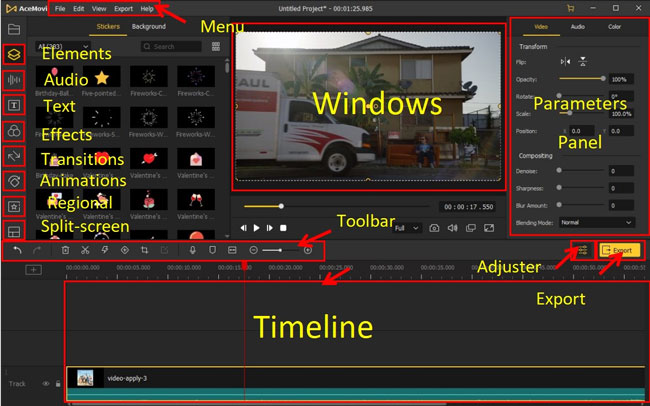 Top 2. Free Cam
Free Cam has an integrated audio and video editor and a basic free screen recording program. You may customize the size of the area you need to record, and its aesthetically pleasing and user-friendly interface allows you to record either the full computer screen or a piece of it. The fact that this screen recorder is free yet has no watermark and is ad-free is what we appreciate the best. Additionally, there are no time restrictions; you can record videos for as long as you choose.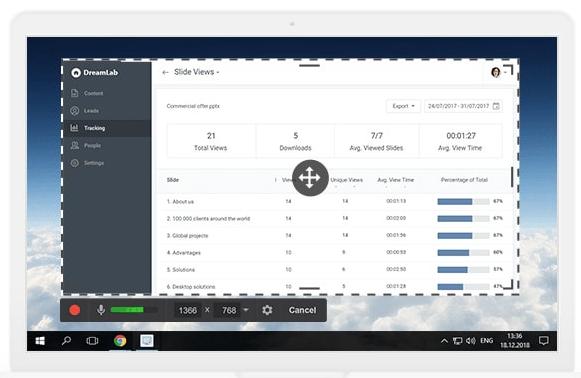 Pros:
There are no time restrictions, advertisements, or watermarks.
Removes unnecessary video fragments quickly.
Superior resolution.
Records a single window, a portion of the screen, or the full screen.
Cons:
Only saves recordings to WMV.
No video from the webcam.
Top 3. Loom
When making screen recordings for personal and business usage, Loom software is a game-changer. Its screen recording function makes it simple to provide thorough video documentation since it allows limitless recording time (with a premium plan, of course).
This function may prevent the need for pointless meetings and save critical time. Although the free edition has certain restrictions, Loom is still a great choice for small companies seeking a user-friendly screen recording solution.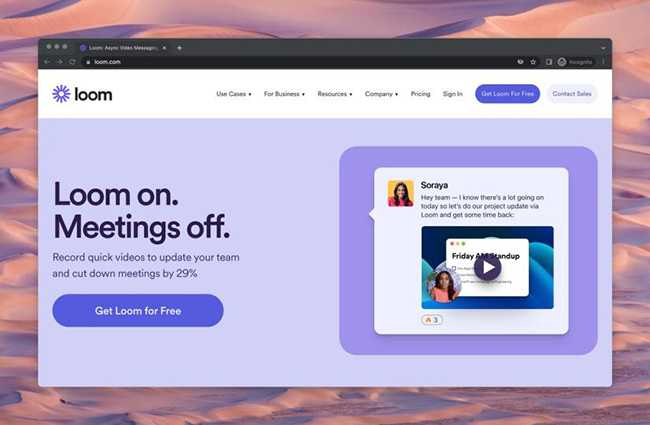 Pros:
Keep track of the views on your videos to get information about viewer interest.
Even the free version has no watermarks or advertisements.
Provides limitless transcriptions and rapid editing.
Cons:
The quantity and length of movies that may be made and kept are restricted in the free version.
The editing capabilities are somewhat rudimentary and may not be enough for more complex editing requirements.
Top 4. ShareX
One of the best screen recording software for teachers is ShareX since it offers virtually as many cutting-edge capabilities as some premium rivals. But we can't guarantee that it will work for everyone. ShareX is primarily geared toward developers and expert users since sophisticated tools and editors could confuse the typical user.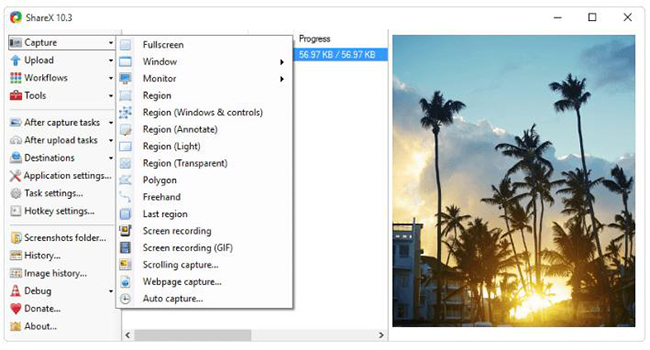 Pros:
Incorporates hotkeys to make navigating simpler and faster.
Several URL-sharing services are supported.
Imports already existing music, images, or videos.
Without advertisements.
Record the whole screen, window, area, freehand, or scrolling
Cons:
Game recordings have poor video quality.
Complex for the typical user.
No video from the webcam.
Top 5. Screen Studio
Screen Studio is another strong program for capturing and editing video on the computer screen. The nicest aspect of Screen Studio is how it captures your screen as two distinct layers, one of which includes the mouse pointer and the other of which does not.
You can effortlessly make professional-looking films with its user-friendly interface and configurable options, such as backdrop change and cursor size.
Screen Studio's main downside is the inability to export films without a premium plan, which might be a deal-breaker for certain users. Despite this, anyone searching for a dependable, feature-rich screen recording solution may choose Screen Studio.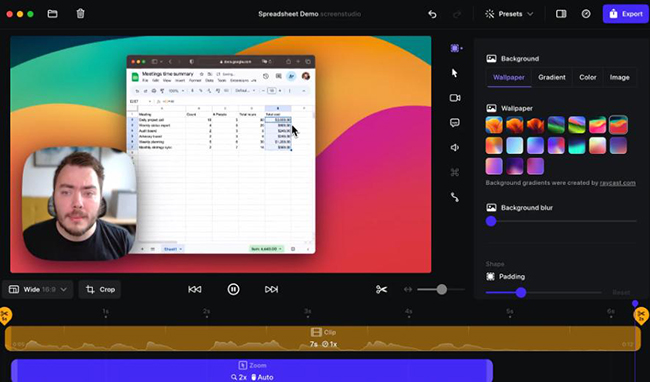 Pros:
Provides a large selection of customizing possibilities.
Allows the film to be uploaded to an editor like Screenflow and offers a highly fluid workflow.
Linux, Mac, and Windows compatible.
Enables users to broadcast their recordings live.
Provides a single purchasing option for all the features in each plan.
Cons:
Some users may find the interface to be overpowering.
There is no free version offered.
For a one-time buy, it is a bit expensive.
No support for Windows.
Top 6. Ezvid
The quickness of Ezvid, which was created expressly to save customers' time, contributes to the product's clarity. You can create and publish movies straight to the YouTube platform in just a few minutes. For this reason, this program is well-known among gamers and moviegoers who want to create YouTube films regularly and rapidly.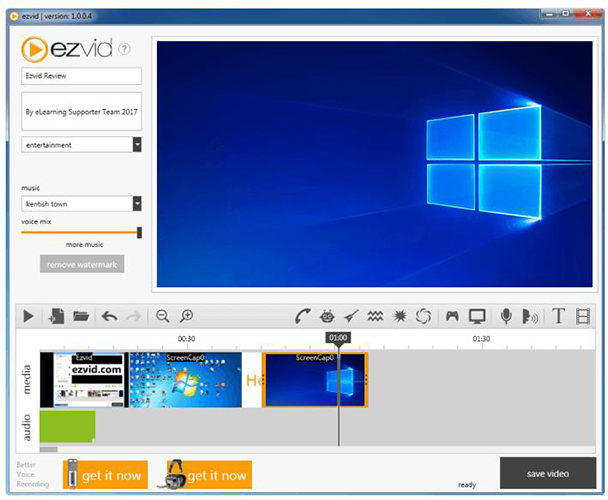 Pros:
Provides a computer-generated voice for use in narratives.
Popular music songs were included in the selection.
Contemporary and sleek UI.
Automatically set to a high-definition resolution.
Instantaneous YouTube upload.
Cons:
Reviewers complain about unnecessary noise.
Minor errors and discrepancies.
There is no full-screen game available.
Conclusion
So, here's a list of the six best screen recorders for teaching. As the adage goes, there is no "one-size-fits-all" solution for these instruments. We've tried to cover many of these screen recording programs' pros and cons. But carefully weigh your possibilities before making a choice. Consider your money, objectives, and technical requirements for the ideal tool. Among all these screen recorders, we highly recommend you use TunesKit AceMovi!