VFX, or visual effects, is picking up everywhere and has become a go-to solution to bring out stunning content in movies, with which you can unleash imagination and manipulate the story in numerous ways. Both beginners and professionals can create Hollywood-standard eye-popping effects right from the comfort of their homes with good VFX software for video editing.
It is always challenging to pick programs that are ideal for high-level editing because they vary in performance, price, customer service, features, and quality. Since a better understanding of each software will provide the opportunity to decide on the correct one. In this guide, we will review the seven best tools that you can use for VFX.
[2022] Top 7 Best VFX Software for PC and Mac
1. AceMovi Video Editor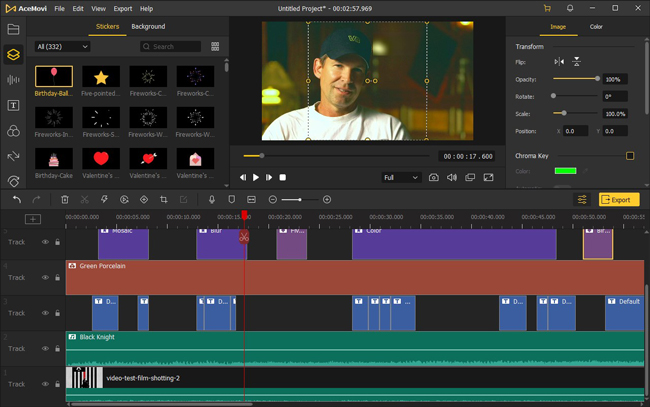 TunesKit AceMovi Video Editor is an intelligent solution for video effect editing. The platform's intuitive layout makes it effortless to make edits, saving time and energy. It features a slideshow maker, where you can create a slideshow using videos and photos and add stock music provided by the video editor.
● The basic VFX include: Filters, Transitions, Dyanmic Text Templates, Animations, Overlays, Dubbing, Color Grading (LUTs), Reverse, Blurring, Mosaic, etc.
● Advanced VFX: Green Screen (Chroma Key), Slow Motion, Fast Motion, Split-Screen, Keyframes, Sharpening, PiP, Particle Effects, Zoom Blur, Close-up, Lightning Effect, etc.
As it supports any format, device, and platform, you can save the edited video into the desired file in high quality. The video editor's significant advantage is the keyboard shortcut availability and real-time preview while editing.
AceMovi VFX Software
Split screen into 2, 3, 4, or more parts
Change background by chroma key
Zoom a video with the keyframes
Blur, mosaic, or sharpen video objects
Reverse a part of or the whole clip
Animated, moving subtitle templates
VFX are free without premium accounts
2. Blender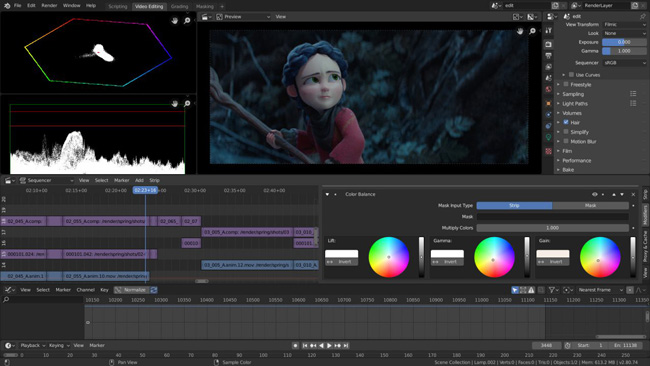 Blender is a free VFX software and is regarded as the best tool to provide special effects for 3D videos. Of course, a free tool can't offer features that match the top professional solutions. However, you exactly get them with Blender. It is all thanks to the add-ons to features provided in the tool, such as production-ready motion tracking.
This software has a multi-threaded compositor with an extensive collection of node libraries and renders layer support. It is best for modeling, rigging, animation, video editing, and sculpting and supports the entire 3D pipeline. If you need to edit common videos, switch to the basic editing mode first.
Pros:
Blender is a free 3D VFX software for Linux, Windows, and Mac
Soundtrack synchronization
Advanced LUTs for color grading and compositing
HDR lighting & PBR shaders
Manual or auto tracking
Cons:
Hard beginners' learning curve
Weak in editing common videos
3. HitFilm
HitFilm is one of the best VFX software for Mac and Windows. It consists of all the necessary features to get started with VFX editing, including motion tracking, lens flares, lighting, and keying. The other gripping feature is its ability to function in 8K resolution and 32-bit floating point color.
One of the selling points of HitFilm Express is the presence of a vast collection of VFX editing plug-ins. In addition, it has an active community of over 6.5 million VFX designers, making it an ideal platform to engage with others and gain VFX experience. The built-in drag-n-drop transitions help you seamlessly transform one scene to the next scene.
Pros:
Ready-to-wear presets for color grading
Automatically line up a video with the soundtrack
2D and 3D subtitles
Drag-n-drop seamless video transitions
8x playback speed and 8k video editing
Cons:
4K UHD, 8K video editing, and 3D preview are not allowed for free versions
Heavy system requirements
4. DaVinci Resolve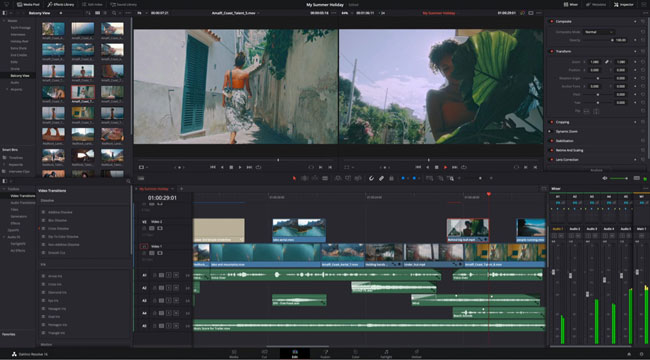 Davinci Resolve is an open-source VFX software and an essential tool in VFX, editing, motion graphics, and post-production. The best thing is it is free to use yet most video effects are paid only. In other words, you can only operate basic editing like trimming and cropping with a free version of DaVinci Resolve.
The special-effects video has a significant array of features that helps you track objects, pull keys, and create stunning particle effects. The availability of customizable templates allows the user to build their own effects. Thus, you can make a composition, define the parameter, and save it as a macro.
You can then use it whenever needed from the library by dragging it onto the clip. The node-based interface is intuitive and makes it easy to operate. You can also personalize the workflow to boost efficiency. However, registration is required if you want to add background music to the timeline.
Pros:
Customizable effects and titles
Auto trim view
Multi-cam editing
HDR color wheels
Node-based fusion editing
Cons:
Complicated learning curve
One-time purchase. Most video effects are paid
5. Adobe After Effects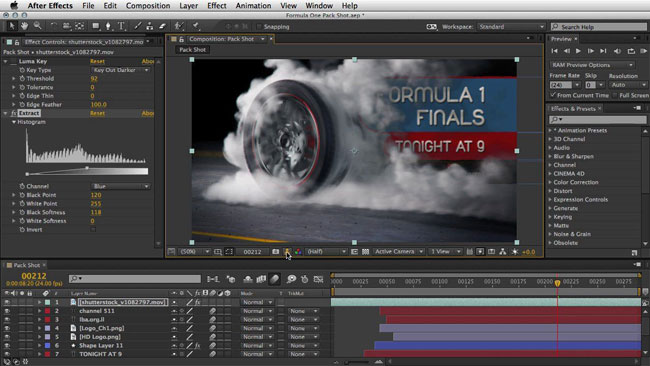 Adobe After Effects is the industry-leading and the best VFX software for PC in the paid category. The availability of high-quality features and customer support make it the preferred tool among professionals. Users have everything present in it that helps them create on-screen weather, stunning special effects, or a 3D animation.
Content-Aware Fill, Warp Stabilizer, and many more features are only available in Adobe that assist you in handling the VFX smartly and achieving an impressive result. It is also the best video effects software for beginners and professionals because it consists of enormous video tutorials offered by Adobe.
Pros:
Turn texts and graphics into motion
Hundred of intelligent presets
Remove unwanted objects in your video
Multi-frame rendering
Control the transparency of any layer
Cons:
The free trial lasts for 7 days, and you need to register to get it
It uses tons of system processing power and ram
6. Cinema 4D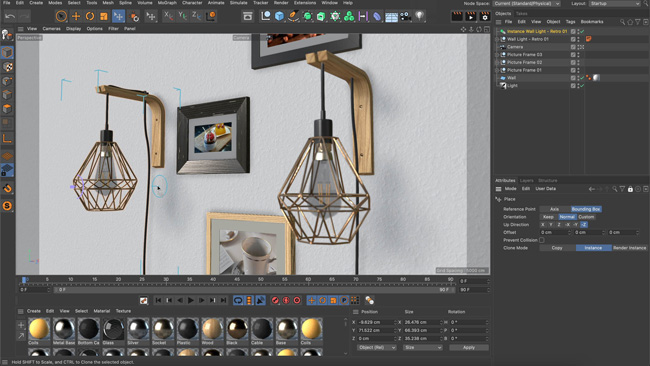 Cinema 4D, developed by Maxon, is a widely used 3D VFX software used in Hollywood. You can use it for 3D animation and VFX graphics as per the need. The software is chock-full of sculpting, modeling, and texturing tools that help create models and scenes with ease. It also has a powerful motion-tracking tool that allows you to integrate 3D objects into any footage.
The intriguing highlight of the software is Mograph. With the help of the mechanism, you can control and link effects together, create shattering effects, and use the cloner feature to duplicate objects in numerous ways. Cinema 4D is also notable for its active integration with other software, especially Adobe products.
Pros:
Contains most-wanted 3D sculpting and modeling features
Standout cloner object allows you to duplicate anything
Go-to system for designers who make podcasts
Thousand of user guides to soften the learning curve
Multi-layered material channels
Cons:
Its cost is a big problem
Bodypainting and UV editing requires high-end RAM
7. Maya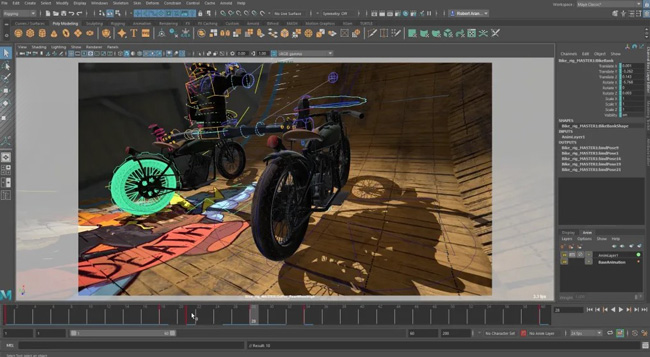 Developed by Autodesk, Maya is amongst the best VFX software download for PC. It is a robust editor consisting of many special effects and is used extensively throughout Hollywood. The platform provides an excellent collection of editing features that help editors bring out their imagination and add life to their characters.
The easy-to-learn curve makes it adaptable for a beginner or a professional who uses a different VFX software. Maya is highly praised for its performance, animation features, modeling, and simulation. With the help of physics, you can create a realistic environment and action scenes that will be difficult to differentiate from the real world.
Pros:
Provide characters with engaging animations
Detailed 3D object modeling
VFX software used in Hollywood
Motion-capture handling
Cons:
The dreaded user experience of 3D
Cumbersome node-based editor
5 Best Video Effcts That Have Been Widely Used in Video Edting
Here are some of the top video effects used for making videos. You can get hang of the definition of them. As a matter of fact, those effects are supposed to be composed and mixed in one clip. Let's go to review the best VFX, and use them on our video with TunesKit AceMovi. If you want to know more about effects, you can visit TunesKit AceMovi in YouTube.
1. Chroma Key (Green Screen)
Simply put, Chroma Key is designed to change the video background into VR or a much more amazing one. It is also called a green screen, which shoots a clip against the solid-color background, and changes that background canvas or replaces it with transparency.
2. LUTs
LUTs is one of the techniques for color grading and balancing in professional film-making. You can use it to improve the appearance of the footage and give a feeling of advanced filters. The types of LUTs contain Calibration LUT, 3D LUTs, 1D LUTs, Look LUTs, Viewing LUTs, and Log normalization.
3. Masks
The masking VFX is used to duplicate, modify, reveal, and hide footage that empowers you to pick up a meticulous piece of a frame or try more video overlays in video editing. As a portion of the footage, the Mask can be selected or automatically displayed by brilliant VFX video editing software introduced in this posting. More significantly, creating a template or custom frame is allowed.
4. Motion Tracking
When it comes to the highlights in sports, video games, or action movies, motion tracking plays an important role in detecting the movements of a specific object within a scene. Subtitle, icon, caption, and motion will be auto-detected in the whole process. This feature is applied for advanced features for keyframes.
5. Particle Effects
Some video effects stay away from reality, such as Particle Effects, which have been used widely in motion graphics, video games, and movies. Normally, you can try it for replicating a frame from smoke, fluid simulations, people crowds, explosions, plasma, and more.
VFX Frequently Asked Questions
A. What is VFX used for?
With the help of VFX software, it is possible to create characters or environments that do not exist on a set. Cinematographers and film directors work with VFX directors to determine which scenes require visual effects. The use of VFX has grown exponentially in recent times because it has become too dangerous to shoot a particular scene involving real objects.
B. Why is the green color used in VFX?
The primary reason for using green in VFX editing is that the color gives the best separation to the foreground. The secondary motive behind using the green color is the availability of technology that helps extract green screens. Finally, green in VFX is essential because it is the most luminous and stands out when compared with others, making it difficult to get mixed up with shades of the RGB spectrum.
C. Can we do VFX editing on mobile?
With the help of the best VFX apps, it is possible to do VFX editing like a pro. The majority of these video editing programs are operable for both Android and iOS devices. However, ensuring that the application performs well for editing VFX on a mobile is essential. It's wise to try TikTok and InShot if you don't mind the exporting watermarks. While VN, Adobe Premiere Pro, and Splice come with no watermarks.
Lastly
Today, viewers like to engage in movies. Therefore, visual effects have become an essential part of a movie in achieving what viewers desire to see on the big screen. With the help of the best VFX software for PC or Mac, an editor can create an environment that grabs the audience's attention and their psychology.
The list discussed here consists of the tools that are extensively used by beginners and professionals. We hope the details will add to your benefit in picking up the correct software that helps you edit footage.