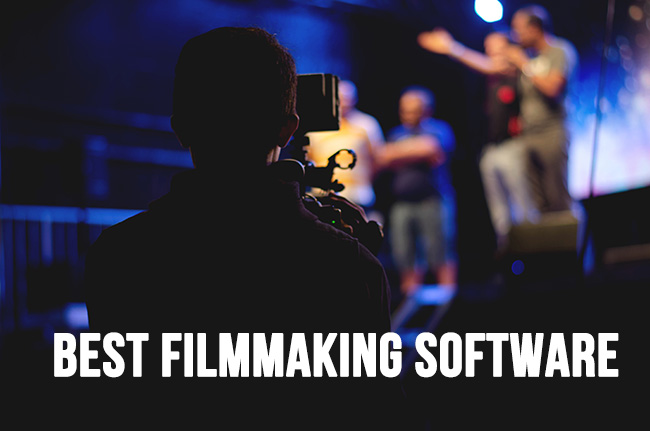 Do you want to learn how to make a film by yourself at home? Now, more and more amateur filmmakers are going to make their own work and upload it to the social media platforms like YouTube. However, filmmaking is not an easy job for a Greenhand, and you need to prepare a lot before you start your film work. And here in this post, I will recommend some powerful filmmaking software that can help you cut and edit your video clips. If you are now finding a filmmaking software that can help you edit video clips, this post is for you. Read it on.
Top 1. AceMovi Video Editor
If you are a filmmaking beginner, AceMovi Video Editor is the best choice for you. AceMovi Video Editor is a multifunctional video editing program with a bulk of film editing features. When you need to edit a film, the built-in feature of AceMovi can help you improve your video quality with ease. Besides, it has a simple yet professional user interface, so most users can make advanced video editing without learning professional editing skills. Besides, AceMovi has various video editing resources like background music, stickers, background images, sound effects, etc. What's more, AceMovi supports the mainstream video formats that users can export their film works to any format they want.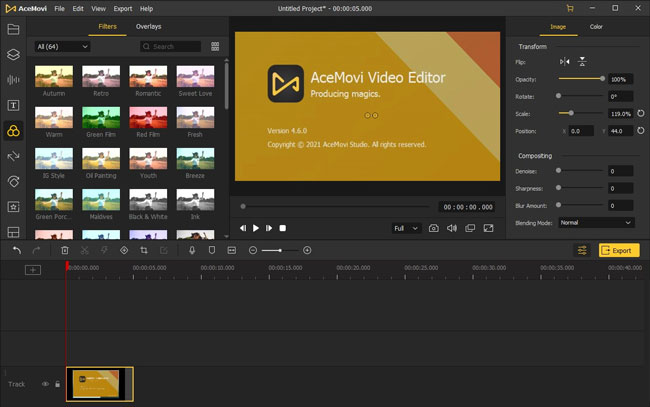 Pros:
1. Has a bulk of video editing resources and templates that can use for free.
2. AceMovi has powerful film editing features for advanced video editing.
3. The green screen feature is very useful in filmmaking
4. This program is available on both Windows and Mac operating systems.
5. AceMovi has a concise and beginner-friendly interface.
Top 2. Davinci Resolve 18
When it comes to filmmaking, Davinci Resolve is always one of the best-recommended filmmaking software. Davinci Resolve provides a wonderful video editing feature for users to make their movie looks better. The color grading feature of Davinci Resolve is one of the most important features of Davinci Resolve that can help users to make improve the color performance of their videos. However, Davinci Resolve is not a very good choice for beginners. If you are new to filmmaking, try using another tool would be better.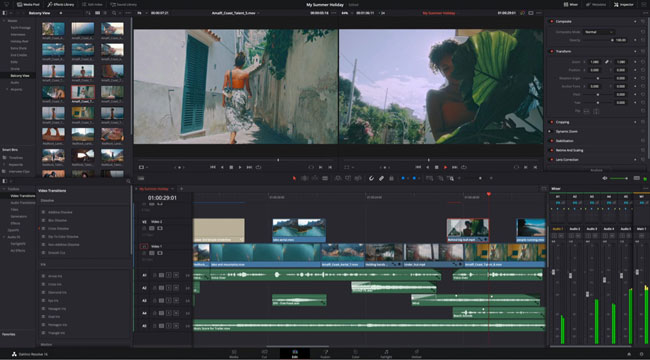 Pros:
1. Performs very well in color grading
2. Has a bulk of advanced video editing feature
3. Can help you improve your film video clips with ease
Cons:
1. The user interface is a little hard to use.
Top 3. Vegas Pro
As well-established filmmaking software, Vegas Pro will not let you down when you are going to make a film. Vegas Pro has outstanding video editing features for users to choose from, which can help both pros and green hands to edit films. This filmmaking program has designed a professional user interface and UI so that users are available to finish their filmmaking work without encountering too many hassles. It is worth noting that Vegas Pro has a high hardware requirement, and it may work laggy in a low-end PC.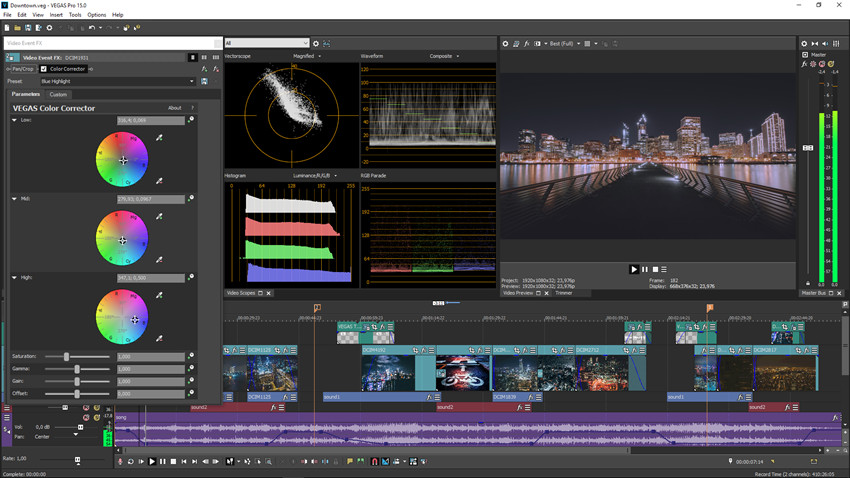 Pros:
1. Has lots of professional and advanced video editing features
2. This program is beginner-friendly
3. Users can make a cinematic film without encountering too many hassles
4. The user interface and workflow and very convenient
Cons:
1. Does not work well in low-end PC
Top 4. Cyberlink PowerDirector (Free)
If you want a free option to start your filmmaking, PowerDirector is suitable for you. Most features of Cyberlink PowerDirector are free to use and there will be no watermark left there after finishing the filmmaking. With studio-quality AI tools, users can edit their film projects like a pro and create video content very easily. This program also allows users to record the computer screen with the built-in screen recorder. What's more, the motion tracking and the multi-cam features of Cyberlink PowerDirector are very powerful so users can use this filmmaking software to edit a great and professional film.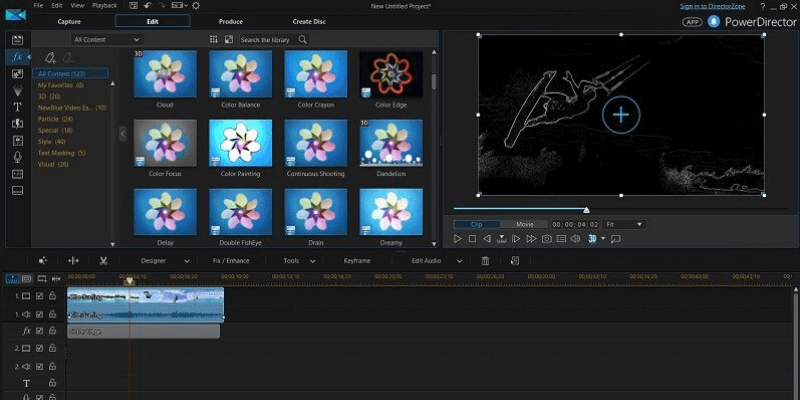 Pros:
1. This is a free tool and users can use most features without watermarks.
2. Has a lot of AI tools and templates for users to use.
3. The motion tracking feature and the multi-cam feature are very useful
4. The user interface is simple and effective.
Cons:
1. Sometimes users can't download the templates correctly.
Top 5. Kapwing Video Editor (Online)
Kapwing is an online filmmaking tool and users can use Kapwing to edit and create film projects without downloading any software. It provides basic video editing features for users to edit their films by rotating, adding filers, cutting, or trimming. Kapwing has a huge resource library and users can download and use video editing templates for free. Though it is an online filmmaking tool, Kapwing supports 4K video editing and users can export their videos in mainstream formats.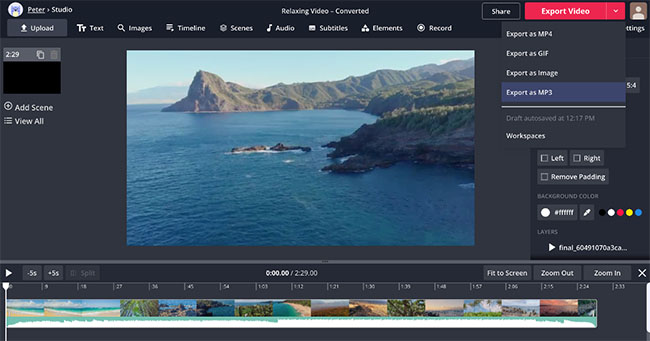 Pros:
1. You can use this filmmaking tool online without downloading
2. Can make basic video editing with the built-in feature
3. Has a bulk of video editing templates in the resource library
4. Supports up to 4K video editing
Cons:
1. Does not have too many advanced video editing features.
Conclusion
Filmmaking is always a challenging and funny job if you are interested in making films or video clips. Making a film is not like making a vlog and you should pay a lot of attention and time to polish it. Therefore, choosing professional and easy-to-use filmmaking software can help you make your film better with fewer time costs. The above 5 tools are all well-established and you can pick one up to start filmmaking. You can try using AceMovi Video Editor to unleash your imagination with professional video editing features.