Lighting, as one of the most important components of video, not only helps to create an atmosphere of the film, vlog, documentary, or realism, but also naturally enhances tone and pace. But sometimes you'll find that when you playback the video you shot, the lighting effects seem too bright or too dim. Another bad experience is that you may get lost in front of so many professional video lighting parameters like EV(0), ISO(300), S(1/10), WB(AUTO), AF(MF) ... Is there any solution? In fact, all you need is a good video editing tool.
If you're trying to find such a video editor used for lighting enhancement, just scroll down to read further and herein we're so happy to share with you the 10 best free video lighting editors for for PC, phone and online.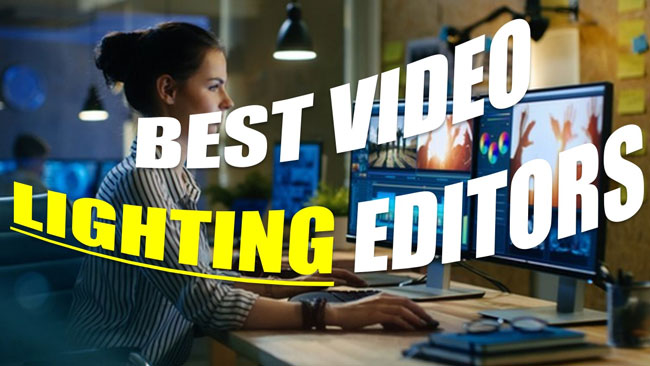 [2022] Top 10 Best Free Video Lighting Editors on Windows/Mac/Mobile/Online
Top 1. AceMovi Video Lighting Editor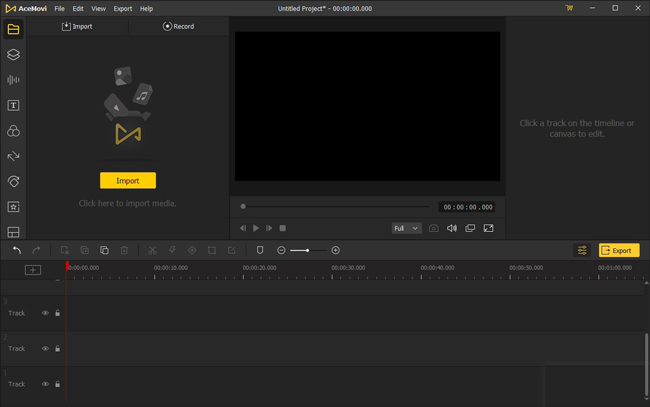 As one of the best all-in-one video lighting editors, AceMovi Video Editor covers all small editing features such as video trim, crop, split, cut, convert, and rotate. Speaking of the video and audio formats propped by AceMovi, you can download the new-made clips into HD AVI, HD MKV, HD WMV, HD MP4, MPEG-1, MPEG-2, GIF, etc. Most importantly, AceMovi helps in editing the video lighting by the methods of adding a proper filter & overlay, changing the color background as well as setting the numbers of saturation, hue, contrast, and brightness.
When it comes to the operating system, AceMovi is compatible with both Mac & Windows 10. And users are empowered to try all of the advanced video editing features on the trial version like how to make slow-motion videos, how to use the split-screen effect, and how to blur videos. But if you want to get the watermark-free service, it's suggested to pat the subscription fee at $59.95/Perpetual, $39.95/Year, or $19.95/Month. Here you can download AceMovi directly.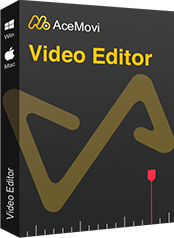 Key Features of AceMovi Video Editor
Security Verified. 7,112,006 people have downloaded it.
Pros:

Import the video that needs lighting improvement easily
Able to edit many lighting elements like contrast, hue, saturation, and brightness
Add regional effects, filters, and overlays to make the video lighting look even better
Easy-to-use & you can edit videos without tutorials
No times/duration limits on the trial version
Provide a very cheap & flexible premium edition
Export lighting-improved videos at the AutoFit format for YouTube (MP4, 1080p, 16:9, & h.264), Vimeo, Facebook, etc.
Cons:

No motion-tracking feature
A Quick-Start to Edit Video Lighting by AceMovi Video Editor
Launch AceMovi
First thing first! You need to download and install AceMovi on your desktop including systems of Mac and Windows 10. When it is over, try to click that icon to run AceMovi.
Import the Lighting-Error Videoss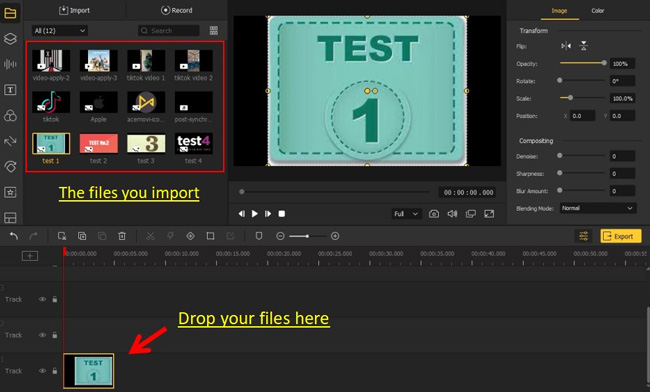 You can achieve this step easily via dragging-&-dropping the target files under any of the interior tracks.
Edit Video Lighting by Properties (Method 1)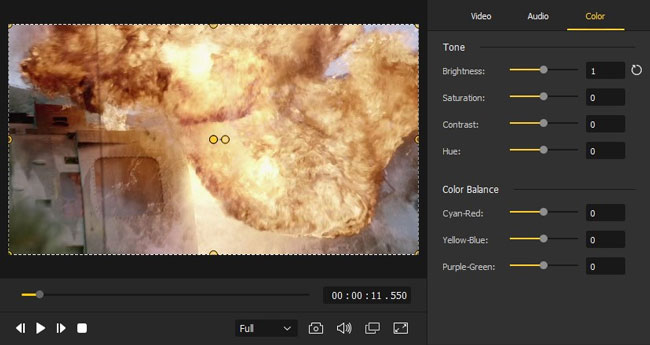 To do this, you should click that track clip and go to the Properties > Color on your right-hand. Later you'll be able to edit videos with some lighting effects such as saturation, brightness, contrast, hue, Cyan-Red, Yellow-Blue, etc.
Edit Video Lighting by Filter/Overlay/Regional/... (Method 2)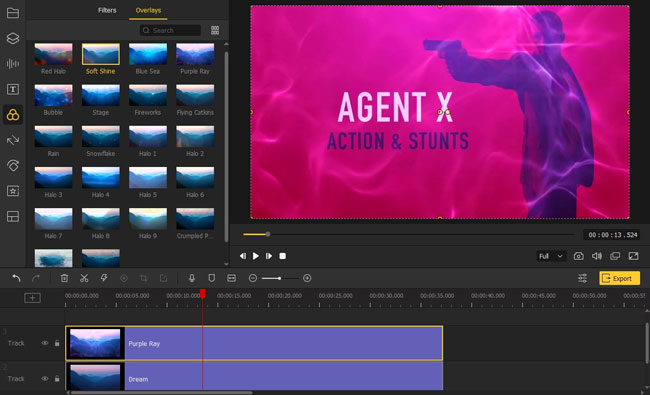 There are 9 item trays embedded on the leftmost part, if it is all possible, you can unfold the Effects tray (5th) or Regional tray (8th) and then drag-n-drop your wanted lighting effect under a new track.
AceMovi contains around one hundred video filters and overlays like Warm, Maldives, Green Film, Retro, Oil Painting, Emboss, etc. By the way, you can also edit the scale and strength of the filter/overlay effect by going to the Properties > Effect > Transform.
Download the Lighting-Improved Videos
AceMovi is very powerful in converting and compressing videos. In the following, let me show you how to export videos for YouTube TV: Go to the Export when you've finished video lighting editing > Web > YouTube > Export.
And if you'd like to compress videos, try to go to the Export > Settings > Custom > Video/Audio > Resolution/Codec/Frame Rate/Quality/...
Top 2. iMovie Video Lighting Editor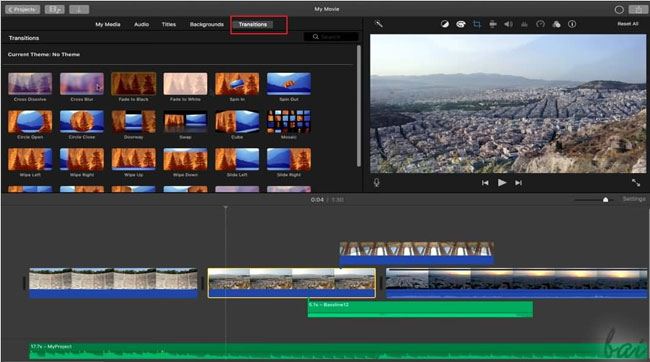 If you have a Mac device, you don't have to look further for a video lighting editor software because you already have iMovie. There are plenty of ways for you to change the lighting of a video using iMovie. You can change the brightness, adjust shadows, or manipulate saturation & contrast in the videos. iMovie even has an automatic color adjustment feature.
Obviously, the downside to this is that it's only compatible with Mac. But if that is already the ecosystem that you are working on then knowing that it exists will make your video light editing life much easier.
Pros:

Completely Free video lighting editor without any watermark
Beautiful timeline panel
Motion-tracking effect to help you hit keyframes
Various video lighting parameters to try
Cons:

Windows users will be declined by iMovie
Top 3. FilmoraGo Video Lighting Editor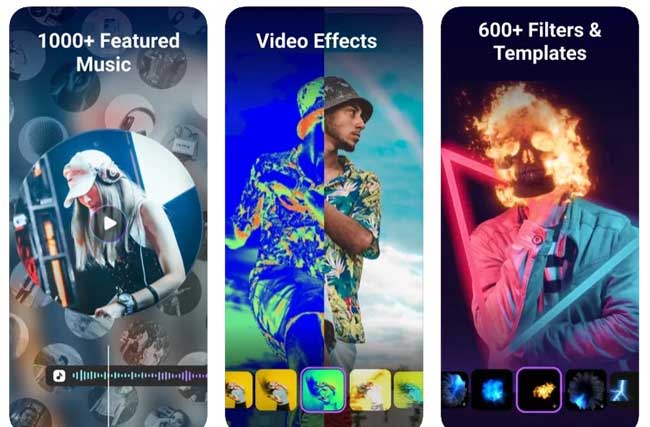 Suppose you are looking for a free online video editor with more lighting effects, FilmoraGo might just be what you are looking for. This app is compatible with iOS devices, and you can download it for free. However, some features have to be purchased for you to access it.
This video lighting editor app has a straightforward layering UI, making it very beginner-friendly. You can use it to brighten up videos even if they have 4k resolution. You're also allowed to trim clips, apply filters, or add a music background with this app.
Pros:

Video lighting editor app for iPhone/Android
A plethora of featured music & effects
600+ filters & overlays to edit the video lighting
Able to edit 4K videos without lag
Cons:

Need to cost for some updates
Top 4. Kapwing.com Video Lighting Editor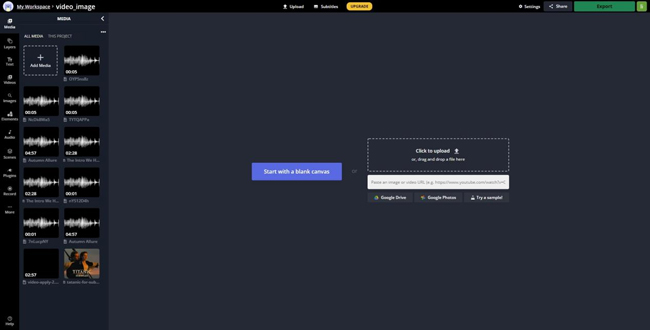 Kapwing.com is an easy-to-use online video lighting editor and the most salient character of it is you can import videos via pasting URL. As we all know, YouTube videos cannot be downloaded directly so you can edit YouTube videos with Kapwing.com very conveniently.
If you want more services like 1080p export or bigger storage, you may need to order the premium version. Fortunately, the trial version is watermark-free to use.
Pros:

No watermark added
URL-import for users from YouTube, Facebook, and other online platforms
Libraries of video templates
Edit video lighting online easily
Cons:

Pay for 1080p and higher quality export
Top 5. Magisto Video Lighting Editor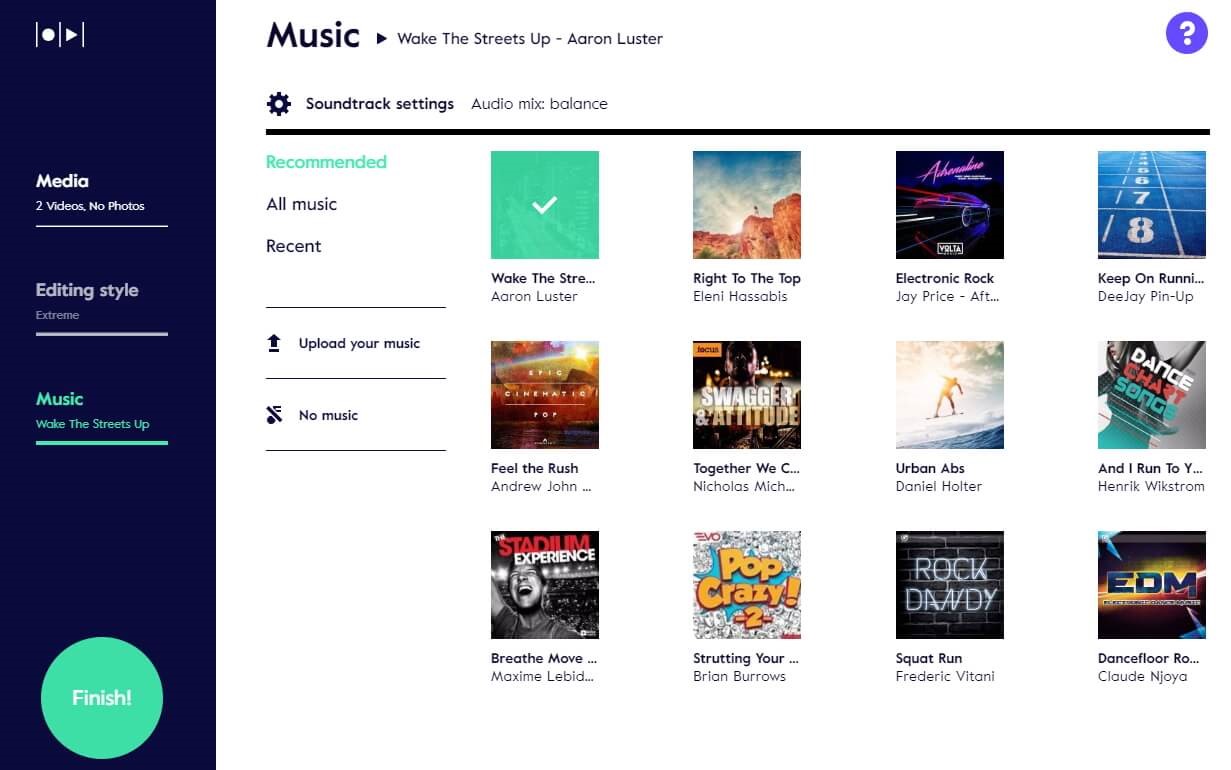 What separates Magisto from the other video light editing editor is that it utilizes AI technology that assesses which parts of the video require brightness adjustment for more coherent and consistent results. Aside from the AI-powered video lighting capabilities, this app also has other essential video editing features like stabilization, facial recognition, auto-cropping, filters, effects, and many more. You can also download this for free on Android and iOs devices. However, the free version has pop-up ads which can be quite annoying.
Pros:

AI-powered video lighting editing feature
No watermark will be printed upon
Many types of aesthetic ready-made video templates
Easy-to-learn tutorials
Cons:

10-min long limitation with the free version
Top 6. Shotcut Video Lighting Editor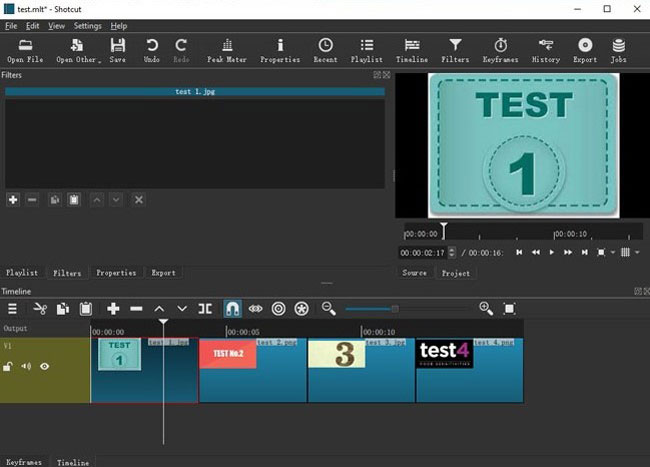 Here's another free program that does not require extensive video editing knowledge - Shotcut. It has plenty of video effects and filters that you can use to transform the lighting of your video. With this, you can make your videos social media ready without much effort. Meanwhile, Shotcut also provides users with a slideshow creator by which you can make photo slideshows easily.
Pros:

Watermark-free video lighting editor
Advanced peak meter detection
Lots of filter genres to apply
Clean user interface
Cons:

Not suggested doing bath editing
Top 7. Ultralight Video Lighting Editor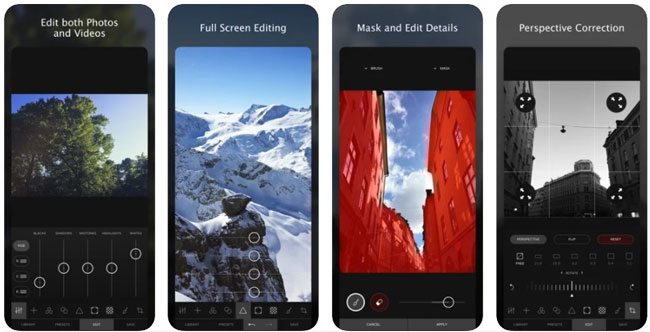 When you open Ultralight, the first thing that you might notice is its complex interface with many drag options. This particular interface aspect allows you to manipulate the video with exact precision. Ultralight is an elegant app with straightforward but effective video light editing capabilities for iPhone videos. You can download this for free, but it is only compatible with iOS devices.
Just like the other items on this list, Ultralight also has a downside. It does not have old video filters such as frost, which is why if you want a classic lighting vibe on your videos, it is better to pick another video lighting editor app.
Pros:

Full-screen video lighting editor app
Use the Mask effect to see more details
Nonlinear editing workflow experience
Various video filters and overlays
Cons:

Not for Android users
Top 8. PowerDirector Video Lighting Editor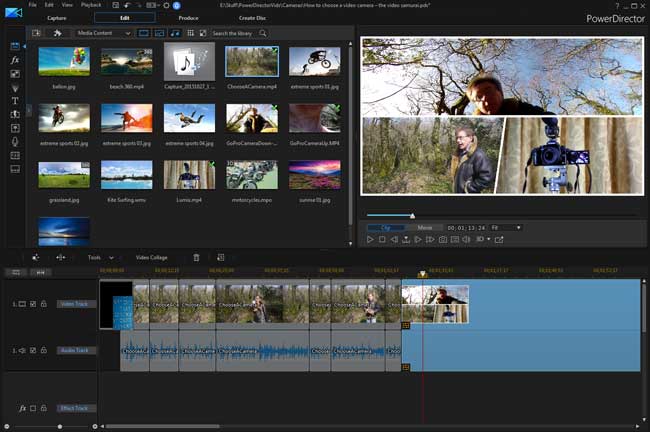 Suppose you are looking for an advanced video lighting editor that won't break your bank. In that case, PowerDirector might just be the right fit for you. It has a dedicated lighting adjustment option so that you can easily improve or manipulate the lighting of your video.
This tool also has advanced features such as keyframing, 360 and 4k footage editing, and motion tracking. Despite all of its advanced features, the interface is user-friendly.
Pros:

Unlimited user tracks
Support 130/VR footage editing
Many more filter types to edit video lighting
Motion-tracking effect to help you catch keyframes
Cons:

1-month free-to-use for each account
Top 9. Final Cut Pro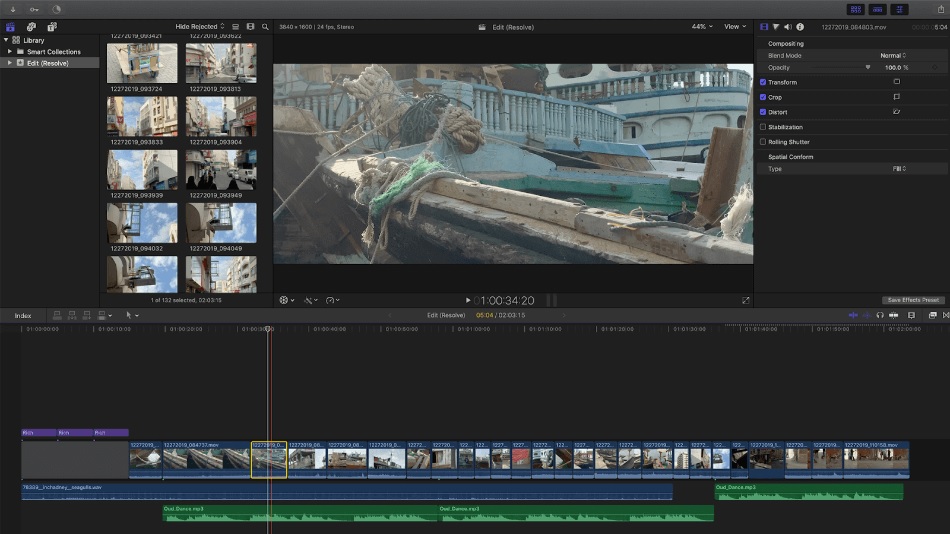 Final Cut Pro is a powerful video lighting editor that has plenty of video manipulation features and filters. It is only compatible with Mac (macOS Big Sur 11.5 or higher+). With this tool, you can edit the lighting of HDR and 360 footage as well.
However, it can be a bit complicated to use because it has tons of features, so it is not recommended for beginners. Normally, users will have a 90-day free use authority but every new-made video will be added with a brand watermark. And the pricing policy of Final Cut Pro is one-time at $299.
Pros:

Support HD, 4K, and even 8K video lighting editing
Convenient user tracks - unlimited
Going smoothly so cannot find any video lags
3-month free-to-use authority
Cons:

One-time purchase plan only & the free version has embedded with a watermark
Top 10. FlexClip.com Video Lighting Editor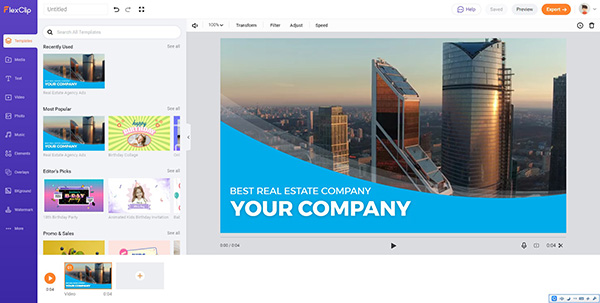 Coming with many more free online video editor lighting effects, FlexClip.com can be a very good option to choose from when you're planning to edit video clips just shot. As usual, you need to register in and get your account then FlexClip.com will leave you with a tip about whether you're preparing to try a video template for social media like TikTok, YouTube, Facebook, and more.
The lighting-improved videos won't have any watermark when you download videos but different from Kapwing.com, you need to choose the tools one by one like Slideshow Maker, Meme Generator, Merge Videos, Compress Video, etc.
Pros:

Watermark-free online video lighting editor
Lots of video and music templates to choose from
Very easy to get hang of
Includes all small video editing features
Cons:

Not good for batch video editing
Final Verdict
Although the above 10 video lighting editors differ in terms of OS, features, and prices, all of them help you manipulate your video's lighting successfully. For more interesting features and useful tutorials, just give it a try!