In today's digital world, video editing can make it or break it for your social media. Whether it's a product review footage or your best friend's birthday video, adding some cool effects, filters, or sounds can add glamour to your social content. This, in turn, improves your audience engagement and helps drive your brand's success.
So, it makes sense to use editing software, especially those automatic video cutters, subtitles, and tuners that have become a trend. Don't worry; we're not talking about the advanced auto tools that come with pricey subscriptions. Luckily, there are powerful tools that won't cost you a fortune. Read this article to explore and learn the main features, pros, and cons of the top 11 auto video editors. Let's dive in!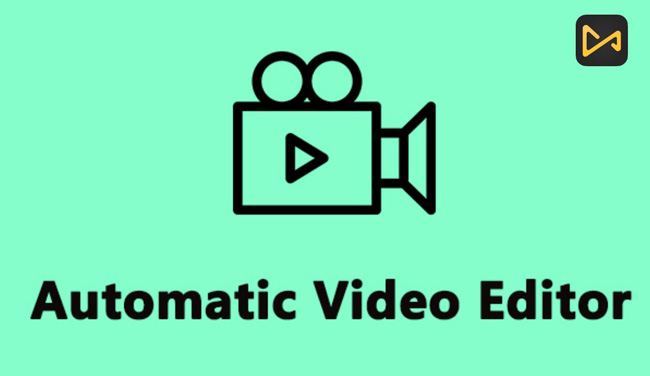 Wisecut Online Free Auto Video Editor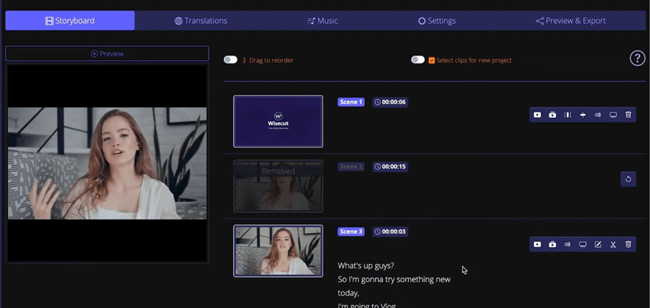 No video content creators will decline the features to automatically remove silences, recognize a voice, cut footage, add subtitles, and enhance background music. As one of the best auto video editors free online, Wisecut harness the AI power and voice recognition to help you create videos automatically.
On the basic version of Wisecut, you don't need to spend a penny to get the service of 45 minutes export per month, 720p resolution, 2 GB free storage, AI Storyboard, YouTube Integration, Subtitles Auto Translation, Auto Cut Silences, Smart Background Music, and Auto Subtitles. However, only with the Professional version can you export videos up to 300 minutes per month and enjoy the full Subtitle Auto Translation.
Pros:
Auto cut and auto subtitles
Add background music to videos smartly
Use AI caps to engage audiences
Export at 720p for free
Storyboard-based workflow interface
Perfect from YouTube videos, tutorials, podcasts, vlogs, and online courses
Cons:
Limited services and features in the trial version like Subtitle Auto Translation
Kapwing Online Free Auto Video Editor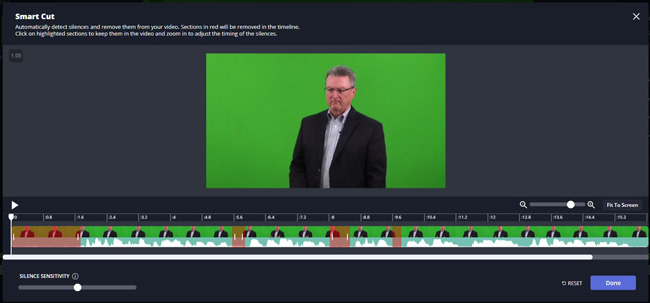 Compared to Wisecut, Kapwing.com provides users with a ton of ready-made templates that are embedded with high-quality texts, volume, colors, speed, and filters. You can use it for free on mobile phones and desktops. So you can also say Kapwing is an auto video editor app for iPhone and Android.
Kapwing features an auto-cut video editor with which users can automatically detect silences and remove them smoothly. The tutorial is placing the red section in the timeline, clicking on the highlighted parts, and taping the Done icon.
Pros:
Silence sensitivity adjustment
Upload video via URL
Drag-n-drop interface
A vast option of video templates
Rotate/flip/mirror videos
Cons:
HD export is not allowed on the trial version
Long-time downloading
Biteable Online Auto Video Editor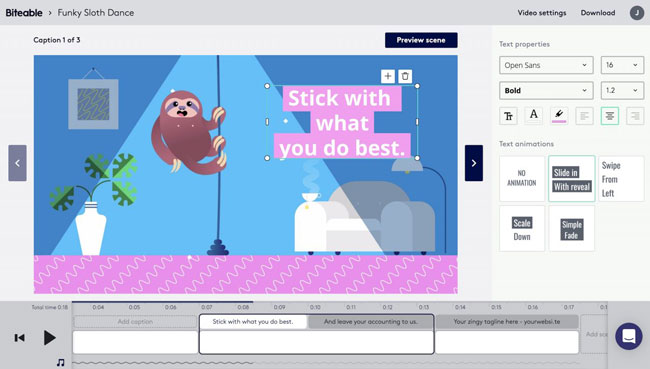 Designed for both beginners and professionals, Biteable is a top-notch auto video editor online. Slideshows or social ads or promotional videos; you name it, and Biteable will do its magic. It offers studio-quality animations, stock clips, images, and royalty-free music to make your editing experience worthwhile.
One of the most notable advantages of Biteable is that you don't need to install or download anything because it is a web-based program and completely free to use. You can create videos with auto subtitles and music i templates for advertising, business, corporate, sales, or training.
Pros:
Web-based editing software
Custom uploads
Rich stock library
Chat and email support
A variety of creatives
Cons:
Exports video with watermark
InVideo Online Automatic Video Editor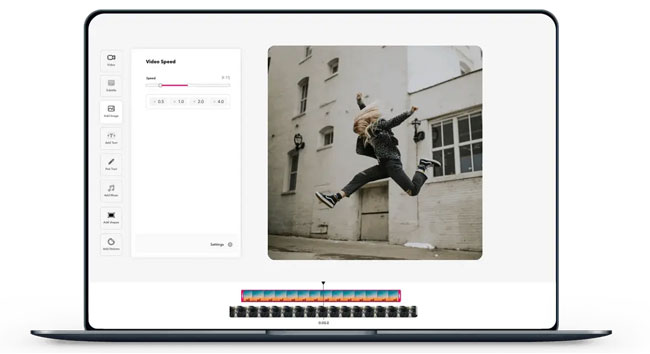 InVideo is yet another web-based editing software that is perfect for beginners. The editing process with InVideo is quite straightforward and efficient – thanks to the decent interface. Although it is an online platform, it is packed with the robust features necessary to produce stunning videos.
You can browse through 3500+ pre-designed templates to choose one that suits the feel and look of your content. All built-in video templates are decorated with auto subtitles, background music, color grading, and speed effect. Also, it allows over 60 video exports per month with InVideo.
Pros:
No watermark
1G+ cloud storage
An expensive stock library
3500+ built-in video templates
Cons:
Cannot add multiple files at once
AceMovi Windows 10 Video Editor Auto Save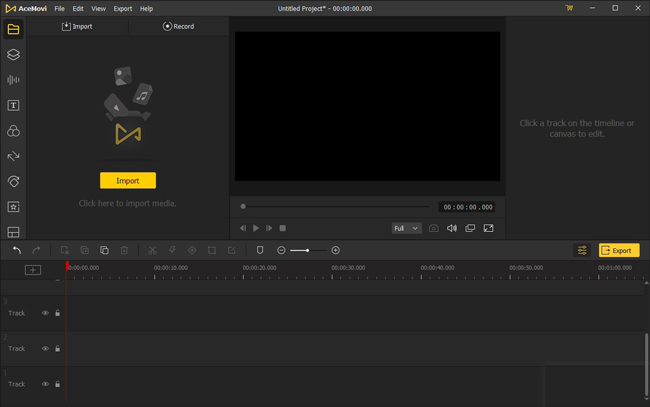 AceMovi is the best overall auto video editing tool available for personal and business use. Fiercely competitive with a simple and user-friendly interface, AceMovi helps users make eye-catching video clips with ease and save the footage automatically. Using its suite of creative editing tools such as crop, rotate, split, adjust speed, etc., you can produce magical stories.
What's more, some advanced features like keyframing, green screen, PIP, mirror effects, etc., help you edit videos like a pro. Not just that, it comes with a screen recorder, webcam recorder, and even a slideshow maker as extra benefits, such as transitions. Finally, AceMovi lets you showcase your masterpiece in various formats on popular platforms like YouTube, Vimeo, Facebook, etc.
Pros:
Available for Windows and Mac
Auto save and auto green screen render
HD and 4K quality output
Automatically save video in MP4, WAV, MOV, MKV, MPG etc.
Real-time preview, reverse video, split-screen, transitions, and more
Cons:
You need to buy the premium license to remove the watermarks
AceMovi's Short Review: How to Use It for Creative
Muvee Automatic Video Editor for Windows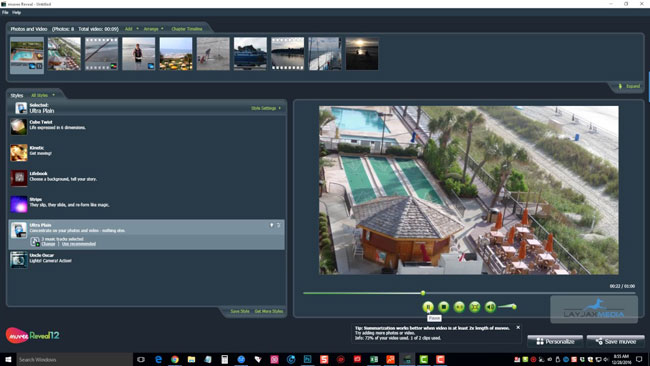 Muvee has released Reveal Encore Automatic Video Editor and Reveal Encore Business Automatic Video Editor. You can search for the wedding studios, action cams, mobile videos, and 360 video stitcher software online with this auto video editor surprisingly. However, they are not packed as a toolkit, so you need to buy the Muvee products respectively based on your requirements.
With the Muvee Reveal Encore, you can turn the imported images and videos into a wonderfully crafted movie with customized and creative auto subtitles and music equalizer. There are more fast channels to export your videos to social media like Facebook and YouTube.
Pros:
2000+ licensed music tracks
Projects for family, wedding, 360-degree clips/VR videos, and business
Easy-to-use video editing workflow
Built-in auto highlight video editor
Create video slideshow with captions and music
Cons:
There is no free trial version to use
Blender Auto 3D Animation Video Editor
Are you a 2D and 3D animation lover? If the answer is yes, then the Blender is an excellent video automatic editor for you. Unlike GoPro auto video editor, the program is primarily designed for 3D animation but also includes a functional automatic video editor. It is completely free to use and open source, available on Windows, Mac, and Linux. Besides the basic editing like cutting or trimming, it can perform complex editing tasks like video masking for you.
You can switch from 360-degree video view mode and normal mode to edit MP4 files offline. You need to render all workflow with Blender like trimming a clip and converting a file. Color grading and correction may be hard to harness, yet you find it powerful and multifunctional.
Pros:
Audio mixing, speed control, transitions, filters and many other exciting features
Suitable for 3D animation and VFX
The full version is free of cost
Basic and advanced editing tools
No watermarkings
Cons:
If you are a novice, Blender is not a good option
Lightworks 4-Panel Auto Video Editor with Licensed Music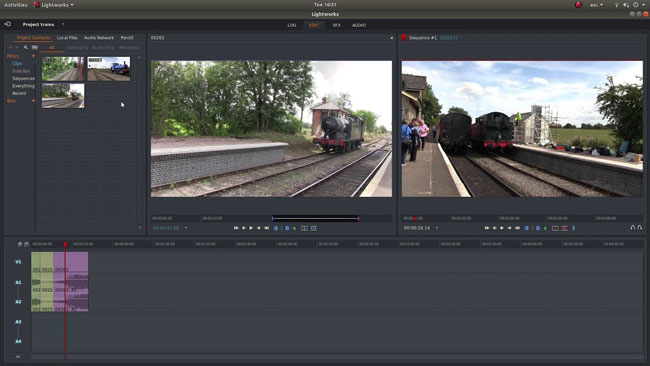 Here is a Hollywood-grade auto-editing software that you can enjoy yet you need to log in every 7 days. Lightworks specializes in 4k video editing. There are bunches of useful features such as pre-designed auto subtitles, transitions, cloud storage, no watermarks, and much more.
Plus, it offers easy tutorials and guides so you can get up and running on professional video editing within no time. Supporting a variety of file formats, Lightworks exports to 720p for YouTube. For auto save and auto-tune, Llightworks' performance is better than other automatic video makers.
Pros:
Auto-tune and auto color grading
Stock videos and music tracks
Precise video trimming
Real-time project sharing options
Thousands of music in stock
Cons:
Requires activation every 90 days & log in every 7 days
Shotcut Auto Video Maker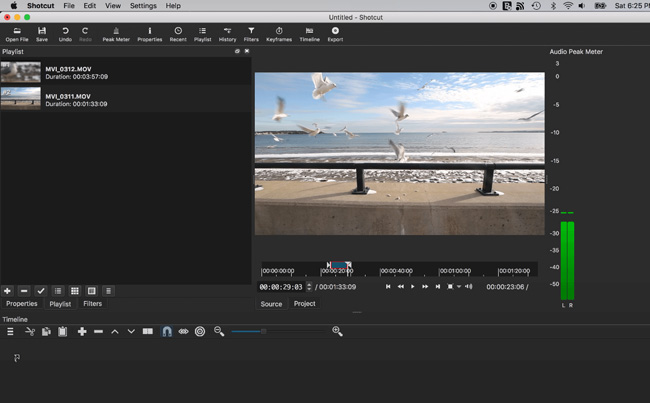 Shotcut is a qualified auto video editor that does wonders on Windows, Mac, and Linux computers. Whether you are an amateur or a pro editor, this tool is convenient for all. As its name suggests, Shotcut can be an auto timesaver since it does not require you to import video files, And this comes in handy, especially when dealing with large-sized video files.
Not to mention, it offers support for 4k and 1080p videos at 60 FPS, unlike many other freeware editors. Shotcut features a 3-panel yet obsolete interface the same as VLC Media Player's where you can find built-in off-the-shelf projects, transitions, filters, tunes, and export channels.
Pros:
Lossless export quality
Timeline editing feature
A vast collection of tutorials
Audio editing options
Sound mixer and waver
Cons:
Incompatible with low-end computer systems
KineMaster Auto Video Editor Android and iPhone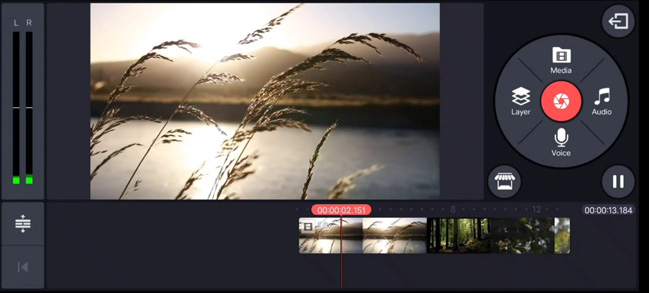 Want to know which one is the best auto video editing app? It must be KineMaster which is an automatic video editing app perfect for on-the-go alterations. Inside this versatile app, you will find a flurry of options that automatically enhance your video footage.
As for its flexibility, the tool makes it possible to shoot footage, cut or trim unwanted parts, add multiple soundtracks, and apply cinematic filters, all in just one go. Additionally, you can upload your work on social platforms directly from your phone.
Pros:
Linear video editing interphase
Cut, crop, splice, and combine video clips
2500+ transitions and effects
Backup mode
Edit and export 4k videos on a mobile phone
Cons:
Watermarks on the final video
iMovie High-Fidelity Auto Video Editor for Apple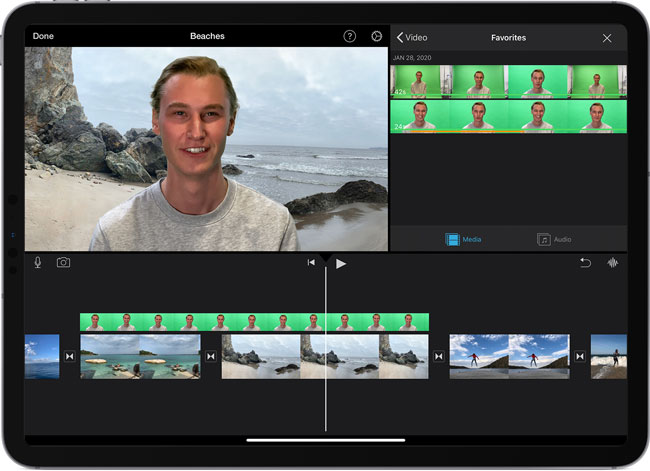 Apple brings an impressive video editor bundled with the Mac OS and iOS known as iMovie. A striking feature of iMovie is a friendly drag-and-drop UI that allows seamless video editing. Mac and iPhone users can create dazzling 4k resolution videos for YouTube using this program.
Apart from adding automatic titles, music, and filters, it also helps you change the background location in your videos. For the best part, iMovie enables you to save files on Apple's cloud. You don't need to cost anything so to enjoy the built-in functions and services.
Pros:
Completely free to use
Cloud storage quickly
Studio-quality titles and animations
Wide varieties of built-in music
Available on Mac, iPhone, and iPad
Cons:
Only Apple users can download and use it
The Verdict
Video creation and editing was once an intimidating task. But, with powerful auto video editors available on the go, it's easier than ever. Use any of the free video editing software in this list to create amazing video content. With so many options, it's safe to say you can unleash your creativity.