Instagram - one of the most fashionable social platforms and has become a global phenomenon. More than 1 billion users are active on Instagram per month. On Instagram, users can watch News abstracts, Sports information, IGTV, Stories, etc. As Instagram Video was released in June 2013, more and more people would like to post and share a video on Instagram. Undoubtedly, short videos have now become a new trend.
Everyone can capture, upload, or edit a video on Instagram. The data shows that videos usually have a higher frequency of interaction than traditional images. No matter you aim at video marketing or personal daily sharing, Instagram will be an ideal platform.
Therefore, how to edit videos for Instagram to make them eye-catching? In today's post, I will show you tricks for making stunning videos, including software choosing, capturing skills, and editing notifications.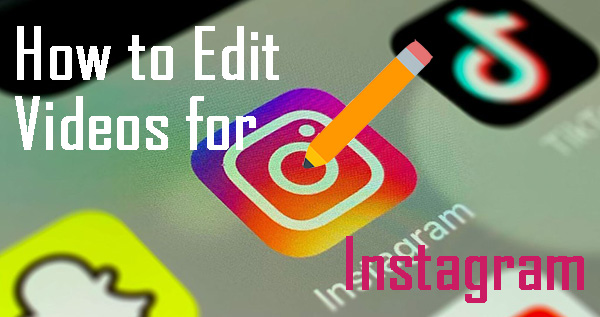 Edit Video for Instagram - All You Should Know Before Editing
Here are three points you should know before editing an Instagram video. The video purpose, video duration, and video formats and resolution are important. Otherwise, you will not be able to upload the video to Instagram.
Video Purpose
It is always a better choice to write a script for your video, though it is just a 15 second-length video. A video script will give you a predetermined view of what will be shown on your video. With this script, you can make a detailed plan for what you are shooting for this video and prepare the resources you may need to make this video. All the small details make your video looks attractive.
Video Duration
Instagram allows users to upload videos for up to 60 seconds. But if you have a wonderful video, you can choose to upload and trim it on Instagram. Besides, there are IGTV, Stories, and Instagram Live for users to post videos that support videos from 15 seconds to 10 minutes, 3 to 15 seconds, and 3 seconds to 60 minutes respectively.
Video Formats and Resolution
Instagram has a limitation of video format and resolution. To get the best video performance, we recommend you upload MP4, MOV, and GIF - but other video formats are also supported. A proper video ratio of Instagram Feed is 4:5, with a 250MB size limitation. For Instagram Live, Stories, and IGTV videos, the recommended video ratio is 9:16. It doesn't mean that you can't upload a 16:9 video to Instagram. In IGTV, you can upload a 16:9 video to it, though it will leave black bars above and bottom of the video.
Part 2. Tools Recommendation - Various Choices for How to Edit Videos for Instagram
Good video editing tools are essential to make videos eye-catching. Back to the video purpose, different editing tools meet different video purposes. In this part, I will recommend you three different kinds of video editing tools, including desktop software, online tools, and mobile apps.
Instagram Video Editor - The Built-In Tool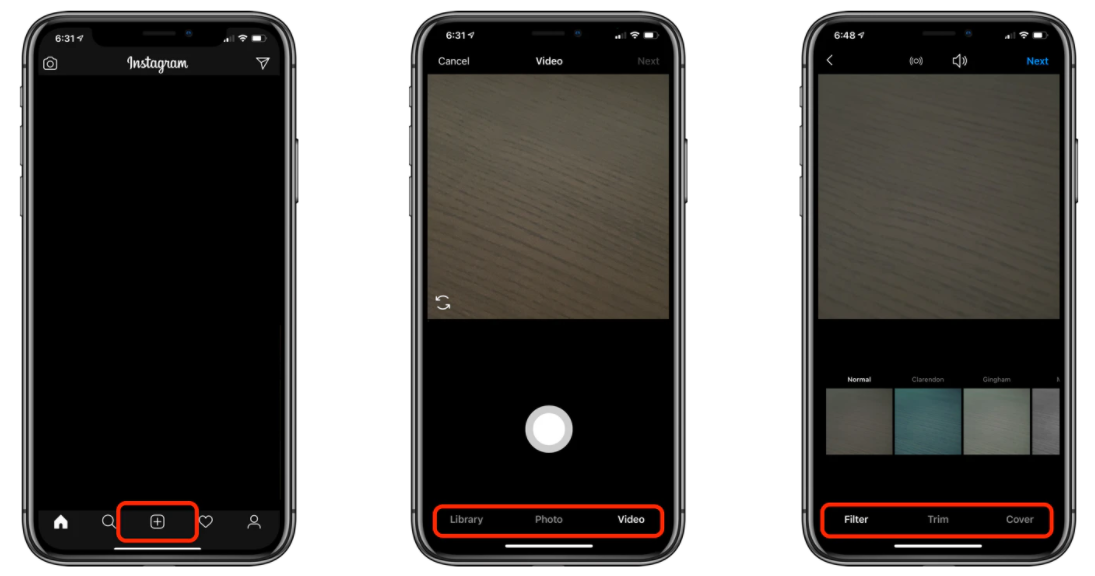 As a video and photo posting app, Instagram has a built-in video editor for users to edit their video simply. To trim a video, the built-in Instagram video editor can accomplish it within several steps.
So, how to how to edit videos on Instagram?
Step 1: Launch Instagram and click the + icon on the bottom toolbar. Then, select the video you would like to post and hit on Next.
Step 2: In this interface, you can add filters, trim, and add covers to your video. Start your editing with the Instagram video editor to make your video preferred.
Step 3: When the editing is finished, click the Next button to post the video.
Edit Video for Instagram using TunesKit AceMovi - The Best Choice
It is undoubtedly editing a video on Instagram is convenient without using an extra program. However, the limitation of Instagram is obvious. It has only three features Filters, Trim, and Cover. When need to join different video clips, a video editor that contains more features is much more appropriate without a doubt.
Hence, a powerful video editor is necessary for further video editing. If you are wondering which is the best video editing software, I will recommend you TunesKit AceMovi - a professional and multifunctional video editing program. To edit video for Instagram can be an easy job using TunesKit AceMovi. It has basic and advanced editing features to meet different needs in video creating, no matter you are a video editing beginner or professional.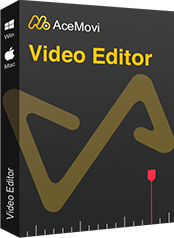 TunesKit AceMovi Video Editor
Security Verified. 5,481,347 people have downloaded it.
Has a simple and easy-to-use interface
Has basic and advanced video editing features
A bulk of video editing resources
Available on Windows and Mac
Supports mainstream video formats
Let's see a step-by-step guide using TunesKit AceMovi to create Instagram content.
Import your media files to TunesKit AceMovi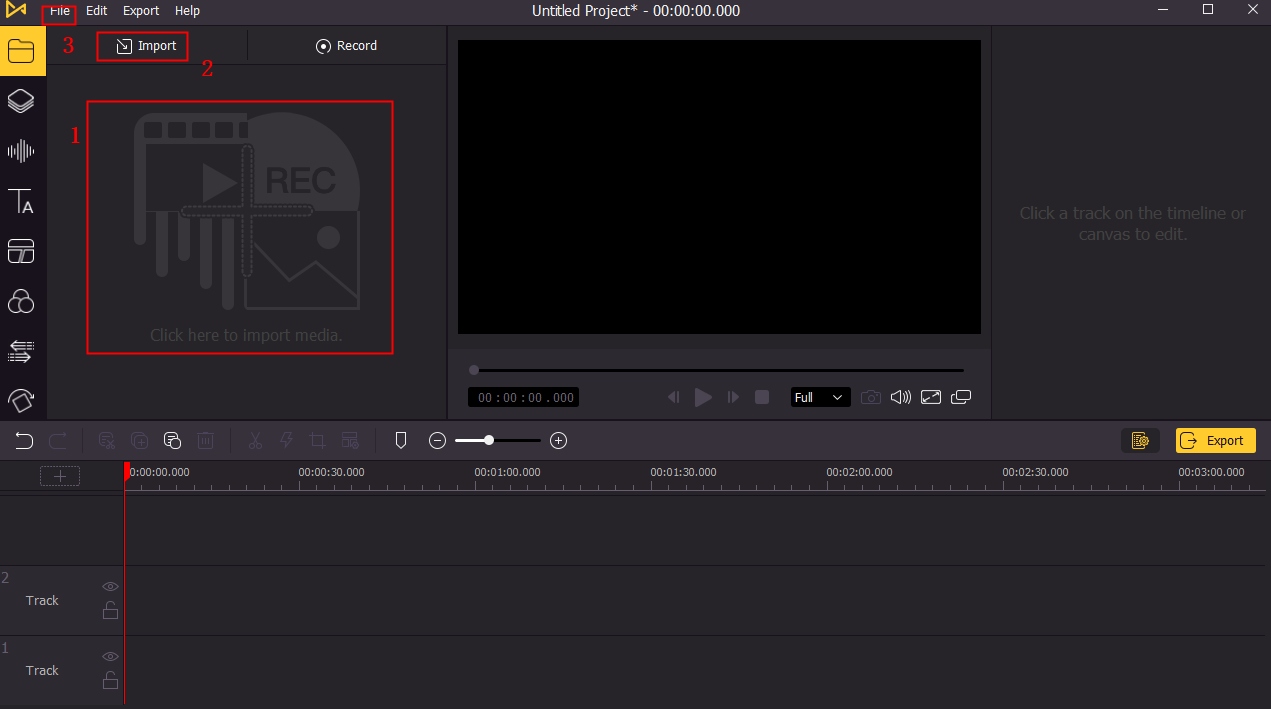 Launch TunesKit AceMovi on your computer first. Then, import the media files you would like to edit to TunesKit AceMovi. Dragging and dropping the files to the AceMovi library is the direct way. TunesKit AceMovi supports various video formats of more than 50.
Add your video to the timeline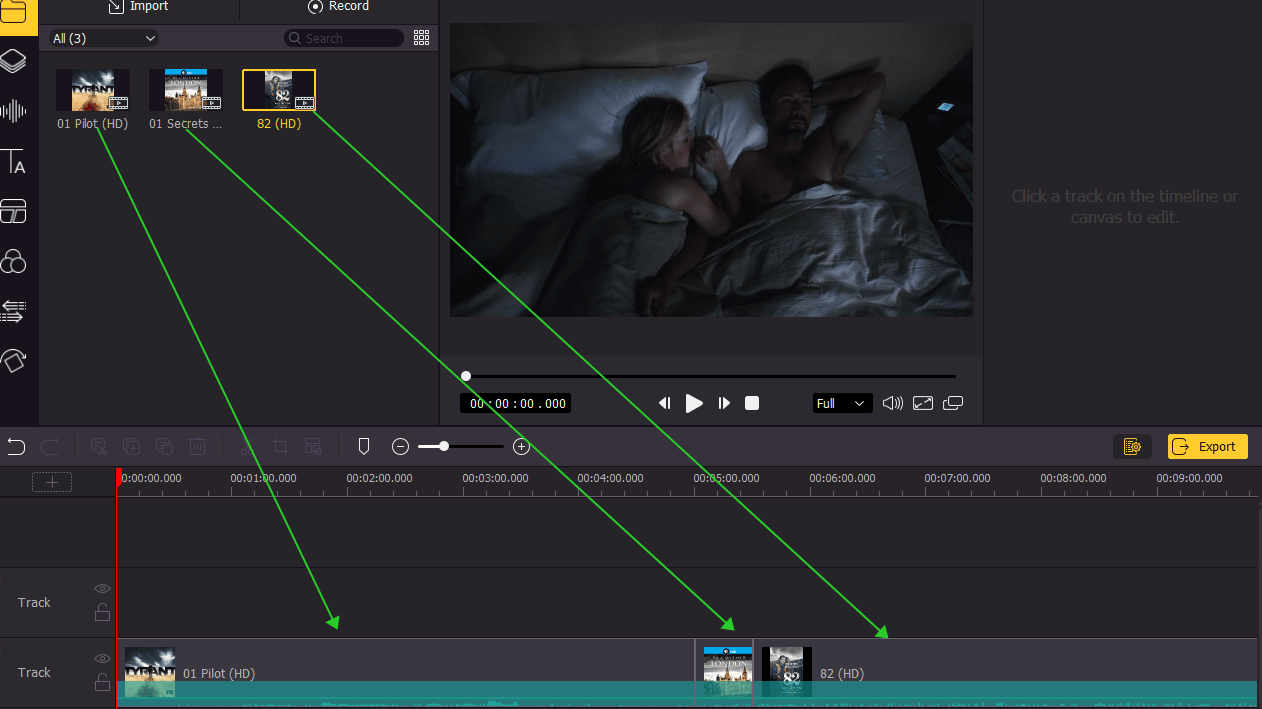 After adding your video to the AceMovi library, drag and drop the media items to the timeline to start the editing. You can add unlimited tracks in the timeline, which means that you can add as many resources as you want in the editing. Because of the non-linear timeline, you can sequence the video in order by dragging.
Edit your video using the video editing resources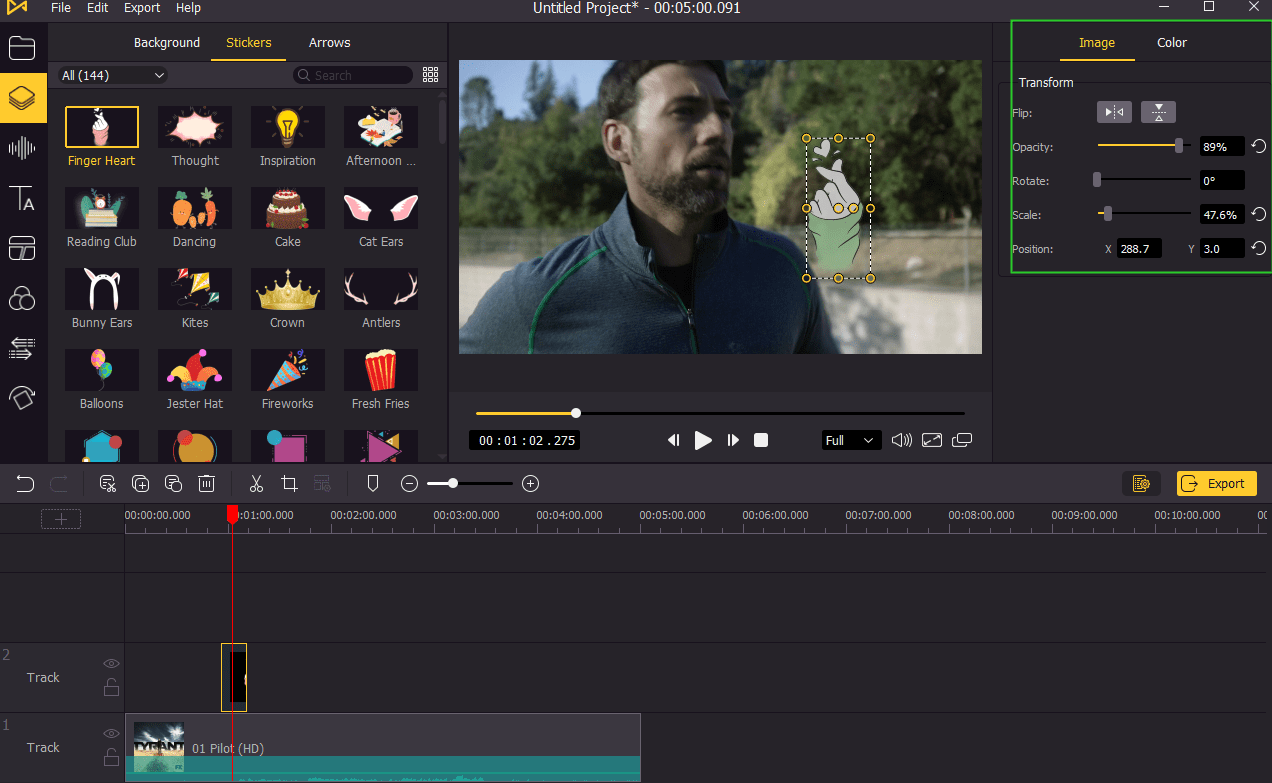 When you finish your video editing, you can click the export button to get your work done. In the pop-up window, you can change the video resolution, video format, file name, and saving path. Using TunesKit AceMovi will not cause any quality loss.
Export your video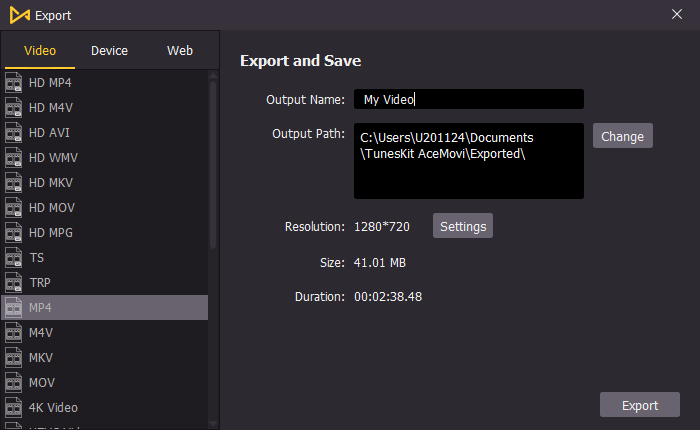 Finally, it is time to get your work done. Click the Export button to save your video. You can change your video resolution and format in the pop-up window. To upload your video to Instagram, I think MP4 is the best format you should choose in this situation.
That's all for how to edit videos for Instagram using TunesKit AceMovi. Creation is free. You can unleash your imagination with its superior editing features. Click here to download TunesKit AceMovi for free and start Instagram video creation.
How to Edit Video for Instagram on Mobile Phone?
Some users may ask, what should I do if I want to edit a video on my mobile phone? In this part, I will show you some comprehensive mobile editing software for both iOS and Mac. And all the selected apps are easy to use.
Splice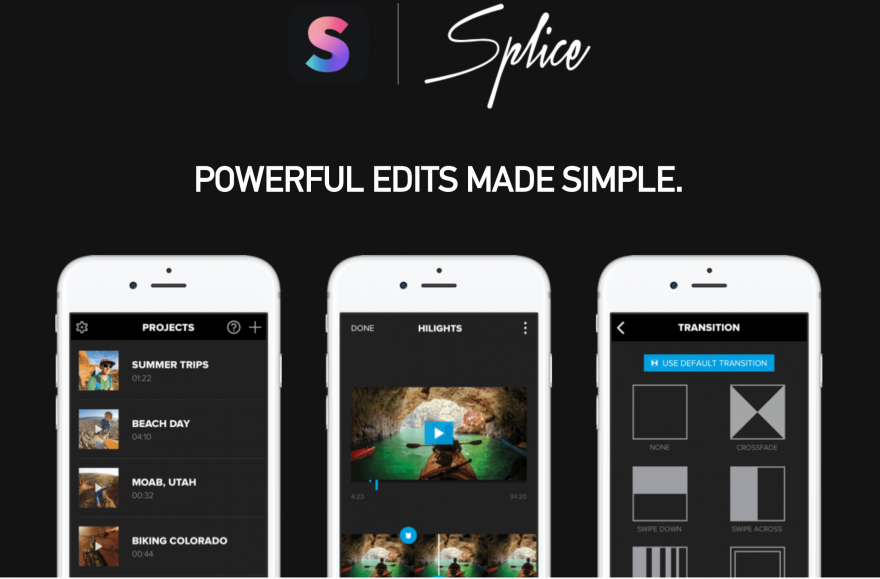 As one of the video editing apps on the market, Splice is the unmissable one in today's post. Though there are built-in purchases in Splice, users can download it and use most editing features for free. About the video editing function, Splice performs perfectly. Users are able to pick this app up and finish the creation within several minutes. You can easily add transitions, animations, crop, and merge your video in one click.
What's more, Splice has a great music library and iTunes integration. Users can use the given music resources to decorate their videos to a higher rank. Because of the mobile editing, creating an Instagram-sized video is not a time-cost job using Splice. As a recommended Instagram video edit app, Splice will not let you down.
Pros:
It is an easy-to-use program with superior functions
The music library is free to use that every user can access it
Can share your video on Instagram and Facebook directly
Cons:
Not a good choice for those who are using old phones
InShot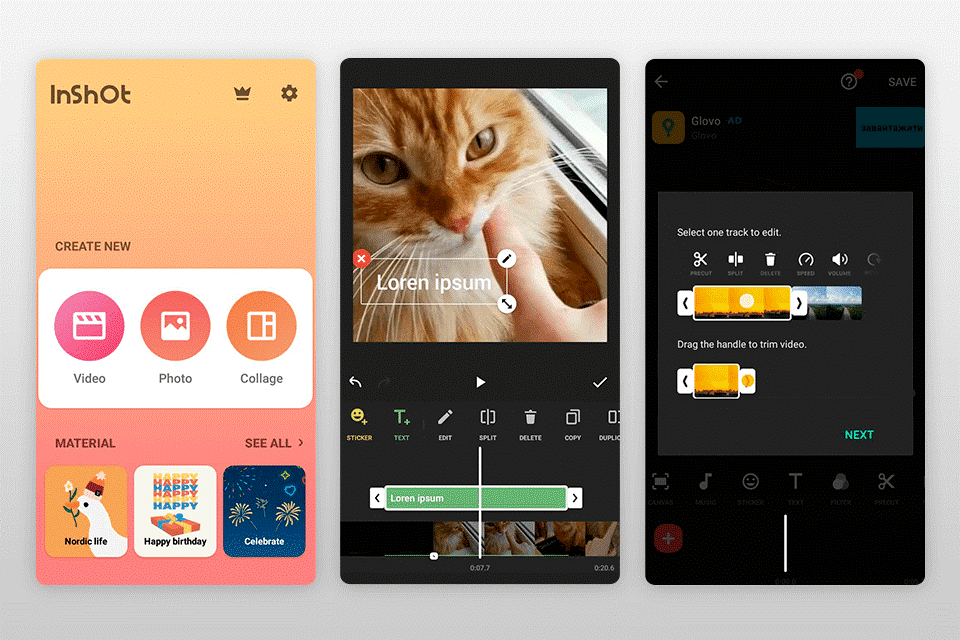 To make a vlog that will post on social media platforms, InShot is an ideal TikTok/Instagram video edit app. It is a cross-platform app that supports both iOS and Android. With this simple video editing program, you can edit a video for Instagram everywhere and whenever you want. InShot allows users to adjust video speed, cut, merge videos. It provides users with music and image libraries to make their videos better. If you need, you can edit your audio by recording, adding effects, splitting, etc.
Pros:
The videos can fit the size for Instagram stories, IGTV, and feed
The editing features are simple yet professional
The stickers and texts are interesting for video
Cons:
The free version has a watermark in your video
How to Edit Video Online for Instagram?
Many video workers choose to edit their works using an online tool. Compared to traditional video editing software, a web-based video editing tool is available on any computer, and you can use edit the same project on different devices. Let us see what online video editing tool is suitable for Instagram video creation.
Animoto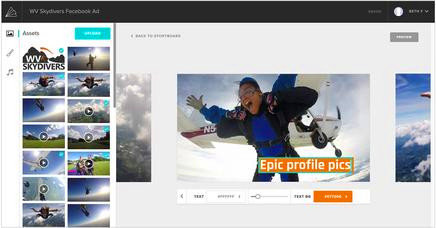 Animoto is a professional online video editing with various functions that got high-praises from users all around the world. Users can create their video in 1:1 resolution, also the best size of Instagram videos. It has different video settings and styles for users to edit their videos directly. However, it is not a simple job to use Animoto to cut a video. It can only merge video and photo clips or change the video ratio.
Pros:
Can change video layout and has different templates
The audio and music resources are abundant
Has cloud storage for users to edit their videos across different devices
Cons:
The editing features are limited
FlexClip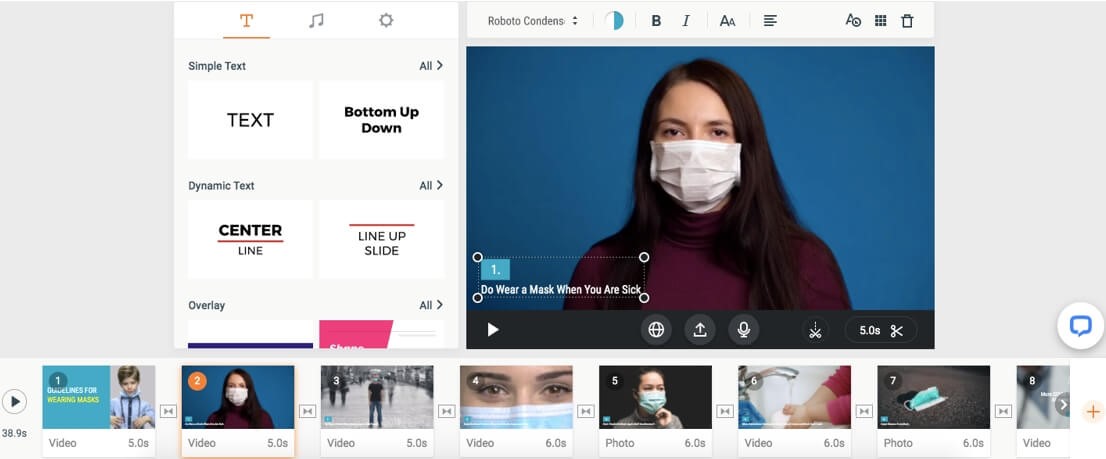 FlexClip is a multifunctional online video editing tool and allows users to customize their video within steps. Users can start the video editing by uploading video clips to FlexClip or using the templates provided in FlexClip. It has different video editing resources like photos, videos, music, and stickers. Not like video editing software, online tools are usually not so good at advanced video editing. FlexClip is more like an assistant that helps you add transitions, background, text, and watermark to your video. In addition, it is an entirely free tool without any watermark.
Pros:
Supports unlimited video clips
Can export videos as GIFs
Has a timeline to trim and adjust every single clip
Cons:
The free version only supports 480P resolution
Part 3. Bonus Tips - 5 Instagram Video Ideas
After knowing how to edit videos for Instagram with different tools and devices, maybe you would like to make stunning Instagram videos right now. Therefore, I prepared 5 Instagram video ideas to help you create appealing videos.
Things Behind the Scenes – Audiences are always curious about the things they cannot see on the screen, and this is also a good way to connect with your followers. You can talk about your thinking in the video or share your studio and workplace with your audiences.
Q&A Videos - Q&A is a classic video idea to have a direct conversation with your followers. Collect the most concerned questions from your followers, and answer them in a video.
Talking Head Videos - Talking head video is one of the most common video ideals. You can talk about who you are, what you are now doing, and even talk about the movie you recently watched in the video. Talk-to-camera videos usually get more likes and comments.
How-To Videos - You can share simple tutorials from time to time. If you have some good ideas, you can make how-to videos and post them on your Instagram. If this how-to video is interesting or particular in daily life, you may get new followers.
Time-Lapse Video - A time-lapse video can show more content in a shorter duration. It is a great skill to show an event to your viewers. For example, you can edit a cooking video using the time-lapse skill.
The Bottom Line
That's all for how to edit videos for Instagram. This post introduces different devices like desktop software, online tools, and mobile apps. You can choose the program depending on the pricing and your video purpose.
Using a suitable tool for yourself can save lots of effort. If you want to make a video that could spark likes and comments, a desktop program like TunesKit AceMovi has greater advantages. In desktop software editing, advanced video editing is much easier to approach. Why not download TunesKit AceMovi and take it a try?