If you need a reliable video editing software, choose one from Lightworks vs Adobe Premiere, based on their features.
Lightworks is an open source digital video editing and graphic design software. It can be used for a wide variety of things, such as editing video and making artwork with the help of a simple drag-and-drop interface.
Adobe Premiere is a professional grade video editor that is ideal for both home and professional grade video production because of its intuitive user interface, powerful features, easy to use operation, fast performance and high quality output.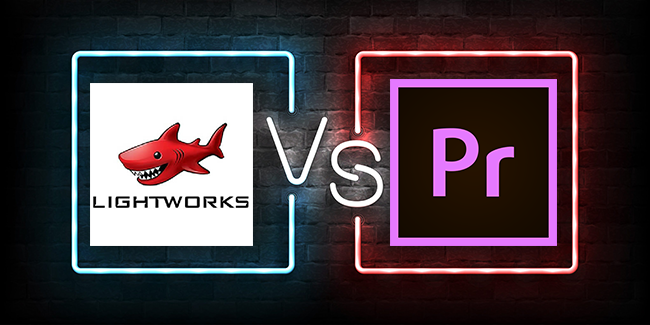 What Is Lightworks?
Lightworks is a video editing solution that has established a reputation in cinema history, as it is the preferred video editor in the creation of some of the finest films in Hollywood such as Pulp Fiction, Hugo, LA Confidential, and The Wolf of Wall Street. Equipped with amazing features and robust tools, Lightworks can also be used for making videos for social media, YouTube, Vimeo, and 4K film projects.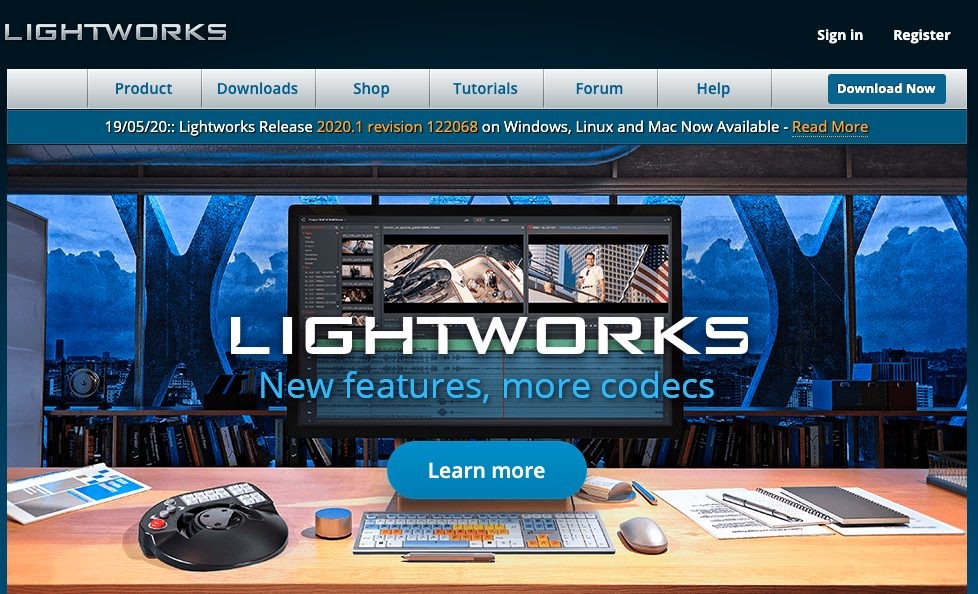 With Lightworks, users will be able to easily edit clips or shots by applying the drag and drop techniques provided by the software. In addition, it lets them enhance the images in their videos using color grading and blending. To create smooth transitions between clips, Lightworks allows users to perform keyframing as they add effects to their videos.
The video editor also works with Blackmagic Fusion, a post-production image compositing software used for creating visual effects for movies, commercials, and TV shows. Likewise, through the aid of plug-ins, users can take advantage of the filters, transitions, graffiti, and graphics from Boris, a visual effects software and vector-based titling solution.
Lightworks offers the user a means of creating and editing video clips with nearly all the same functions that you would find in professional programs. Clips can be composited and the layer on top of the existing movie plays a major role in the editing. If you need to make minor changes to the video, you simply add or remove the layer and the changes will be applied automatically.
In addition to this, it comes with lots of other useful features, such as a special toolbar that allows you to easily change different settings, such as the color and other video parameters. One of the greatest advantages of Lightworks is that it allows you to quickly and easily swap between multiple shots or images while editing.
You also have the ability to do some basic photo editing in the video editor. It comes with a large variety of flexible features, including photo retouching tools, backgrounds and stickers, transitions and chroma key effect, pan and zoom, image stabilization, a frame-by-frame image thumbnailing and a lot more.
Overview of lightworks benefits
Drag and Drop Techniques
Editing clips and footages in Lightworks is done by using its drag and drop techniques. To be able to understand how such techniques work, users should get a glimpse first of the user interface design of the software. Lightworks' user interface is comprised of panels: bins, edit viewer, and timeline.
Bins are where media assets are imported to, while the edit viewer displays the clip currently being worked on. The timeline is the area where users will be able to play their clips in sequence. Lightworks lets users drag and drop a clip or shot from the bin to the edit viewer panel. This particular drag and drop technique is used so they can perform some actions such as selecting the segment of the clip they want to use by marking its beginning and end.
From the edit viewer panel, they can insert a new clip or replace an existing clip in the timeline. New clips can also be added and inserted into the timeline by dragging and dropping them from the bin to the timeline. If users want to edit a selected region in their timeline, they will be able to do that by dragging and dropping that region from the timeline to the bin.
Video Routing
The video editing software also has a systematic way of applying effects to video clips which are referred to as video routing. Video routing in Lightworks uses a node-based system for organizing video clips and effects. This system is needed for videos that have multiple tracks and effects.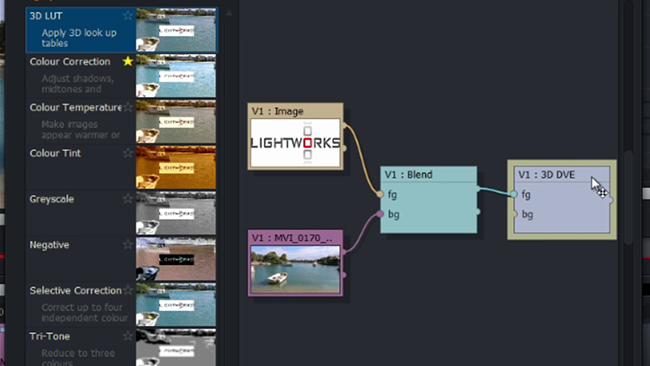 For instance, if users want to apply a split screen effect to their video, they need to input two clips. However, different color gradients have to be applied for each clip; and they also have a third clip as the background of the video which also has its own set of effects. To be able to do apply all these effects in an organized manner, Lightworks enables users to connect the video clips to the specific effects that will be applied to them.
Apply Effects Using Keyframes
With Lightworks, video and audio effects can be applied using keyframing. This feature lets users set keyframes for their video clips, wherein each keyframe will have a specific parameter value that defines how the effects will be applied. As an example, if they want to emphasize elements or characters in their video clips, they can use this feature to apply a wiggling effect that varies at each point in time. As they set the parameter values for such effect throughout their video clip, a smooth transition will be established between their keyframes.
Export Video Clips Directly to YouTube
Exporting videos to YouTube is made easy using Lightworks' right-click menu. Thus, users can right-click a clip from the bin, edit viewer, or timeline; and then they can already export it directly to YouTube. As they export their videos, they will be able to access some options like selecting the size, frame rate, as well as adding meta tags to their videos so they can be easily searched online.
What Is Adobe Premiere?
Adobe Premiere provides a wide range of solutions for all your needs, including video backgrounds, custom music, text enhancements, specialized transitions, complex images and graphic designs, and audio tracks. With the help of a single software, you can accomplish all these tasks with ease.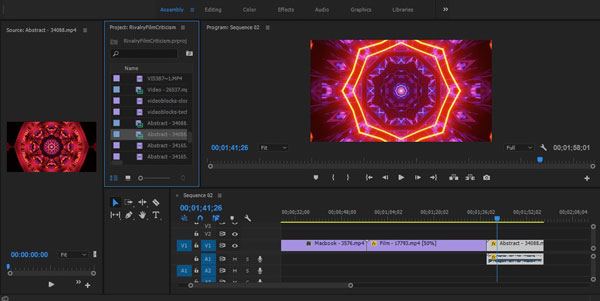 For example, if you want to create a video background using a photograph, just choose a location where you want to place the border, click the tools on the toolbar to place the border around the image, then choose the type of border that you want to use. After making a few changes to the clip, simply save the file and move onto the next clip. In addition, you can change the style of it as well as add text to your video clips with ease.
Another great feature of Premiere is the media encoder, which optimizes the performance of the video editor. When choosing a particular format for your footage, it is advisable to check whether your footage is available in that format. It optimizes the performance of Adobe Premiere and converts your material into the required format.
Overview of Adobe Premiere Pro Benefits
Responsive Design
Users need an interface that they can work comfortably with for maximum productivity and efficiency. That is why Adobe Premiere Pro is constantly updated to make its interface more responsive. An example is the improved integrity of keyframes in motion graphics.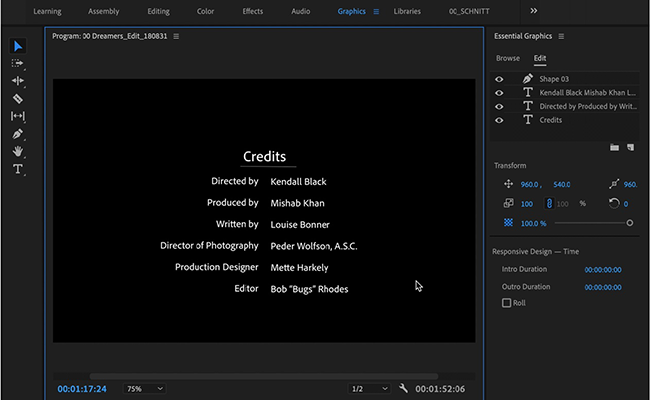 Integrated Workflow
Adobe Premiere Pro integrates with other Adobe products for a smoother workflow. This allows team members to handle each other's projects in other applications without disrupting their work processes. On top of that, colleagues can also communicate easily without having to get out of the application. That is made possible with the integration with Microsoft Teams where workers can exchange notes on projects and where superiors can check on each member's progress.
Immersive VR Support
With the rise in the use of VR, video editors increasingly need tools that let them create videos that are immersive in all aspects. That is why Adobe Premiere Pro has new and enhanced features to support complex VR editing functions.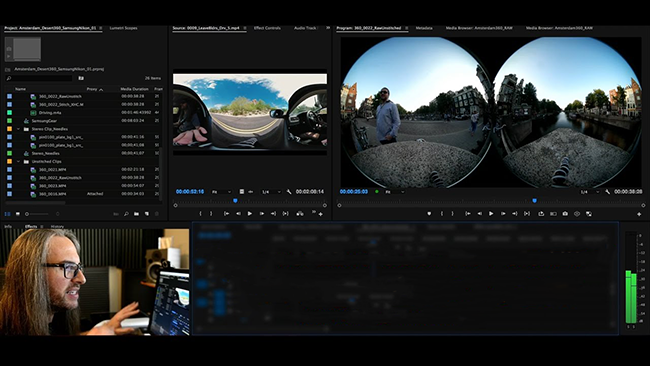 Simultaneous Editing
Adobe Premiere Pro now enables users to open multiple projects at once, allowing them to switch between scenes and lift clips from one project to another. This lets them save more time in adding needed scenes into the video they are working on each time.
Multiple Formats
Converting videos from one format to another can cause losses in frames or subtle corruptions. To avoid that, Adobe Premiere Pro is enhanced to support more native video file formats. This lets users add videos from their cameras directly without going through the process of conversion.
Lightworks & Adobe Premiere Features
| Lightworks | Adobe Premiere |
| --- | --- |
| Drag-and-drop interface | Adding titles |
| Rendering effects | Animation support |
| Fusion compositing | Customizable workspace |
| Blending modes | Asset manager |
| LUTs collection | Creative Cloud library support |
Introducing AceMovi Video Editor, A Better Alternative
Editing videos isn't always easy, but it doesn't have to be complex, either. Using intuitive video editing software that doesn't require a lot of advanced technical knowledge can help you create all kinds of unique, appealing video creations.
Amateurs can make professional-looking videos with the help of software that performs multiple editing functions. But new editing software solutions are being introduced regularly, so it may be challenging to determine which tool is right for you.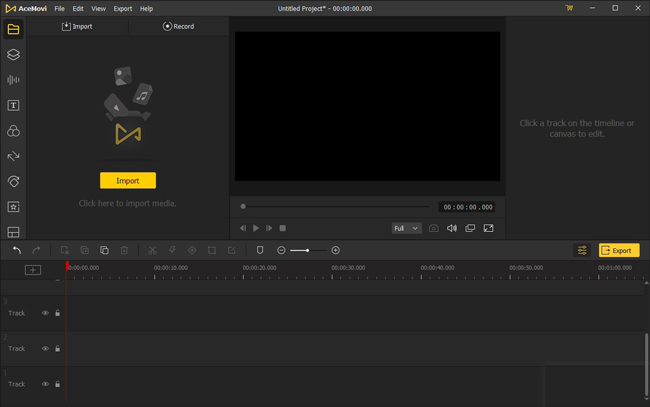 AceMovi Video Editor has built a reputation as a reliable video editing resource. It can simplify narration and comes with useful titles, transitions, effects, filters, and other features. You can edit videos quickly and add images, videos, and audio elements from the stock library that's included.
In this AceMovi Video Editor review, I will discuss some of this software's functions, like screen recording options and video formats. I'll examine all that this tool has to offer before making a final assessment.
Features of AceMovi Video Editor
AceMovi is a powerful video editing tool that comes with many features to quickly create and improve any video with a large number of video effects, filters, patterns, etc.:
Platform support: High-quality videos can be created on Windows and Mac computers.
Format support: LG TV, PSP, Xbox, Huawei, Galaxy Series, Apple TV, iPad, iPhone, OGV, 3GP-2, 3GP, MPG, MKV, MOV, M4V, and MP4 are some of the devices and formats currently supported.
Basic operations: You can adjust speed, rotate, split, and crop videos. Other functions can also be performed, such as dragging, exporting, sharing videos, adding transitions, music, and other effects, importing media, and recording your screen.
Advanced operations and recording: Websites, software, PPT, and video calls can be recorded on your Windows or Mac device. You can also complete operations such as adding audio, text, behaviors, animations, transitions, and filters to your creations.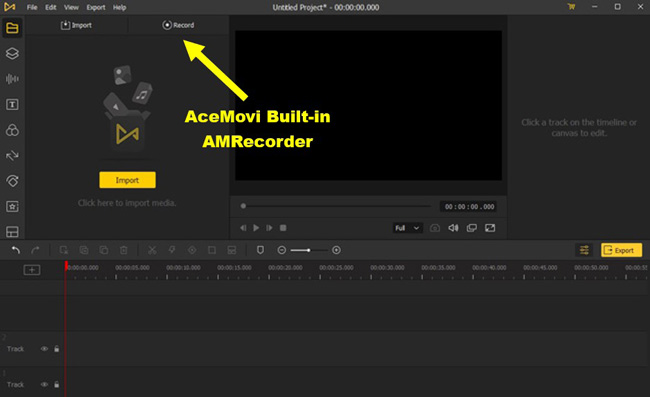 Stock library: Many templates, music tracks, images, and videos are available from the included stock library. They can be added to your projects as you see fit.
Real-time preview: Videos can be previewed as you're making changes to them.
Social media sharing: Videos can be exported and shared to Facebook, YouTube, Vimeo, and other similar sites or on your local computer.
Custom resolutions: Screen can be saved with custom resolutions.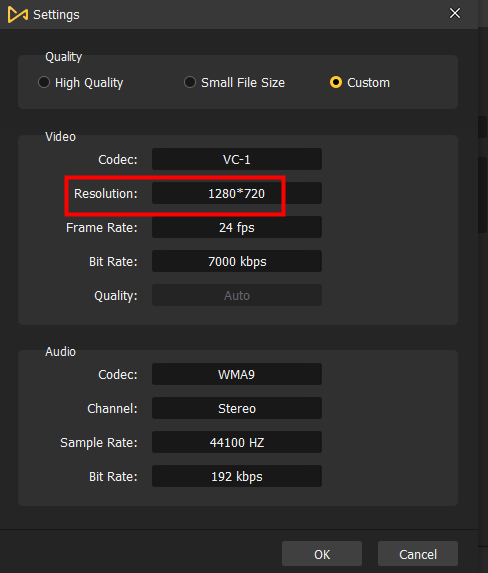 No steep learning curve: You don't need much editing expertise or experience to use this software.
Tutorials for video editing: Several helpful video editing tutorials can help to improve your final video.
Multiple output formats: A high-resolution desktop version or a mobile screen size are the predetermined output formats.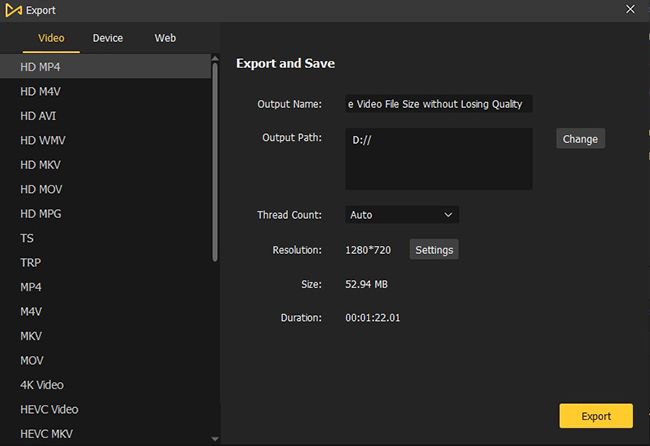 Text editor: Text presets allow you to implement various animated and text elements to your videos.
Filters: You can enhance your videos with the different overlays and filters that are available.
Great transitions: Zoom, whisk, split, merge, push, wipe, slide and fade are the fundamental transitions that can be used. Duration and mode change choices let you alter each transition.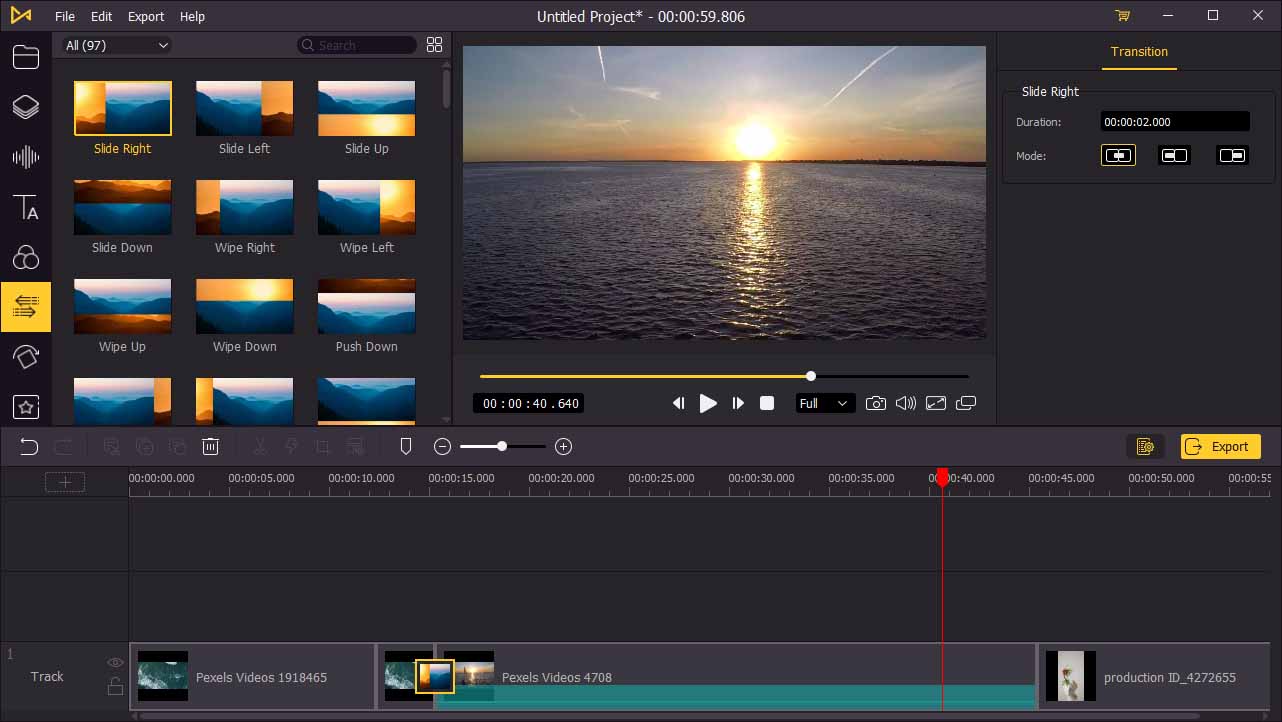 Keyframing: Different video attributes can be customized through keyframing. Video clips and elements can have their position, scale, orientation, and opacity.
Split-screen: AceMovi allows you to divide as many as six screens at a time. Each screen will have control choices.
Conclusion
Premiere Pro is a much more user-friendly piece of software, and Adobe has worked hard to make it accessible for beginners. The interface and workflow of Premiere mean you can be editing in minutes, and over time discover the full scope of the program.
If your computer can't run this software or you want to use it as a light video editor or you just want to have a look before diving deeper then AceMovi Video Editor will be your best pick. It's free, reliable and easy to work with.