How important is the sound effect for a video? You know that music, dialogue, background noise, sound effects, and ambient noise comprise the integrated soundtrack of any video. While the overall tone and mood of narration are largely affected by the sound effects, which decide the basic perception of audiences when they watch the content. As a sought-after SFX element, the explosion sound effect makes your video vivid and engaging by putting a short blast sound. Here we're about to share with you the best websites to download explosion sound effects for free, along with tutorials on how to add that effect to your video with professional settings in volume, speed, pitch, and more.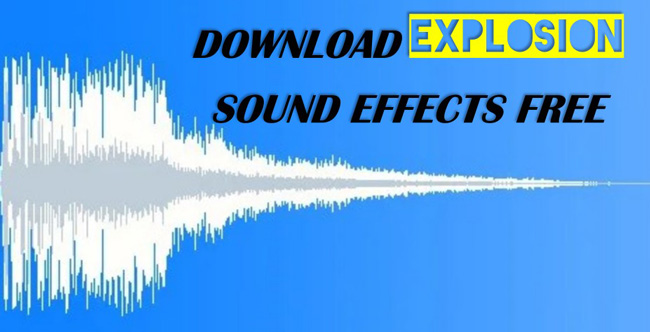 [2022]5 Best Royalty-Free Explosion Sound Effects Download Resources
Here are the best selective sound effects downloaders that help users find their wanted music effects and download them in specific formats including MP3 and WMV. They're different from each other in the duration and diversity of explosion waveform samples. On top of that, some online SFX provider is able to save your favorites online and share them with friends via Facebook, Instagram, or others.
Top 1. PixaBay

You can join in to save your needed sound effects online for free on PixaBay, which is a great place to download sound effects, GIFs, music, video templates, illustrations, vectors, and many more. The searching checkbox is created for faster operation, which also diverse the categories to some degree.
Every sound effect will be printed with labels, for example, "Big Impact" comes with "Impact", "Sound", "Explosion", "Boom", and more, so you can easily compare the differences between the search results on one screen.
PixaBay allows you to download many types of explosions sound effects free with simple clicks. Generally, your search for a specific sound effect, listen to it, and decide to download it on your computer. When you love that music effect, you can add it to the account and get it another day. At the same time, you're able to upload your own files to this website.
● Output format: mp3.
● Download free: Most resources are free
● Long and short: Prime SFX are short
● Registration: Not necessary
Top 2. Videvo

For downloading free explosion sound effect resources, Videvo provides high-quality stock sound effects which are made for personal and business purposes. To be detailed, if you need to download short-duration explosion sound effects, such as a sample that is less than 10s, you can get it for free but with watermarks. So, it needs to log in to remove the watermark that is left on the file you want to download.
Key features: Thousands of sound effects, 500K+ stock videos, clip templates, and motion graphics are at your hand. Open up "Filters" to search for the genre and clip type based on your requirements. You can perform or change setting buttons like add it to the collection, add to favorite, file keywords, sound waveform, and listing sorts.
● Output format: wav., mp3.
● Download free: Some resources are free
● Long and short: Prime SFX are short
● Registration: Not necessary
Top 3. Freesoundeffects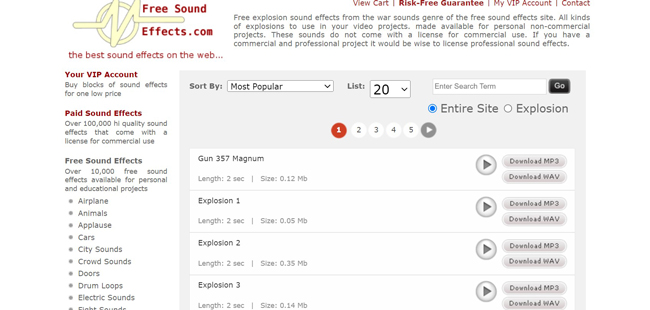 In the left-hand place of the menu, you can browse to access this explosion sound effect free downloader with better quality files and licensed right to download them free of charge. The VIP account can download royalty-free sounds and use them for commercial purposes in the Paid Sound Effects plate. The upgraded account is a one-time option with which you're capable of listening to tons of sound and music.
Key features: This SFX downloading website supports more than 10,000 files for any purpose like the school project and the individual project. You enter the search term and test the results to check whether they are perfect for your mission. The search results can be divided based on the duration, popularity, and recent searches. You compare the file size and length on the interface.
● Output format: wav., mp3.
● Download free: Most resources are free
● Long and short: Prime SFX are short
● Registration: Not necessary
Top 4. Envato Elements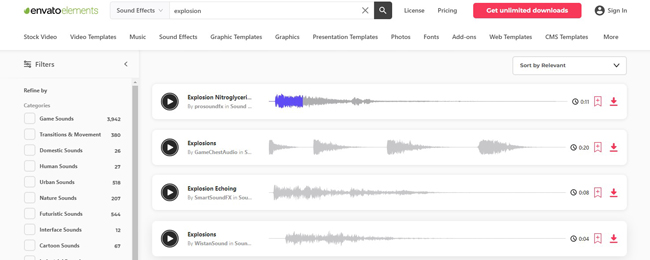 From stock video, video templates, and fonts to music, sound effects, and photos, users are able to discover and download plenty of different resources from Envato Elements to generate great content. People say that the best thing about this explosion sound effects downloading place is that most of the built-in files are free of change and inspire you to make creative projects.
Key features: It provides sound waveforms when listing each resource on the interface. The uploading on Envato Elements will be updated per month based on different needs and genre popularity. That is to say, you can always discover a large stock of new sound effects to edit projects. When it comes to the system of registration, users are capable of getting premium accounts at a low price.
● Output format: mp3.
● Download free: 7-day free trial
● Long and short: Prime SFX are short
● Registration: Required
Top 5. Sound Jay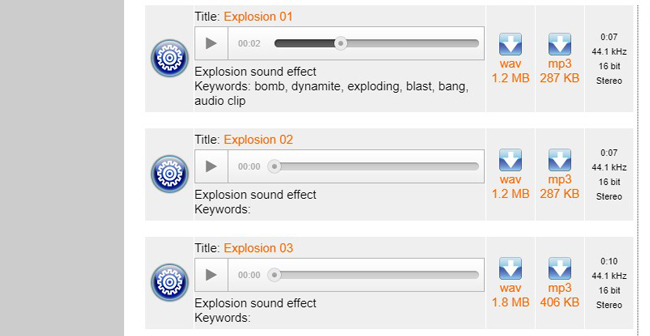 As an incredible explosion sound effect download website that comprises a vast library of royalty-free and free of charge content, Sound Jay is appealing to many users. The site includes background sounds, human sound effects, house and domestic sound effects, communication sounds, machine and mechanical sound effects, as well as Miscellaneous Sounds. If you want high-quality file output, you can export the music in WAV format.
Key features: Both long and short video sound effects are provided. You can compare some parameters of the explosion SFX like bit rate, file size, channel, and labels. More important;y. free download your wanted ones are easy with a couple of clicks. One of the issues is that you cannot post the downloading on other websites to let others download.
● Output format: wav., mp3.
● Download free: All resources are free
● Long and short: Both
● Registration: Not Required
AceMovi: Add Explosion Sound Effect to Your File on Windows/Mac
After downloading the explosion sound effects from the above-mentioned websites for free, you may want to know how to make an explosion sound effect in the audio file or the steps to add the sound effect to your video clip. First of all, you need a video editing tool to accomplish it such as TunesKit AceMovi, which supports all common sorts of music and video no matter the size and duration.
Built-in the stock of AceMovi, explosion sound effects are free and easy to be added to the track you're working on. In other words, users can find free explosion sound effects in this software and no need to download it from some websites. Below are the guides to add explosion SFX to your audio or video file, as well as advanced settings for the project.
AceMovi SFX Editor
Royalty-free music and sound effects built-in
Increase or decrease the original music volume
Trim, speed, convert, merge, dub, & resize files
Extract the audio file from any format of video
Record a new clip with or without any MP3 files
Control the bite rate, sample rate, and codec
Add the sound effect Explosion to a video or audio on PCs by AceMovi
Download AceMovi Video Editor. Add your files to the timeline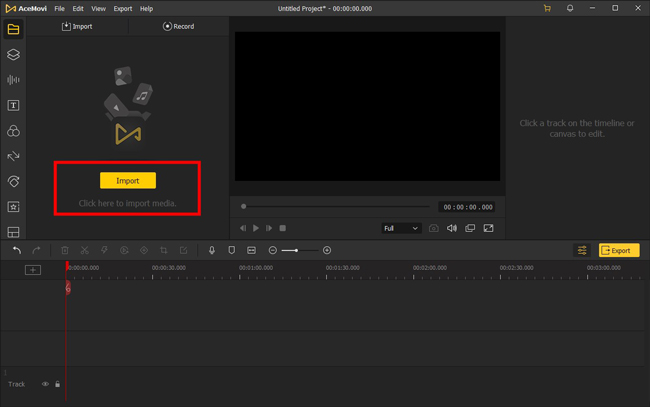 Download AceMovi Video Editor for funny and quick video-making purposes. Apart from making an explosion effect, users have access to trimming, converting, speeding, reversing, and dubbing. After installation, run this software and begin to import your media by clicking on "Import".
Insert the explosion sound effect into the drag-n-drop track place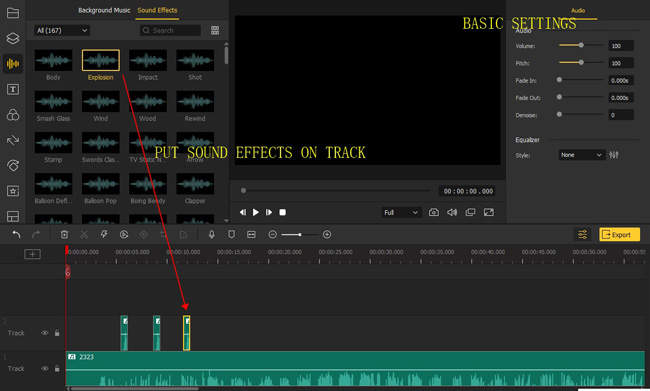 Next up, put the imported explosion sound effects to the second track and place it into the right position that you want to make an explosion effect. If you want to edit the files as an integrated part, you can trim the clip first, and add the sound effects to the clip between the two trimmed files. Or directly put the SFX to replace a part of the clip.
Manipulate the pro settings to polish the music file before exporting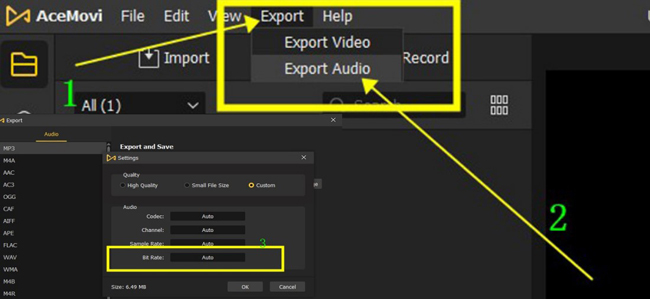 If you want to export the audio file only or download the explosion from AceMovi Video Editor, do not click the yellow "Export" icon which is used for video downloading only. You need to click "Export" > "Export Audio" from the menu.
In the popup window, try to adjust the default settings of the parameters of downloading format, sample rate, codec, and more.
Lastly
You may be interested in more sound effects such as Shot, Laugh, Impact, and Wind. By changing the resource pitch and speed, the pace of the SFX will be different to some extent. For editing a video or audio file with sound effects, you can try tools like TunesKit AceMovi (For both Windows and Mac) and iMovie (For Apple Only), both of which are supposed to convert, speed up, and trim out perfect content for you.