Shudders and shakiness appear when generating a video through a mobile camera without a tripod. The reasons behind this chaos could be a many-accidental push from your friends, trembling hands, etc.
Improving the quality of a video and removing the shakiness from it could take a lot of time. You can't do anything if you're using a mobile device without opting for a video stabilizer app.
That said, we'll reveal the top-notch video stabilizing apps that will assist in stabilizing the apps brilliantly.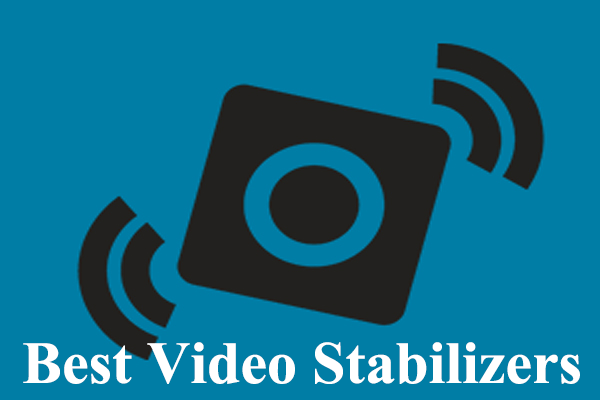 Part 1: 6 best video stabilizer apps for iPhone and Android
If you're looking for a video stabilizer app, go and get your favorite ones after exploring the 6 mind-blowing video stabilizer apps for Android and iPhone.
1. Shaky Video Stabilizer
There are various things to like about Shaky Video Stabilizer. Apart from being a free app, this brilliant tool lets you remove the camera shake from different video formats, including MKV, 3GP, and MP4.
On top of that, this app to stabilize video comes up with a simple user interface; it also empowers you to preview the video before downloading it. With the internal video analysis tool, Shaky Video App automatically detects smoothing, shakiness, accuracy, and various other issues.
Hence, opting for this app to stabilize will be a good idea, especially if you want to make your video look relevant and splendid.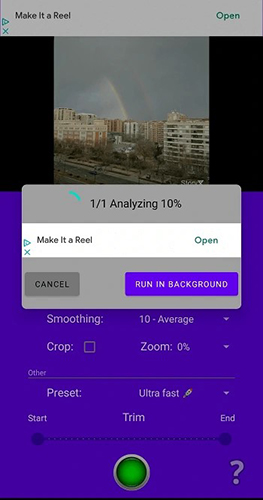 Pros:
Video Analysis tool
Supports various video formats
Works offline
Cons:
Lacks video editing features
2. Emulsio
While Shape Video Stabilizer is designed for Android devices, Emulsio allows you to remove the shakiness from videos on iOS devices. Being an immaculate video stabilizer app, Emulsio is all set to adjust the stabilizer strength, and it also has the reputation of comparing the video before and after editing it.
Besides removing the shakiness from videos, Emulsio also comes up with the ability to trim footage, meaning eliminating the unwanted parts from videos won't be an issue. Surprisingly, Emulsio also ensures that you can share the videos from this app to various social media platforms.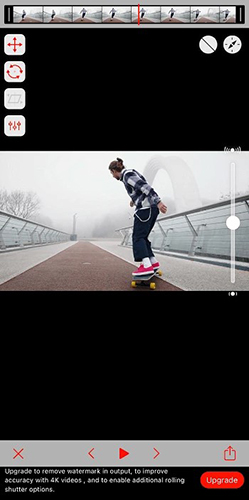 Pros:
Allows you to upload the videos from anywhere you'd like
Comes up with the vertical, rotational, and horizontal compensation for camera motion
Cons:
Free video only allows you to process 30 seconds of video content
3. Stabcam
Stabcam is designed for both iPhone and iOS devices and helps you to remove the shakiness from videos in a few seconds.
It only asks you to import the video from which you want to remove the shakiness and then stabilize it in a few moments. Significantly, this app can stabilize the video based on the preferences, making your video relevant.
If you're using the premium package of Stabcam, you won't be getting unwanted ads when stabilizing your videos.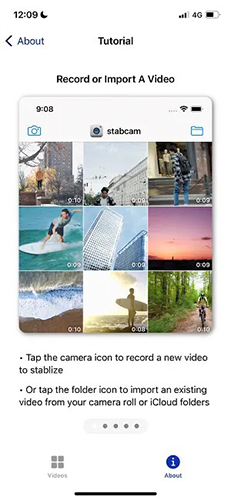 Pros:
Allows you to mute the audio.
It empowers you to increase the video' s speed.
Support for 4K and HDD videos.
Generate a time-lapse effect by speeding up the video.
Stabilize video by shakiness, controllong accuracy, and zoom level.
Cons:
It doesn' t allow you to stabilize a video of more than 10 seconds in the free version.
4. LumaFusion
With an integrated feature that allows you to stabilize video content quickly, LumaFusion has been a prolific multi-track editor.
Apart from offering stabilization quality, LumaFusion offers a simple user interface, and remember that this remarkable tool doesn't tinker with video resolution.
Despite offering professional and highly advanced features, you don't have to get prior knowledge of this app, and that speaks volumes about the quality of this video stabilizer app.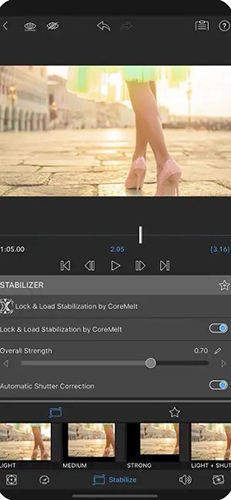 Pros:
Brilliant output quality
Supports various video formats
It comes up with the pretty fast stabilizing speed
Cons:
Expensive for many people's liking
5. GooglePhotos
GooglePhotos is just another excellent app for stabilizing video that empowers you to take the quality of a video to the next level. It is available for iOS and Android devices and offers various video editing features, including stabilizing video footage.
The interface of this excellent app to stabilize video is remarkable. You must import the video, click on Stabilize, and then let Google Photos balance the video automatically.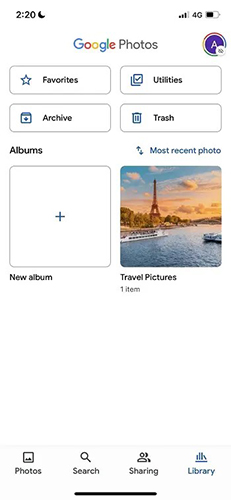 Pros:
Completely free
The brilliant video stabilization feature
Doesn' t tinker with the resolution of the video upon stabilizing it
Cons:
Sometimes it works slowly.
6. Video Stabilizer
If you're still looking to explore some more video stabilizer apps, you can look at Video Stabilizer. It is a terrific tool that allows you to erase the shakiness from video in no time. The best thing about this app to stabilize video is that your video won't lose the original resolution.
The excellent aspect of Video Stabilizer is that it doesn't stabilize the video automatically. Instead, it stimulates selecting the levels and settings to stabilize the video.
Although it comes up with the free version if you intend to perform professional editing techniques on your video, it also offers a brilliant free version.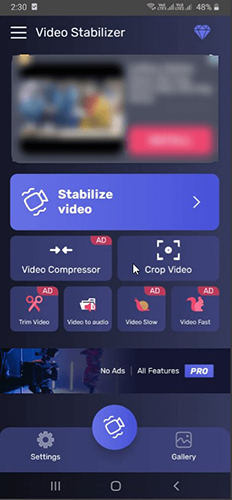 Pros:
Increase video speed to slow or fast
Choose stabilization level
Fast stabilization process
Allow you to trim the video
Inbuilt Stabilized gallery
Cons:
Might come up with the unwanted ads
Part 2: Comparison Table
All the apps we've mentioned to stabilize your video are worth your attention. To make your job easier in selecting the best video stabilizer app, we've compared all the tools in the form of a table.
| | Shaky Video Stabilizer | Emulsio | Stabcam | Luma Fusion | Video Stabilizer | Google Photos |
| --- | --- | --- | --- | --- | --- | --- |
| Operating system | Android | iOS | iOS and Android | iOS and Android | Android | Android |
| User Experience | 9/10 | 9/10 | 6/10 | 6/10 | 9/10 | 5/10 |
| Watermark | No | No | No | No | No | No |
| In-app purchases | Yes | Yes | Yes | No | Yes | Free |
| Auto-stabilization function | Yes | Yes | Full | No | Yes | Yes |
Part 3: AceMovi Video Editor-Best Video Stabilizer
Maintaining the quality of a video when removing the shakiness is essential to make the video content you upload on the internet relevant. Luckily, TunesKit comes up with the AceMovi Video Editor, a massive addition to the video stabilizer app or software industry.
AceMovi Desktop Video Maker
Edit a video with text and subtitle templates
Basic functions: Trim, Crop, Cut, Reverser, Convert
Create a recording on YouTube and Facebook
480p, 720p, 1080p, and 2160p output support
Free music resource stock and sound effects
Dub or narrate the clip/frame quickly
Offer advanced green-screen and split-screen
The demo versions are free for everybody
This intelligent software is available on Mac and Windows and offers an intuitive user interface, making it simple for newcomers.
You can also explore the brilliant video editing features of the AceMovi Video Editor, including special effects, music, adding text, trimming, cropping, and zooming. AceMovi Video Editor also allows you to improve video quality and speed or slow down the video clip, make a picture-in-picture video, and more.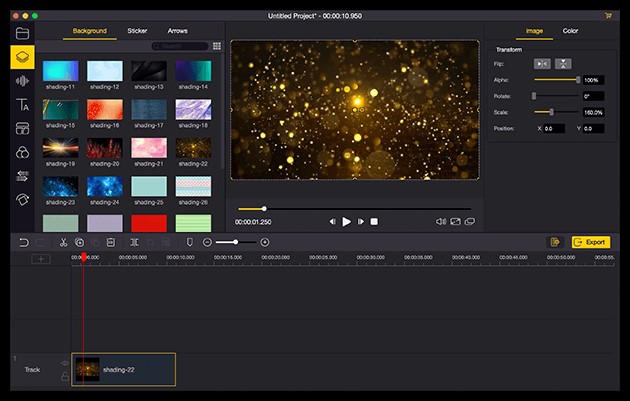 Pros:
Allows you to improve the quality of video in a few clicks
Remoce the shakiness from the video automatically
Comes up with brilliant video training
Quick rendering process
It doesn' t compromise the resolution of your video.
Offers mind-blowing video editing techniques, including trimming,cropping, changing the speed of the video, and more
Conclusion
Struggling with the shakiness of a video isn't a good thing to have, but you shouldn't be worried, especially after reading this post.
We've revealed 6 extraordinary apps to stabilize video with minimal effort, and you select your favorite video stabilizer app after going through this guide. AceMovi Video Editor is the best video stabilizer app for Windows and Mac that stimulates improving the quality of a video shakiness of a video pretty quickly.
It is highly recommended software, and you should try it, and we can assure you it won't disappoint you at all.