To put your concepts to life in 2022, you don't need to be a professional video editor. 90% of digital creators and marketing teams still believe video editing is a challenging task. They may either avoid filmmaking totally and miss out on a valuable marketing tool or outsource it and pay four times as much.
But what if there is a method to make videos online in minutes, even if you'd never edited one before? By creating effective teasers for social media accounts such as Instagram, TikTok, YouTube, and everywhere else you publish brand videos, an online Google video editor can enable you to present your products from every viewpoint. Herein you review the best 7 Google video editors online. Now we will begin!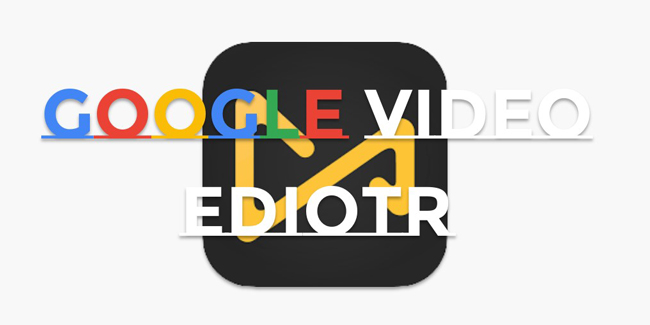 FlexClip Google Online Video Editor
It's a Google video editor online ideal for both video commercials and short presentations. FlexClip is simple to use and includes a variety of customizable themes, stock footage, pictures, audio, and motion graphics and overlays to meet a variety of needs and moods.
Flexclip online video editor google photos provide the user with free access to download 480p resolution for free, along with the services of saving 1 video per project, 12 projects making, video length up to 1m, and 3 background removal credits. FlexClip is perfect for Google video editor Android users and desktop users. Clicking the inner buttons to share your masterpiece in the community.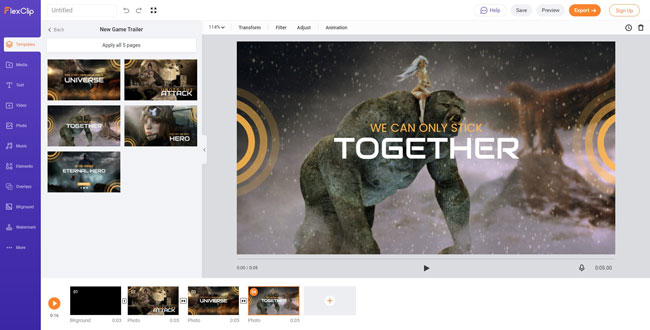 Free Trial: √
Pricing: Basic - $6.99/mo, Plus - $13.99/mo, Business - $20.99/mo
Pros:
The interface is simple to navigate and utilize, no matter your ability level
An extensive library of templates
A bunch of free video texts to overlay
Easy-to-learn user interface
Add background music to your videos
Cons:
Stock footage and photographs are limited
The free trial cannot export video at 720p or HD resolution
Animoto Animtion Video Editor Online Google
Animoto is great for making quick, beautiful films to distribute on social media, such as marketing videos, testimonies, and event announcements. It functions as one of the widely used Google video editors online for free. The consumer interface is simple, so even those with no previous video editing knowledge can use it.
Even only with the free license of Animoto can you download the video at 720p standard quality video and share the videos on social media without limits. This online Google video editor runs on desktop and iOS flexibly and smoothly. You see 2D animation with music tracks, fonts, color swatches, and many more elements that are easy to make.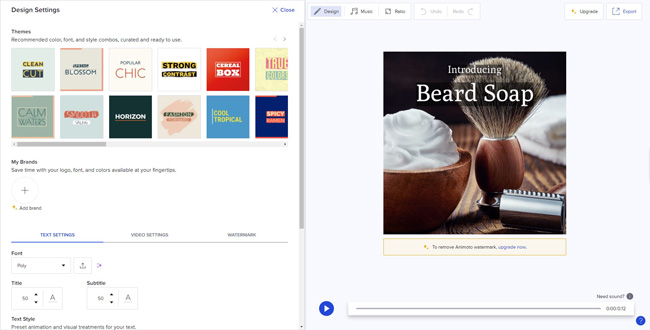 Free Trial: √
Pricing: Basic - $16/mo, Professional - $29/mo, Professional Plus - $79/mo
Pros:
Videos can be personalized with a logo and brand colours
The user interface is simple
Brand colours and logos can be added to videos
Unlimited social sharing and uploading
Make a new project for business and school quickly
Cons:
There are only a few ready-to-use templates
The free plan has very restricted fonts, stock pictures, videos, and audio
InVideo Online Video Editor Google Drive
Even if you've never edited a video before, InVideo is a highly straightforward free online google video editor that will allow you to make professional-quality videos in minutes. It comes pre-loaded with everything you'll need to make professional-looking films, including templates, stock footage, and an easy-to-use editor.
As one of the intelligent editing video websites to choose from, InVideo provides you with easy tutorials on editing audio and video with texts and music. There are tools to remove the logo from videos and rotate videos in any manner you want.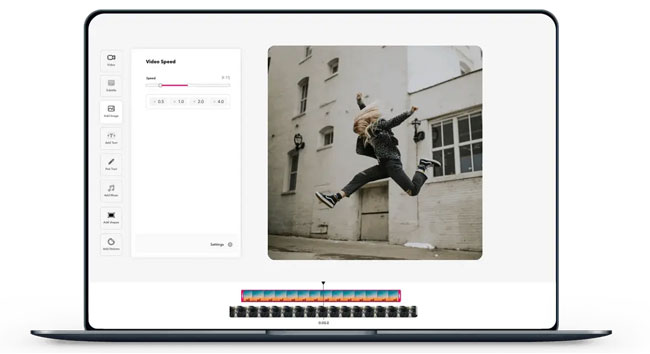 Free Trial: √
Pricing: Business - $20/mo, Unlimited - $60/mo
Pros:
Over 5000 fully customizable video templates are available
Content creators can use over 12 million royalty-free photos and video clips
3M+ standard media library
Online green screen rendering
Easy to begin video editing with this tool
Cons:
Video length is limited to 15 minutes on the free licensed
WeVideo Google Video Editor Online Free
WeVideo comes with clear, helpful instructions that make it simple to use for Google's online video editor of all levels. WeVideo is an attractive solution if you want to generate exciting video content, product demonstrations, or marketing advertising.
Suffice it to say that WeVideo is an online Google video editor that can be explored for schools, teachers, education leaders, and webinars. Over 50M+ active users are using the built-in Green Screen, Meme Maker, Video Merger, Video Trimmer, and Online Google Video Editor. All the tools can be navigated from the menu.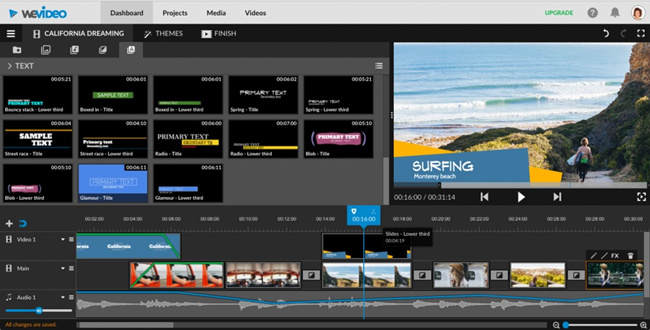 Free Trial: √
Pricing: Power - $4.99/mo, Unlimited - $7.99/mo, Professional - $19.99/mo, Business - $16.99/mo
Pros:
The video editor tool contains an extensive library of highly customizable animation-based templates
People can download royalty-free stock videos, images, and music without hassle
Create and make GIFs
Audio export only
Screen recording online
Cons:
For the free and basic plans, video duration is limited to 60 and 90 seconds
The free plan only allows for one Facebook or YouTube upload
Kapwing Video Editor Google Play Video Converter Online
Kapwing.com is a quick and simple-to-play tool on our top free video editor listing for Google Drive. It's advanced for YouTubers and TikToks because they can import videos by pasting URLs. Still, it's also highly designed for a mobile design, so you can quickly put together movies from footage on your phone even while adding your recording or soundtrack.
Kapwing automatically saves your video online for up to 10 projects. There are many more options to begin a new project - Template, URL, or drag-n-drop. You find some of the saved videos will be locked after two days and only with a full license can you download or edit them again. The free version allows you to download videos up to 720p for free.
Free Trial: √
Pricing: $24/mo, $192/yr
Pros:
Comprehensive features
Professionally acceptable
Widely used and positively reviewed by the users
A plethora of video templates
Download video for free up to 720p via URL
Cons:
On lower-end devices, it's slow
HD export is impossible on the free version
Viddyoze Online Video Editor Google
Viddyoze is the software of preference for many editors of movies, TV programs, and commercials since it integrates quality HD editing, color correction, and digital effects in a single project tool. Viddyoze supports online and offline Google video editors online, and its elevated playback engine speeds up editing and trimming, especially for processor-intensive file types like H.264 and RAW. Its free app is ideal for complex jobs.
There is no free version to use, however. And you can choose from two licenses in case you want to try it. The individual license features exclusive ALPHA technology, 30 renderings, 160+ stunning video templates, and a world-class live-action video engine.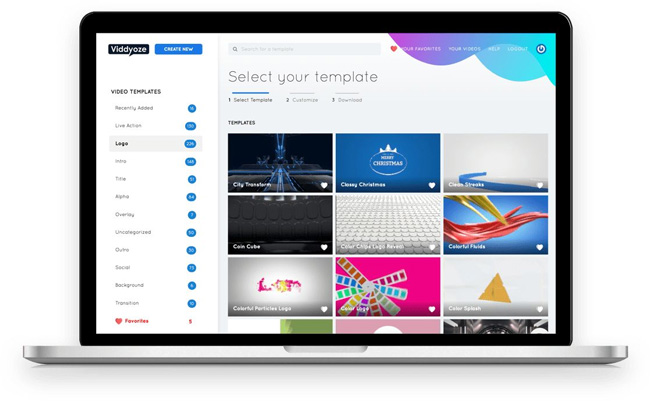 Free Trial: ×
Pricing: $97/forever, $127/forever
Pros:
Quick navigating, cutting, and trimming with a dual timeline
A separate trimming interface that allows you to edit in detail
160+ ready-made video templates
Multi-font support
Image editing tools
Cons:
For some users, Viddyoze's advanced features may be overwhelming
No free trial version
123APPs Best Free Online Video Editor Google
123APPs is the best free Online video editor Google photos and open-source video editing program available today. It's an excellent free online Google video editor with several valuable features. Its simple drag-and-drop layer-based interface makes it simple to use even for beginners.
You may stack an infinite number of layers in your film, including soundtracks, overlapping videos, and custom pictures. 123APPs also has several customizable title-card templates that digital creators can choose according to their requirements.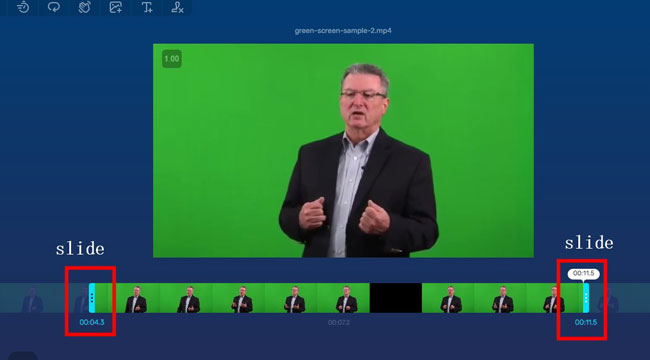 Free Trial: √
Pricing: $33/mo, $316/yr
Pros:
A broad range of file types are supported, and a built-in DVD player, chart tool, and video stabilizer
Compatible with PDFs
Reverse and join audios
Change video pitch and speed
Cons:
The free version is embedded with Ads
TunesKit AceMovi - Stable & Advanced Video Editing Software
TunesKit AceMovi has established itself as the best Google video editor that downloaded free for Windows and Mac. Perfect YouTube, Twitter, TikTok, and other social media platforms. It is a user-friendly yet powerful video editing program. AceMovi includes various fundamental editing tools, such as trim, split, rotate, and alter the speed, ensuring that anyone can become an editor quickly.
You enjoy the features of a multifunctional array of Google video, audio, and image enhancement tools on the AceMovi platform. A vast option of background music, filters, transitions, overlays, and text overlays are at your disposal on the default canvas of AceMovi. Now click here to download it for fun!
Free Trial: √
Pricing: $15.95/mo, $49.95/yr, $69.95/lifetime
Pros:
While editing, you can see a live preview
Make editing quick and easy
It is virus-free, ad-free, and risk-free
You find a set of tools to edit videos and audios
Clutter-free user interface
Supports major formats
Channels for exporting video at YouTube, Facebook, and Vimeo
Cons:
There are no Linux versions
Users may experience a watermark in their installed versions
Learn How to Edit a Video with AceMovi
Conclusion
People opt to establish themselves as proficient and professional content or digital creators to make their ends meet in today's era rather than consume themselves with mainstream occupations.
You may make and edit a video for free using one of several online video editors. With our carefully picked list of best free online google video editors, you can now quickly raise the bar on your content marketing. There's no limit to the creative possibilities of your brand's marketing video material with several free video editing tools and solutions mentioned above.