As video editing software pre-installed in iMac and Macbook that is incredibly serviceable for editing, making, cutting, exporting, and sharing videos or audios, iMovie has a streamlined operation layout for syncing multiple media files and generating seamless results. Users do not need to be a pro when using it makes itself so popular among video editors.
However, issues like the exporting mission is complicated and unknown mistakes will happen when downloading may frustrate you to a large extent. Don't worry about it! This page contains ultimate guides to export videos from iMovie by e-mailing, media channel, normal output, and current frame saving. And you'll learn how to fix some common iMovie exporting problems.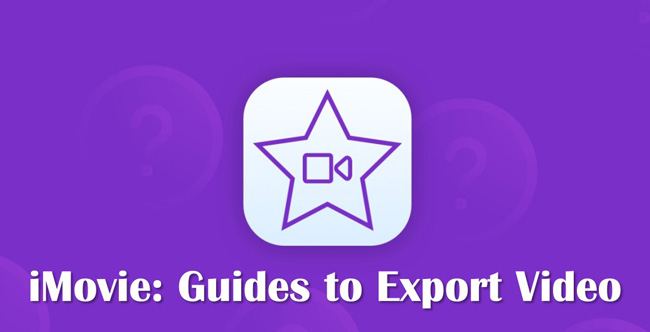 Guides to Export iMovie Videos on Mac
iMovie provides the official version on different Apple devices and you can use it for multiple video editing jobs without even downloading software or apps because it is pre-installed in the system. In iMovie, the exporting channels vary from each other and may make you confused about how to download the project to your wanted media platform or just a local folder. Here we're about to learn how to export video from iMovie on Mac.
How to Export iMovie Video in Local Files
Different from downloading videos through e-mail or media channels, you see more options that customize the format, resolution, quality, and size of a video when exporting the video project to the computer directly. On the interface, iMovie gives the file metadata like duration and file size.
Find iMovie on your computer. Click "+" to start editing a video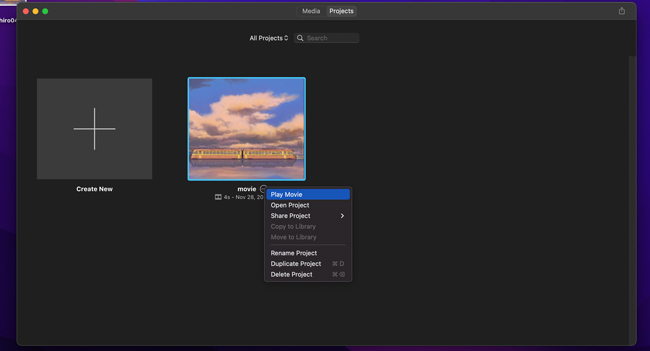 Learning how to commence video editing in iMovie is the first step. Create a new project by hitting the "+" icon on the screen. For those edited projects that appear on the Media panel, highlight the icon and right-click it to pick up "Play Movie". Then you get into the user operation interface.
When your video-making project is finished, tap on the "Export" button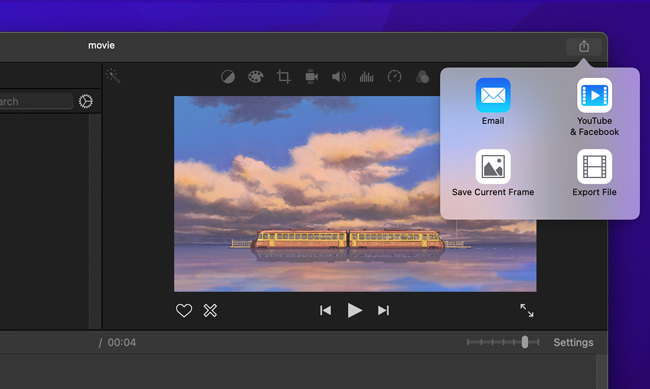 The "Exporting" icon is set in the right upper corner that contains four basic selections. To manipulate video file parameter settings more professionally, exporting files to local files is advised. Click "Export File" from those options.
Set the file metadata, convert format, quality, and more parameters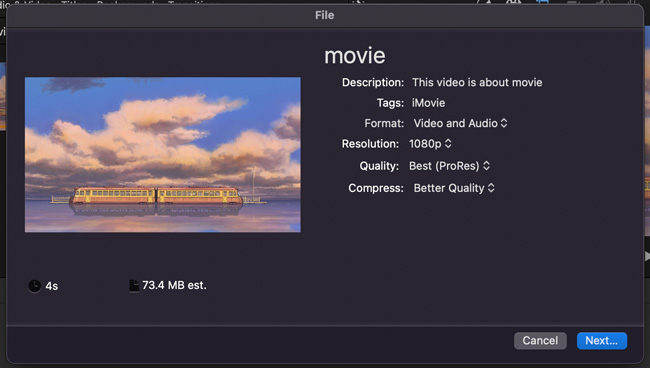 Personalize the file settings on the workspace for downloading videos. You're allowed to change the project resolution and quality to a better one. The metadata that appears on the interface helps you figure out how much storage needs to be prepared. When you like the settings, go to "Next...".
Select a folder to locate the file saving path on your Mac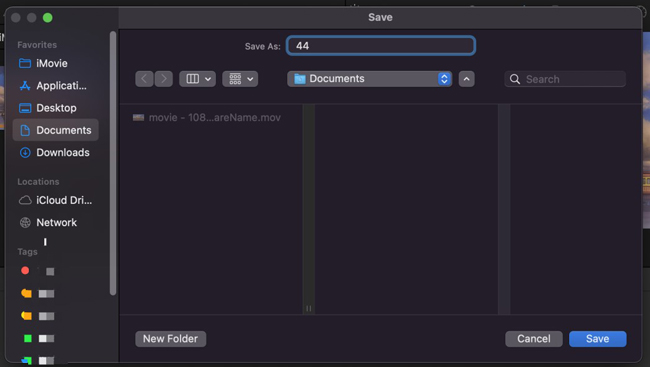 You can create a new folder to save the projects. In this way, you need to input the name to determine the "Save As" result. Or choose local portfolio and click "Save" to keep your save path changes. It is interesting to add tags like color to an edited video.
How to Export Video in iMovie by E-Mailing
Sending your videos in iMovie through e-mail is an efficient method to share that content with other people. But the output settings for files become less so you'd better finish all editings like aspect ratio and file quality on the operation interface. Besides that, you need to register.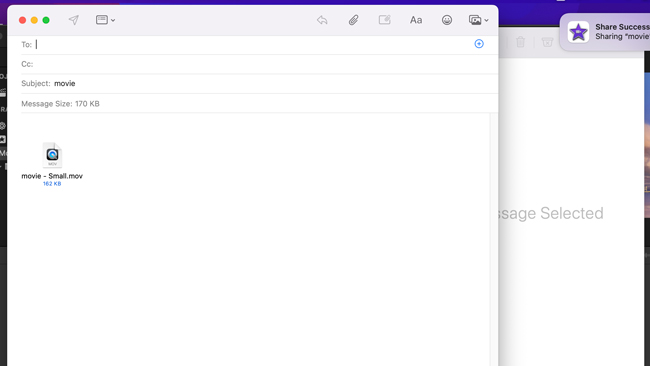 Step 1. Finish the project by clicking the "Email" icon on iMovie;
Step 2. Check description and tags of the video file. You can choose to convert the final resolution;
Step 3. If you haven't created an account, you need to get a new account. When the e-mail sending workspace pops up, input details like recipient. The video will be sent as an appendix;
Step 4. Check the e-mail content and click the "Send" icon from the menu.
How to Post iMovie Video on YouTube or Facebook
As regards exporting a video to social media directly by iMovie, you can choose YouTube or Facebook websites for posting any video, while the files will be saved to your computer automatically. Also, you should confirm the registration on the websites you're going to visit and upload.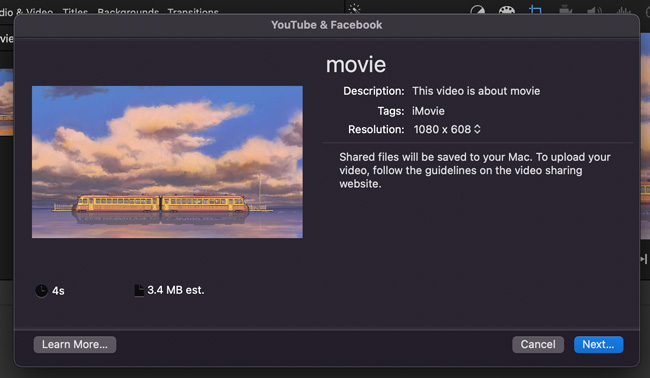 Step 1. Go to the upper right place and click the "YouTube & Facebook" option;
Step 2. Define the resolution that required by social media. Normally, YouTube or Facebook posting keeps the uploading on 1080p, with an aspect ratio of 16:9 and H.264 Codec;
Step 3. You're going to visit the website and add a related description to that video.
How to Share Video before Editing in iMovie
iMovie for Mac also allows users to post or share their edited videos at the very beginning. On the Media panel, not only can you start a new project for cutting or cropping a clip and then decide on the output method, but also users can choose to share the edited content without complex steps.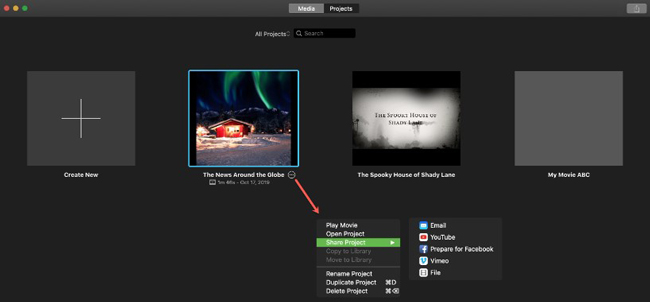 Step 1. Launch iMovie on your Macbook or iMac. Turn to the "Media" plate;
Step 2. Search for the projects from the dialogue. Left-click the three dots beside the project and select "Save Project". Later, you can export the iMovie videos by Email, YouTube, Facebook, Vimeo, and File;
Step 3. Choose the output channel you want, then set video parameters according to your needs in each specific workspace.
Export Your Video from iMovie on iPhone
The iMovie iOS version is different in video editing features and downloading methods. But the iMovie app is pre-installed on your phone and users can upload files from the phone's album without registration as well. The exporting method let you see the project resolution as a part of the whole procedure. More than that, you can upload the iMovie videos on all social platforms that you're enjoying.
Enter iMovie app on iPhone. Click "Export" from the user interface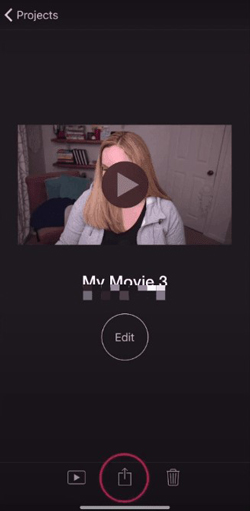 No matter whether you're editing a video or finishing making a project, click "Export" from the screen. If you have downloaded some apps for social communication like WhatsApp or LinkedIn, iMovie supports you to share edits on these channels.
Choose the platform you want to share or go to "Save Video" for resolution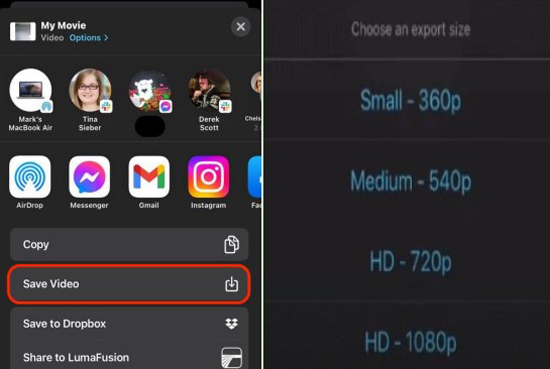 In the dialogue that pops up later, pick up the platforms that you want to share the video with. As you can see, the target can be AirDrop, Messenger, Gmail, Instagram, Facebook, and more. If you want to save the files to your phone, choose "Save Video" and iMovie let you convert the resolution to 360p, 540p, 720p, or 1080p afterward. Lastly, find the video on your album.
Exporting Videos from iMovie on iPad
What makes the iMovie version on iPad different from others is that the user experience is easier and you can play the edited files in real time with the performance monitor. More than that, if you want to manipulate professional settings, click "Edit Actions" from the screen.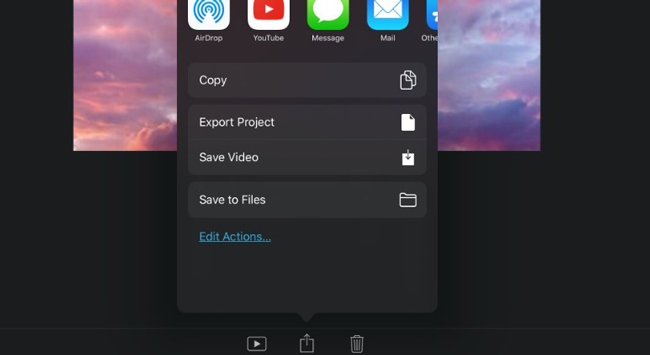 Click "Export" to export the video from iMovie no matter if you just finished the post-production or want to share edited projects. For posting a video on YouTube or other social media, click the icon directly. If you want to fine-tune file settings like resolution and codec, find and click "Save Video" from the pop-up options. Then give the video descriptions as your want.
Exporting a Video from iMovie Frequently Asked Questions
1. Why is iMovie exporting in low quality?
Although you've done the normal stuff in making a video yet haven't performed video codec conversion manually, iMovie will save the inputs into MOV format by the Apple Intermediate Codec (AIC). In this case, the normal exporting by iMovie causes quality loss to some degree compared to MP4 or other format output.
2. Why is it so hard to export from iMovie?
You need to take a lot of causes when the iMovie video exporting come to failure, for example, a corrupted video-making process, no computer storage space, laggy video frame rate, and false downloading file channel detection. Basically, you need to check each common situation for solving the problem.
3. How do I fix iMovie export problem?
Way 1. You'd better try to download another project to check whether it is functional or not.
Way 2. Then review the file name and export settings. Sometimes, social media requires a varied video for specific projects like Instagram Reels size needs an aspect ratio of 9:16, with 1080 pixels * 1920 pixels.
Way 3. If that cannot help you handle the problem and the space is enough for storing your files. Try to update the iMovie software or app from Apple Store, otherwise, you have to boot the system in Safe Mode after restarting.
4. Which is the best alternative to iMovie?
TunesKit AceMovi Video Editor is the best alternative to iMovie for Mac and Windows both. When it comes to exporting a video, this alternative option allows you to choose from hundreds of video formats, social media channels, as well as phone/TV devices. For example, compared to iMovie which supports limited formats, AceMovi allows formats of MP4, AVI, MOV, WMV, MKV, DivX, M4A, DVD, 4K Video, etc.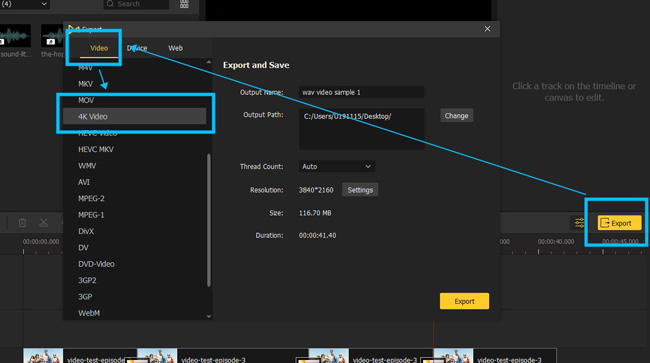 Also, advanced settings for your editing like 60fps and 1080p resolution are at your disposal. What makes AceMovi a standout video editing software are the easy-to-catch functions and multiple exporting options, try it here to enjoy more.
Summary
iMovie actually separates its official versions into Mac and iPhone, so you find the guides to export an iMovie video is the same on iPhone and iPad. But there are still differences in detailed output settings like resolution and video codec. Even the guide for exporting contains multiple methods, you will find it crystal easy after reading this page.