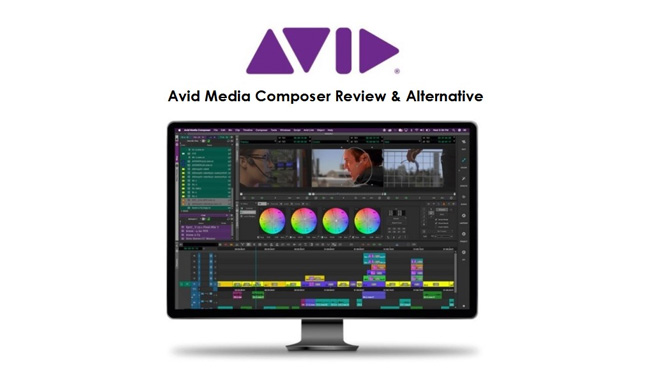 What does a professional filmmaker want?
Every filmmaker wants his movie to be filled with majestic scenes and breathtaking graphics. But shooting a movie isn't enough to make the storytelling attractive and popular. Instead, the way you portray that story matters the most. To attract your audience with upbeat and exciting content, you'll need to look for a professional film-making tool – such as Avid Media Composer, a mouthwatering thing for almost every prominent filmmaker. Using this sensational tool, you can make your movie action-packed and worth noticing.
In this post, we're going to make a complete review of Avid Media Composer, including its key features, user experience, price and more, along with its best alternative that you can download on both Mac & Win for free.
Review of Avid Media Composer
Avid Media Composer can be one of the best video editors to catch your appetite no matter you are a TV and movie-making beginner or professional. Avid is an excellent user-oriented program designed to help content creators to generate flawless videos and it features a plethora of unique and admiring tools that can assist you in creating breathtaking YouTube and home videos.
1. User Interface [Free & Pro]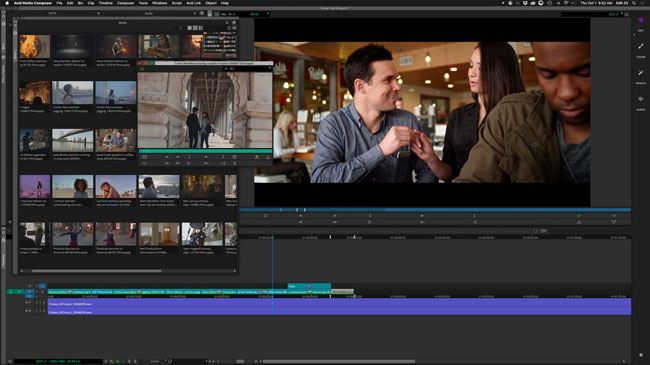 Generally, you'll find many professional and advanced video editors to be a bit hectic to understand. But it's hard to get lost in Avid Media Composer because Avid has separated its built-in features into three panels - Menu, Canvas, Track & Toolbar. You can easily orient to any features on the screen in its drop-down categories, like where to make the video playing, cutting, rotating, re-sizing, and exporting, etc.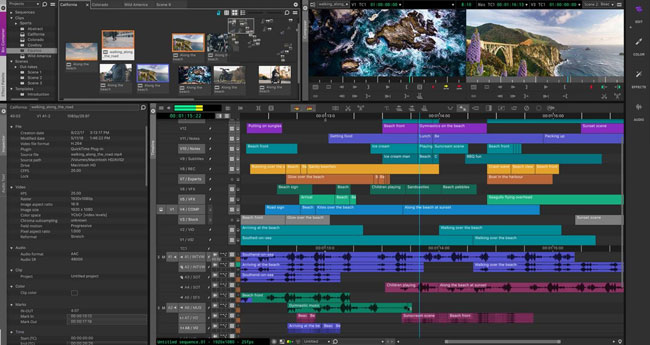 Since the free version is mainly for non-commercial users, the inventor of this editor has paid close attention to making this tool manageable. However, for commercial users who tend to use the pro version, the interface can become tricky - It comprises more types of tracks for videos, audios, & images, more stock resources, and more related parameters.
2. Color Correction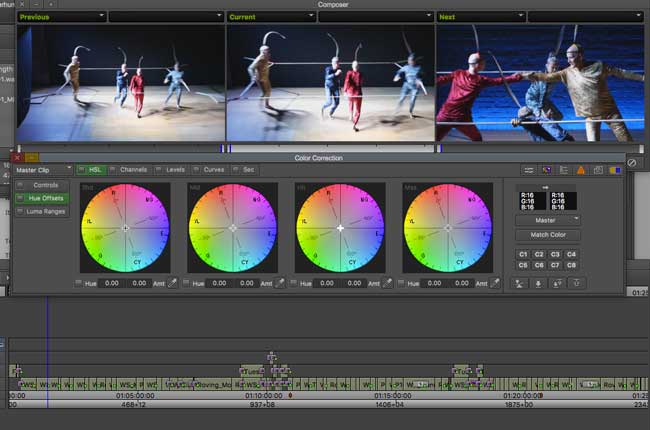 Using the Avid Media program, you can explore many color correction options. It allows you to pleasing tune colors to give a fantastic tone in every individual shot.
Besides, Avid also provides you with advanced color balancing tools like Color Wheels, Wave-Forms, and Shaping-Curves to make your films top-notch and excellent.
3. Audio Balance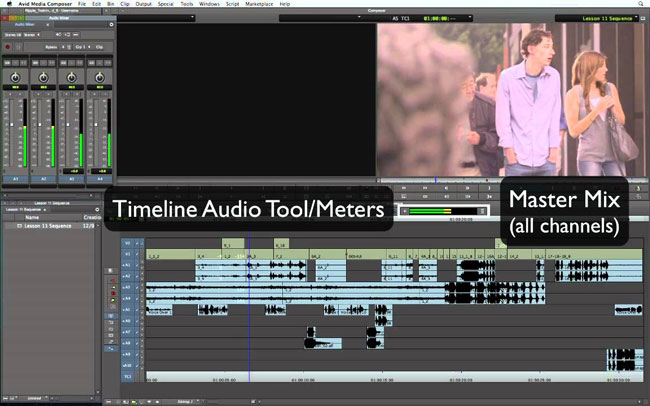 Audio is a very important aspect for any local or commercial video because we can't understand the message a video wants to convey without hearing it out.
Luckily, the Avid video editing tool offers you compelling and professional audio engineering makers to enhance the audio tracks of your footage and clips. You can explore many audio options by using this outrageous video editor like Timeline Audio Meters and Master Mix (all channels).
4. Text & Graphic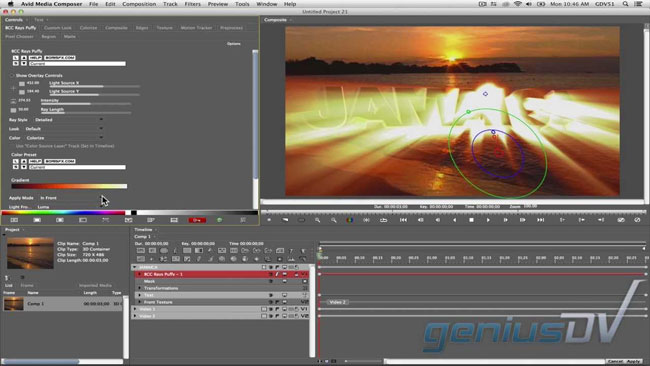 Avid Media Composer isn't bad at providing you with magnificent "text and graphics" elements, apart from offering scintillating audio options.
Through the flawless Subtitle-Reader and 3D Graphics-Maker of Avid Media Composer, you can take your content to higher levels.
5. System Requirements
You can run Avid Media Composer in Windows 7, 8.1, and 10. Moreover, you'll need 16 GB of free space on your hard disk to perform operations in videos using this editor on your desktop.
For Mac users: 12-core 2013 Mac Pro (Ivy Bridge 6,1 Cylinder) or dual 6-core Mac Pro (Westmere 5,1 tower) models CPUs on Mac OSX 10.10.x (Yosemite) may cause issues with playback, trans-code, and RED rendering. For the best experience on mac-OS, customers with these CPUs that follow RED workflows should keep Mac OS 10.9.5. (UPDATE: The latest RED AMA plugin v1.16.5 + has solved those issues)
6. Pricing
If you are a non-commercial user, Avid video editor provides a free version that is good enough to edit local videos. Meanwhile, Avid's pro version contains offers more VIP services - you'll get access to high-tech features like FrameFlex, Edit 3D, Multi-cam Editing, Audio Dupe Detection, and HD Media Natively, etc.
When it comes to its price, Avid comes with a loyalty-free media composer version on both Mac & Windows. However, the premium package costs around 49.99 dollars per month for movie industries and big production houses.
AceMovi Video Editor (Win 10 & Mac) - Best Alternative to Avid Media Composer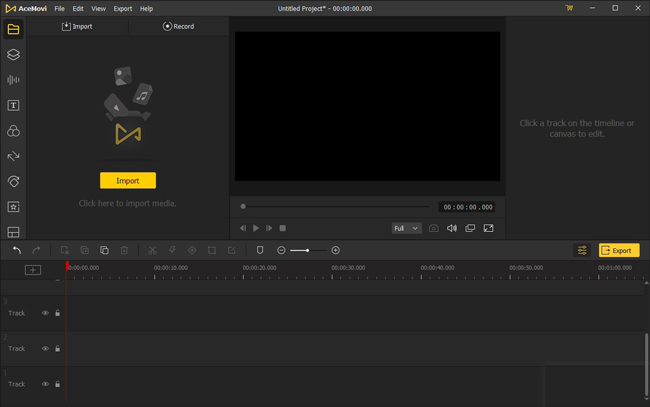 Avid Media Composer is an excellent software for the video-making editor field. However, it doesn't represent the majority of video editing lovers, especially you may face difficulty editing the content for your social media in this tool.
Considering this aspect, opting for AceMovi Video Editor can be a wise idea. You'll get gigantic features and outstanding services with AceMovi. In addition, you can import the video of any file format directly into AceMovi's interface. After testing its free version, you can acquire its premium version at a reasonable budget, which is also pretty good at editing your essential stuff.
Pros:
Rotate & resolution: You can rotate your video in any manner you want or change the resolution and aspect ratio of your video with minimal effort.
Slideshow maker: If you want to create attractive slideshow videos for parties or weddings, the AceMovi editing tool can help you with its remarkable features.
Video formats: Supports every video file format, including AVI, 3GP, FLV, MP4, MPG, and others.
Video sharing: After editing your video, you can share it with your friends on the social media platform.
Video transitions: Allows you to explore breathtaking transitions to make videos flawless and relevant.
Basic functions: Split, crop, merge, convert, compress, brighten, re-size, add title, and many more.
Advanced functions: Fast/Slow-Motion, Picture-in-Picture, Split-screen, Mosaic, Blur, Sharpness, Pitch Change, Audio Sync, and many more.
User interface: Intuitive and user-friendly and comprises all the significant features. It makes things look refreshing and pleasing to your eyes.
Voice record: Last but not least, AceMovi Editor also allows you to record your voice and then add effects to it.
Cons:
Video animations: Need a larger collection of animations.
Budget friendly: Need to pay for the full version $19.95 monthly to remove the watermark.
Final Verdict
Avid Media Composer is an ideal option to generate content for big projects like movies, dramas, and public shows for it comes with powerful and advanced features to make your job easy.
Hoping that you can take the important notes from this article about Avid as we've discussed it. Meanwhile, if you're looking for a video editor to create the videos for social media platforms like YouTube, DailyMotion, Vimeo, Facebook, and Instagram, etc., AceMovi Video Editor is one of the best options in front of you.