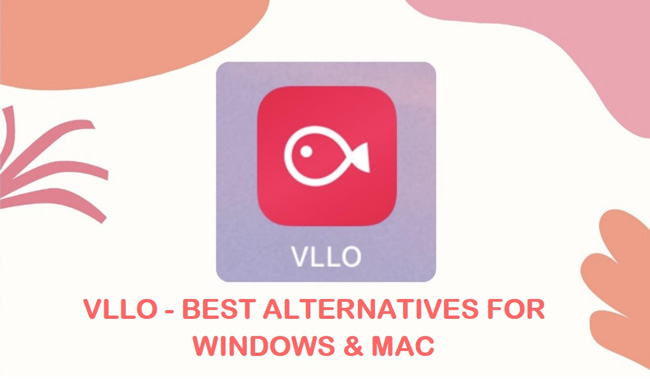 As a prolific video editor that features unbelievable effects, VLLO has been used in the video editing field for a very long time. And it's super easy to edit videos with backgrounds, colors, texts, filters, and other video elements on VLLO, and by which you can upload videos on YouTube and Facebook as well. However, many users have encountered some problems within VLLO such as they cannot edit more than one video at once, or if they need to convert some of the video formats like WMV, AVI, & MOV beforehand, they have to pay for the updated resources.
To solve those problems and improve users' experiences, in today's article, we'll give the 8 best alternatives to VLLO with pros and cons for Windows and Mac users. Now, let's hit the road!
Top 8 Best Alternatives to VLLO for Windows & Mac
Top 1. AceMovi Video Editor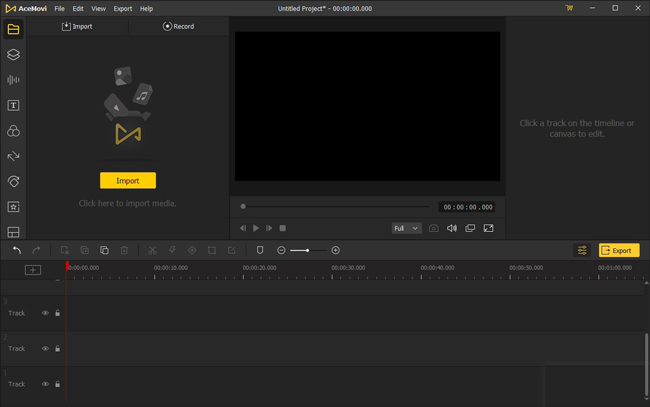 You don't need to roam for too long when you've got a massive option in the shape of AceMovi Video Editor. The value that the TunesKit AceMovi editor adds in the video editing field is nothing less than spectacular. Using AceMovi, you can generate unbelievably attractive and fascinating video content without converting video formats in advance.
And in the following picture, you'll find that all the video editing features and effects can be navigated on one screen so that it won't be bothered by the issue of where to find your wanted video genres. Besides, unlike VLLO, you can edit 2, 3, 4, or more videos at the same time with AceMovi, for example, you can freely merge your videos or duet and react to them.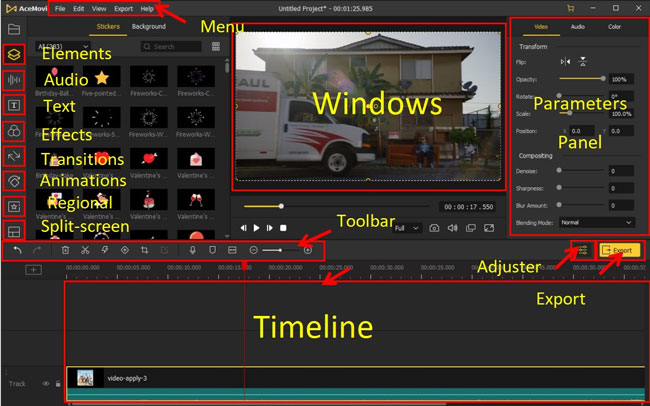 And the features you'll get with AceMovi Video Editor are simply outstanding like video balancing, recording, chopping, splitting, cropping, and converting. Moreover, you can share your edited content to the AutoFit formats that multiple social media platforms require like Facebook, Instagram, DailyMotion, and more. Surprisingly, AceMovi Video Editor allows you to import video in types of video resolutions you want, meaning even you can import and edit 4K resolution videos with ease.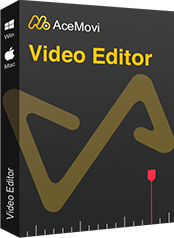 TunesKit AceMovi Video Editor
Security Verified. 5,481,347 people have downloaded it.
Pros:

AceMovi allows you to crop, trim, split, convert, and record video in a befitting manner
If you want to add filters or effects to your video, AceMovi offers you unbelievable options to serve your purpose
Stunning user interface, meaning you can explore its features with minimal effort
Create stunning slideshow videos for birthdays, weddings, and college parties
Apply fast and slow-motion mode to your content to add flavor to your videos
Explore the fascinating picture-in-picture effects and excellent transition options
To add attractive titles to your video, you can use AceMovi's catchy text options
Add appealing themes, flawless stickers, & prolific background music to your videos free
Pros:

No mobile edition to use
Top 2. iMovie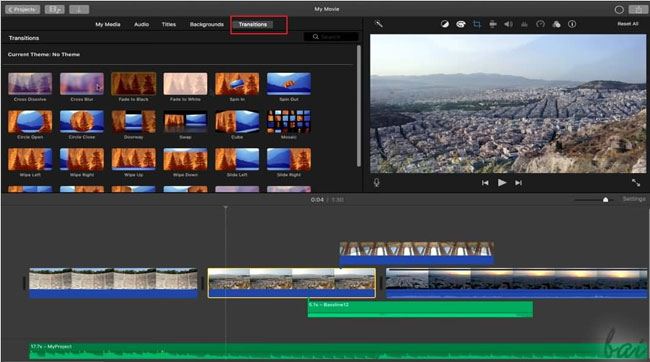 iMovie's video editing style appears more brutal so that we recommend it as the second-best free alternative to VLLO. You'll find a pretty less number of video editors that are as dynamic as iMovie has been for so long. It is a courageous video editor for Mac and Windows users who can generate flawless content quickly.
The best thing about this video editor is that it allows you to make videos in a well-organized timeline by which you can drop various video effects and flexibly adjust the genres, duration, or sequences.
Pros:
You can easily browse your videos using iMovie
Has a good looking user interface
A load of text templates, transitions, and background sounds
It offers a pretty pleasing timeline, making the job effortless for you
Cons:
Not available on Windows
Export with watermark added
Top 3. Hitfilm Express
Hitfilm Express is an advanced alternative video editor to VLLO, apart from editing your video, Hitfilm is pretty famous for video composition. It is probably the perfect VLLO PC alternative that can make your content look top-notch.
You'll not find many editors who can make your content that attractive Hitfilm Express can make. With Hitfilm, you have two windows to show the effects you applying in real-time and more details will be shown before your eyes.
Pros:
It allows you to add some prolific filters to your content
You can also explore multi-audio features with this tool
Double-windows design to see more details
Advanced effects and features for video editing
Cons:
Tough for beginners
No free version
Top 4. Pinnacle Studio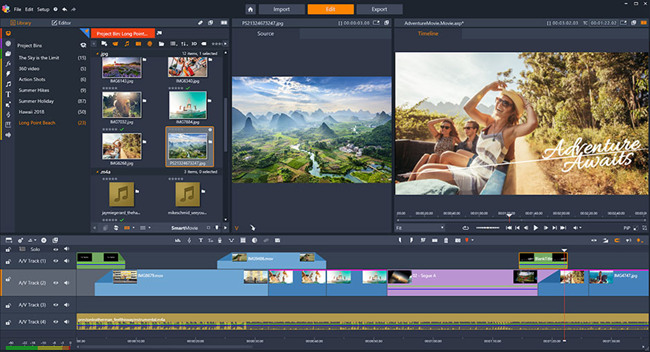 Pinnacle Studio is a terrific non-linear editing tool, which is deemed as one of the best VLLO's alternatives and offers many mind-blowing editing features for you. And the best thing to talk about this tool is its fascinating user interface - you may find it's a bit the same as AceMovi, but by contrast, you'll find another canvas and two more designated areas Import & Export so that you can find what you've added into as well as what format or platforms you can export into. Speaking of the trouble with Pinnacle, some users may reckon that its icons are too smallb to look at, and we have to admit this problem.
Pros:
You can apply stunning filters to your video using Pinnacle Studio
Allows you to explore fantastic audio features
Double-canvas design
Bountiful built-in resources
Cons:
Too small icons
Limited tracks
Top 5. Adobe Premiere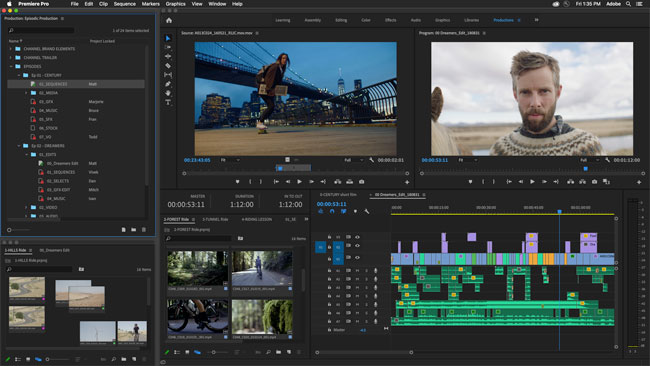 If you're to look for an advanced video editor to be the alternative to VLLO, don't look beyond Adobe Premiere. It is a professional video editor giving services to big production houses. And people looking for VLLO for Windows alternative can acquire the services of Adobe Premiere Pro.
With Adobe Premiere, you can edit videos in specific areas like Learning, Assembly, Editing, Color, Effects, Audio, Graphics, Libraries, and Productions. For example, if you visit the learning panel, you can get access to the tutorials of how to use this tool; and if you click the Assembly, you can find the files you just imported will be organized into groups.
Pros:
It brings outstanding editing features to the table
Designated plates for you to edit video with color, effects, audios, or graphics, etc.
You can attractive text features using this tool
Double-window genre to make precise contrast
Cons:
The premium version is pretty expensive
Top 6. VideoPad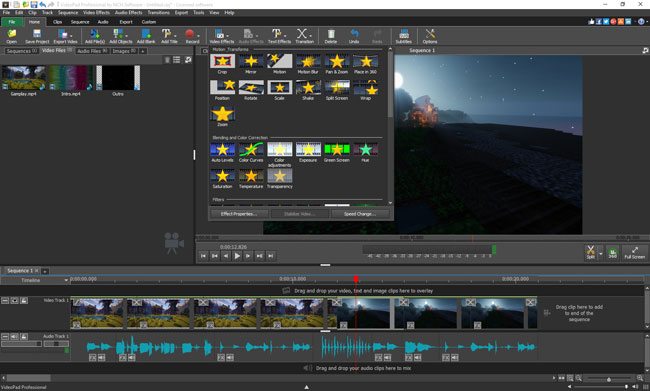 This is another alternative of VLLO that carries a quite intuitive interface - VideoPad, a scintillating filmmaker for Mac and Windows users that allow editing movies and videos. VideoPad comes with professional features to make your content memorable so that you can create or edit your videos in only a few minutes due to its air of Microsoft Word. But the shortcoming of VideoPad is that you may find it's uneasy to use the timeline.
Pros:
It comes with 50+ Visual effects to make your content top class
Multiple export options
You'll find the features like audio, transitions, picture-in-picture effects, and many more
Comes with an air of Microsoft Word - helps you orient the functions easier and quicker
Cons:
Troublesome timeline
Audio effects needs to be improved
Top 7. Windows Movie Maker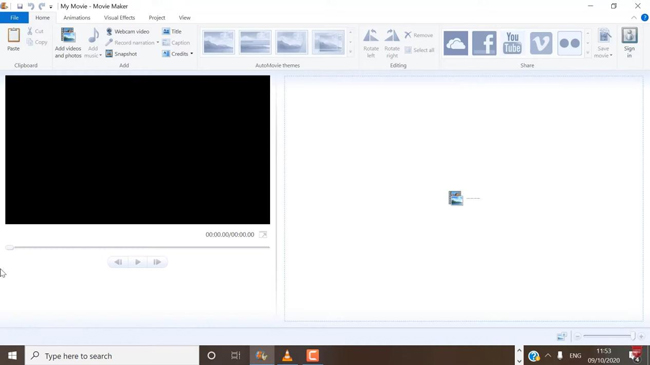 Believe it or not, the Windows system inherently has a tool that allows you to edit videos with ease, the so-called Windows Movie Maker. And if you're looking for a VLLO video editor alternative that works very efficiently, it can be a very good option.
By using this tool, you can add text, themes, transitions, picture-in-picture effects, and more other things to your video. Importantly, it comes with an accessible interface and doesn't charge any penny from you, even you can export it into Facebook, YouTube, or other social platforms.
Pros:
You can preview your videos before downloading them
It allows you to export your videos to multiple social media platforms like YouTube, Facebook, Instagram, etc.
Very small size to operate
Top 8. Animation Desk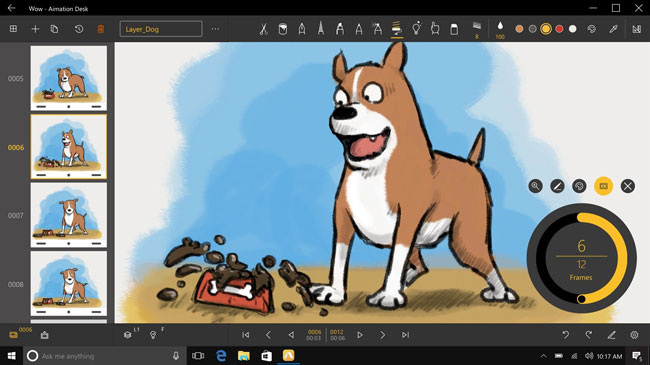 Want to edit your video with more animations and motions? Animation Desk won't let you disappoint, which is another versatile tool that can serve you as a reliable video editor. Whether you want to edit or record your video, this tool always makes a way to get your job done. Some of its features are simply outstanding, making your content flawless.
As the last VLLO's alternative we recommend in this letter, Animation Desk's biggest point lie in the Paintbrush and Color Palette, meaning that you can change the sketch of color in your videos precisely.
Pros:
It offers a pretty straightforward user interface
You'll get a terrific music library using this tool
Advanced tool like Paintbrush & Color Palette
You can edit the video in a specific frame
Cons:
It can't manage high-resolution videos
User Check - Comparison Table of the 8 VLLO's Alternatives
Below is a quick-check stable of the 8 best VLLO's alternatives. And you can compare the details like the pricing, user experiences, OS, features, effects, and more. You should notice that there is no free version of Hitfilm. And when it comes to the pricing, we think that AceMovi's perpetual VIP service is worthy of purchasing while you can find that Adobe Premiere's year service up to more than $200.
| | OS (Both Windows & Mac) | Pricing | Free Edition | Basic Features | Advanced Features | Double-Canvas | User Experience | Plug-ins |
| --- | --- | --- | --- | --- | --- | --- | --- | --- |
| AceMovi Video Editor | √ | $19.95/Month, $39.95/Year, $59.95/Perpetual | √ | √ | √ | × | Easy | Less |
| iMovie | Only Mac | Free | √ | √ | √ | √ | Easy | Less |
| Hitfilm Express | √ | $299/Year | × | √ | √ | √ | Hard | More |
| Pinnacle Studio | Only Windows | $59.95/Normal, $99.95/Plus, $129.95/Ultimate | √ | √ | √ | √ | Hard | More |
| Adobe Premiere | √ | $20.99/Month, $239.88/Year | √ | √ | √ | √ | Hard | More |
| VideoPad | √ | $34.99/Home, $69.95/Master | √ | √ | √ | × | Easy | Less |
| Windows Movie Maker | Only Windows | Free | √ | √ | × | × | Easy | Less |
| Animation Desk | √ | $15.99/Year-Pro, $59.99/Year-Creativity 365 | √ | √ | × | × | Easy | More |
The Bottom Line
VLLO is indeed a fascinating video editor, and you can't find its alternative easily. Despite the difficulty, we've managed to explore the appropriate alternative options to this tool. Of all the other options you'll find here, AceMovi Video Editor is the best one to opt for based on hundreds of our software testings. And the work ethics and the video editing features that AceMovi Video Editor offers are simply brilliant and unbelievable.