Even if today's smartphones can produce stunning photographs and capture aesthetic videos, there is always room for improvement by using third-party apps. Although most phones come pre-loaded with simple video-editing applications yet they are limited to your full editing experiences.
The PicsArt Photo & Video Editor offers a lot more than allows you to deploy effects and edit your videos to make them more appealing and captivating. With so many functions and UI components on the screen, this application is your best bet to create professional-looking videos on the go. Well, that's not all.
In this PicsArt Video Editor review, you'll find out its key features and how to use them flexibly. Let's get started!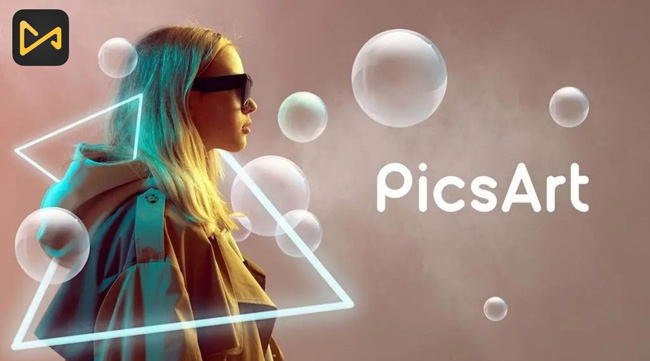 What Is PicsArt Photo & Video Editor
As the name suggests, PicsArt is a picture and video editing app created with the concept that everyone should have a fun and easy method to create and share outstanding content in a friendly community of other artists.
PicsArt helps you stand out from the crowd by deploying hundreds of filters, stickers, typefaces, photo-enhancing brushes, and editing tools to enhance your works. Users select their ideal Instagram style, enhance their pictures, create fan art, participate in creative challenges, and generate excellent content all in one spot.
Up to now, PicsArt has over 150 million monthly active contributors who produce, remix, and share approximately one billion pictures each month, making it one of the world's most significant open-source collections of material with free-to-edit photographs, backdrops, stickers, and more.
Pros:
Comes with a user-friendly UI
Offers fancy filters, stylish texts, quirky stickers, and much more
Stock of trendy video templates
Upload to social sites
Creative photo editing tools
Photo collage and slideshow maker
Downloads & shares without a watermark
Cons:
Occasionally works slow
Unfit for multiple video editing
Download PicsArt Video Editor for PC
For downloading apps on computers, an emulator such as BlueStack is necessary. You need to install such an emulator first then search for PicsArt Photo & Video Editor with it. Lastly, download the app.
Tips: However, more lags and strikes may happen in this way, so why not try video editing software directly? Here I suggest you navigate to TunesKit AceMovi Video Editor exclusively for PC.
There are many more reasons to pick up TunesKit AceMovi, for example, for adding texts/subtitles easily, making video split-screen/PiP/react/duet, editing green screen clips by the Chroma Keying tech, as well as reversing video, trimming video, cropping video, converting video, recording video, etc.
AceMovi comes with hundreds of background music and audio effects to make a perfect soundtrack with your clips. Click here to learn how to bleep/beep a video. Discover more? Join us!
Trendy Video Templates of PicsArt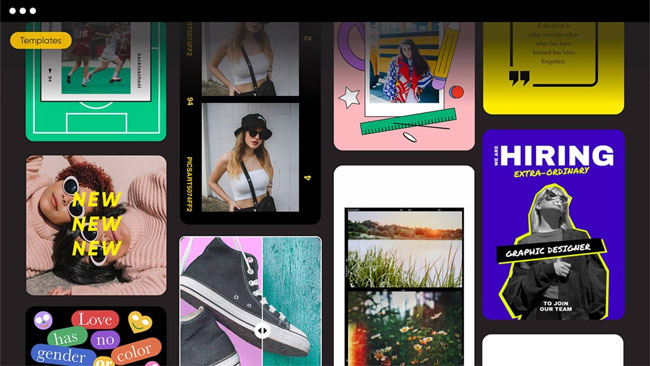 PicsArt features hundreds of trendy templates on the internet to provide its users with high-quality & off-the-self frameworks for their videos.
Whether you want to create a video for Facebook, Twitter, Instagram, Pinterest, YouTube, or LinkedIn, PicsArt has all kinds of ready-to-use templates. Moreover, these templates are completely customizable to your aesthetic. Using the PicsArt video templates, you can create your videos and edit the existing videos no matter slideshow, short videos, films, or vlogs.
To edit your video with trendy video templates using PicsArt, follow these instructions:
Step 1. Open the PicsArt app on your phone, and click on the + icon at the bottom to begin;
Step 2. Now, scroll until you find the Templates section and click on All Templates to view all the available ones;
Step 3. Select the template you wish to use;
Step 4. You can add text, filters, stickers, etc., to your video;
Step 5. Once you're done with the video, click on Next and press the Save button to save the video.
Exclusive Filters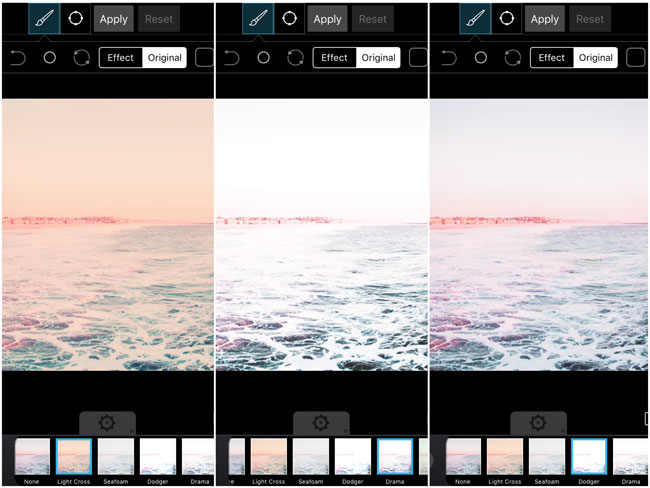 Adding filters is a prominent way to add aesthetic effect and cover some of the rough parts of videos. And using the PicsArt Photo & Video Editor, you will have access to a vast collection of video effects and filters that will allow you to turn your videos into one-of-a-kind pieces of art.
To try some filters using PicsArt, follow these steps:
Step 1. Launch PicsArt on your phone, and upload the video you wish to try filter on;
Step 2. After that, select the video, and click on Edit. Once you've reached the editing window, click on Effects from the bottom bar;
Step 3. Now, you will see several effects bundles. Select the one you like to get the bundle's fitters. After that, click on the filter to apply it to your video;
Step 4. Once you've selected the filter, click on Apply to make the changes to your video.
Funny Stickers
People can express their emotions and add animation to the video using stickers. PicsArt designs a vast collection of funny stickers added to your videos to express your emotion and add animation to the videos. To add funny stickers to your videos using PicsArt, follow these steps:
Step 1. Launch the PicsArt photo editor on your phone. After that, click on the Search icon;
Step 2. Now, search Funny Stickers in your search field and see the funny stickers available;
Step 3. Pick the one you wish to add to your video, and it will take you to the upload screen;
Step 4. Now, upload the video you wish to add a sticker on. After that, adjust the sticker on the video;
Step 5. Click on the Apply option to add the sticker to your video.
Background Swap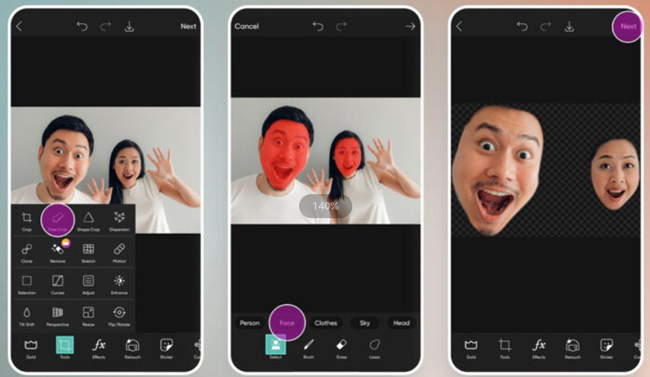 To make your videos look more eye-catching, you can swap your video's background. PicsArt photo editor pic video allows you to swap the pictures and video's background easily. To swap the background using PicsArt, follow these instructions:
Step 1. Launch PicsArt on your phone, and upload the video/picture whose background you wish to remove;
Step 2. Now, select the video/picture you just uploaded and click on Edit;
Step 3. Now, click on the Eraser tool from the Fit tool menu and click on Person to remove the background;
Step 4. Now, choose Color to swap your background to a solid color, or you can also upload your background using the Picture option. After that, c to swap the background.
Object Remover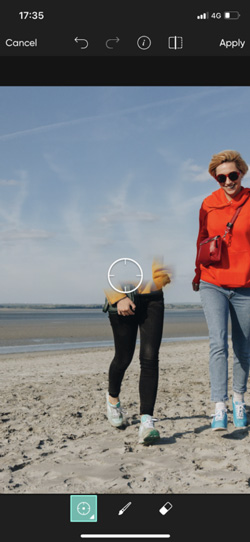 PicsArt photo editor free comes with a Motion Tool that allows you to move the part of your photo quickly. You can easily adjust the objects and faces in your photos according to your will.
To move the objects using PicsArt, follow these instructions:
Step 1. Launch PicsArt on your phone, and upload the video;
Step 2. Now, select the video you just uploaded and click on Edit;
Step 3. Select the Motion Tool from the Tools menu. After that, choose Auto/Free mode;
Step 4. Now, tap on the area you wish to move, and drag it to the part of the video you wish to place it on;
Step 5. Once you're done, click on Apply option to save the changes.
Comments
Editing your picture and videos is the need of the hour to make your content look eye-catching. And if you wish to utilize PicsArt Video Editor to edit your pictures and videos, we hope that you know how to utilize it properly after reading this PicsArt review.
Moreover, we recommend using TunesKit AceMovi or any other professional video editing software as an alternative for the PicsArt on PC because of the more user-friendly interface and advanced features. More importantly, it's no need to download an emulator extra for them.