The amount of gaming content available on YouTube is remarkable, as many content creators love to upload tutorials regarding the working of different games.
If you're an expert gamer and intend to grow your YouTube channel, creating gaming videos will help you get a lot of engagement.
However, to create a perfect gaming video, the intro part has a lot of significance; for that matter, finding the gaming intro makers is a given. This guide will introduce the 10 top-notch gaming intro maker tools.
Part 1. TunesKit AceMovi - Best Intro Maker for Gaming
If you've just started creating gaming videos and looking for the best intro maker for gaming, you can't find any better than TunesKit AceMovi Video Editor. Based on this tool's advanced and professional effects, filters, and performance, we won't hesitate to recommend this excellent video editing tool.
Apart from uploading the ready-created video to the main timeline of TunesKit AceMovi, it allows you to record the live video and add whatever editing filters you'd like.
AceMovi Video Editor brings in a lot of intro-making templates and themes that can take the content of your video to the next level. When you look at the interface of TunesKit AceMovi Video Editor, it is nothing less than spectacular.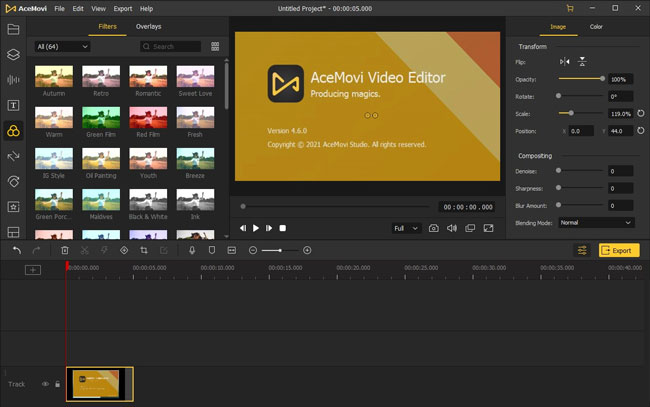 Pros:
Supports the Windows and Mac
200+ text templates, dynamic and static
Intuitive user interface
Supports the multiple video formats
Allows you to create split-screen videos for gaming videos
Offers the reliable free trial version
Cons:
The free version comes up with a watermark
Part 2. 9 Other Gaming Intro Makers
1. Movavi Video Editor Plus
Movavi Video Editor Plus could be a reliable gaming intro maker that allows you to create flawless intro videos.
It has an intuitive user interface and tools like Chroma Key for changing and adding video backgrounds. It has remarkable filters and transition effects to add a new dimension to the video.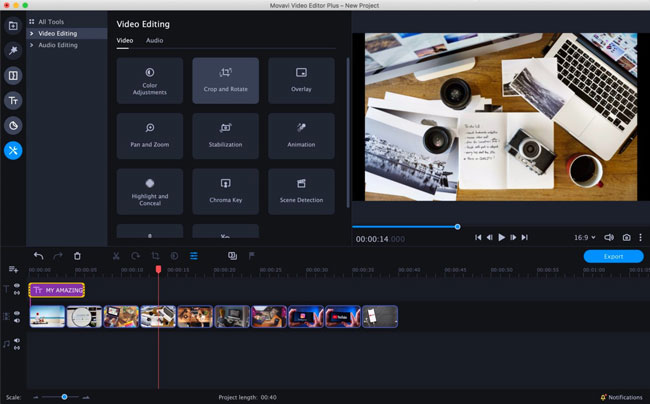 Pros:
Smooth video stabilization
Excellent Chroma Key tool
Stunning transitions, effects, and stickers
Cons:
Expensive Premium Package
2. AVS Video Editor
You can also opt for the AVS Video Editor when looking for a reliable intro maker for gaming channels. This video editor works well with all key resolutions and formats. This excellent gaming intro maker comes up with brilliant video editing tools to make the gaming video intro look unique and worth watching.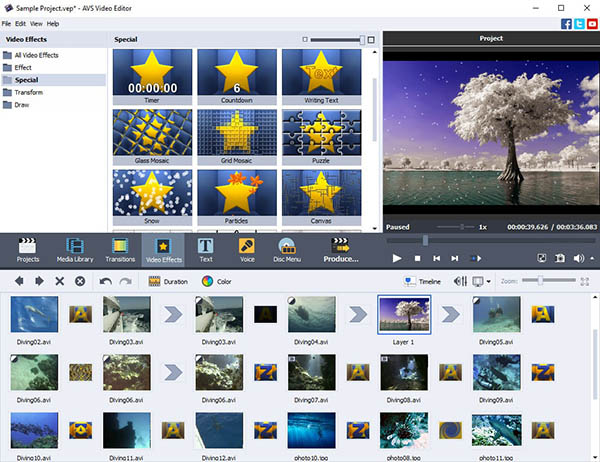 Pros:
Works with most resolutions and formats
Hundreds of overlays and templates
Change video background via Chroma Key effect
Split, cut, join, and trim videos
Cons:
It comes up with the outdated user interface
3. Blender
Creating attractive and eye-catching videos has become a simple courtesy of Blender. It is genuinely impressive and worth talking about as a gaming intro and outro maker that offers various video customizable options. All editing options in Blender come in the shape of proper sequence.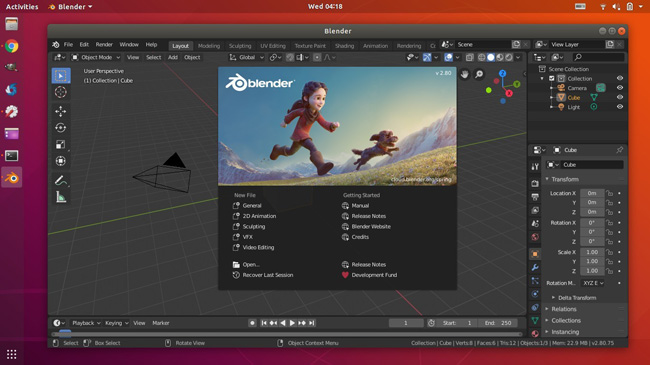 Pros:
It has different slots for adding audio, effects, masks, images, etc.
Provides brilliant waveforms, vectorscope, and histogram
Cons:
The free version doesn't come up with professional features
4. iMovie
iMovie is one of the most prominent ways to edit the gaming intro video appropriately. It supports the iOS and MacOS platforms and allows you to generate complete storytelling, moving logos, credit rolls, photos, videos, etc.
The app is simple, and you won't find any issues using this simple intro maker for gaming channels.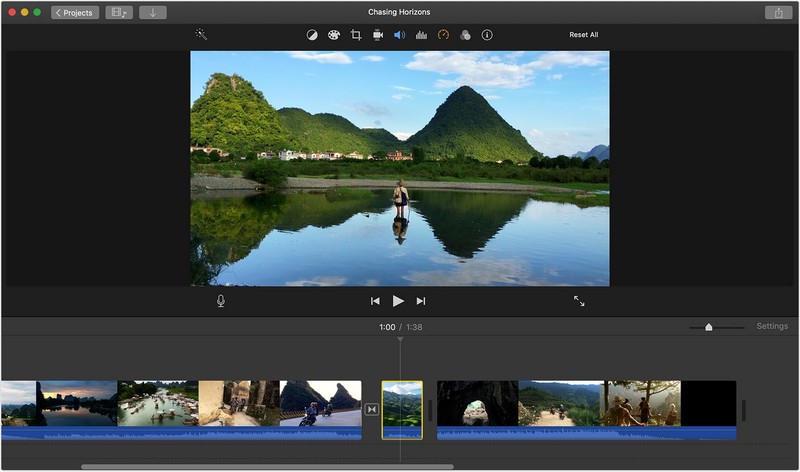 Pros:
Video Stabilization
Real-time titling
Automated video editing
HD and 4K support
Cons:
Some of its features lack performance
5. DaVinci Resolve
DaVinci Resolve is one of the best gaming intro makers that blesses you with all the essential video editing features you must have been looking for.
If you're a pro gamer looking to create a professional gaming video, DaVinci Resolve also comes up with sound balancing and color grading tools.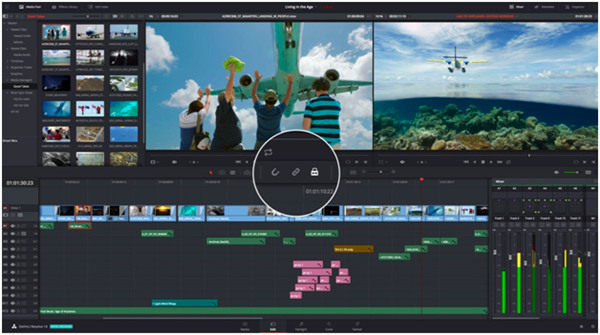 Pros:
Doesn't come up with the watermark
High dynamic Range Grading
Legendary color tools
32-bit float processing
Cons:
Demands high-performance PC
6. Premiere Pro
We all talk about the professional features of Adobe Premiere Pro and how good this video editor can be while editing gaming videos.
If you're searching for the cool gaming intro maker Premiere Pro, you might have finished your wait of getting the massive video editing tool.
Professional filmmakers and Youtube content creators often look at Premiere Pro while editing videos and making them worth remembering. Although Premiere Pro comes up with a hectic user interface, it could be an appropriate way to edit gaming videos.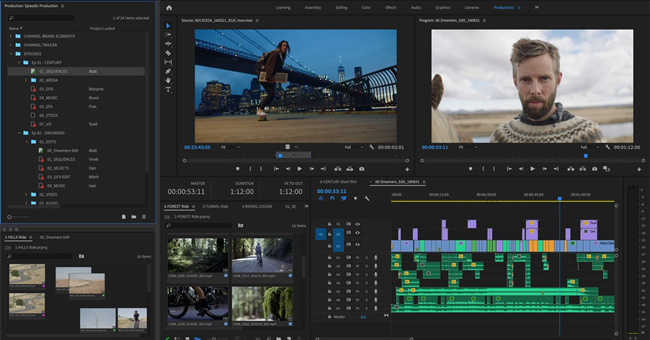 Pros:
Steller stabilization
High dynamic Range Grading
Supports the Mac and Windows
Limitless multicam angles
Cons:
Doesn't come up with media keyword tagging
Offers the tricky user interface
7. Final Cut Pro
Apple comes up with a highly reliable tool, Final Cut Pro, that can be the appropriate contender for the best intro maker for gaming. With advanced color correction, HDR, and 360° video features, Final Cut Pro aims to make your gaming intro remarkable and stunning.
However, you can't use the Final Cut Pro on Windows as it is only available for Mac. Luckily, you don't have to pay again and again to get the premium of Final Cut as all you need to do is pay for the lifetime premium.
Pros:
Advanced VFX
Specialized areas to create gaming video edits
Allows you to compare your effects in a real-time
Top-rated media management and editing
User-friendly interface
Cons:
No motion tracking or stabilization for 360-degree video
8. InVideo Video Game Editor Online
Some people prefer to avoid installing the gaming intro maker into the computer and would love to look for an online one to serve their purpose.
InVideo Video Game Editor Online is one of the most reliable online gaming intro makers offering 200 brilliant video templates. These gaming templates will appear like the full games day, video game highlights, new games listicle, vintage video game intro, and more.
With these gaming templates, you don't need to adjust your video's resolutions, filters, subtitles, text, and music.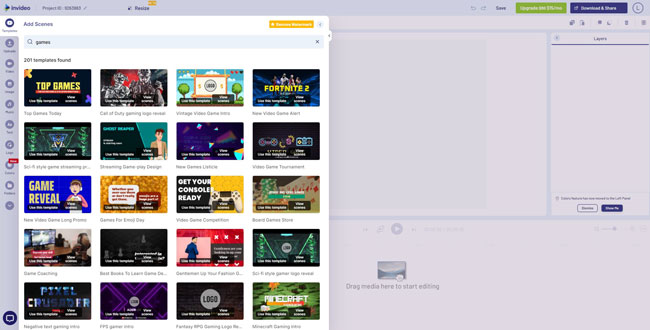 Pros:
Easy to use
No installation needed
Not expensive
Allows you to save the edited videos
Cons:
You need to maintain a stable internet to edit the gaming intro videos
9. FlexClip Video Game Editor Online
You don't need to try many online tools to create engaging gaming videos when you've got the FlexClip Video Game Editor Online. With hundreds of ready-made video templates, this online gaming intro maker aims to make your video look flawless and exciting.
Apart from offering a simple user interface, the best thing about FlexClip is that you don't need to install any software. Instead, only visiting the official website of FlexClip will be enough to generate amazing gaming intro videos.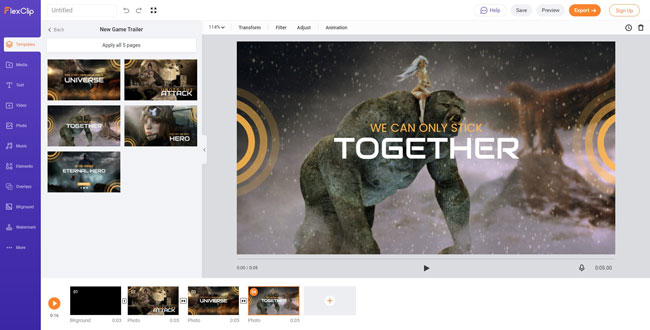 Pros:
Multiple music resources
Doesn't come up with the watermark
More options for animations and filters
Easy learning curve
Cons:
You can't export high-quality videos for free.
Conclusion
Despite exploring the multiple gaming intro makers, finding the best intro maker for gaming is still a challenging task. Luckily, you can take notes from this guide, where we've listed the 10 amazing gaming intro makers in no time.
Trying out all the tools mentioned in this post is fine, but something else can beat the quality TunesKit AceMovi Video Editor brings to the tablet. It allows you to create the perfect gaming intro and maintain an excellent resolution.