Before every movie hits the big screen, studios need to spend vast sums on the promotional campaigns, often as much as they spend on producing the film itself. Among those campaigns, indubitably, the movie trailer is an indispensable and effective part. There are many types of movie trailers to make like Blockbuster and Homemade, whichever, you must need a brilliant video editor.
Herein you will see the 3 best video trailer makers and learn how to use them to make a movie trailer with ease. You can choose to start mixing video, audio, text, and VFX tracks yourself or with a ready-made video template. Ready? Here is the beginning!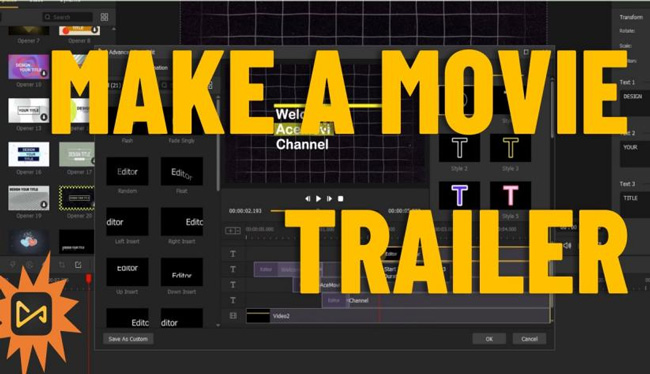 FAQs: To Know More about the Movie Trailer
Have you ever seriously thought about what is a movie trailer and why it's an essential part of enticing audiences to see your movie? Here are the answers as well as some other relevant questions you may be interested in.
What Is the Movie Trailer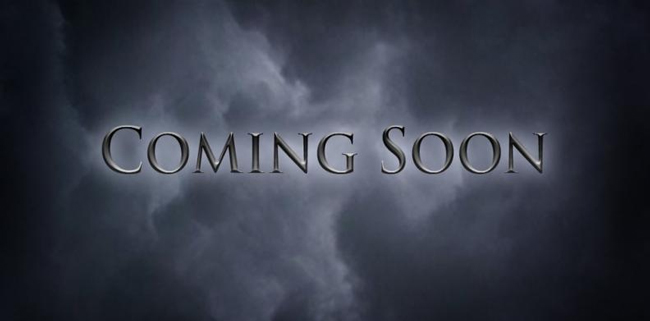 A Trailer is a preview of a movie that reveals critical moments or clips in the movie but also leaves cliffhangers for attracting audiences to sit before the cinema. Normally, audiences will see the movie stars in the movie trailer and the characters they play, along with the release date of the movie.
How to Make a Movie Trailer
1. Firstly, select a type of movie trailer;
2. Structure the content, it can be three-act or four-act;
3. Showcase some of the tense moments in your story, they must be sequential;
4. Add befitting voice-over and captions to highlight the narration and the sense of tableau;
5. Apply advanced VFX and features, such as the Split-Screen and Reverse;
6. Lastly, show the cast and release date.
What Are the Fashionable Types of Movie Trailers
You can sort out types of movie trailers in the movie-producing market and some of the popular ones include Clips, Teasers, Long Trailer, TV Spot, Standard Trailer, Blockbuster, Homemade, and Featurettes.
| Type | Explanation |
| --- | --- |
| Standard Trailer | A short movie trailer that consists of story setting, scenes, actors, titles, and other information. It usually hits theaters 2-3 months before the movie is released. |
| Long Trailer | The Motion Picture Association of America (MPAA) allows major studios to produce and display one four-minute trailer per year. Long trailers tend to make for publishers' highest-profile releases. |
| Teasers | Often, Teasers announce upcoming attractions, usually six months to a year, and these short, big-concept "announcements" lack footage from the film itself, which has not yet been shot or edited. |
| Clips | A simple preview of the footage. |
| TV Spot | A short trailer designed for television viewing before and during a film's release. It's commonly 10, 15, 30, and 60 seconds. |
| Blockbuster | Customized text templates and cadent background music are the two parts of a blockbuster movie trailer. Unexpectedly, you might not see great pictures of the movie from this sort of movie trailer. |
How to Make a Movie Trailer on Computer with AceMovi Video Editor
AceMovi Video Editor can be your best helper to make all sorts of movie trailers right now, not to mention you can download its trial version on Windows 10, 11, and Mac. AceMovi is chock-full of ready-made text templates, background music library, stickers, filters, transitions, overlays, and many more. You can simply drop the wanted move trailer genres under the video editing track to make your masterpiece.
No matter whether you want to make a YouTube Blockbuster movie trailer, a superhero movie trailer, or a homemade movie trailer for a school project, you can find the features to make them possible in AceMovi. For example, you can begin with the text template "Opener 18" and the music track "Black Knight" to compose a Blockbuster movie trailer.
More advanced tools such as the Split-Screen, Reverse, SlowMo/FastMo, Clone, Bleep, Blur, Duet, and Chroma Keying are included. AceMovi movie trailer supports major video and audio formats and is able to export them at HD quality with the wanted resolution and aspect ratio, for example, the HD MP4, HD M4V, HD MPG, HD MKV, HD AVI, etc.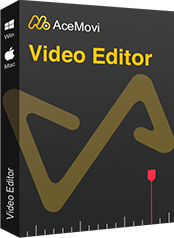 TunesKit AceMovi Video Editor
Security Verified. 10,231,922 people have downloaded it.
Pros:

Beautiful UI
Pragmatic toolbar
Color grading
Supports a lot of formats
Full of element templates
Process 60fps videos
Regional effects
Cons:

You cannot use it on mobile phones
How to Make a Movie Trailer on Computers with AceMovi
Install AceMovi Video Editor
You must install this movie trailer editing software on your computer.
Import Clips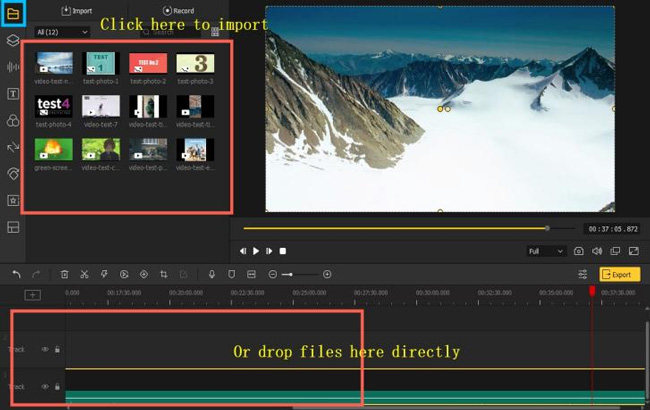 You can import any file from folders to AceMovi by clicking the File menu > Import > +/Add to Timeline. Another way will be easier - Drag-n-drop your files under the timeline.
Select a Template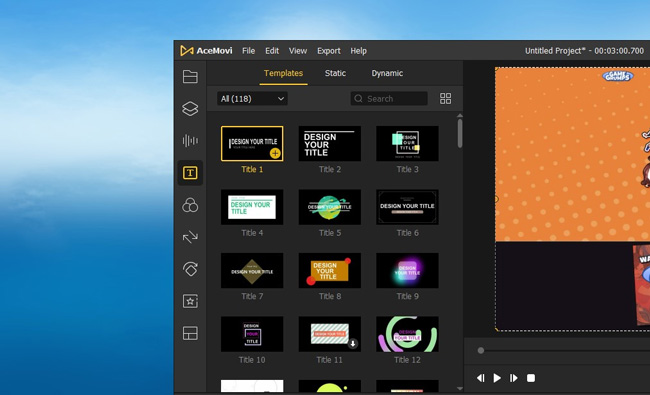 There is a myriad of text, music, and sticker templates to choose from. For instance, if you want to make a YouTube Blockbuster movie trailer, pick up one text template from the Text plate, then go to the Properties(A table beside to Export) > Transform.
Add Background Music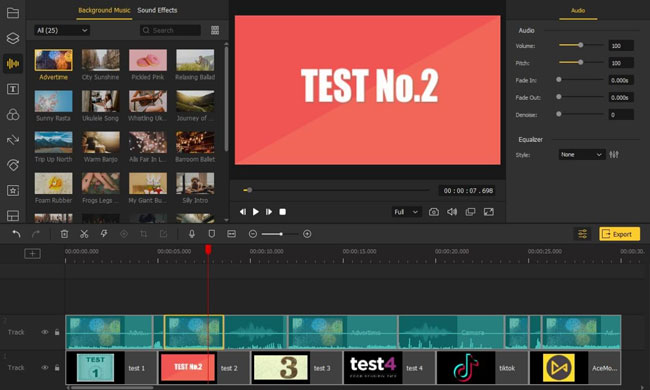 It is easy yet necessary to add a soundtrack when making a movie trailer. You can import music from local files or click the Audio plate to select one that is matched and synced to your clips.
Go to the Properties to set parameters like the volume, pitch, fade-in and -out effects, duration, and denoise values.
Apply Split-Screen or Other Advanced Effects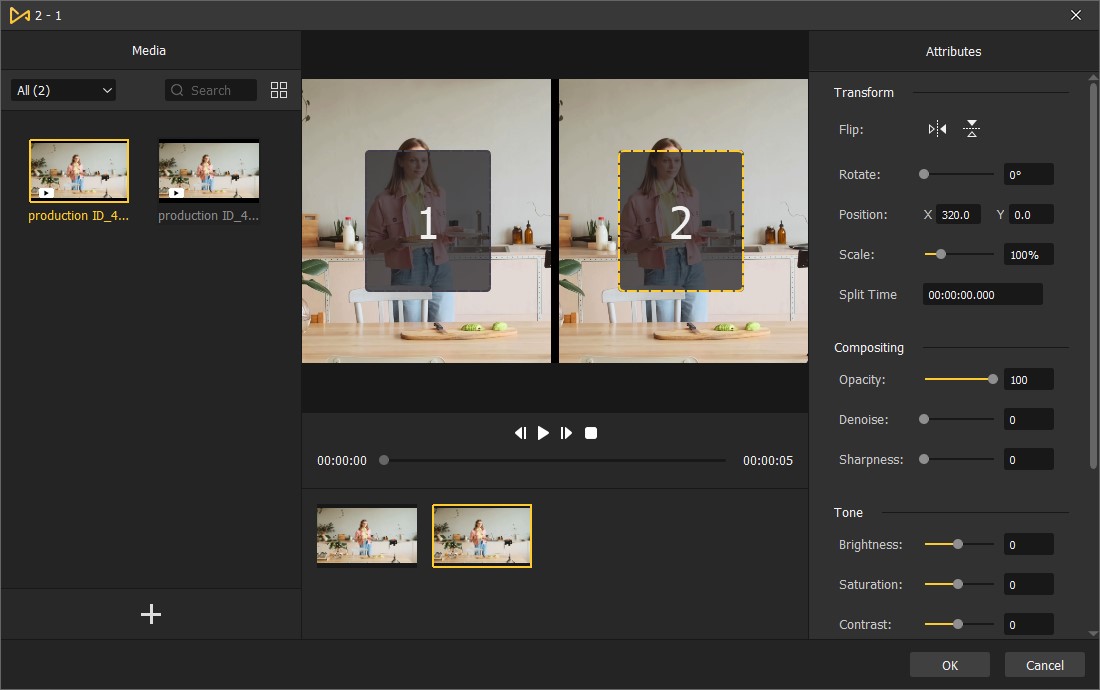 If you want to enhance your movie trailer, it's advised to try out some advanced effects. So to speak, you can use the Split-Screen effect or the Reverse effect to make your video cooler and more eye-catching.
Export Your Movie Trailer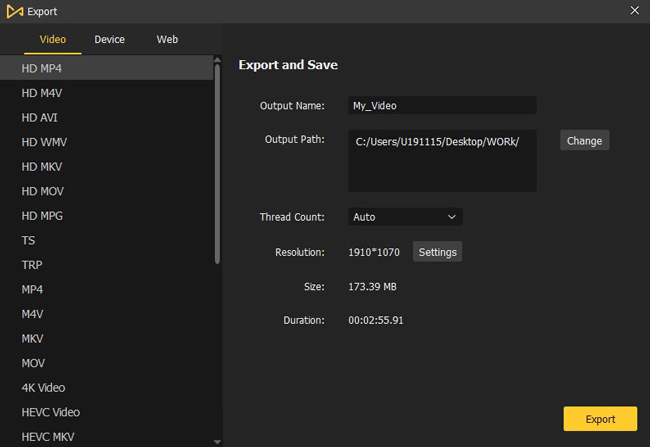 AceMovi provides you with many channels for downloading as we said, you can convert your video into other formats like the MP4-to-AVI (Export > Video), output it for mobile devices (Export > Device), or share it in the best format for social media like YouTube and Facebook (Export > Web).
How to Make a Movie Trailer on Android & iPhone with VN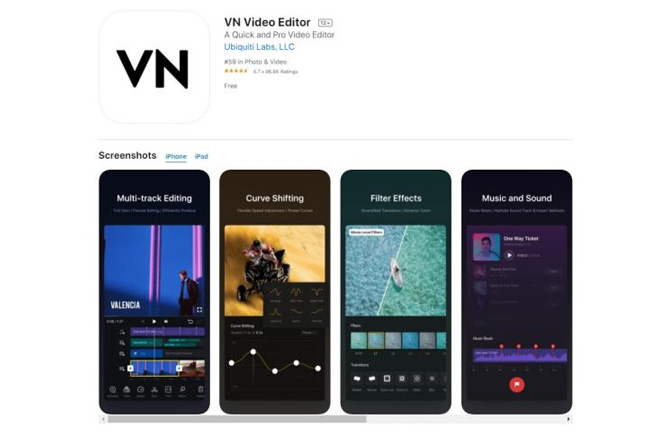 You may wonder how to make a trailer on Android and iPhone. It is a cake once you find a proper movie trailer application. And in this post, I'm going to share with you one of the best all-in-one and versatile tools - VN.
It is not a video-sharing community app like InShot and TikTok, but it can fulfill your purpose of creating a wonderful movie trailer easily. Now, let's come to see how to use this streamlined movie trailer maker app on mobile phones.
Begin with a New Project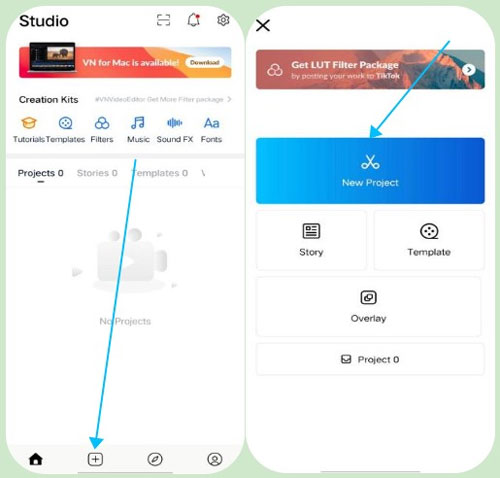 Many creation kits like the tutorial, templates, filters, and music are available on the interface of the VN movie trailer app.
Directly, click the + icon to choose your project from New Project, Story, Template, or Overlay.
Basic Edits of VN to Make Movie Trailers
VN is a non-linear movie trailer maker, which compiles the tracks of sound, text, stickers, as well as video clips. You can click the + icon to overlay any other file to create a picture-in-picture effect.
In addition, most edits for making movie trailers are located upon the toolbar such as the Video Trimmer, Video Splitter, Titler, Effect Adder, Speed Changer, Rotator, and Reverser.
Add Text to Movie Trailer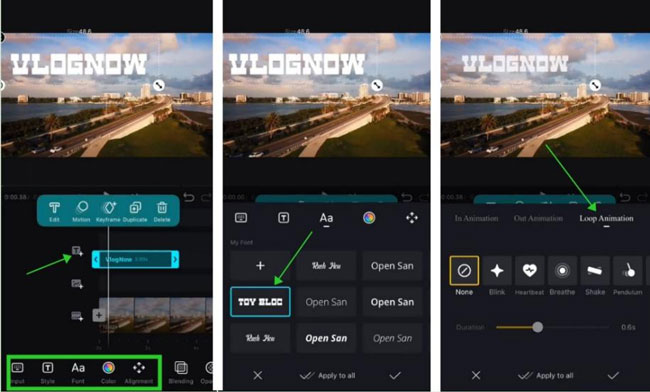 When it comes to adding subtitles and captions to your video. You need to click the T+ tap on the timeline, then go to Aa tap to select a text template.
VN allows you to add effects like Loop Animation to your edited movie trailer. You can change the font, size, color, location, and duration of your text as well.
Export Video from VN without Watermark & at 1080p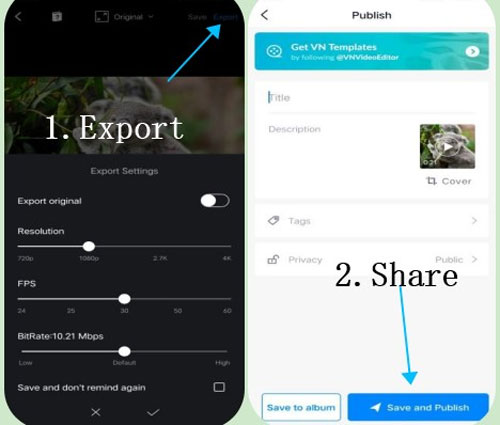 Once the movie trailer is edited successfully, click the Export icon to share the file. You can set the resolution, FPS, and Mbps before sharing it on platforms like YouTube, Twitter, and TikTok.
How to Produce a Movie Trailer with FlexClip Online Movie Trailer Maker
Want to make a movie trailer for free online with an off-the-shelf template? In fact, a movie trailer template helps a lot in saving time for content creators. So which one is the best online movie trailer maker? It's called FlexClip.
Whether you want to make a movie trailer for a school project or others, you can browse hundreds of templates with intelligent texts, music, filters, transitions, and effects in this video editor.
FlexClip is free to export your video up to 480p, and more tools like Meme Generator, Slideshow Maker, GIF Maker, and Screen Recorder are allowed to take on the interface of FlexClip. Now, let's dig into how to make a movie trailer online.
Go to FlexClip Movie Trailer Templates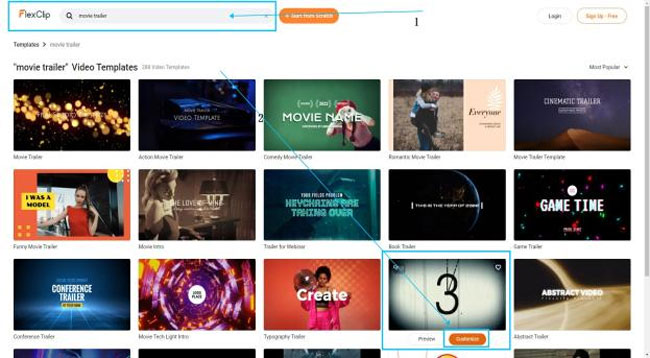 Now you can output "Movie Trailer" in the searching bar. And click the Customize icon to hit the road.
Edit the Selected Movie Trailer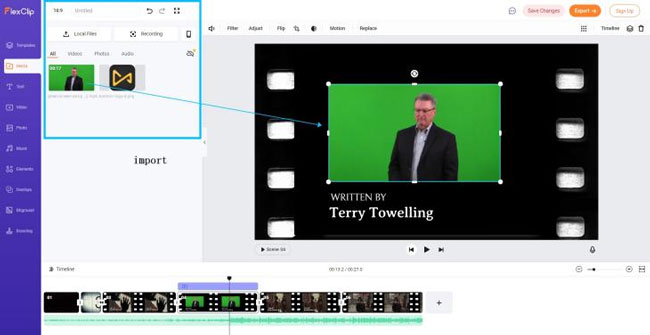 Basically, you need to replace the content in the movie trailer by deleting it. Then resize the aspect ratio upon the canvas of FlexClip. Now choose to add a new soundtrack or subtitles to your movie trailer in this way.
There are many more features and elements for you to try out like the effect background, shape overlays, and dynamic texts.
Export Movie Trailer for Free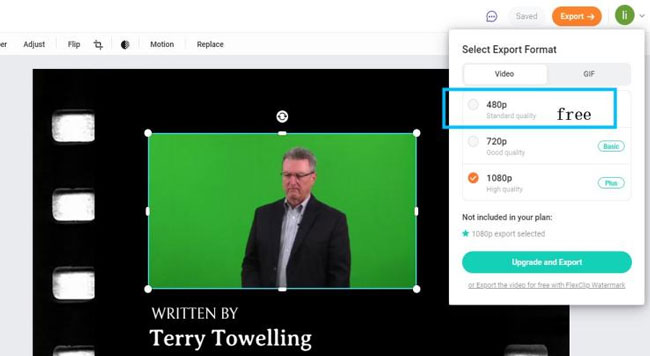 Only exporting video at 480p is free on FlexClip online movie trailer maker. In other words, you need to upgrade your license to export video at 720p or 1080p.
Lastly
Many video editors require you to upgrade to enjoy more premium tools and effects. If you are interested in the mentioned movie trailers like AceMovi and VN, it's advised to follow their subscriptions.
Besides, if you got any great ideas for making a movie trailer to boost your movies, share them with me!