Adding text to your video makes it more engaging, concise, and understandable, which is able to help the audience get the information even without any sound. Better still, texts or subtitles of a video can translate the language to let foreigners know what speakers want to convey.
Text-highlighting is one of the basic text editing techniques for emphasizing the text effect to stress content in a video or any other file type. We'll share with you four text generators to highlight text in video by adding a background color or using highlighted text templates. Follow the steps mentioned below, and you are supposed to master this skill quickly.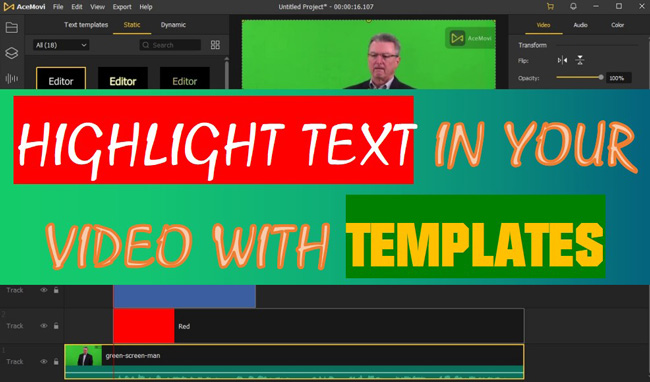 Try AceMovi to Highlight Video Text on Mac OS X and Windows
Overlaying texts on a video with all sorts of fonts and colors, using animated subtitle templates to decorate your video display, applying fading effects to make captions vivid and eyeopening, and more creative text editing features are embedded within AceMovi Video Editor. This video text generator offers hundreds of ready-to-wear template collections in the Library panel.
Apart from being a text editor, AceMovi is known as a smart video recorder, video cropper, media format converter, video resolution enhancer, playback speed changer, photo slideshow composer, and split-screen creator. In other words, users have the access to put captivating VFX and common functions with it.
AceMovi Video Text Editor
Excellent text customizations in font and color
Add multiple subtitles on trackless timeline
Use text templates to make intro or outro clips
Edit text alignment, line space, and font style
One-stop video, audio, and GIF format conversion
Royalty-free libraries of music, stickers, and filers
Here, we're about to learn 2 tricks to highlight texts of a video with AceMovi
After downloading AceMovi officially. Upload videos by drag-n-drop
Enter into the interface of AceMovi after you download and install it (the demo version is now free and permanent). You can use a simple user interface to import your videos to the timeline by drag-n-drop. All of the imported files will be saved as thumbnails in the Media panel.
(Trick 1) Add highlighted text or WordArt to your video within "Preset"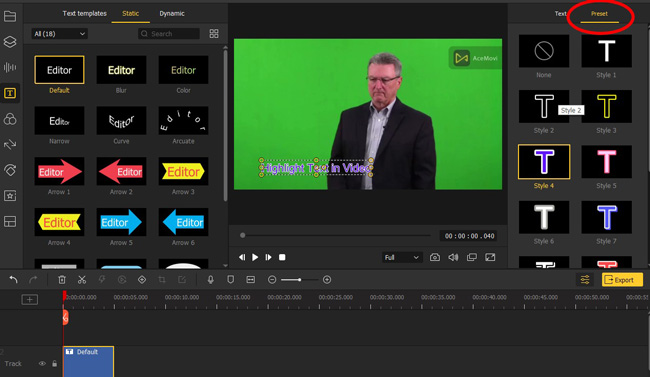 First of all, you can use the built-in WordArt template to turn the text of your video to be highlighted. Find the "Preset" icon in your right-hand place after you added one of the text dialogues from "Text" > "Static" or "Dynamic" to the timeline. Click the wanted style as you want. Then the text genre will be changed according to your option.
(Trick 2) Use background color and motion effects to highlight text in video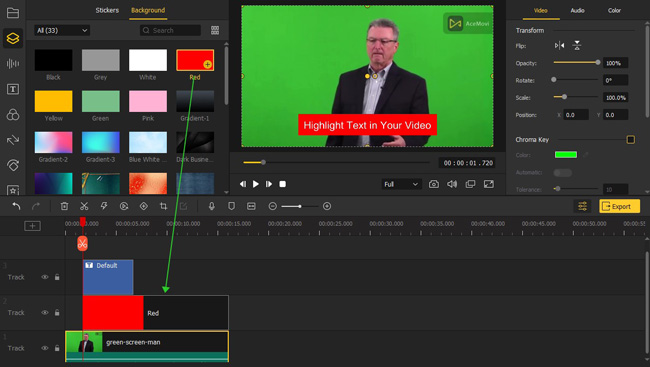 If you need to add a background color to the text of your video, select the designated color from "Elements" in your left-hand place. You can resize the area of the color on the canvas by holding and dropping its edges. Remember that the background color track is prior to the text track, otherwise, you will find the text will be covered by the color.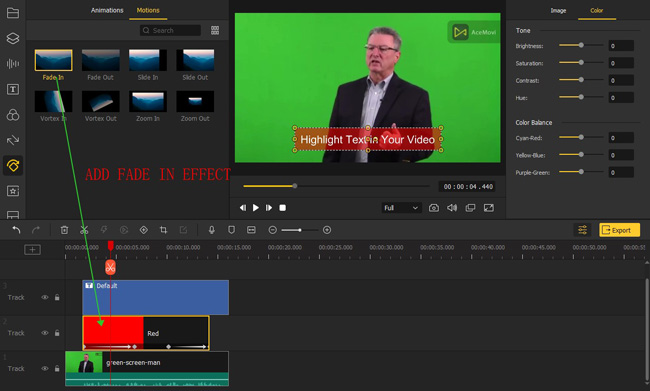 You've already added the text background successfully. If it is needed to make the text vivid and smooth, you can add "fade-in" and "fade-out" effects to the background color. To do it, you simply choose "Fade In" from "Animations" > "Motions" in the left-side bar. Put the effect on the color track, and then drag the effect to adjust its duration. AceMovi is able to render and play this effect in real time.
Download your text-added video with the needed format and video resolution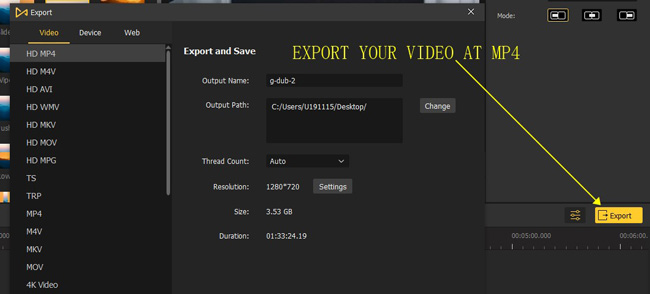 Speaking of exporting projects from AceMovi Video Editor, users need to click the "Export" icon on the screen, which is colored yellow. Inside the exporting workspace, you can choose to export your media for formats, tablets, or websites according to specific needs. If you want to know more details about highlighting objects in your video, watch the video given below.
Easy Video Tutorial: How to Highlight Things in Video with AceMovi
Highlight Text in a Video by Adobe Premiere Pro for PCs
Premiere Pro is one of the most popular software designed by Adobe company for video post-production and text generation. It has excellent high-quality video resolution editing ability up to 8K. At present, Premiere Pro costs $20.99 per month for individuals and $35.99 per month for teams, so it is not possible to buy it outright. This program is able to grade color, green screen, deal with shaky video issues, equalize background audio, and add filters to make videos cinematic. Let's learn how to highlight text with Premiere Pro in steps.
Import video files. Choose "Rectangle tool" from toolbar to cover text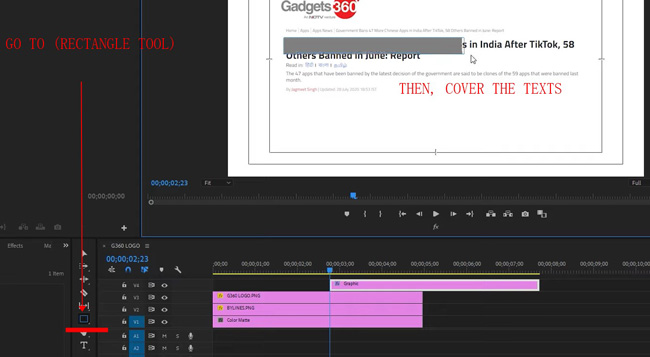 Upload media to the timeline by dragging-n-dropping or clicking on the button from the menu bar. Move your eyes to the function buttons beside the timeline, and choose "Rectangle Tool" as the picture depicts. Use the picked tool to cover the text content in your video.
Find "Shape" > "Appearance" > "Fill" to select a color from the palette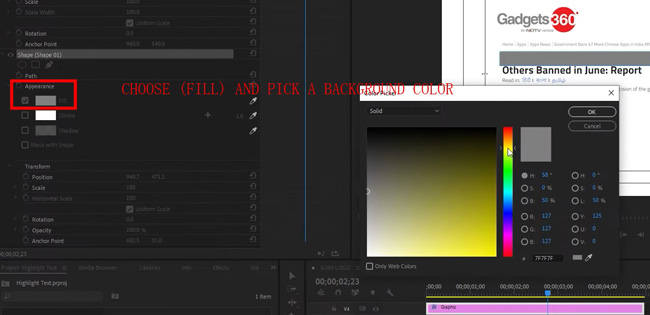 Here you need to select the background color from Shape" > "Appearance" > "Fill". The palette offers you different color options. When you've done it, click "OK" to save the current project.
Turn the "Blend Mode" to "Multiply". Then search from "Crop" from "Effect"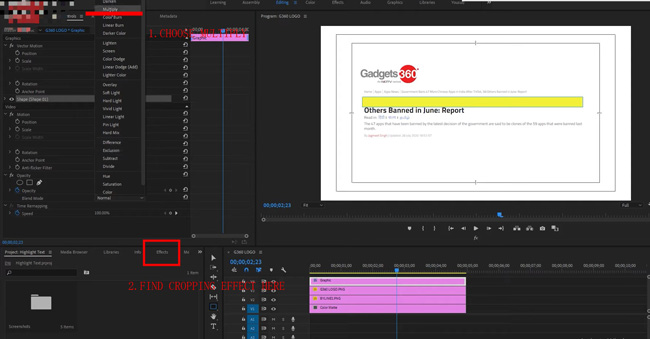 Change the blend mode to "Multiply". Then go search for "Crop" from the Effect panel. When you find it, drop the "Cropping" effect on the background color track.
Set the "Crop" > "Right" in 100% value. Drag playing line from left to right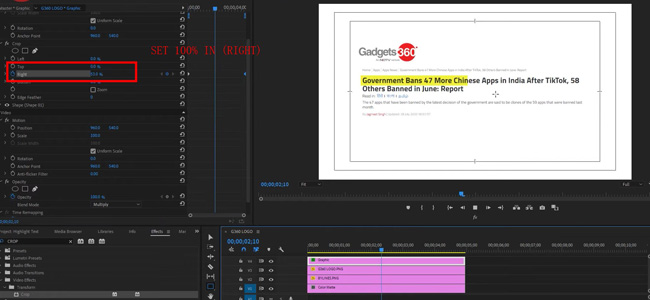 Enter "100" to the "Right" dialogue of "Crop". Hold and drag the blue line from left to right. The line is set beside the cropping effect panel rather than the timeline.
How to Add Highlight Text to Video Online with Media.io
Want to know which text generator offers highlighted text templates or is able to highlight text easily? It is a wise option to choose Media.io. which is an all-in-one web-based video production program. This tool contains libraries of video-making elements such as templates, text genres, subtitles, tickers, and shapes. What makes it different from other online video editors are the screen recording ability and text-to-speech feature. Here is the guide to adding highlighted text to your video online.
Go to Media.io. Click "Upload media" to import your video files to this website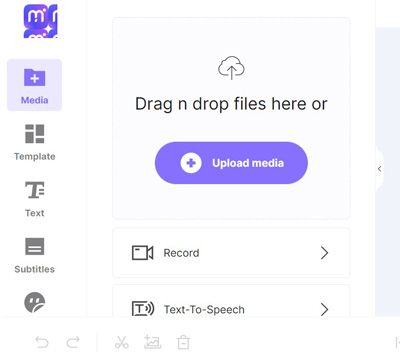 If you want to save the videos online, you can register in. On the interface, tap on the "+ Upload media" button to upload media to this online text editor.
Open up "Text" from left-side bar. Choose a text to drop on timeline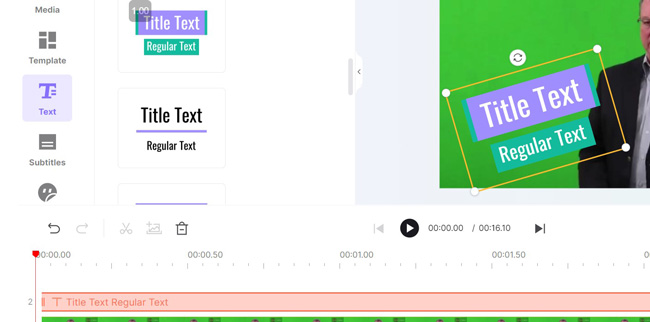 All of the highlighted text templates are set in the "Text" plate in your left-sidebar. When it comes to editing the text style, you can re-position or re-size the text on the canvas. It allows you to fill in content and change related settings.
Click "Export" in top-right place. Choose output format and quality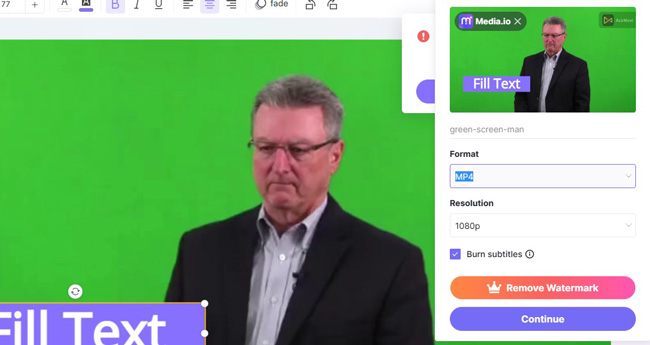 You can either download the video or audio from Media.io. The resolution is range from 480p to 1080p. A logo will be printed on your video if there is no premium account registered. You can choose to burn subtitles to make them hard-coded.
How to Highlight Text in Videos on iPhone and Android with VN
Want to seek an app to edit your video with highlight text or subtitle? We recommend you to use VN because it is perfect for beginners to start generating a video with music, text, effects, and filters. Apart from ready-made video templates, all of the features provided by VN are free, for example, you can export your video up to 2160p resolution. What's more, VN empowers you to speed, trim, split, reverse, speed, and add SFX to video media within a few minutes. Let's add highlighted text to your video with VN.
Download VN for iOS and Android. Click "New Project" to select videos to edit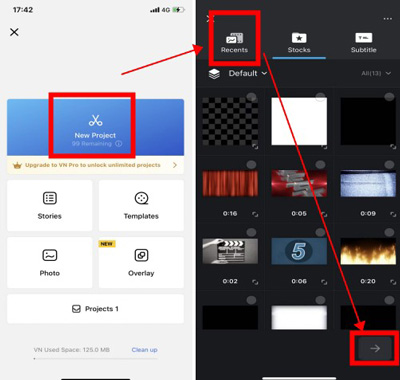 VN is compatible with both iPhone and Android. On the profile page of VN, click "+" > "New Project" to select the video whose text is needed to be highlighted. You can also choose video templates from "Stocks" or "Subtitles".
Add various highlighted text to your video by clicking on the Text track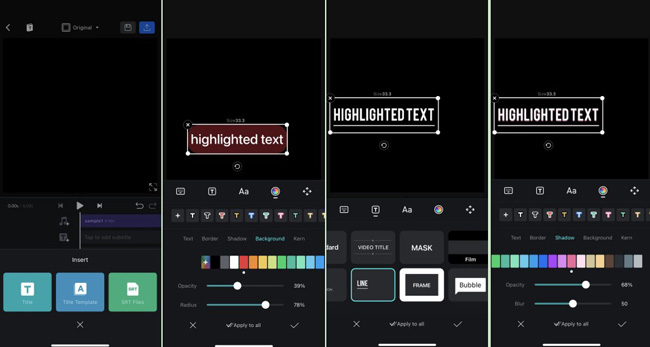 If you want to add text to your video, click the Text track from the timeline first of all. There is a popup window that lets you adjust the text style, opacity, color, font, background, blur amount, and shadow. In each channel, you will find an array of color options and relevant settings. Once you've highlighted text in your video, press the "Export" button to set the output video resolution and frame rate as per your needs.
Sum-Up
Frankly speaking, there are two efficient tricks for highlighting text in video. One if add highlighted text template on the screen with customized color and font, and the other is to add a color background with fading effects. Comparing the abovementioned four text generators, AceMovi and Media.io offer pre-built templates.