Have you ever watched an episode or a movie with a still ending frame? This way to express contents is called freeze frame. Freeze frame is a technique that freezes actors at specific points to emphasize a scene or show a key moment. Freeze frame results in a static shot that resembles a still photo. Does it sound like an advanced skill? But it can be used by everyone. TikTok as a video social media allows users to record and upload videos on their TikTok account. TikTok also offers users freeze frame effect for video creators. This article brings two effective ways to tell you how to freeze a video on TikTok.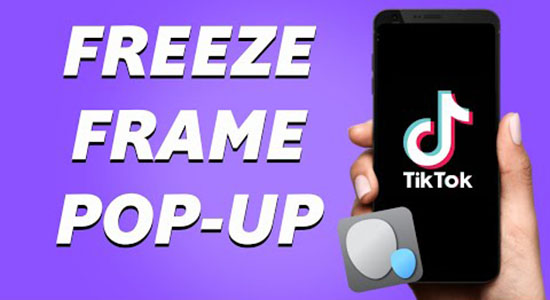 Part 1. How to Make a Freezing Video on TikTok Before Recording
TikTok has a built-in video recorder and freeze frame effect. If you want to record a video with the freeze frame on TikTok, the following tutorial would be the best way to get a freezing video.
How to freeze a video on TikTok via Freeze Frame effect
Step 1: Open the TikTok app on your phone;
Step 2: Tap on the Discover icon on the bottom of the screen;
Step 3: Input "freeze frame" words on the Search bar; there will be many TikTok videos that use the freeze frame effect;
Step 4: Choose one of the videos and tap on it; you will find a Freeze Frame icon on the bottom left of the video; tap on it;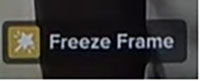 Step 5: On this screen, there is a red button: Use this effect; tap on the button;

Step 6: On the top of the recording screen, you will find that there is a default music; you can tap on it to cancel it or change music;
Step 7: Click the red circle to start recording your video; when you want to freeze a frame, just tap on the blank part on the screen;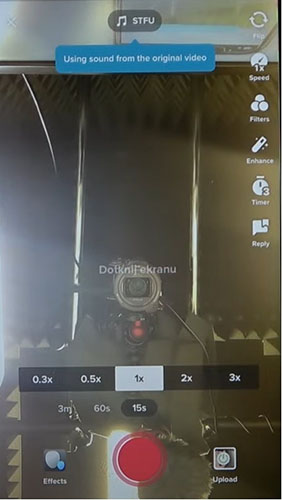 Step 8: Click the √ icon to preview the recorded video;
Step 9: Click the Next button to save it to your draft or post it on TikTok.
Part 2. How to Freeze a Video on TikTok After Recording
TikTok Freeze Frame can just freeze the final frame of a video. If you want to freeze other frames in a video, you need an external video editor to help you. Video editors allow you to select any frame to freeze and even set the duration of the freeze frame.
TunesKit AceMovi is an excellent video editor with useful freeze frame. In AceMovi, you can polish your video with its features including splitting, cropping, speeding up, slowing down and freezing videos. It also offers a lot of elements for users including background music, sound effects, stickers, text templates, filters, transitions, animations, and split-screen templates. You can design your video freely in AceMovi after recording it with your phone.
Apart from as a video editor, it is also a screen recorder in a way. It means that you can capture the video or picture from your computer and then use it for your video directly. The recorded video is always high-quality. You can use it easily.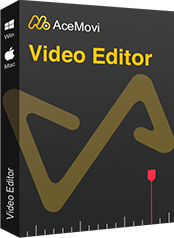 TunesKit AceMovi Video Editor
Security Verified. 7,399,007 people have downloaded it.
Pros:

An all-in-one video editor for all TikTokers
Remove watermark from TikTok videos without any lags and strikes
Easily make a TikTok intro video
User-friendly interface
A plethora of funny stickers
Download quickly on Windows & Mac
Dirty-cheap premium pricing
Export at HD and 4K quality
Edit multiple videos, audios, and images
Cros:

Cannot to be downloaded on phones
How to freeze a video on TikTok after recording via TunesKit AceMovi
Download and install
AceMovi is a computer software for Mac and Windows; before using it, you need to download the software from its official website; here you can click the above button to download;
Import video and elements
Drag and drop your video and other elements to the Media panel of the software;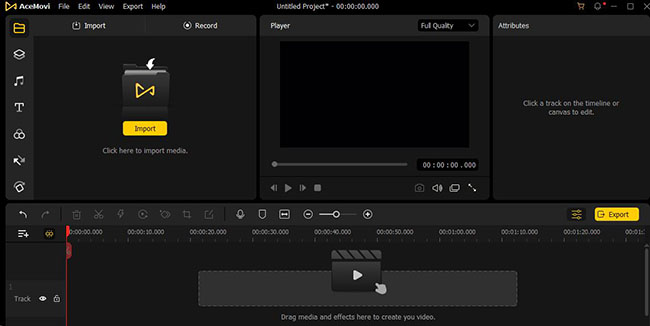 Add your video to the timeline;
Click the video on your timeline and then move the red locator to the frame you want to add freeze frame; next, you need to right-click your mouse to choose the Add Freeze Frame option;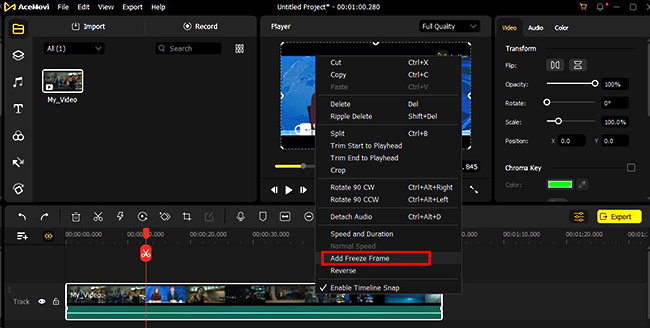 Adjust freeze frame
A yellow part will appear above the video; it is divided into three parts, before freeze frame, freeze frame, and after freeze frame. You can change the speed of the before part and after part by clicking the drop-down arrow on them; at the freeze frame part, you can click the drop-down arrow to adjust its duration.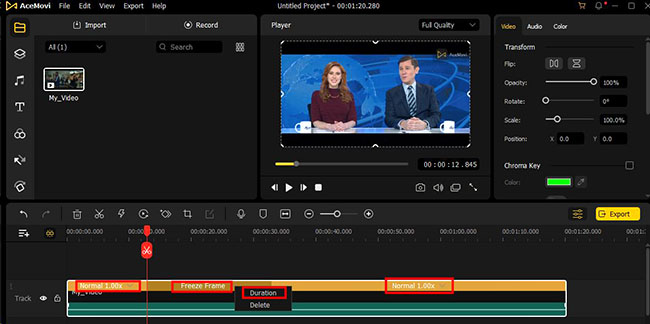 Export edited video
After editing, you can click the Export button above the timeline and then choose a format for your video. If you want to upload it to your TikTok, you can select TikTok format directly by clicking the Web > TikTok options; on this pop-up, you can also change the save path and video name by yourself.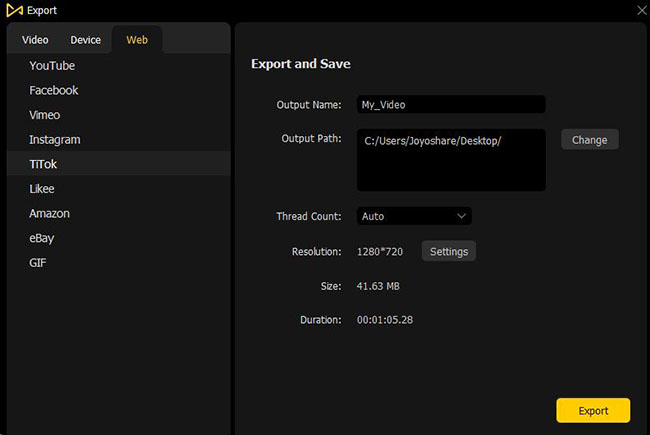 Part 3. FAQ about Freeze Frame
1. Can I add a freeze frame on my iPhone?
Of course. You can use iMovie to add a freeze frame to your video if the Freeze Frame effect on TikTok cannot achieve your needs.
2. What is an example of a freeze frame?
In the movie, "The Wolf of Wall Street," director Martin Scorsese Freezes the scene to help express the main character, Jordan Belfort. You can find the movie to feel the magic of freeze frame.
3. How can I freeze a video online?
Kapwing is an online video editor. It can help you freeze a video online quickly.
The Bottom Line
Every method is not perfect about how to freeze a video on TikTok but you can choose one of them to achieve your purpose at the greatest degree. TikTok offers Freeze Frame effect so that you can make a simple freezing video quickly. TunesKit AceMovi is a multifunctional way to freeze a video, which not only allows you to choose the location of freezing but also gives you the possibility to add more than one freeze frame in a video.