In addition to supporting users to upload their daily texts, images, and videos, Facebook has embedded features to precisely and creatively edit postings as per users' requirements. When it comes to the video editing part, although users can try only a few functions like adding titles and captions or downloading SD resources, it is enough for small editing work. Facebook separates its main functions into Story and Creator Studio. With the Creator Studio workspace, advanced and more meticulous tools are available.
In this post, we'll show you how to edit a Facebook Live video with in-built tools. In addition, you can use a piece of video editing software to help you edit Facebook videos more easily.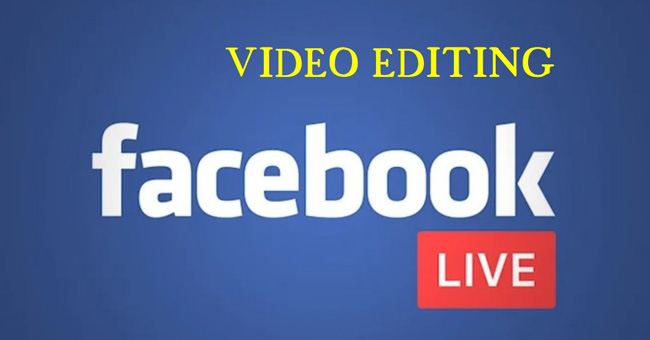 How to Edit a Live Video on Facebook
Different from other former Facebook settings in which users can trim out their unwanted parts of the video posted on Facebook. Right now, Facebook allows users to add video tags, generate auto-caption as well as change video thumbnails. You may find that video speed adjustment and picture-in-picture functions are accessible. In fact, both of the two tools are used for promoting your on-page experience rather than editing the video directly. Here is the guide to editing Facebook Live videos.
Log in to your Facebook account, click three dots, and go to "Edit video"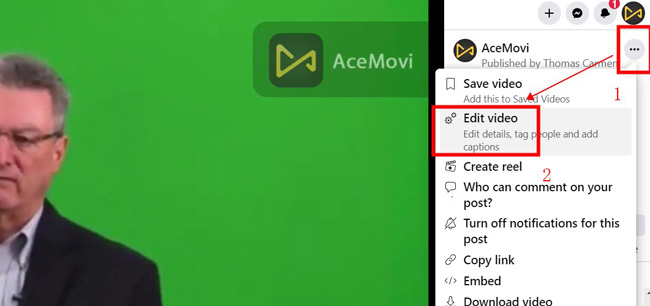 To edit the video you post on Facebook, click the three dots in the right corner. When the dropdown options spread, hit "Edit video" directly. You see a workspace pops up for editing your videos.
Fill in video title box, add tags, insert captions, and change thumbnails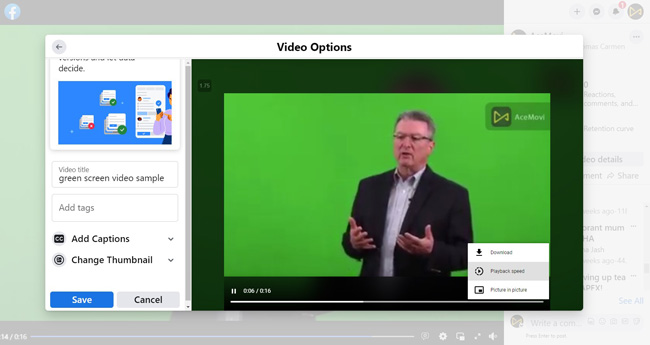 The features to edit Facebook Live videos are obvious to find. Users are allowed to add video titles to explain the video to others or add tags to make the video become relevant to topical trends. On top of that, Facebook gives a channel to automatically generate captions with customizable settings for users. When you finish it, click "Save".
How to Edit a Facebook Live Video on Creator Studio
Facebook Creator Studio is a professional panel used to marshal and organize postings including videos, texts and images. It helps Facebookers to analyze data of their uploading and sharing referring to many aspects. Besides that, editing videos are available within this panel. To make advanced video editing, let's go on.
Go to the Creator Studio of Facebook. Find "Content" > "Published"
You can search for "Facebook Creator Studio" to launch it. Then you see the main page of this panel in which you're able to review a set of statistics such as Notifications, Insights, and Content. Click "Content" > "Publisher" > "Videos". Then all of the videos you post before will appear one by one.
Add title and tags in "Video Details". Edit your video within other boxes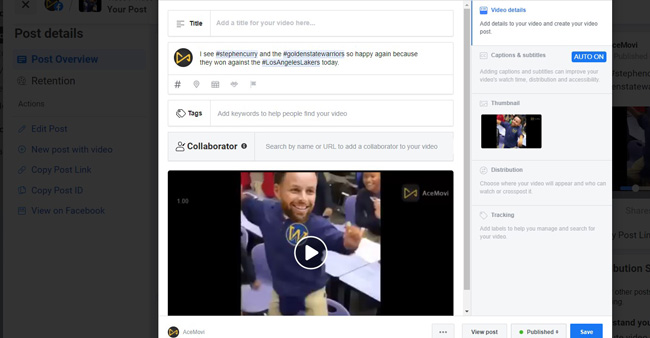 Similar to editing Facebook Live videos on Story, you're capable of adding tags and titles to the video on Creator Studio. More than that, this panel has designed captions, subtitles, thumnbails and tracking. With a new click on each box, different video editing points will show up.
Auto-generate aptions or subtitles to your video. Save the editings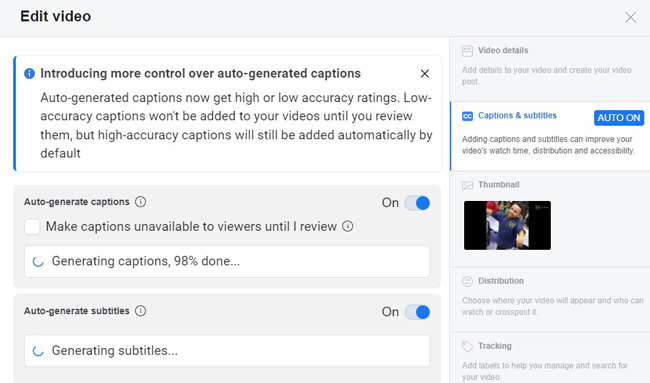 Faceook is powerful enough to help you generate video subtitles and captions automatically. You can click the buttons to use the features inside. If you like the adjustment, click "Save" to finish it. To trim or crop your videos, trying a professional video editor could be better.
AceMovi Video Editor: Robust Tool to Edit Facebook Videos
AceMovi is an all-around video and audio creation software for Windows and Mac, with a load of common functions, including trimming, splitting, resizing, converting, recording, compressing, and speeding. Since editing content on Facebook Live is complicated, let alone some popular features are missing, most YouTubers who post videos regularly prefer to download a video editor and use it to enhance the quality of their videos.
Downloading video from Facebook Live isn't wise, as Facebook only allows users to download their postings on SD quality, which is so low that the viewing experience is unpleasant. Thus, you can use AceMovi to record the video on Facebook. The recording features are naturally built-in AceMovi which provides you with ready-made dimensions and resolutions.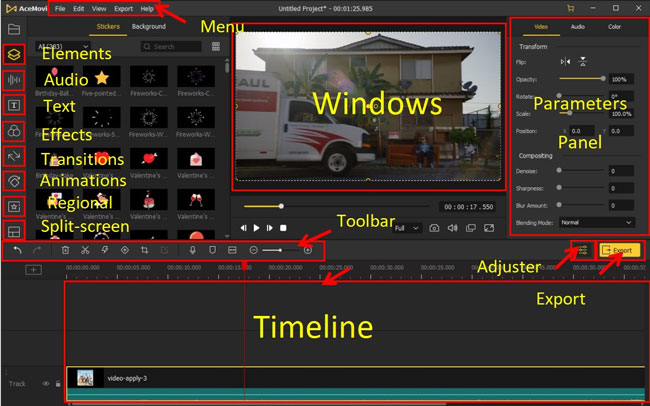 AceMovi Video Maker
Record high-quality videos on Facebook & YouTube
Very much to beginners' taste
Most video and audio formats are supported
Interesting object clone and background green
Export videos for Facebook and more social media
Customizable user interface
How to Edit a Facebook Live Video by AceMovi Video Editing Software
Record Facebook video or add your video to AceMovi by drag-n-drop
You need to download AceMovi to edit your Facebook videos here. Choose the Windows or Mac version and install it on your computer. When you get into the UI of AceMovi, click buttons or drag-n-drop to upload videos to this software.
Trim a Facebook Live video by moving the playhead and click "Split"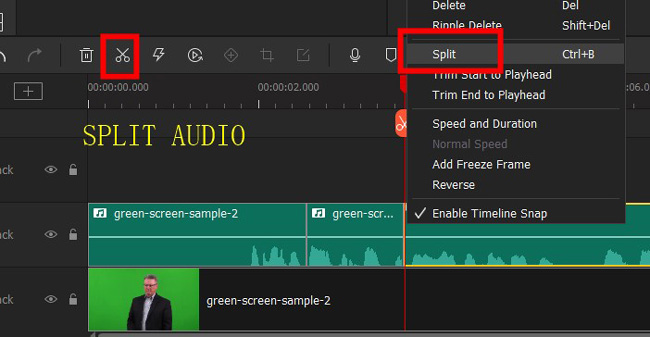 To trim your Facebook Live videos, you need to add the video to the timeline first. Highlight it, and put the playhead under the trimming point. After that, right-click the track and choose "Split". The original video track will be bisected, you can choose to delete the part you dislike.
Add text to your video with distinctive text font, color, opacity, and more
Within the Text panel users can try a plethora of text templates, they are dynamic and static. Add your text box to a new track, adjust the text position on the canvas, and manipulate the font, size, opacity, or alignment from "Properties" according to your requirements.
Define the output format, video resolution, video bitrate, and other settings
Export your video by clicking the "Export" button on UI in which multiple video formats and other related settings are provided such as video bitrate, resolution, format, codec, etc.
How to Save and Download Facebook Live Videos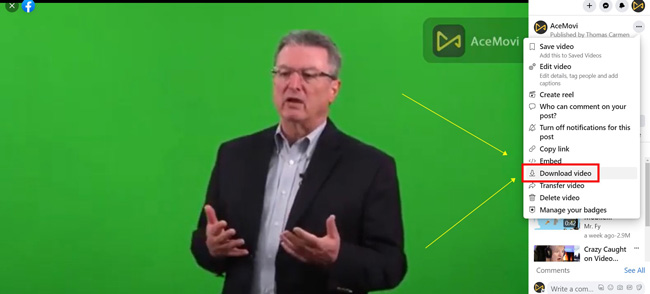 Facebook gives users access to download their posted videos online for free. However, only SD and low-quality videos can be saved. If you need to download the Facebook Live video, click the three dots in the right upper place, and choose "Download Videos" to get started. If your online connection is not bad, the process will be finished in a few minutes. If you want to save your Facebook Live videos on high-quality, use AceMovi to record it could be better.
Conclusion
Only with an all-in-one video editor can you create eye-grabbing content. Video editing is easy to use on Facebook Story or Creator Studio. Adding subtitles and tags is one of the useful tools. When it comes to trimming videos of Facebook Live or operating other features such as cropping, converting, and speeding, downloading a video editing tool could be much more efficient.