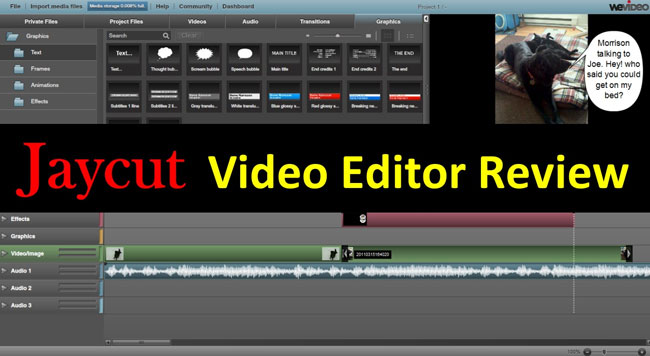 If you're a filmmaker or content creator, you'd always love to have a reliable video editor. And you'll see many popular video editing tools offering you with best possible services yet the issue with most of the devices is that they seem to put your system in devastating load so that many video makers want to look for a simple online tool to avoid this scare.
Admittedly, online tools available in the market aren't the best for making your desires fulfilled content, whereas JayCut video editing software is a rare exception. With its unique capabilities, it has made inroads over the few years. And we'll be sharing with you an all-sided review of JayCut Free Online Video Editor. Let's get started now!
Part 1: A Full Review of JayCut Online Video Editor
If you're a content creator looking for an online video editor, you can try the JayCut video editing tool. Apart from providing the users with a simple interface, it makes sure to edit your videos befittingly.
Despite being a free online tool, JayCut comes with unbelievable features that fascinate users. The most significant advantage of using this editor is that you can operate it on any device you have including Mac, Windows, Linux, and even mobile phone for the simple reason that JayCut just needs a browser to run.
1. User Interface: Straightforward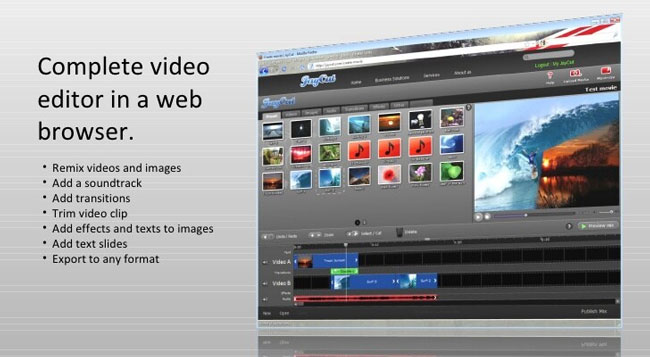 Speaking of JayCut's interface, as you can see from the above image, all the item trays and setting folders are organized very well so that you can get access to the wanted features in a couple of clicks.
And the timeline is inherently designed with two tracks for videos, so if you want to import, just drop your video files under Video A or Video B. Likewise, you should add soundtrack and text into the designated tracks. (Tracks Arrangement: Text - Video A - Transitions - Video B - Effects - Audios).
2. Text Templates: Flexible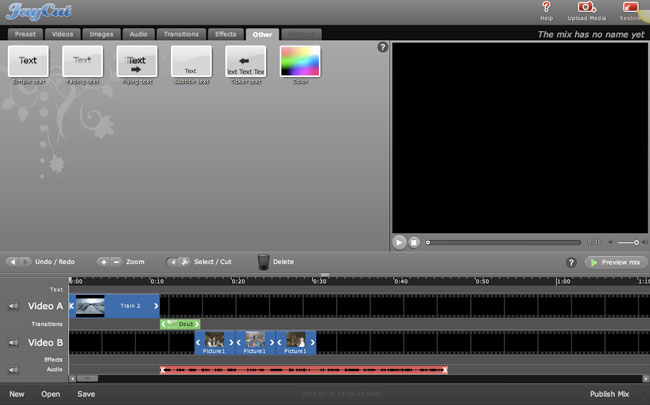 JayCut comes with a splendid text feature. Using this feature, you can add attractive and elegant text templates to your videos such as Simple Text, Facing Text, and Flying Text.
You'll only need to open the Text tab and select a favorable text option to apply the text feature. After placing the promising opportunity, you can enter preferred annotations. In addition, have you seen the Color Adjuster? This will help you change the texts' color.
3. Clips Recorder: Intelligent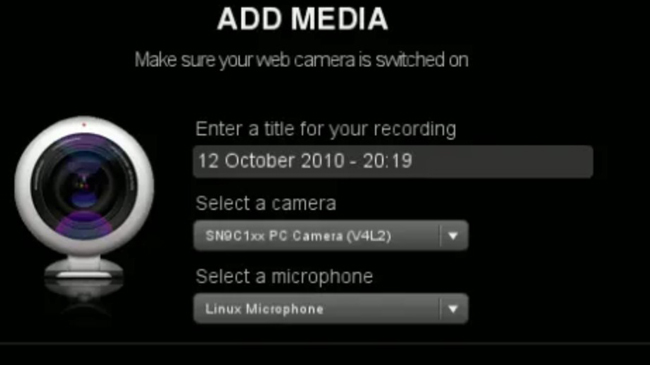 Usually, an online video editor only allows you to edit the pre-recorded audio or video files. But, with JayCut video editor, you have the luxury to record your audio or video directly through a webcam or microphone.
For this purpose, you'll only need to hit Add Media files option. Later, you'll need to select the source (new recording or existing file). As the image depicted, camera or microphone selections can be changed based on your needs.
4. Add Transitions: Classic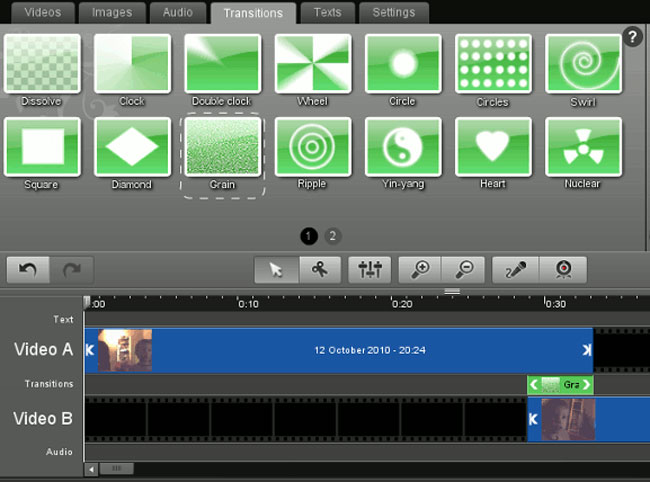 If you want to generate prestigious content, adding transitions becomes pretty vital. The transition effects can significantly emphasize your video, making it appears natural and smooth.
Luckily, JayCut Online Video Editor offers you some of the classic transition styles like Dissolve, Clock, Wheel, Heart, etc. To add the preferred transitions to your video, you'll only need to import the video and navigate to the Transitions Track.
5. System Requirement: Internet
Since JayCut is an online tool, you can run every computer system after downloading an appropriate web browser, no matter mac-OS, Windows, or Linux.
However, you need to ensure you've got a solid internet connection because you may find it's easy to get stuck and crash when the internet is slow.
6. Pros & Cons of JayCut Online Video Editor
Here is the JayCut's pros & cons mainly analyzed from the aspects of basic functions, learning curve, and video effect, etc.
Pros:

JayCut is a beautiful tool with a pretty straightforward user interface
To make things work, you'll only need to create an account of the JayCut video editing tool
It allows you to export your file to a hard drive for editing the file later
Using this tool, you'll get some remarkable transition effects to pick from
You don't need to download any software and this saves your time
Free-to-use & export without watermark embedded with
Cons:

Requires better internet quality and speed
Fewer video elements like transitions, stickers, and music
You cannot use split-screen, Pip, and some of the other advanced features
Part 2: How to Edit GoPro Video on JayCut
Import the Raw GoPro Videos

After navigating to JayCut's official site, you'll need to import your video clip by hitting the Add Media icon, or you can drop the files under the timeline.
Edit the GoPro Videos with Video Elements
The tabs of Videos, Images, Audios, Transitions, and Texts are set under the toolbar in which you can add the wanted video elements into this GoPro video. For instance, if you'd like to add the soundtrack, you need to unpack the Audio > Background Music, and then choose the suitable and synchronous soundtrack.
Export the New-Made GoPro Videos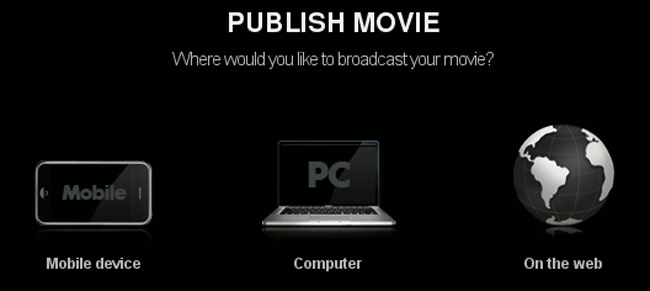 There are three exporting options for you - Mobile Device, Computer, and On the Web. Specifically, you can download your new-made GoPro videos into the AutoFit format for different equipment.
Part 3: Best Alternative to JayCut on PC - TunesKit AceMovi Video Editor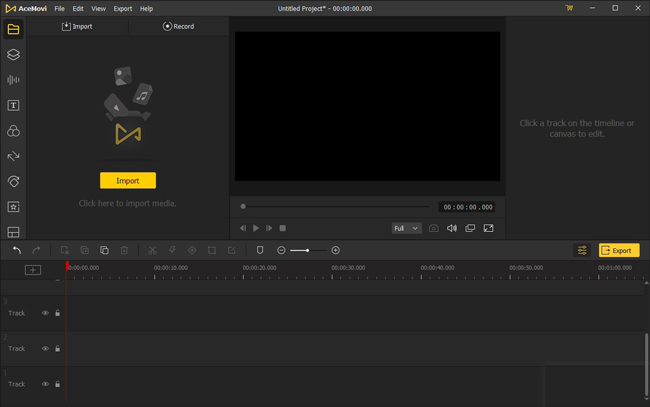 JayCut can be a reliable video editing tool for pretty small audiences, but if you're a content creator who wants to search for an editor that offers advanced and professional features, JayCut may not be the best one. So, we recommend you to try AceMovi Video Editor, which can be used on both Mac & Window Systems with tremendous features and unbelievable work ethics. In addition, with AceMovi, you can export videos into more formats even at HD quality directly like MP4, AVI, MOV, MKV, MPG, and WMV, etc.
Despite providing you with advanced and professional editing options, AceMovi Video Editor's premium package is available at pretty cheap rates - usually, the full version of AceMovi can be purchased for $19.95 every month, $39.95 every year, and $59.95 for lifetime use, and you can get a discount at critical festivals like Black Friday and Christmas.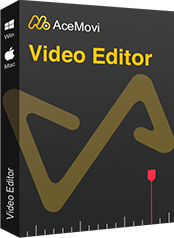 TunesKit AceMovi Video Editor
Security Verified. 5,481,347 people have downloaded it.
Pros:

Using AceMovi Video Editor, you can easily split, crop, cut, rotate, or convert your video clips with minimal effort
AceMovi Video Editor has more built-in filters, stickers, transitions, overlays, background music, and text templates, etc.
You can apply advanced effects like Blurring, Magnifying, Mosaic, Split-Screen, Duet, React, etc.
You'll find this video editing tool effortless and straightforward to use
It offers you a free trial version without limitations in times and using duration
Manifold tutorials of how to edit videos that you can learn on the official website
Cons:

No online version available yet
Part 4: Conclusion
JayCut is a stand-out tool when you talk about online tools to ever exist in the market, and you can take critical notes about the JayCut video editing by reading today's discussion.
Unfortunately, JayCut has some undeniable flaws as well like it lacks advanced features and video templates. It is why we recommend AceMovi Video Editor, which is quite good for your decision-making and offers unbelievable features. Apart from having highly high-quality features, it doesn't put a heavy load on your PC - the latest version's size is less than 100MB.