Podcasting is a beautiful way to share stories, knowledge, and thoughts. However, to make the podcast perfect and excellent to ears, opting for a professional and best video podcast software is the need of the hour.
The good thing is that you don't have to make much effort to find reliable video podcasting software. This article includes the 8 sensation podcast video editing software and the most recommended podcast video software.
Part 1. TunesKit AceMovi - Best Video Podcast Software
From helping you to edit the video podcast wonderfully to adjusting the details of the flawed video, TunesKit AceMovi is once-in-a-generation video editing software. Everything about the TunesKit AceMovi Video Editor is just unbelievably brilliant and mind-blowing.
Let alone recording the live podcast, TunesKit AceMovi is open to adding video clips to that podcast, trimming or cropping the video, adding the background sound, editing the audio of your video podcast, and more. Applying the themes and text to the video podcast is what this best video podcast software can do.
You could only dream of getting the software with as many professional features despite coming up with the simple user interface as TunesKit AceMovi Video Editor. Thus, whenever you intend to record a podcast for marketing or other purposes, looking at TunesKit AceMovi Video will be a brilliant thing to go ahead with.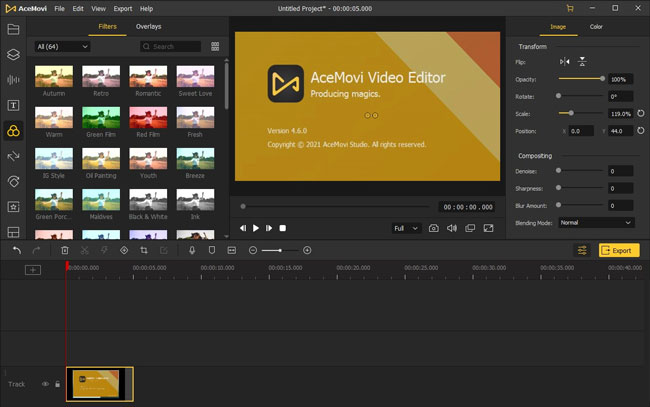 Pros:
User-friendly, simple layout
Transforms and recognizes the range of different video types
Brilliant built-in library
Excellent for Facebookers, Tiktokers, and YouTubers
Supports multiple audio and video formats
Allows you to record the live video podcasts
It helps you edit the audio of a Podcast recording
Offers the mind-blowing customer support
Cons:
You can't export the video without a watermark using the free trial version
Part 2. 7 Other Video Podcast Editing Software
Apart from using the TunesKit AceMovi Video podcast software, you can explore the following 7 more breath-taking tools to edit the podcast.
1. Director Suite 365
If you want to save your precious time while editing the podcast video and are looking for brilliant podcast video editing software, Director Suite 365 could be a competent tool. It allows first-timers and seasoned Podcasters to record and edit podcasts easily.
This podcast video software is designed to grant you complete authority over the video, photo, and audio. Thus, if you're looking to spend less on podcast video editing software, Director Suite 365 could be a reliable solution.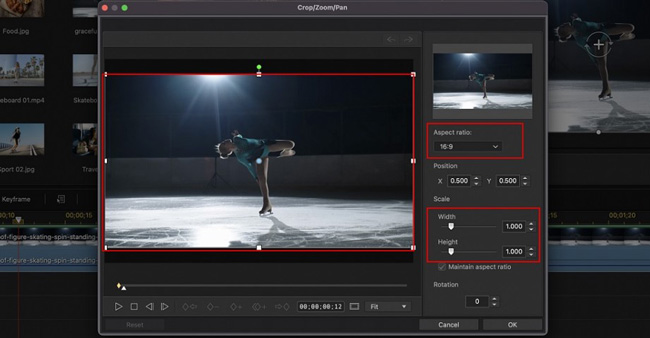 Pros:
Comes up with the simple user interface
Offers the plug-ins for streaming and screen recording
Explore the premade-themed templates to save time
Cons:
It might take an excessive amount of Hard drive space
2. NCH Software
Very few software tend to offer that much user-friendly interface that NCH manages to provide. Creating the audio and video podcast takes only a few minutes; you won't complain about that podcast's sound or video quality.
Since NCH software offers beginner-friendly user-friendly support, hundreds of people are attracted to this software, knowing how good this tool could be.
Apart from editing the video parameters of the podcast, NCH is open to adjusting the correct details of the audio. Making a podcast's audio helps you make your podcast top-notch and remarkable.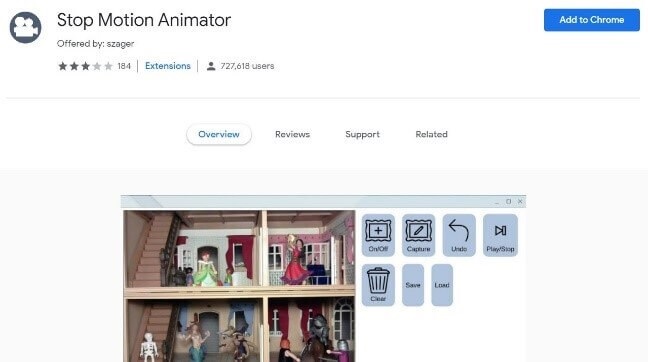 Pros:
Supports the multiple audio and video formats
Offers the user-friendly interface
It doesn't affect the quality of the video
Cons:
It lacks professional and advanced features
3. Premiere Pro
Editing the video podcast could take time and testing the credentials of podcast video software. Premiere Pro is what you all would have been looking for, helping to generate the top-notch sound quality of podcasts with professional and advanced features.
The toolsets Premiere Pro comes up with are remarkable and allow you to quickly edit, record, mix, and restore audio and video. The sound panel of Premiere Pro is pretty underrated; that ideally assists you in editing the audio credentials of your podcasts.
Hence, if you're aspiring for the best video podcast software, you can give a chance to Premiere Pro to show how this tool could be.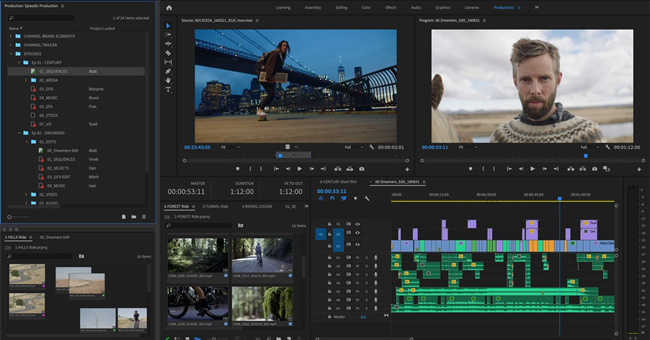 Pros:
Audio restoration and repair
Noise reduction
Amazing sound effects
Audio mastering and mixing
Excellent support
Easy to use
Cons:
The steep learning curve for the beginners
4. iMovie
You'd have known the iMovie if you're familiar with podcast recording and editing. It is a scintillating podcast recorder that can generate flawless podcast audio. With prolific interface designs and top sound quality features, iMovie is making vast headlines in the ranks of podcast creators.
Regardless of how much the duration of the audio podcast, this video podcast software is acceptable, helping you edit that podcast audio with significant effect.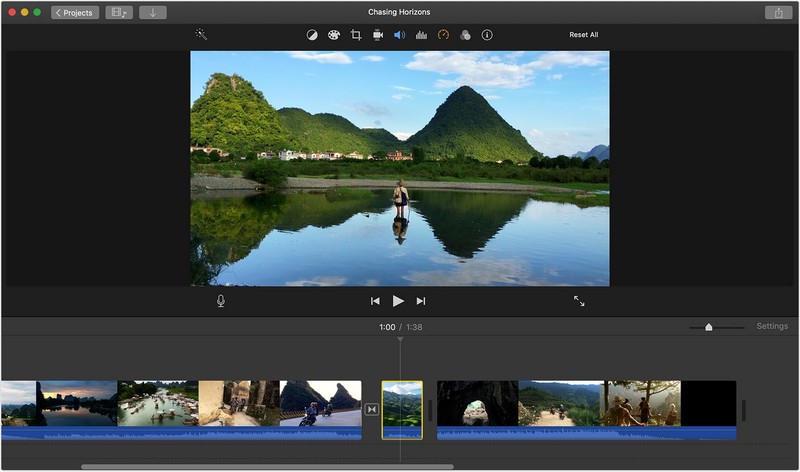 Pros:
Allows you to mix and create 250+ tracks
One-click video sharing
Easy to use
5. DaVinci Resolve Studio
It might be an appropriate video podcasting software if you have mastered using the DaVinci Resolve Studio. It is immaculate software for color correction, video editing, audio post-production, and visual effects.
It is completely integrated with video editing, and adjusting your video and audio credentials is pretty simple. Despite offering the free trial version, it doesn't negatively impact video editing speed, allowing you to take podcasts' audio and video quality to the next level.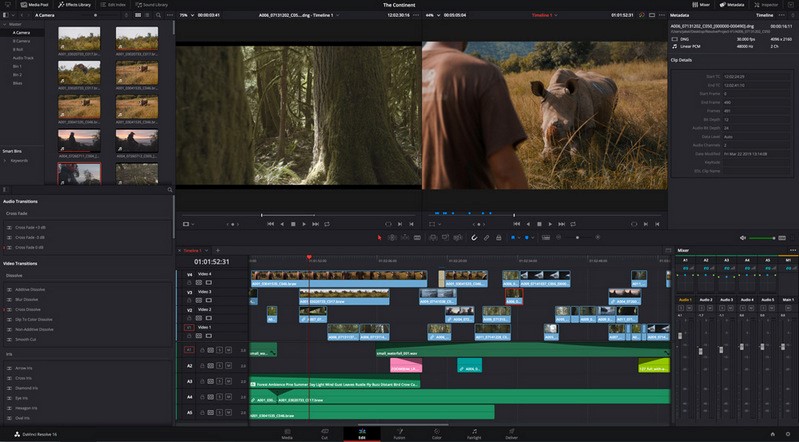 Pros:
Record the audio and video podcasts through multiple guests
Allows you to edit video and audio
Offers the simple user interface
100% safe for PC
Mind-blowing customer support
Edit the video and audio simultaneously
Cons:
Not beginner friendly
High system requirements
6. Logic Pro
Mac users are looking for reliable podcast video software to edit the Podcast software while editing the prolific credentials of audio editing. Logical Pro can manage ambitious podcasts, including multi-location and live recordings.
Adjusting your podcast's colors, speed, design, and style is also pretty simple on Logical Pro. Although you'll need to maintain the high system requirements to edit a podcast video in Logical Pro, it is still worth a trying tool.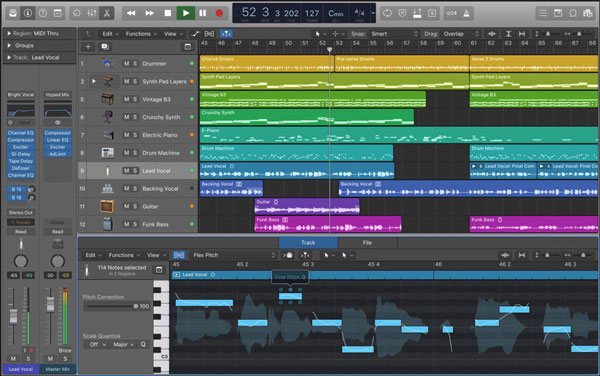 Pros:
Extended functionality with video and audio plug-ins
360, degree 8K, and 4K video editing
Doesn't bother affecting the quality of the video
Cons:
The premium version is a bit expensive
7. MAGIX Movie Studio
MAGIX Movie Studio is the final podcast video editing software that makes it into our exciting video podcasting tools list. It is commendable video editing software that makes podcast editing look simple and brilliant.
The video editing tools this podcast video software uses are exemplary. With this tool, creating masters for podcasts falling within the international standards' guidelines is possible quality is quite simple.
It offers brilliant acoustic sound effects, helping you cut or trim the audio according to your requirements.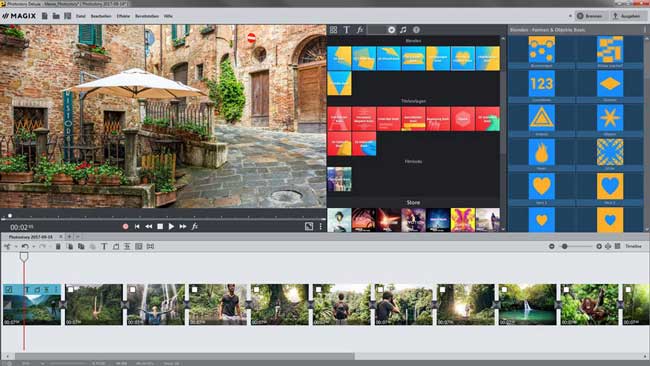 Pros:
Massive video editing functions
Offers the affordable services
Easy to use
Various video and audio editing functions
Cons:
Outdated user interface
Poor noise reduction
Conclusion
You can try hundreds of podcast editing software, but only a few tools will be effective and reliable. We've listed that reliable software in this post, and you can surely try out every software to edit the Podcast video.
All the software credentials mentioned in this post are based on research and practical uses, so all the tools are worth your attention. However, TunesKit AceMovi emerges as the best video podcast software with professional features and a simple user interface allowing you to edit the Podcast video effortlessly.